The RTÉ Guide's food columnist Catherine Fulvio has some tips to make the most of summer barbecues with good food management to reduce food waste, save money and help the planet...
Barbecues can create a huge amount of wasted food. With more people choosing to barbecue and dine outdoors this summer, I am going to show you that with a little bit of preparation and planning, you can cook an amazing barbecue for your guests while producing less food waste and taking some pressure off you as a host.
Summer is a time for delicious food to be enjoyed outdoors with our family and friends. As temperatures rise, it can be trickier to stop food spoiling, especially as a barbecue can go on for a whole afternoon or evening. Eating 'al fresco' can therefore mean more food waste, but let me tell you how to change this.
A fact that is often overlooked is that reducing food waste is one of the most effective actions you can take to help fight climate change. Around a third of all food produced is lost or wasted, which contributes between 8 and 10% of global greenhouse gas emissions. Irish households produce over 250,000 tonnes of food waste per year, at a cost of €700 per household. Follow my few simple tips and not only will you be reducing food waste and saving the planet, but you will be saving yourself money.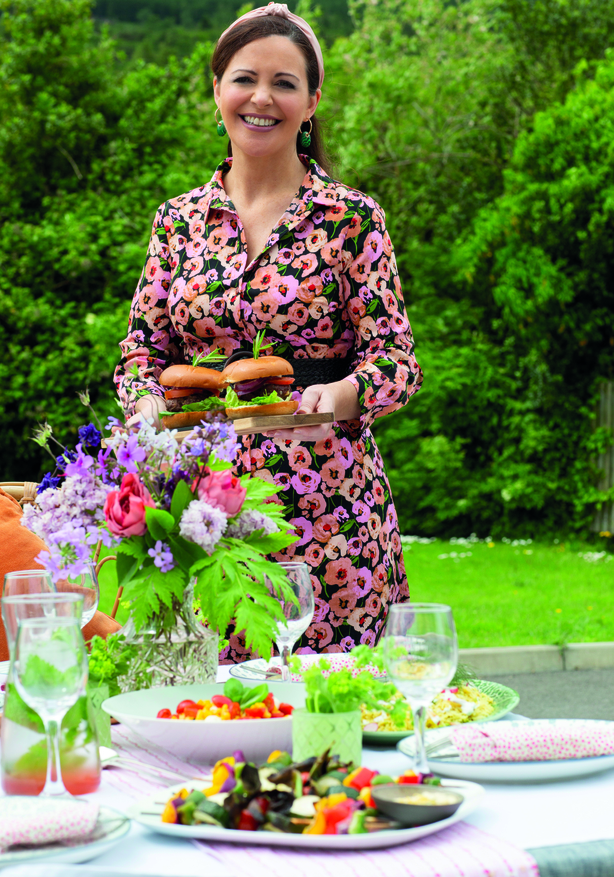 Simple changes
First things first, plan ahead and buy only what you need. When I am planning my barbecue or summer dining, I always start by thinking about how many people I will be entertaining. Then I plan my menu to ensure I have just enough food to satisfy all my guests, which can be rolled out easily over the course of the afternoon or evening – 'fresh from the fridge and hot off the barbecue'.
Before you make your shopping list, remember to keep in mind that there will be a variety of different foods to eat at the barbecue…grilled food, salads, bread….planning a half portion of each salad per person will reduce your leftovers. Then I check my fridge and cupboards – you would be surprised at what food you already have that can be used to prepare tasty dishes for your barbecue.
When preparing for my outdoor meal, I set my table and bring out just enough food to get things started – this prevents food spoiling and going to waste. Remember you can always top up fresh salads and bread when you need more. This will enhance your guests' overall experience, so they enjoy the food at its best. Storing your food properly, before, during and after the barbecue, will keep it that bit fresher for that bit longer.
When it comes to actually cooking the food, the joy of a barbecue is that you can cook to order. Before I start cooking, I ask my guests what they would like to eat and cook to order, rather than all at once. If anyone is still hungry, then I can always cook more. This extra personal touch will make your guests feel special and ensure they have delicious food fresh from the barbecue without creating any waste. Extra food is such a waste if it is not going to be eaten and enjoyed.
And finally, if there are any uncooked foods or leftovers from your barbecue, pop them in the fridge or freezer as soon as possible and give them a second chance to be eaten. Enjoy your barbecue leftovers for a tasty lunch the next day or transform uncooked home-made burgers into meatballs for an easy supper. Remember, you can freeze leftovers for another time – you can freeze almost anything – burger buns, meats, sauce and even herbs.
So this summer while our mouths water at the thought of smoky barbecue smells, remember these five top tips that will keep you on track to avoiding food waste and help you save money and the planet:
1. Plan your barbecue menu
2. Store fresh food properly
3. Cook just enough food and to order
4. Top up salads and bread as needed
5. Eat any leftovers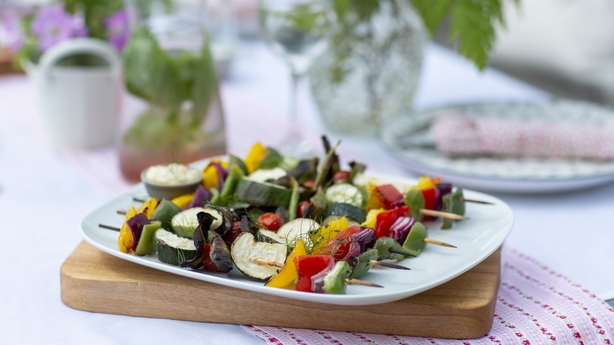 Catherine Fulvio's Chargrilled Vegetable Kebabs
Ingredients:
Makes 6
For the baste
2 tbsp olive oil
1 lemon, juice only
2 tsp chopped thyme
Salt and freshly ground black pepper
1 red onion, sliced into wedges
6 cherry tomatoes
2 medium courgettes, sliced
1 yellow pepper, roughly diced
1 red pepper, roughly diced
1 green pepper, roughly diced
Bay leaves, to thread
For the lemon mayo
1 lemon, zest only
4 tbsp mayonnaise
Wooden skewers, soaked in water for at least 2 hours
Method:
To prepare the baste, combine all the ingredients together in a small bowl and season with salt and pepper.
Thread the skewers, starting with pieces of yellow and red pepper, red onion wedge and green pepper, a courgette piece, bay leaf, cherry tomato in the centre, bay leaf, a courgette piece, red and green pepper, a red onion wedge and yellow pepper. Continue to complete all the kebabs.
Preheat the BBQ to medium heat, brush the baste over the kebabs and place at the edge of the BBQ, cook for about 5 to 6 minutes, turning once or twice and brushing with the lemon baste from time to time until the vegetables are just tender. Season with a little salt and freshly ground black pepper.
To prepare the mayo, mix the lemon zest together with the mayonnaise.
Place the vegetable kebabs on a platter and serve with the lemon mayo.
Tip: The leftover cooked kebabs are delicious in a pasta salad or a warm pasta dish the following day
Check out the Summer BBQ Cookery Demo with Catherine Fulvio on Stop Food Waste Facebook Page for more tips and recipes on food waste-free barbecues.
This campaign has been sponsored by a number of local authorities. Visit StopFoodWaste.ie for more information.