In 2020 Randy Lewis, a Canadian chef and travel enthusiast living in Lahinch, Co Clare, started planning his Irish food and travel adventure which he would do in a VW Campervan.
He covered a number of counties in just six days, visiting a dozen food businesses and enjoying some great Irish adventure in the great outdoors.
What sets Randy apart is that he has been travelling and enjoying the flavours of far flung places for over twenty years bringing the flavours back to his restaurant in Lahinch. He lives and learns through experiencing cultures and enjoying food, landscapes and experiences.
Having put down roots here in Ireland he is excited to be exploring the island he now calls home.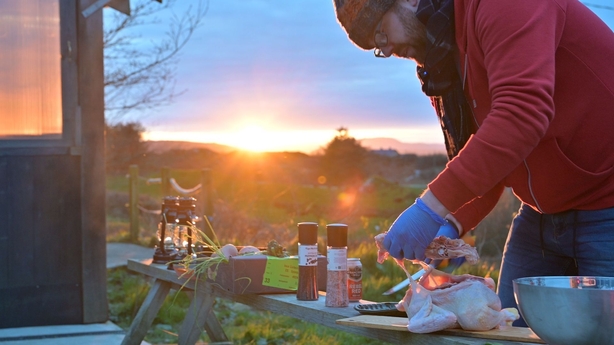 In this six part mini-series, Randy and his cameraman hit the road in a VW Campervan visiting Irish food producers and businesses. He visits a snail farm goes cliff jumping and discovers some hidden gems. Randy's six days are jam-packed full of food, adventure but most of all a snapshot of the wonderful Irish hospitality.
In today's episode, Randy discovers Ireland's delicious fish. After a scenic journey over Healy Pass Randy arrives at the Woodcock Smokery in Skibbereen, Co Cork where Sally Barnes, a master of traditional smoking and slow food advocate, welcomes him around the campfire.
After learning the skills of smoking and a delicious fishy breakfast Randy heads to the Franciscan Well Brewery in Cork City. After an afternoon some beer tasting and a tour of the brewery it's time to travel to the East Coast to visit the town of Dungarvan where Randy gets lucky as some local fishermen land their catch.