I'm a great believer in eating the rainbow, focusing on a variety of colours. Each colour represents a different phytochemical and set of nutrients that can benefit our health. Each fruit and vegetable has a different mix of vitamins, minerals, antioxidants and anti-inflammatory molecules.
Red fruit and veg like tomatoes and watermelon have properties that can help lower the risk of heart disease and certain cancers. Blue and purple fruits and veg such as blueberries or purple cabbage can help improve brain function so personally, I just work through all the wonderful colours to include as many as possible.
It is a great eating ethos to keep to and you'll never be bored with vegetables and fruit – the colours are just so bountiful and appetising.
Catherine
www.ballyknocken.com

Top tip
Freezing ginger
You're often left with bits and pieces of ginger to mouldy in the fridge, so a great tip is to freeze pieces with or without its skin on – either peel it or brush it lightly, rinse, pat dry and keep in eco-friendly freezer bags. When you need ginger for a recipe you will always have it – the only important factor is that you can only grate it. It's not useful as sliced ginger after it has defrosted as it loses its crunchy texture.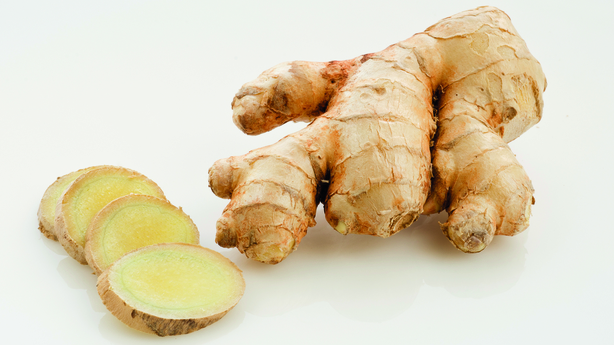 Need a roasting pan?
My advice is to invest in the largest one that will fit in the oven, preferably 35cm by 20 or 25cm so that the Sunday roast chicken will fit with all the spuds. Choose one that has a pouring lip, that is non-stick and dishwasher safe.
Magic Rectangular Roaster 35cm, €15.99 + postage, homestoreandmore.ie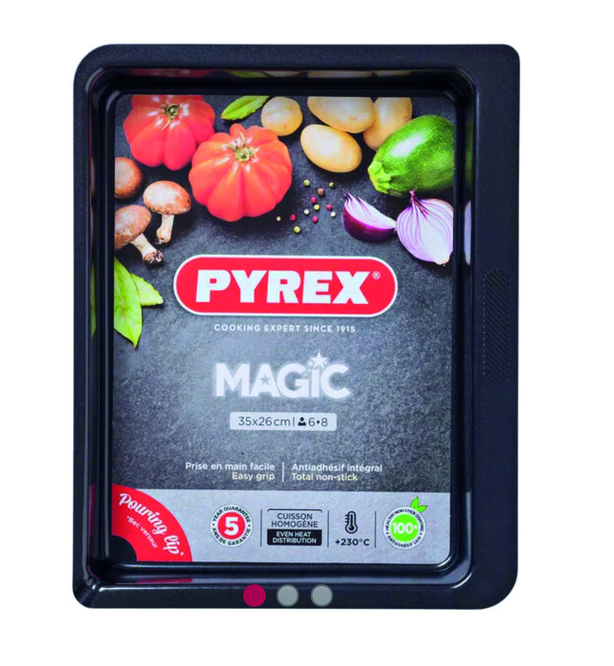 Chilli ginger steamed fish
"Fresh, clean flavours so that we will feel like we're being healthy and getting the nutrition our bodies deserve. Having the fish in separate parcels is great for the family – everyone feels special with a parcel in front of them!"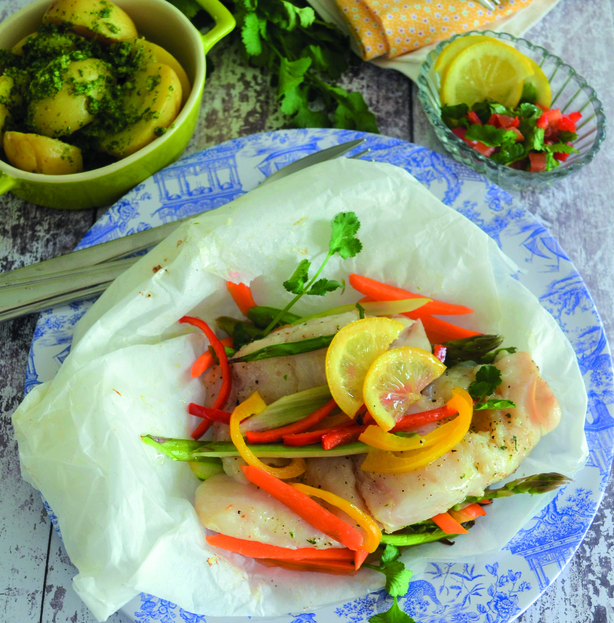 Serves 4
4 spring onions, sliced in strips
1 yellow pepper, sliced
1 red pepper, sliced
½ chilli, finely chopped
6 asparagus spears, sliced in half lengthways
4 x 175g hake fillets
3cm piece ginger, sliced into julienne
2 tbsp rapeseed oil
1 lemon, sliced thinly
Sea salt and freshly ground black pepper
4 pieces of parchment paper 20cm x 25cm
For the salsa
A bunch of coriander, roughly chopped
1 medium tomato, diced
½ red chilli, diced
1 tbsp extra virgin olive oil
¼ tsp salt
Coriander leaves, to garnish
Extra lemon slices, to serve
Method
Pre-heat the oven to 190°C/Fan 170°C/gas 5.
Place all the parchment pieces on a clean surface. If your paper is thin, double the pieces. Divide the spring onion, yellow and red pepper slices, chilli and asparagus spears onto the parchment pieces, saving a few for on top of the fish.
Place the hake fillets on top of the vegetables. Add the reserved vegetables and place ginger and 2 lemon slices on top of each. Season with salt and freshly ground black pepper. Pour a little rapeseed oil on to each.
To wrap, take up the two sides and fold over twice like you are wrapping a gift. Fold over each end piece and tuck under the fish parcels.
Place on a roasting tray in the pre-heated oven. Cook for 14 to 16 minutes depending on how thick the fillet is.
To prepare the salsa, mix together all the ingredients in a small bowl and set aside, ready to serve.
Carefully unwrap one parcel and check that the fish is cooked, when a knife is pressed again it, it should flake away very lightly. When ready, unwrap by cutting in with a pair of scissors and folding back the excess parchment paper, add some coriander leaves to garnish and serve with lemon slices and the tomato salsa.
Lemon berry steamed puddings with lemon sauce
"Yes, a little treat, adding berries to desserts is a favourite of mine, I feel like I am having one or two of my 5 a day!"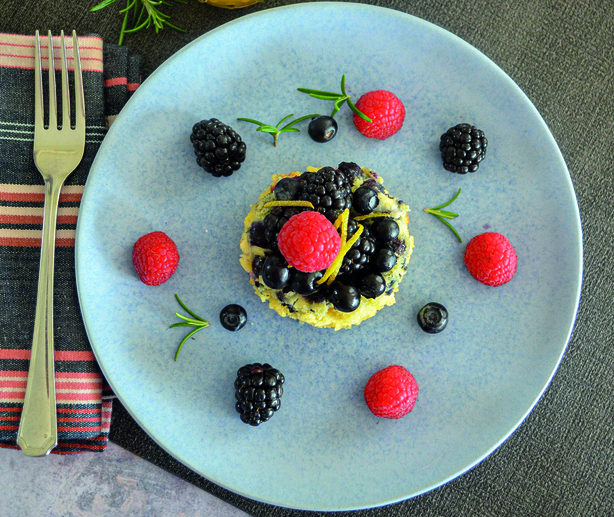 Makes 4 to 5 mini puddings
For the sauce
1 egg yolk
80g caster sugar
1 lemon, juice
30g butter
For the puddings
120g butter, softened
80g caster sugar
2 eggs, beaten with a fork
1 medium lemon, zest only
120g plain flour
1 tsp baking powder
2 to 3 tbsp milk
50g blueberries
50g raspberries
Mixed berries, to decorate the top
Lemon zest, to decorate
Small rosemary sprigs, to decorate
Method
Pre-heat the oven to 180°C/fan 160°C/gas 4.
Brush 4 x 125ml moulds with melted butter and dust with flour. Line the base with a parchment disc. Ensure that you have the lid and parchment paper, foil and string. You will need a roasting tray – check that all the moulds fit into the tray.
For the pudding, cream the butter and sugar until light and fluffy. Add the eggs and lemon zest and mix very well. Sift together the flour and baking powder into the egg mixture. Carefully fold in with enough milk to form a soft batter.
Spoon the mixture into the pudding moulds. Cover each with parchment and foil and tie string around each mould. Place them into the roasting tray and place in the oven. Half fill the tray with boiling water. Cover with foil.
Steam for 30 to 35 minutes, keeping the hot water topped up and simmering. To check if the puddings are cooked, untie one and open, press the top for sponginess or insert a skewer and if it comes out clear it is ready.
To make the sauce, place all the ingredients into a small saucepan and simmer for 7 minutes on a low heat while stirring all the time.
Cool the puddings until you are able to handle, then run a thin spatula around each mould and tip out. Take the parchment paper off the top. Place the pudding onto individual plates or a cake stand and drizzle a little sauce over the top. Arrange the berries on top and lemon zest and sprigs of rosemary in between. Serve the remaining sauce separately in a small jug.