Fermented foods are already a part of our everyday diet – cheese and wine anyone? – but as Claire O'Mahony finds out, the possibilities are endless It's been widely predicted that 2021 is the year fermented foods will be on everyone's radar.
As a trend, this traditional method of preserving food is tapping into a lot of our current interests like reducing kitchen waste, as well as increasing our consumption of functional foods, which offer health benefits beyond basic nutrition, as fermented produce does.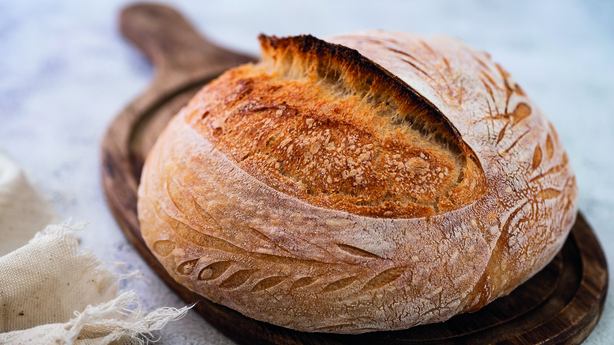 There's also the sourdough phenomenon. Lockdown saw a dramatic rise in people with more time on their hands making slow-fermented bread at home and lovingly tending to their sourdough starter. From here, it's a natural progression to add another culinary string to our bows and delve further into the world of fermenting at home. There are already many fermented foods that we regularly eat and drink.
Cheese is one, and wine is another. However, the fermented foods with the most health boosting properties are those with probiotics, which can help digestion and restore the balance of 'good' bacteria in the gut. Think yoghurts with probiotic strains, miso (fermented soy bean paste), cultured milk drink kefir, fermented sweet black tea kombucha and sauerkraut, which is made from fermented cabbage as well as some cheeses including Cheddar and Gouda.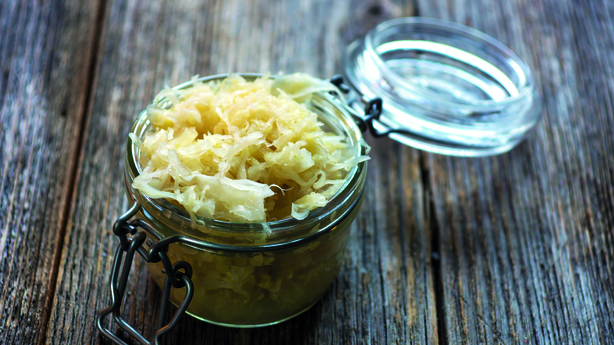 Qualified nutritional therapist Helen Cassidy, the owner of Foodhugs clinic (foodhugs.ie) in Dublin, says that there are a number of different fermented foods which have benefits but she champions vegetable ferments.
"You can basically ferment any vegetable you want and there are three main benefits from them," explains Cassidy, whose next online workshop, a beginner's guide to kraut and kefir, takes place on April 17. "Firstly, you're getting the nutrients from the vegetables themselves. If you're eating sauerkraut you're getting all those nutrients from the cabbage like vitamin C, vitamin K, fibre and antioxidants."
The second is that when you ferment vegetables, this makes them easy on the tummy. "You might find someone who says that if they eat Brussels sprouts or broccoli it gives them wind but once you ferment, part of the process of fermentation is that the bacteria has broken it down, making it more readily digestible. A fermented product contains digestive enzymes in itself so they can help your overall digestive system in that it's easier to digest and it's supporting the breakdown of other foods in the body," says Cassidy.
Thirdly, there's the probiotic aspect and Cassidy points to the extensive research on the health benefits, from how probiotics help to support the immune system to the impact that bacteria in your gut can have on mood and stress. Fermentation is a chemical process where molecules are broken down anaerobically and the earliest records of it date from 6,000BC.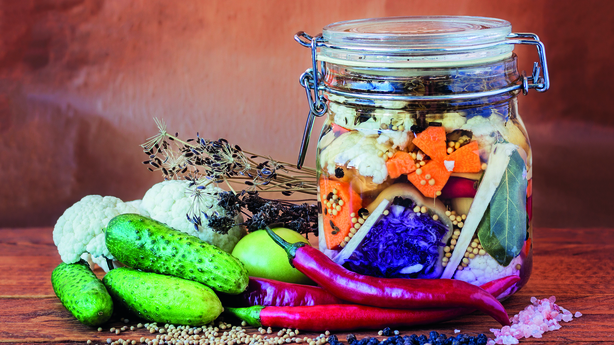 But terminology like microbes – the tiny organisms which transform the raw materials during fermentation – can be off-putting. Dearbhla Reynolds, author of The Cultured Club: Fabulous Fermentation Recipes (theculturedclub.com) advises that we need to make friends with microbes and understand how beneficial they are.
"Really it's about reframing our understanding of food to be something that the more alive it is, the better," she says. "'Microbe' and 'bacteria' are words that we've become scared of but really, we're at this fascinating place in our understanding that microbes are amazing things. They're really fundamental and 94-95% of them are beneficial and we need them." If you've already mastered a sourdough starter, you'll find fermenting less complex, says Helen Cassidy.
"I think vegetable ferments are a lot more accessible than sourdough. You don't need any specialised equipment, you just need your vegetables, sea salt and glass container. It's chopping the cabbage, massaging the salt in, letting it sweat a little bit, putting in your flavours and packing it into the jar," she says.
"There is a little bit of organisation in getting your ingredients, having a nice big bowl and having your glass jar but once you've done that, all it needs is time, one to six weeks, on your counter-top. You just let it do its job and then it lasts for six months in the fridge."
Not that you necessarily have to get busy in the kitchen to reap the benefits of fermented foods. Kombucha is available in supermarkets and other produce can be found in health food stores. Cassidy advises looking for brands with no additives in them and a short ingredient list.
The recommendation is to have at least one serving of probiotic-rich foods per day and Cassidy suggests having a mix of different fermented foods because of the variation of probiotic strains across each type of food, so how about a kefir smoothie in the morning, some sauerkraut with lunch and a glass of kombucha with dinner? It's also important to note that pickled food, which tastes very similar to fermented foods, doesn't have the same health benefits, although if you like the taste of gherkins or pickled onions, there's a strong possibility that you'll also like fermented food flavours.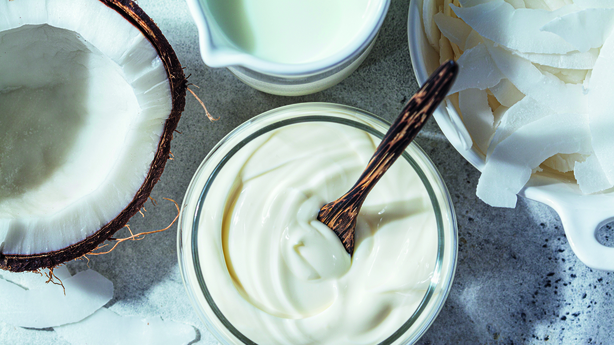 That flavour can be a stumbling block for some. Fermented food has a certain tang and Dearbhla Reynolds agrees that it can be an acquired taste.
"Our palates have been led down the path of very sweet, salty types of food," she says. "One of the defining flavours of ferments is slightly sour note and it's from the lactic acid and Lactobacillus bacteria and this flavour can be too much of a contrast to that sweet or manufactured taste that we've become used to."
If you really want to like sauerkraut or kimchi, the traditional Korean side dish made with fermented vegetables, but you're not delighting in the taste, Reynolds suggests mixing it in with something like oil or alternatively something sweeter so that the sour taste isn't taking over.
Fermented foods offer many interesting possibilities for chefs, including René Redzepi of Noma in Copenhagen, who wrote a guide to the critically acclaimed restaurant's fermentation techniques. Rose Greene launched 4 Hands Food Studio two years ago with her partner Margaux Dejardin, producing naturally fermented foods and drinks in Rathaspick, Co Westmeath.
We need your consent to load this Instagram contentWe use Instagram to manage extra content that can set cookies on your device and collect data about your activity. Please review their details and accept them to load the content.Manage Preferences
For Greene, the taste was the first reason she became interested in fermented foods, while cooking in a number of Michelin-starred restaurants internationally. "We were doing 20-course menus and you need something that lifts the palate and that little touch of a fermented element can really give that, and also aid digestion throughout the meal," she says.
She started learning all about ferments' health benefits while working in collaboration with the microbiology department at the University of Antwerp before coming home to Ireland to begin her new food venture.
Some of 4Hands Food Studio's best-selling products include Green Tea and Nettle Kombucha using nettles which have been picked locally in springtime and Red Cabbage Kraut, which is naturally fermented for a year and made from organic cabbage grown in Kildare, Westmeath garlic and onion. From Greene's perspective as a chef, fermentation opens up a world of options.
"You can do the same thing and next year it's going to be completely different because the environment is different, the bacteria in the air are different," she says. "There are endless flavour profiles that you can achieve in fermentation."