With his new show, Family Meals in Minutes, focusing on family mealtimes and traditions, Donal Skehan talks about how his own family have settled back in Ireland, being a busy dad of two and reflecting on ten years in the food business.
The last time I spoke to Donal Skehan, it was in the full lockdown of April. He and his family – wife Sofie, sons, Noah (almost 3), and Oliver (10 months) – had just made a stressful journey home from Los Angeles, where they had been living for two years. They were coming to terms with the way their lives had been uprooted so quickly due to the pandemic.
Months later, they have settled into their rented home in his home place of Howth in Dublin, but like most, he's found the last few months a difficult adjustment. "We're definitely in the throes of finding out how our life will be here but sure it's the weirdest year; how can you even judge it? It's been insane," he says. "The minute you think you have a handle on things, they throw in a lockdown or some sort of change. It's a mad year."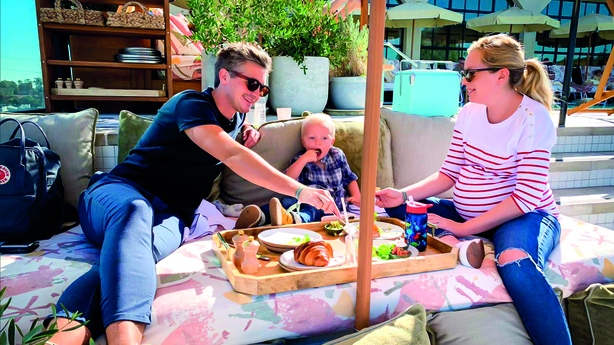 Donal has grown up in the public eye and we've been covering his story for over ten years, even though he's still only 34. Part of his charm has always been his positive, upbeat, enthusiastic nature, which he's maintained, but now there's a maturity and honesty to him since becoming a dad to two boys, as well as starting his own production company.  
He's resilient also; while cooking is his passion and business, there was a time when being in a band and performing was all he wanted. As a child, he was in school musicals and he realised that while he didn't have the most amazing singing voice, he could certainly hold a tune. He won a place in a boy-band called Streetwize, but it was a short-lived enterprise.
He then dabbled in some TV presenting on the Irish music channel Bubble Hits, until deciding to enter the competition to represent Ireland at the Eurovision. He didn't make it, losing to a turkey puppet. Not ready to give up on his music dreams, he put together another pop band, Industry, which had two number-one singles in the Irish charts.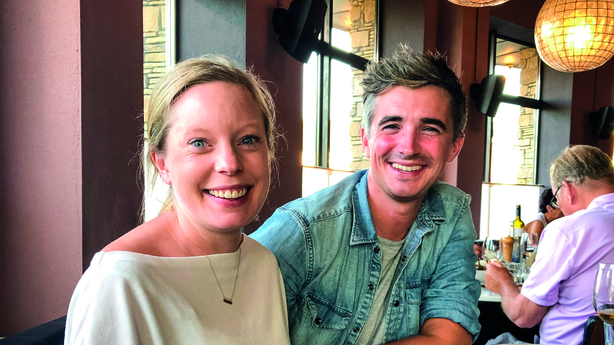 But alas, this was not third time lucky and Industry didn't last. He admits that he still wishes his music career had worked out. "I would have loved had the band blown up more because I did really love doing that, but it led me to what we're doing now. From the music perspective, we were always stunted in terms of creativity, whereas this is something that's really my own and I have built from the ground up. I've had amazing opportunities off the back of this job," he says, adding, "it doesn't feel to me that I've missed out on anything." 
The world of food blogging certainly gave him a passport to a dream decade. Since he setting up his Good Mood Food blog, he has had many books published, a hugely successful YouTube channel, TV work here, in the UK and the US and now, his own production company that makes his own and other chefs cooking shows. Most recently, he's been nominated for People magazine's Sexiest YouTube Star, an accolade that greatly amuses him.
"I don't know how that's happened but it has. Of course, I've been telling Sofie this for years and now she's disgusted she has to put up with it. I'm voting for myself every single day," he jokes. "It's a bit of nonsense but it gave us a bit of a laugh."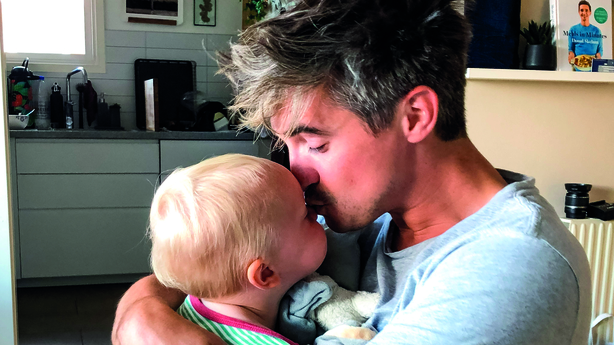 Food formed a big part of Donal's life from the start. His parents owned a fruit and vegetable distribution company and his aunt, Erika Ryan, is a well-known food stylist. His new TV show, Family Food in Minutes, which started on RTÉ One recently, not only focuses on easy and quick meals for the family, but also reflects on some of his favourite dishes and traditions from his childhood.
"I don't think I would be where I am today if I didn't have such good food memories from my childhood. The real family home cooking came from my mum, my granny and my aunt," he says. 
"More recently, my shows have become autobiographical in that the idea of them comes from something I needed. Meals in Minutes was when we moved to LA and had a tiny kitchen so had to really improvise. Super Food was after the arrival of Noah and trying to get ourselves back on track, and now Family Food is geared towards family traditions and a celebration of the last ten years."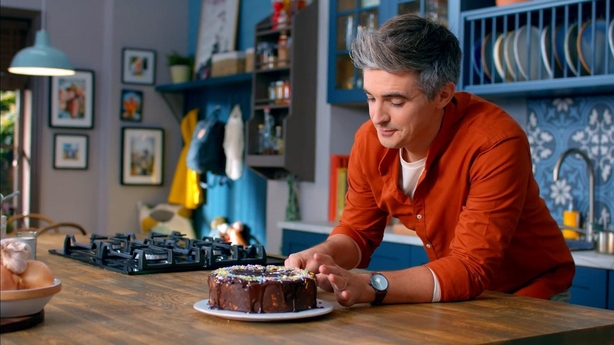 Being a dad of two (under two), Donal certainly knows a thing or two about time management in the kitchen. Sofie and Donal welcomed their second son Oliver at the end of last year; he admits that while being a dad brings him the greatest joy, he finds it hard also. "Being honest, becoming a dad has been the single hardest thing I've ever done.
"Normal life, you can just about handle and then you throw kids into the mix and it can be really hard. The learning curve has been such that you can't maintain what you used to and there has to be an acceptance of that. For me, that has probably taken three years to accept."
"You've seen yourself at full capacity and you just can't operate at that level when kids come along and in some respects, you don't want to, because you want to spend that time with them. Trying to find that divide or that struggle of being a parent and doing your full-time job is probably the hardest thing I've come to terms with." 
He laughs that while this stage is 'tricky' because of the age his kids are at, he and Sofie are starting to come out of the fog. "For Sofie and I, we've two under two and it's a turbulent time. 'Tricky' is the word I use for journalists so you can imagine what I mean," he laughs.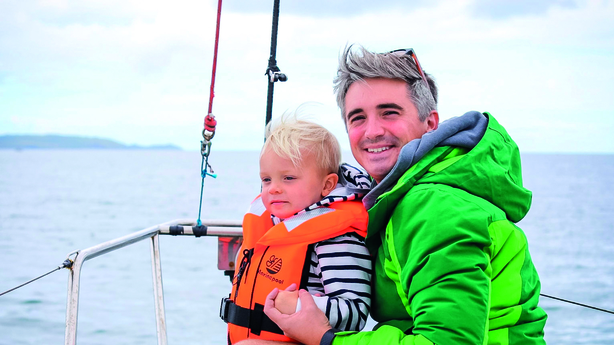 Donal and Sofie have been together 16 years, after meeting in Dublin when she came on a holiday from Sweden with some friends. They got married in 2015 in Carlow's Lisnavagh House and since then, they've had some adventures, traveling the globe, living in L.A and building a food empire.
Since the pandemic began, Sofie hasn't been able to get home to Sweden to see her family and Donal admits it's been a tough time for her. "It's been an especially hard year for Sofie; she hasn't been able to see any family. Apart from her mum, her family haven't met Oliver, so I'm really aware of that." 
He admits that it's hard for them to find 'couple' time and they make their best efforts to keep the spark alive. "Relationship time has definitely been less this year. But the kids are getting into good routines now, so we're reminding ourselves that there's still love there; we just have to check in with each other. Being really honest, it has been tough but we both have to make the effort to spend time together. Otherwise, it just doesn't happen." 
He works most days in their studio in Glenageary with his team; the production company employs 15 people and he remarks that thankfully, they were able to keep people on the books during lockdown, making Family Meals in Minutes and Cook-In with Mark Moriarty. "I could be filming one day, working on the website, the books, we're still finishing the TV shows. It's always something different. Being able to do it from the one place has been really helpful. I'm finally seeing a bit of routine again."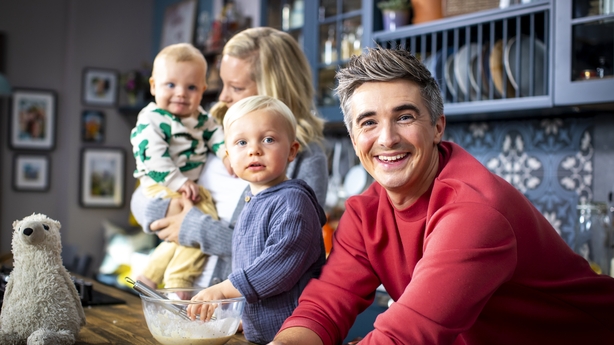 He admits that he's a bit of a control freak but with a strong team around him now, it's something he's had to work on. "My strong point and weak point is that I love being involved with everything, because I like things a certain way, so I do have to tell myself to step back because we have amazing people around us. You can't do it all so you have to leave it in the hands of the people that you trust." 
His new website, Donal's Kitchen, is a subscription-based site with access to nearly 100 recipes and videos as well as an easily generated meal plan. It's something he's always wanted to do. "I've been talking about meal planning for a long time. It's a big part of what we do in the house and what runs our kitchen. One thing that had been bugging me was how much time it takes to do your meal and shopping plan and to organise it all. We've seen a huge response to it because I think a lot of people struggle with actually doing a meal plan."
The next few months are uncertain for Donal and his family. They were toying with the idea of going back to L.A next year but of course, plans are changing all the time. "None of us even know how Christmas will look this year," he remarks.
Before then, they'll keep working, keep cooking, keep mixing their traditions and cultures (Noah speaks Swedish at home) and like everyone else, hope for the best. "We're very happy to be where we are now."