Over the past few years, chef Catherine Fulvio has delved into the lives of people living abroad, the importance of family traditions, and the food that grounds us in RTÉ One's Tastes Like Home.
In past seasons, our host has spent her summers road-tripping across Ireland to learn family-favourite dishes before travelling to locations around the world to recreate these tastes of home for those living abroad.
In this new eight-part series, the show revisits Cape Town and Johannesburg in South Africa, Vancouver and Tiny Township in Canada, San Sebastián and Barcelona in Spain, as well as Dubai & Portland, Oregon to capture eight individual stories.
"This show is all about my favourite parts of the people I met in series one and series two as well as unseen clips," says Catherine. "We travel around to all these beautiful places and met the most wonderful people and had these amazing experiences so this will show the highlights and my favourite places."
"I have also created new recipes inspired by my travels" she adds. "In Portland, for example, we went to Voodoo Donuts - they have the craziest donuts you've seen in your life - so I decided to make a Lemon Drizzle Donut, which everyone can make at home."
We need your consent to load this Instagram contentWe use Instagram to manage extra content that can set cookies on your device and collect data about your activity. Please review their details and accept them to load the content.Manage Preferences
During lockdown, the TV chef kept herself busy by leading virtual cooking classes and creating her own at-home cooking segments through her Instagram channel. Of course, just like the rest of us, she also found herself busy baking banana bread.
"I took it one step further, I made banana and chocolate chip bread," she laughs. "If there's no chocolate in it, Catherine's not happy.
"However, my plan now is to pull back on all that kind of thing," she continued. "It's time to start cooking healthy things."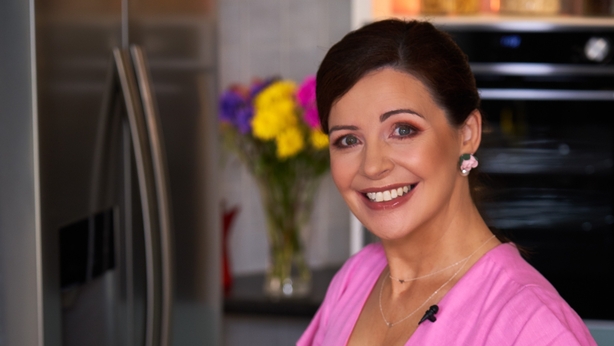 With kids getting back to school and some normality returning to day to day life, many of us are in the same mindset - navigating our way back to healthy habits and set dinners. We asked the mother of two for her top tips in getting kids to actually eat what parents put in the lunchbox.
"If possible, get the children involved. In my personal experience, you can make all kinds of lunches and they still come home with the lunch in the bag - there's no sense in doing that.
"Get the children involved because it will be part of their learning experience. They'll learn how to cook - even if it's just a sandwich - and it's helping them to make decisions about what they like, and it's taking the pressure off you. It's giving you ideas as well about how to plan the lunches and change things up."
"Keep it as simple as you can and make it doable. Try batch cooking, I'm a big supporter of stopping food waste, and batch cooking is fabulous because you can have everything in the freezer and, on Friday night, you can use up the leftovers - one portion of lasagne and one plate of meatballs and so on.
"Defrost them safely, heat them up, put them in the middle of the table and have an Irish tapas night."
"Get friendly with your freezer, batch cook and involve your kids - that's my advice."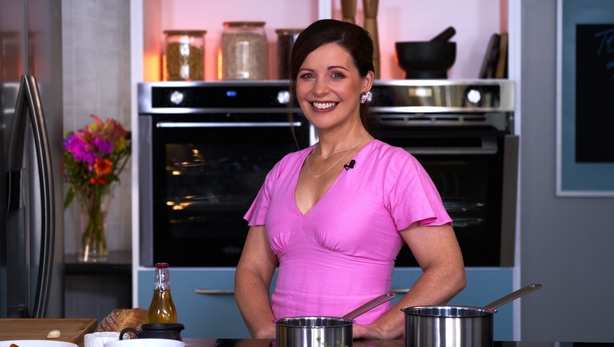 To wrap up the interview, we had to ask the Wicklow woman about her own home comforts and the one dish she would ask for if she was missing home.
"I would say... I would have to throw myself back to my mother's cooking. Her desserts were just to die for, I could name any of them but the one that stands out was her lemon cheesecake. She used to make it in her springform tin and keep in in the fridge," she explains.
"We had a bed and breakfast so there would be slices served for dinner but bits leftover, and I would always be the one that would go to the fridge at night time and take a little sliver off it - oh my God, I used to get into so much trouble," she laughed, "it was never just one sliver, of course."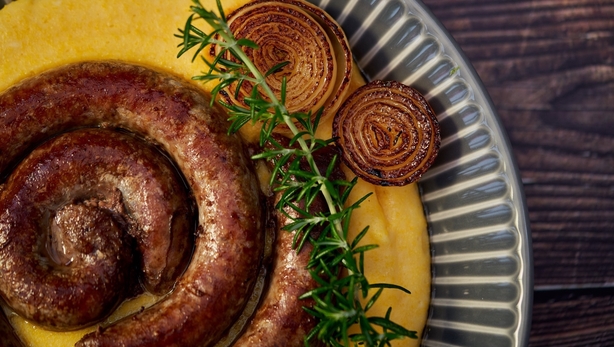 Tastes Like Home
On tonight's episode of Tastes Like Home, Catherine is looking back at her time in South Africa where she visited Cape Town and Johannesburg, and will be teaching viewers how to make Biltong Bruschetta with Irish Farmhouse Cheese, Nectarines and Balsamic Glaze and a Boerewors, Parmesan polenta with a charred onion and mustard gravy.