Casual catch-up times, easy-going foods to munch, lovely local fruits to enjoy with plenty of homemade drinks for happy chilled afternoons: this is what a picnic promises me!
And you don't need to go too far from home to enjoy one – it's quite acceptable to picnic in your back garden. It's all about the food and drink, and some nice décor such as a few casual napkins and a picnic basket with perhaps a pretty tablecloth or rug. Or why not have an early evening picnic with twinkle lights, candles and bunting?
It's all about making memorable times.
Catherine
www.ballyknocken.com

Spinach, grape & blue cheese salad
"Take the croutons separately so you still have that crunch in the salad and of course your dressing will have to be in a separate jar"
Serves: 4
For the croutons
5 slices sourdough or your favourite loaf
3 to 4 tbsp olive oil
1 tsp za'atar
½ tsp onion salt

For the dressing
80ml orange juice
1 tbsp honey
Pinch of turmeric
60ml rapeseed oil
Salt and freshly ground black pepper
For the salad
8 to 10 gem lettuce leaves
70g baby spinach leaves
10 small mint leaves
10 dates, sliced thinly
150g red grapes, de-seeded
100g blue cheese

Method
To prepare the croutons, tear the bread into small pieces. Heat a large frying pan with some oil, add the za'atar and onion salt and add the croutons, frying until golden, turning from time to time.
To make up the salad, pour the orange juice, honey and turmeric into a bowl and whisk in the rapeseed oil. Season with salt and freshly ground black pepper and pour into a jar with a sealed lid.
To assemble the salad, layer in a container or even a platter, using the gem lettuce first, then add the spinach leaves and mint leave. Mix the dates and red grape together and spoon over the top of the leaves. Dice the blue cheese and sprinkle on top.
When you are ready to serve, add the croutons and some dressing to the salad-filled container or platter. Sprinkle on the croutons just before serving so they still retain their crunch.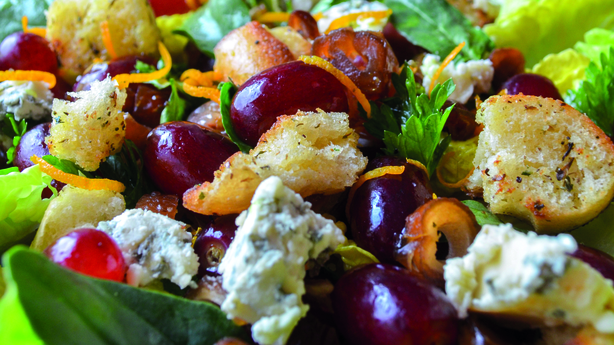 Chicken skewers with pitas
"A really delicious marinade for chicken and the yoghurt naturally tenderisers the meat and leaves it scrumptious and juicy. Although you're putting them into pitas, it is great having some spare skewers to munch as well"
Makes 12 skewers (8 to 10cm)
250g chicken breasts, cut into strips
For the marinade
100ml natural yoghurt
2 tbsp chilli sauce
2 garlic cloves, finely chopped
6 mint leaves, chopped
Rapeseed oil
Salt and freshly ground black pepper
16 cherry tomatoes
2 red onions, roughly diced
Chilli sauce, to serve
Pitas, to serve
Shredded lettuce, to serve

12 short skewers (about 10cm to fit snugly into the pitas). If wooden, soak in water for 30 minutes

Method
For the marinade, mix the yoghurt, chilli sauce, garlic cloves and chopped mint together in a large bowl.
Add the chicken strips and leave to marinade for at least 30 minutes.
When ready to cook, thread the skewers with a piece of red onion, a cherry tomato and a chicken strip and repeat. When you have them all ready, heat a chargrill pan over a medium heat and drizzle the skewers with oil and place in the chargrill pan. Cook for 6 to 7 minutes, turning them from time to time. Check that the chicken strip is fully cooked before taking them out the pan.
Ensure that they are fully cold before making up the pitas and packing. Season with salt and freshly ground black pepper.
To assemble, toast the pitas, slice of a little at the top, fill with shredded lettuce and some chilli sauce. Add the chicken from a skewer or two, pack them into a container and cover. You may want to take a little more chilli sauce to serve.