There are times when I just want dishes to be simple, refreshing and easy to prepare, giving myself time to catch up on other things. A few ways to simplify dishes: use few ingredients and ones that cook quickly like noodles, salmon or asparagus.
I do try to plan meals ahead of time, but then, I would – sure I wake up dreaming of food! But my tips this week to get ahead are to make tray bakes, savoury or sweet ones and batch cook when you have the time – all these will make the day easier for you.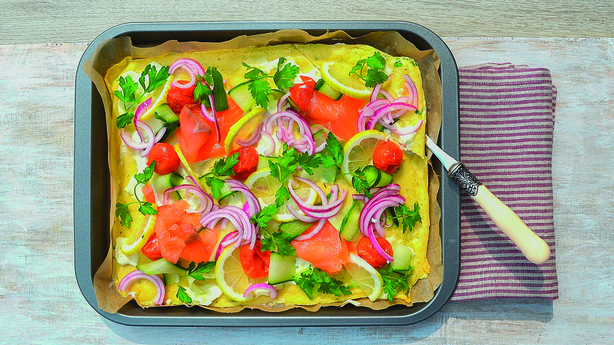 Pancake tray-bake with a salmon, lemon and cucumber topping
"This saves on making individual pancakes and is far less hassle – one large rectangle pancakes with a scrumptious topping"
Serves 4
For the batter
200g plain flour
3 tbsp rapeseed oil
½ tsp salt
1 tbsp chopped parsley
1tbp chopped chives
2 eggs
200ml milk
50ml water
For the topping
4 tbsp cream cheese
100g smoked salmon
½ cucumber, sliced into ribbons
1 red onion, very finely sliced
4 tbsp white wine vinegar
1 tsp fennel seeds
½ lemon, sliced, to garnish
Parsley sprigs, to garnish
Method
Pre-heat the oven to 200°C/fan 180°C/gas 6. Use a shallow ovenproof baking tray with sides 25cm x 30cm. Line the tray with parchment and ensure that it fits neatly.
To make the batter, place the flour, salt and herbs in a bowl. Whisk the eggs, milk and water in a jug. Pour the egg mixture into the flour and whisk to form a smooth batter. Pour into the parchment-lined tray.
Bake for 20 minutes until risen and set.
Place the onion slices into a bowl and add the vinegar and fennel seeds, leave to infuse for 10 minutes, stirring from time to time.
Leave the pancake cool slightly before spreading on some of the cream cheese. Arrange the smoked salmon on top, the cucumber ribbons and red onions. Garnish with slices of lemon and sprigs of parsley and serve immediately.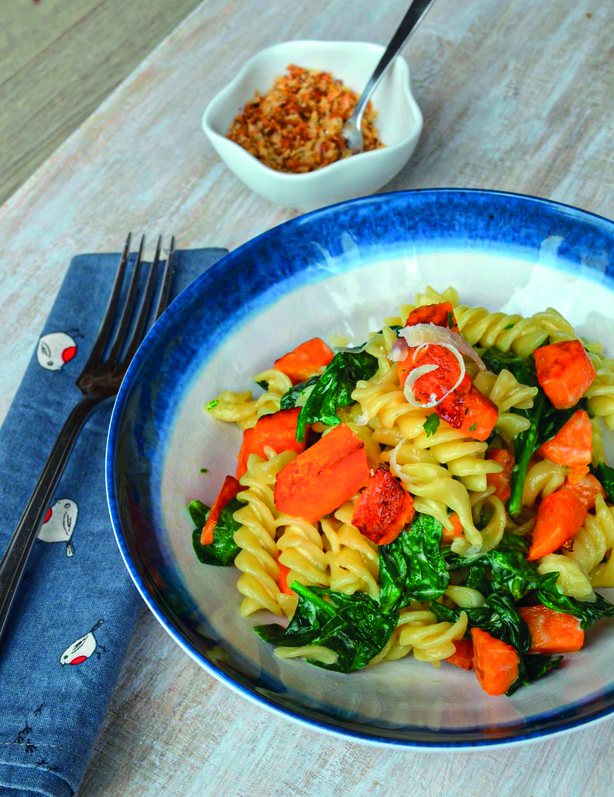 Spinach and roasted butternut squash fusilli
"No hectic sauces to make, just some great ingredients for a delish meal"
Serves 4
For the roasted vegetables
300g butternut squash, peeled and diced
2 red onions, roughly chopped
2 tbsp rapeseed oil
1 tsp honey
½ tsp ground cumin
Salt and freshly ground black pepper
250g uncooked fusilli pasta
150g fresh spinach
100ml vegetable stock
150g mascarpone
For the topping
1 tbsp oil
1 tsp garlic salt
1 tsp chopped rosemary
4 tbsp breadcrumbs
Parmesan shavings, to garnish
Method
Pre-heat the oven to 180°C/fan 160°C/gas 4.
Place the butternut squash and red onions on a roasting tray and add oil. Add the honey and cumin and roast for 30 minutes.
Cook the fusilli pasta as per the instructions on the packaging.
Heat a frying pan with a little oil and add the garlic salt, rosemary and breadcrumbs together and lightly brown and crisp, remove and leave to cool.
To make the sauce, heat a saucepan with a little oil and add the spinach, leave to wilt and stir in the mascarpone. Pour in the vegetable stock and mix well. Check the seasoning.
Add the cooked pasta to the spinach mixture and mix well.
To serve, spoon the pasta mix into a bowl, spoon over the roasted vegetables and lastly sprinkle over some of the seasoned breadcrumbs. Garnish with parmesan shavings.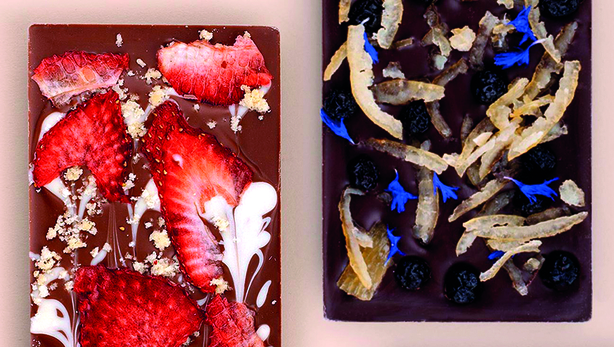 #lovelocal
Bean and Goose
My favourite…chocolate! Wexford-based Karen and Natalie, sisters and founders of Bean and Goose, have taken their passion for chocolate and using the best of Irish ingredients, they produce what I think is the very best single origin chocolate. As well as beautiful chocolate bars, sharing slabs and chocolate gifts, they have a Tasting Club where customers can gift themselves or to others a monthly delivery of chocolate. Each delivery contains 2 x 70g bars of chocolate. Recent flavours in the Tasting Club included Lemon, Blueberry & Lemon Verbena with a dark chocolate from Ecuador.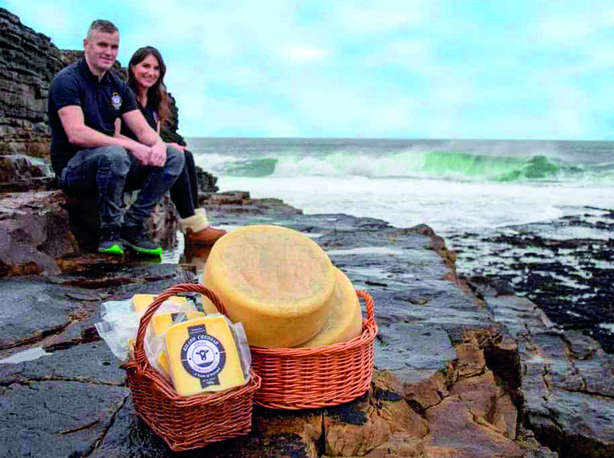 #lovelocal
Donegal Farmhouse Cheese
James and Noreen Cunningham are a young couple with a small farm of cows and sheep and their dream was to produce Donegal farmhouse cheese from milk produced locally. They make a semi-hard cheese in the style of Cheddar. When young, Kilard Cheddar' will appeal to those who like creaminess and mild flavour and as the cheese ages, it develops a more distinct flavour reflecting all that is lovely in the Donegal countryside.
You can contact Donegal Farmhouse Cheese by email with any queries about stockists or deliveries: