If you want to follow the Operation Transformation vegetarian meal plan, print off this shopping list for your next trip to the supermarket. You can find tasty OT-approved recipes here.
Thursday: Moroccan Chickpea & Vegetable Stew
Friday: Leek & Bean Tray Bake with Cherry Tomatoes
Saturday: Vegetable Coconut Curry with Tofu
Sunday: Lentil Chilli
Monday: Mushroom & Ricotta Omelette with Mixed Salad
Tuesday: Nutty Fried Rice with Satay Sauce
Wednesday: Spinach & Feta Frittata
Note: Herbs used can be fresh or frozen and always remember to wash raw vegetables.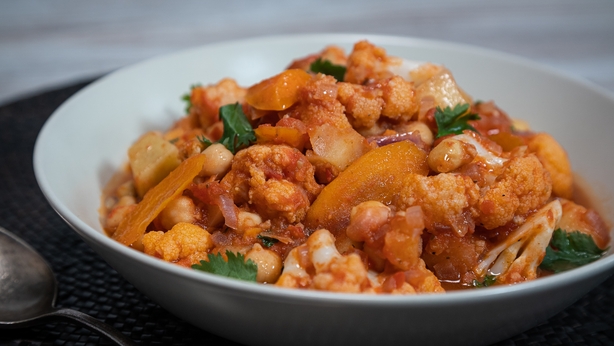 Fruit & Vegetables
Baby new potatoes (250g)
Baby spinach leaves (75g)
Basil (5g)
Broccoli (1 small head – you need 200g florets)
Carrots (7)
Cauliflower (½ small head - you need 200g florets)
Celery stick (1)
Cherry tomatoes (on the vine – 200g + 100g)
Chives (5g – if making vinaigrette)
Coriander (15g)
Cucumber (1/4)
Fennel bulbs (2)
Flat-leaf parsley (5g)
Garlic cloves (5)
Green beans (200g)
Leeks (2)
Lemon (1)
Mixed salad leaves (50g)
Mushrooms (chestnut or ordinary – 500g)
Onions (2 small)
Potatoes (2- each 200g)
Red onion (1)
Red peppers (2)
Scallions (1 bunch)
Thyme (5g)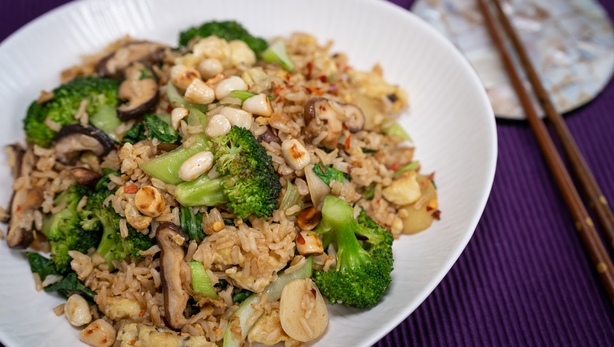 Fresh Produce
Butter (15g)
Eggs (10)
Low fat milk (1.5% fat – 85ml)
Feta cheese (50g)
Firm tofu (drained - 150g)
Ricotta cheese (50g)
Dried Goods
Balsamic vinegar (15g + 30g – if making vinaigrette)
Black beans (200g tin or use ½ 400g tin)
Cannellini beans (400g tin)
Chickpeas (400g tin)
Chilli powder (6.25g)
Chopped tomatoes (400g tin + 200g tin or use ½ 400g tin)
Coconut millk (160g tin)
Curry paste or powder (2.5g)
Dried chilli flakes (1.25g)
Freshly ground black pepper
Ground cumin (7.5g)
Ground turmeric (1.25g)
Honey (5g – if making vinaigrette)
Natural peanut butter (15g - preferably crunchy with no added sugar & salt – check the label the sugar should be no more than 5g per 100g)
Rapeseed oil (90g + 50ml if making own vinaigrette - cold-pressed for a stronger flavour)
Red lentils (dried - 225g)
Reduced salt vegetable stock cubes (2)
Reduced sodium soy sauce (15g)
Rice vinegar (5g)
Salt (if using)
Sesame seeds (5g)
Unsalted cashew nuts (25g)
Vinaigrette salad dressing (shop-bought or make your own – 1.25g)
Wholegrain brown rice (220g)
Wholegrain mustard (15g if making vinaigrette)