Fancy some healthy baked scampi? "Scampi is traditionally made with langoustines, but today they are super expensive, so good old raw king prawns will take their place," says chef Chris Bavins.
"The little bit of coconut adds a bit of natural sweetness and interest to the scampi, but if you are not a fan, you can always leave it out."
Healthy baked 'scampi' from Fakeaway by Chris Bavin
Ingredients:
(Serves 4)
40g plain flour
1tsp paprika
Grated zest and juice of 1 lemon
Salt and pepper
2 eggs, beaten
120g dried breadcrumbs or panko breadcrumbs
20g desiccated coconut
400g peeled raw king prawns
1tbsp olive oil
Lemon wedges, to serve
For the tartare sauce:
4tbsp mayonnaise
Grated zest and juice of 1 lemon
1tbsp capers, finely chopped
2 large gherkins, finely chopped
1tbsp chopped dill
Salt and pepper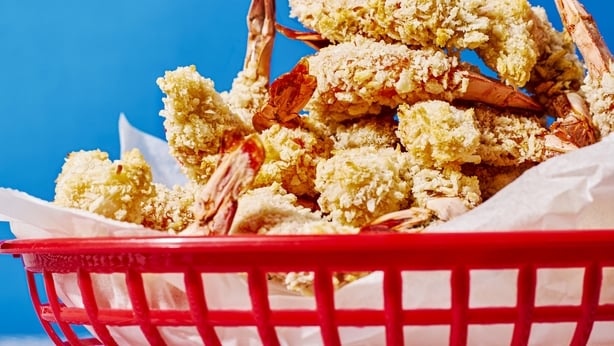 Method:
1. Preheat the oven to 200°C (180°C fan/400°F/Gas 6).
2. Put the flour, paprika and lemon zest in one bowl and season with salt and pepper.
3. Put the beaten eggs in another bowl and mix the breadcrumbs and coconut in a third bowl.
4. Individually dip the prawns first into the flour, then into the egg and then in the breadcrumbs to coat. Then place on the lined baking tray.
5. When you have coated all the prawns, drizzle over the oil and bake in the oven for 10 minutes until cooked and crispy.
6. Serve with homemade Tartar Sauce (just mix all the ingredients together, season and serve) and lemon wedges.
Scampi: 360 kcal, 14g fat, 31g carbs, 27g protein
Tartare sauce: 31 kcal, 2.8g fat, 1.1g carbs, 0.2g protein
Fakeaway: Healthy Home-Cooked Takeaway Meals by Chris Bavin, photography by Liz and Max, Haarala Hamilton, is published by DK (DK.com). Available now.