For a healthy kung pao chicken recipe, make Dale Pinnock's vibrant version next time you find yourself craving a Chinese takeaway.
A gorgeous, fiery, peppery dish that packs quite a punch. Perfect with some sautéed greens and a bit of brown rice.
Kung pao chicken from Fakeaways by Dale Pinnock
Ingredients:
(Serves 2)
4 garlic cloves, finely chopped
5cm piece of ginger, peeled and finely chopped
2 spring onions, chopped
3 dried red chillies
2 chicken breasts, diced
Olive oil
1 heaped tbsp runny honey
2tbsp soy sauce
1/2tbsp rice wine vinegar
2tsp ground black pepper
Salt
Sautéed greens and brown rice, to serve
50g unsalted peanuts, to garnish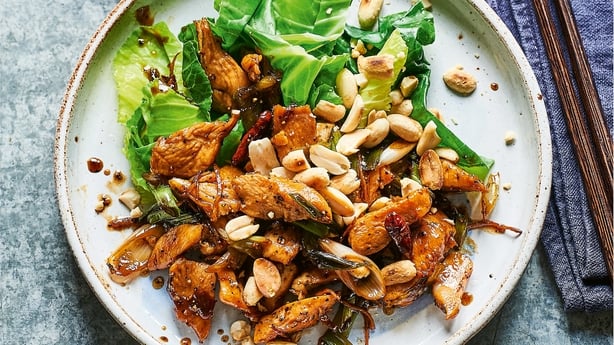 Method:
1. In a pan, sauté the garlic, ginger, spring onions and chillies in a little olive oil, with a pinch of salt, over a medium heat for three to five minutes.
2. Add the diced chicken and sauté for five to seven minutes, until the chicken is cooked through.
3. Add the honey, soy sauce, rice wine vinegar and black pepper. Simmer for four minutes.
4. Sprinkle the peanuts over as a garnish.
5. Serve with sautéed greens and brown rice.
Fakeaways by Dale Pinnock, photography by Faith Mason, is published by Hamlyn. Available now.