A bowl of udon noodle curry soup is a great way to start an evening. "We all love a good curry and this dish combines the authentic Chinese curry taste with a soup," says cookbook author Kwoklyn Wan.
"Served on top of soft noodles, crunchy beansprouts and meaty mushrooms, it's sure to satisfy those curry cravings."
Udon noodle curry soup from The Veggie Chinese Takeaway Cookbook by Kwoklyn Wan
Ingredients:
(Serves 2)
2tbsp oil (vegetable, groundnut or coconut)
1 medium white onion, sliced
1 medium carrot, cut into matchsticks
50g beansprouts
1/2 large portobello mushroom, cut into thin strips
750ml vegetable stock
250ml curry sauce (see below)
1tbsp light soy sauce
1/4tsp salt (or to taste)
2 nests fresh udon noodles
2 spring onions (scallions), thinly sliced
For the curry sauce:
1tbsp oil (vegetable, groundnut or coconut)
2 onions, finely diced
5 garlic cloves, finely chopped
2 carrots, finely diced
1 celery stick, finely diced
2tbsp plain flour
1 and a half tbsp curry powder (use your favourite: mild, medium or hot)
600ml vegetable stock
1/2tbsp honey
1.5tbsp soy sauce
1 bay leaf
1tsp garam masala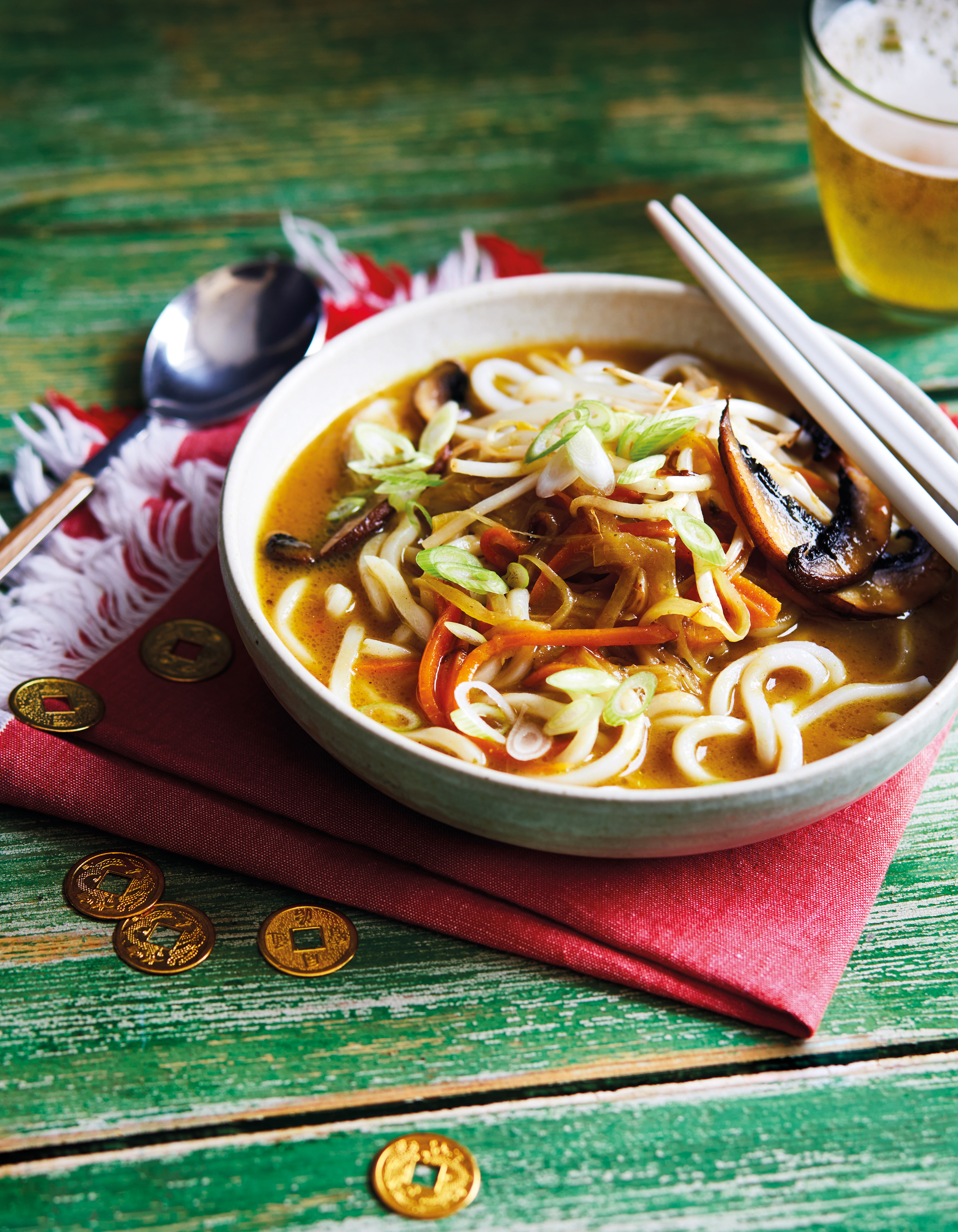 Method:
1. For the curry sauce, heat the oil in a saucepan, then add the onions and garlic and cook until softened. Stir in the carrots and celery and cook over a low heat for 10–12 minutes. Add the flour and curry powder and cook for one minute. Gradually pour in the stock, stirring constantly until combined, then add the honey, soy sauce and bay leaf. Slowly bring to the boil. Simmer for 15 minutes, or until the sauce thickens but is still of pouring consistency. If your sauce is too thick, add a splash of water to loosen it. Stir in the garam masala, then strain the curry sauce through a sieve and set to one side.
2. Heat the oil in a saucepan over a medium-high heat, add the onion and carrot and fry until lightly browned. Add the beansprouts and mushrooms and fry for a further minute.
3. Add the stock, curry sauce and soy sauce and mix well until smoothly combined. Bring to the boil then turn down the heat to a low simmer. Taste for seasoning and add salt if needed.
4. Bring a large saucepan of water to the boil, add the fresh noodles and cook for about 90 seconds. Drain and place into serving bowls. Pour over your curry soup, garnish with spring onions and serve.
The Veggie Chinese Takeaway Cookbook by Kwoklyn Wan, photography by Sam Folan, is published by Quadrille. Available now.