If you want to follow the Operation Transformation leaders' meal plan, print off this shopping list for your next trip to the supermarket. Following the vegetarian food plan? Click here.
Thursday: Braised Chicken Thighs with Olives & Potatoes
Friday: Prawn Pad Thai
Saturday: Aoife's Shepherd's Pie
Sunday: Vegetarian Lasagne & Side Salad with Vinaigrette Salad Dressing
Monday: Caramelised Onion & Garlic Pasta with Spinach
Tuesday: Sweet Chilli Chicken with Mixed Pepper Stir-Fry
Wednesday: Chinese Beef & Pak Choi
Note: Herbs used can be fresh or dried and always remember to wash raw vegetables.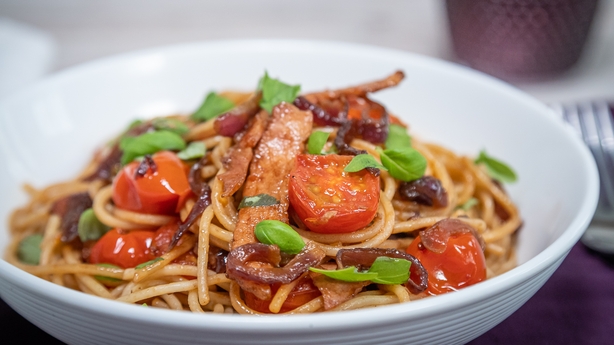 Fruit & Vegetables
Baby new potatoes (550g)
Baby spinach leaves (360g)
Baby plum or cherry tomatoes (20 + 400g cherry tomatoes)
Basil (5)
Beansprouts (100g)
Carrots (7 + 1 large)
Celery sticks (4)
Chives (5g – if making vinaigrette)
Courgettes (3)
Cucumber (½)
Flat-leaf parsley (5g)
Garlic cloves (9)
Green pepper (1)
Leeks (2)
Lime (1)
Onion (1 + 1 small)
Pak choi (540g)
Potatoes (Rooster or Maris Piper - 300g)
Red chilli (optional - 1)
Red onion (1 small)
Red pepper (1)
Root ginger (1 knob - you need 5g of finely grated + 5g of matchsticks)
Rosemary (5g or use dried)
Sage (5g – or use 2.5g dried)
Scallions (3)
Sugar snap peas (50g)
Tomatoes (2 ripe)
Yellow pepper (1)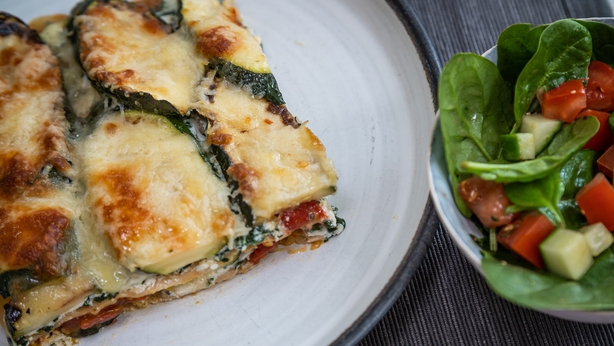 Fresh/Frozen Produce
Butter (35g)
Chicken fillets (skinless – 2)
Chicken thighs (skinless still on the bone - 4)
Eggs (2)
Frozen peas (100g)
Gran Moravia cheese (or another vegetarian Parmesan-style alternative – 45g)
Grated mozzarella cheese (80g)
Lean steak mince (200g)
Low fat milk (1.5% fat – 25ml)
Raw tiger prawns (160g)
Ricotta cheese (250g)
Sirloin steak (well-trimmed – 200g)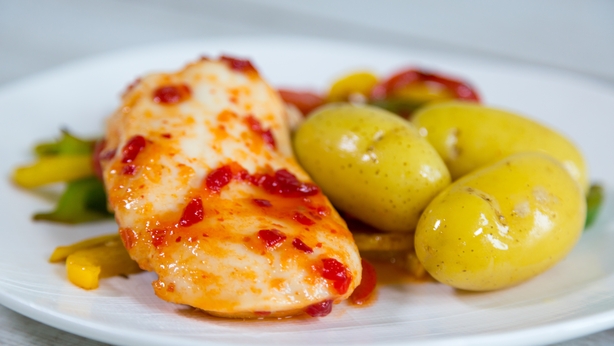 Dried Goods
Balsamic Vinegar (30g + 30g if making vinaigrette)
Dried chilli flakes (1.25g)
Freshly ground black pepper
Hoisin sauce (30g)
Honey (5g – if making vinaigrette)
Pitted green olives (35g)
Plain flour (15g)
Rapeseed oil (120g + 50g if making own vinaigrette - cold-pressed for a stronger flavour)
Reduced salt chicken stock cube (1/2)
Reduced sodium soy sauce (37.5g)
Salt (if using)
Sesame seeds (7.5g)
Sweet chilli sauce (from a bottle – 60g)
Tomato puree (22.5g)
Wholegrain mustard (15g – if making vinaigrette)
Wholewheat noodles (dried - 200g)
Worcestershire sauce (15g)
Wholewheat lasagne sheets (160g)
Wholewheat spaghetti (100g)
Vinaigrette salad dressing (30g – or make your own)