Catherine Fulvio returns with a brand new series of one of Ireland's most heart-warming shows, Tastes like Home. Every year, the Wicklow woman travels around the world to visit Ireland's diaspora and serve them up a taste of home, with the methods and recipes used in their family home.
In tonight's episode...
Catherine travels to balmy Faro in Portugal to meet João and his wife Teresa, friends of Sofia and Tiago Magalhães. The Magalhães's are Portuguese but now live in Windy Arbour, Dublin and miss the flavour of Cataplana, a vibrant Portuguese seafood dish.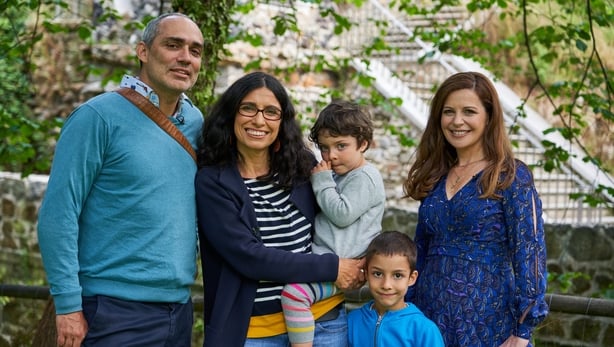 Tiago and João have been best friends since first crossing paths on a Portuguese beach aged just three, and now their wives and kids all holiday together each year. While that means more people to love, it also means more people to miss.
First up, Catherine travels to the famous Ria Formosa Nature Park in Olhão and takes a boat out to Culatra Island for a spot of oyster picking. After this, she cools off with a visit to a local winery called Quinta da Tôr.

Refreshed, Catherine tours the historic old town of Faro, and visits Arco da Vila, Arco do Repouso, Praça Afonso III and the Faro Municipal Museum. She also sees the Carmo Church (Igreja do Carmo), which is an 18th-century Church with an imposing baroque façade and the Bone Chapel (Capela dos Ossos) so named as it's interior walls are covered and decorated with human skulls and bones. It is one of the best-known monuments in Évora, Portugal.
As Catherine knows, to know a country you should know its food. Meeting up with her guide, João takes Catherine to the local Faro Market so she can learn more about Portugal, its food and typical flavours. Together, the shop for ingredients for "Algarve Cataplana", plucking the best of the market's fish, shellfish, fruit, vegetables and regional products.
Get the recipe for authentic Algarve Cataplana here.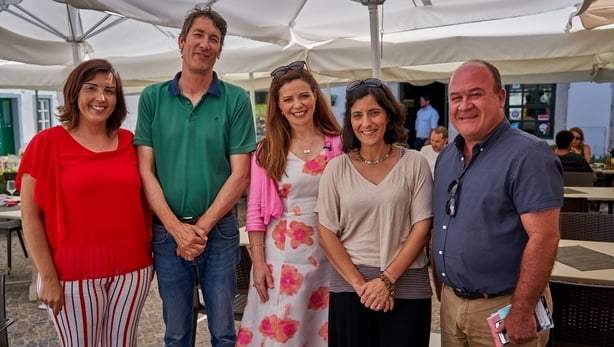 But before they cook, Catherine samples some local specialties at the Madrugada restaurant, trying everything from caracóis (snails), ameijoas à bulhão pato (clams in garlic sauce) and pataniscas de camarão (shrimp "pataniscas"), to arroz de corvina com camarão (croacker rice with shrimps) and trilogy cake (almond, fig and carob).
They also visit João's restaurant 'Tertúlia Argarvia' and taste tuna Moxama - tuna cured like a Spanish ham - as well as octopus tentacles, and a Swiss roll made from Sweet potato.
João and Teresa then take Catherine to their home where she gets crash course on how to make the "Algarve Cataplana" so she can recreate it for Sofia & Tiago back in Dublin. Finally, at home in Dublin, Catherine whips up her own tribute to her time in Faro - a Fig, Almond and Chocolate Tea Cake.
Get the recipe for Catherine's Fig, Almond and Chocolate Tea Cake here.

Watch Tastes Like Home on RTÉ One at 7.30pm.