The food that we eat and how it is produced is one of the areas that we can all tackle when it comes to climate change.
Over a quarter of all greenhouse gas emissions are generated by the global food chain but small changes to our diets could not only improve our environmental footprint but could also have a positive impact on our health.
What Planet Are You On?'s diet expert Dr. Marco Springmann, a Senior Researcher in Environmental Sustainability and Public Health, shares a seven-day, planetary-health meal plan that he and Dr Pamela Mason, a Registered Public Health Nutritionist, developed.

DAY 1
Breakfast
Porridge with toasted seeds/nuts & frozen berries
Ingredients
150g rolled oats
500ml soya or other plant-based milk alternative (additional 500ml to serve - optional)
1 tablespoon maple syrup
250g (6 handfuls) of frozen berries
75g (3 handfuls) chopped nuts or seeds
4 tsp honey (optional)
How to prepare
Place oats and milk of choice in a pan on moderate heat.
Bring to a steady simmer for 5 to 6 minutes depending on the consistency you'd like.
Stir though the maple syrup.
Pour into four bowls.
Add a handful of berries and a handful of chopped seeds/nuts to each serving
Serve porridge with 125ml milk alternative each & 1 teaspoon of honey each (optional)
Lunch
Minestrone soup with wholegrain bread
Ingredients
2 tablespoons olive oil
1 onion chopped
400g minestrone soup vegetable mix
1x 150g dried lentils
1 litre of water
Salt/pepper
Vegetable stock cube
4 wholemeal rolls
How to prepare
Heat the olive oil in a heavy based saucepan,
Add the chopped onion, and cook for 5 minutes to soften.
Add mixed vegetables and lentils, 1 litre of water, vegetable stock cube and simmer for 25 minutes.
Season with salt and pepper to taste
Serve with wholemeal crusty roll

Dinner
Bean, Peanut and Butternut Squash Curry with Rice
Ingredients: curry
3 tablespoons olive oil
1 onion finely chopped
1 garlic clove
2 inch piece of ginger – peeled and roughly chopped
1 red chilli (deseeded and chopped fine)
1 tablespoon curry powder (or to taste)
400ml low fat coconut milk alternative
600g butternut squash chopped
400g tin red kidney beans/chickpeas
1 large mango cut into chunks (or ready cut) – 200g
75g (3 handfuls) peanuts
270g basmati rice
How to prepare
Heat the oil in a medium sized saucepan.
Add chopped onion, garlic, ginger, chopped chilli and cook for 5 minutes to soften.
Add the kidney beans or chickpeas and cook for 5 minutes
Add the curry powder, coconut milk alternative and the butternut squash and simmer for 30 minutes.
Stir in the mango, peanuts and simmer for a further 5 minutes.
While the curry is cooking prepare the rice as instructed on the pack.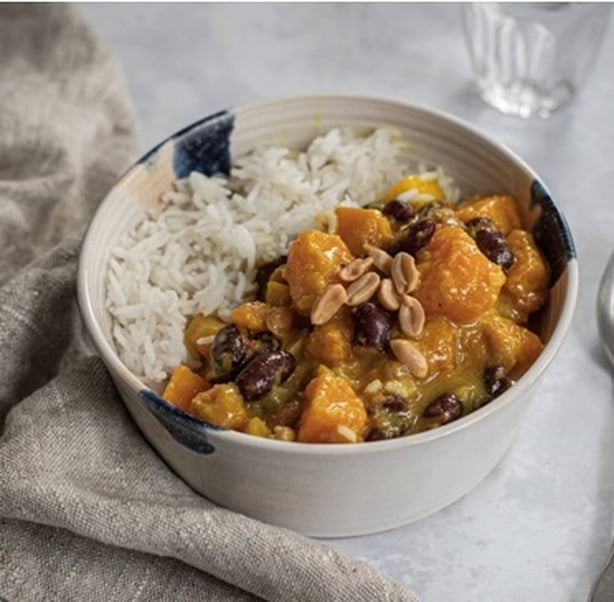 DAY 2
Breakfast
Muesli (makes 300g) plus fresh fruit
Use half the muesli today and half on Day 6 breakfast
Ingredients
150g rolled oats
25g sunflower seeds
25g pumpkin seeds
50g of flaked almonds
1 teaspoon ground cinnamon
50g of finely chopped dried apricots
4 apples
375ml soya milk alternative (to have with muesli)
How to make
Mix the above ingredients together. (Portion size 50g each)
Enjoy with 1 apple (150g) for each family member (can be chopped or grated) and 125ml of soya milk alternative
Lunch
Spicy chickpea pitta sandwich
Ingredients
2 tablespoons olive oil
1 teaspoon cumin
1 large garlic clove finely sliced
1 teaspoon paprika
4 carrots peeled and thinly sliced
400g can of chickpeas (Retain the liquid from the chickpeas for later in the week)
Juice of half a lemon
4 wholemeal pitta breads or flat breads (warmed are nicer)
4 tablespoons of soya yogurt alternative
Salt and pepper
How to make
Heat the oil in a frying pan over a medium heat.
Add the cumin and heat for a few seconds.
Add the carrots and cook for 8-10 minutes stirring often until starting to brown.
Add the garlic, paprika and chickpeas and a squeeze of lemon juice.
Taste and add more salt, pepper and lemon juice to taste.
Spoon some of the chickpea mixture into the pocket of a pitta (or into the middle of a flatbread) and top with a spoonful of yogurt.
Fold the flatbreads if using.
Serve straightaway.
Dinner
Tomato and lentil pasta
2 tablespoons olive oil
1 onion peeled and sliced
2 garlic cloves (finely chopped)
1 red pepper finely chopped
2 x 400g tins of crushed tomatoes
200g red lentils
1 teaspoon mixed dried herbs
250g dried wholemeal pasta
50g of sesame seeds
60g grated vegan cheese alternative (could be cheddar or mozzarella style), but the pasta dish can be eaten without the cheese alternative!
How to prepare
Heat the oil in a large pan.
Add the onion and garlic and fry until golden brown.
Add in the chopped red pepper, tomatoes, lentils and dried herbs.
Stir and cover the pan then allow to boil for 10 minutes.
Then turn down the heat and simmer for 20-30 minutes checking often that the sauce does not stick.
Ten minutes before the end of cooking the sauce, boil a large pan of water with a pinch of salt. Then add the pasta, cook for 10 minutes or so, and then drain.
Divide the pasta between the three plates and pour the sauce over the top. Sprinkle with the grated vegan cheese alternative (if liked)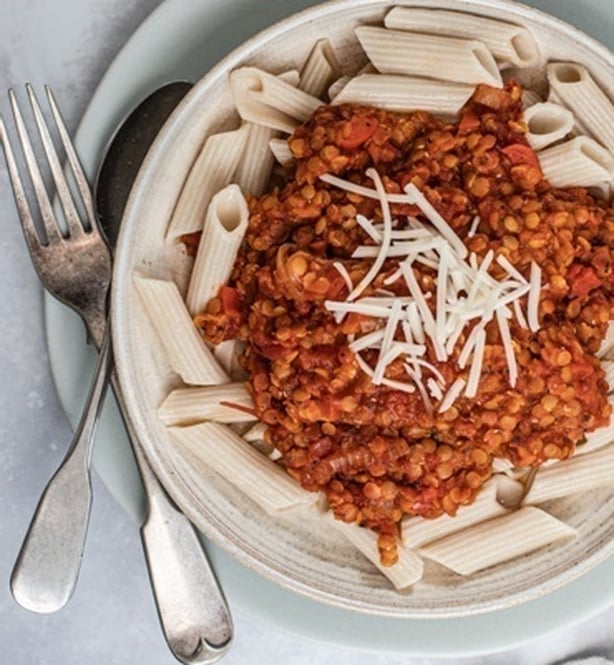 DAY 3
Breakfast
Wholemeal toast with banana and cashew nuts
Ingredients
4 large slices of wholemeal bread
4 bananas (fairly ripe) = 300g
100g cashew nuts
How to prepare
Toast the bread
Put the cashew nuts in a plastic bag and crush a little with a rolling pin
Mash the bananas and mix with the roughly chopped cashew nuts, reserving a few nuts to sprinkle on the top
Divide the banana mix and spread it over the toast, and sprinkle the remaining nuts on the top
Lunch
Turkish roast vegetables with butter beans
Ingredients
1 medium onion
5 peppers (assorted colours)
400g tomatoes
20 sprigs of thyme (or dried thyme)
6 tablespoons of olive oil
2 x 400g tins butter beans
2 teaspoons allspice
400g fresh green beans
120g of grated vegan cheese alternative (optional)
Salt and pepper
How to prepare
Preheat the oven to 200C/180C Fan /Gas 6.
Transfer the onion, peppers and tomatoes to a roasting tin with the whole thyme sprigs and trickle over the olive oil. Roast the vegetables for 1 hour.
Add the butter beans and ground allspice to the roasting tray and mix well, making sure that any dry parts are well coated in olive oil. Bake for a further 30 minutes.
Cook frozen green beans according to instructions on the bag.
Fold the green beans into the roasted vegetables.
Sprinkle with vegan alternative cheese (if wanted)
Season with salt and pepper and serve.
Dinner
Vegetable skewers
Ingredients
20 cherry tomatoes
1 courgette thickly sliced
1 red onion peeled and cut into wedges
1 red pepper and 1 green pepper cut into small chunks
1 tablespoon clear honey, 1 teaspoon grainy mustard, 2 tablespoon olive oil
6 pitta breads (6x 60g)
Crunchy green salad
How to make
Heat oven to 200C/180C fan/gas 6. Blend the honey, mustard and oil with seasoning.
To assemble, thread veg onto skewers and brush with the honey glaze. Cook for 25-30 mins in the oven or on the barbecue, brushing with any remaining glaze before serving.
Serve with pitta bread & crunchy green salad
Note: If using wooden skewers soak for 10 mins before so use to avoid burning.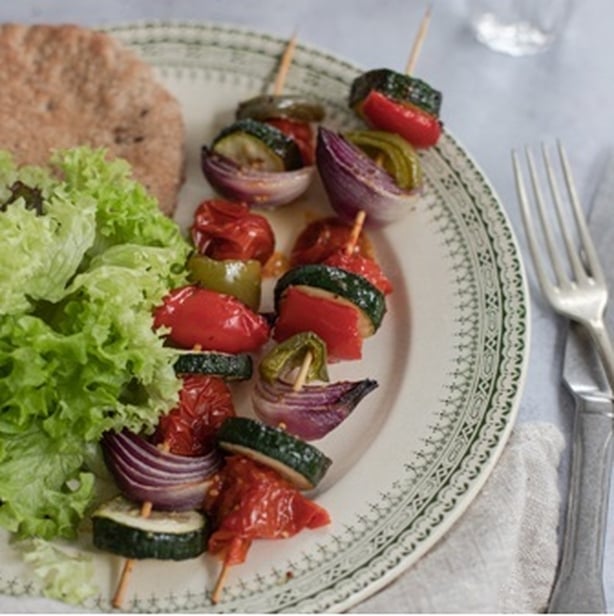 DAY 4
Breakfast
Breakfast cereal with fruit and seeds
Ingredients
Weetabix (2 biscuits each person)
Soya or other plant-based milk alternative (125ml per person)
4 bananas (1 each)
1 tablespoon sunflower seeds each (10gx4)
Lunch
Baked potato with chilli beans
Ingredients
3 medium sized baking potatoes
1 onion, chopped
2 tablespoon olive oil
2 garlic cloves, chopped
1 fresh red chilli seeds and all, chopped
1 can (400g) crushed tomatoes
2 cans (2x400g) cooked red kidney beans, drained (equivalent to 250g dried beans)
60g grated vegan cheese alternative
Salt to taste
How to prepare
Preheat the oven to 200C/180C Fan/Gas 6.
Wash and dry the potatoes.
Put potatoes in the oven for 45 minutes
Heat olive oil in large saucepan.
Dice onion and garlic; put in pan and fry for a couple of minutes then add the chilli.
Add the kidney beans, stir and cook for a minute.
Add the tomatoes and cook on a medium heat until well heated through and the flavours have mixed - about 20 minutes.
Add water if it gets a bit dry.
Pour sauce over baked potatoes
Sprinkle with vegan cheese alternative
Dinner
Kale and quinoa patties
Ingredients
140g quinoa
500ml hot vegetable stock (made with stockpot or stock cube)
100g kale, stalks removed roughly chopped
3 tablespoons olive oil
1 small onion roughly chopped
2 garlic cloves crushed
75g wholemeal breadcrumbs
100ml of chickpea liquid (kept from earlier in the week)
6 cherry tomatoes or 2 large tomatoes, roughly chopped
Slices of halloumi cheese
How to make
Put the quinoa in a saucepan and pour over the hot stock.
Simmer for 18-20 mins over a gentle heat until the grains have fluffed up and the liquid has disappeared.
Remove from the heat and allow to cool.
Meanwhile, bring a large saucepan of water to the boil. Add the kale and simmer for 6-8 mins until cooked through. Drain and squeeze out any water
Put 1 tablespoon olive oil in a small frying pan over a medium heat. Add the onion and cook for 2-3 mins until translucent. Add the garlic and cook for 1 min more. Tip the cooked quinoa into a bowl and add the kale, onion, garlic, breadcrumbs, chickpea liquid and chopped tomatoes. Season well and mix to combine
Form into patties
Grill halloumi cheese and put one slice on top of each pattie
Could serve these with baked or oven roasted sweet red potatoes; these potatoes can be baked or cut into wedges and roasted (with oil) in the same way as ordinary potatoes
Serve with green salad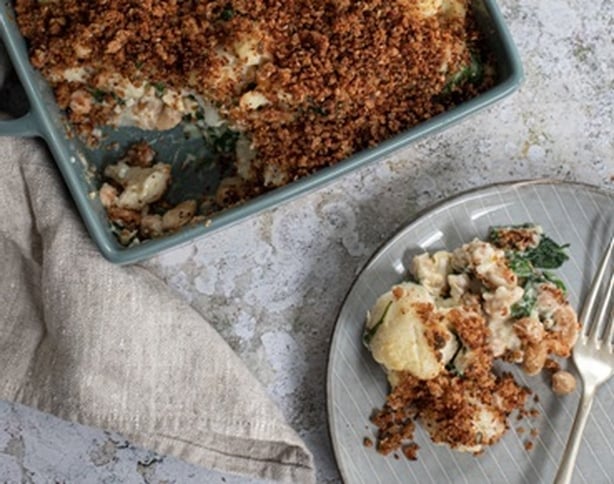 DAY 5
Breakfast
Bircher muesli
1. 150g of whole rolled oats
2. 200ml of soya or plant-based milk alternative
3. 200ml soya yogurt alternative
Combine all ingredients in a bowl then cover and chill overnight.
Top with
4 grated apples (one each) and 36g/4 tablespoons chopped dried apricots (for the four of you) and 50g of sesame seeds (between the four of you)
Lunch
Black bean burrito
Ingredients
2 tablespoons olive oil
1 onion, very finely chopped
1 green pepper, chopped
1 can (400g) black beans, rinsed and drained (equivalent to 125g dried beans)
3 flour tortillas (8 inches), warmed (60g x 3)
1 x 200g tin of sweetcorn, rinsed and drained (160g drained weight)
1 medium tomato, chopped
1 cup crispy salad
Optional toppings: yogurt, chopped tomato
How to make
Heat the olive oil in a large pan and fry onion and green pepper until soft
Add black beans and sweetcorn and cook for 3-5 mins.
Spoon on to each of the three tortillas, add shredded lettuce and tomato
Serve with optional toppings

Dinner
Cauliflower and chickpea bake
Ingredients
1 medium/large cauliflower
2 tablespoons olive oil
2 tablespoons of plain flour or cornflour
2 garlic cloves crushed
1 tablespoon Dijon mustard
350ml soya or other plant-based milk alternative
75g grated vegan cheddar cheese alternative
100g spinach
1 x 400g can chickpeas, drained and rinsed (equivalent to 125g dried weight) Retain chickpea liquid for use later in the week
100g cashew nuts
100g brown breadcrumbs
How to make
Preheat oven to 190C/170C fan/Gas 5
Cook cauliflower in pan of boiling water for 5 minutes then drain and set aside
Heat 1 tablespoon of the oil in a large saucepan and add the flour or cornflour, beating to make a paste
Stir in half the garlic and the mustard and cook for 1 minute
Add the soya milk alternative a little at a time, whisking until the sauce thickens
Stir in the grated cheese alternative and spinach and season,
Add the cauliflower, chickpeas and cashew nuts and stir until well coated
Pour into an oven proof dish
Fry the breadcrumbs in the rest of the oil and garlic until crisp then scatter over the dish
Bake for 20-25 minutes until golden on top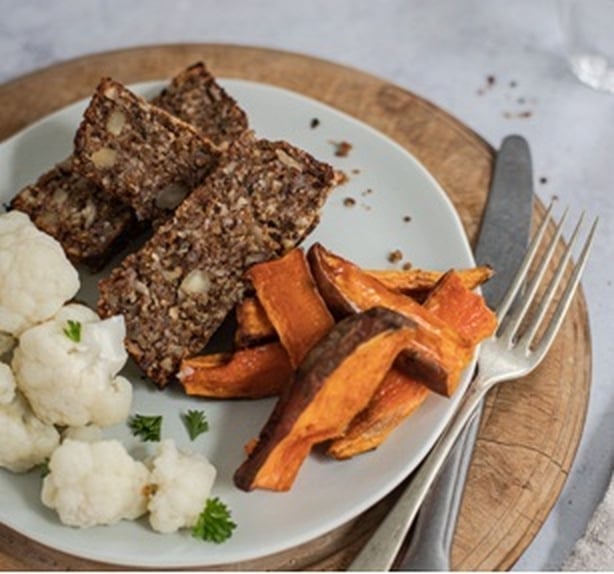 DAY 6
Breakfast
Muesli (use the half leftover from Day 2 breakfast)
Enjoy with 1 apple (150g) for each family member (can be chopped or grated) and 125ml of soya milk alternative for each person
Lunch
Roast spring vegetable pizza
Ingredients (pizza base)
1 pack of ready rolled pizza base, 200g OR if you'd like to make your own:
200g plain flour
½ teaspoon salt
1 teaspoon easy blend yeast
150ml warm (not hot) water
Olive oil (for brushing)
How to prepare
Preheat the oven to 220C/Gas 7/fan oven 200C.
Tip the flour, salt and yeast into a bowl and mix well.
Add the warm water and mix to a soft dough.
Knead on a lightly floured surface for 2-3 minutes, let rise for 5 min and then roll out to a 30cm/12in round.
Brush a large baking sheet with a thin slick of oil and then add the pizza base.
Cover with a clean tea towel
For the topping
2 red peppers, cut into rings
1 leek, thinly sliced
1 teaspoon olive oil
4 tablespoons tomato passata
2 cherry tomatoes
3 tablespoons green peas (frozen)
125g vegan mozzarella cheese alternative
25g sesame seeds
How to prepare
Spread the pizza base with the passata.
Scatter over the leek and red pepper.
Thinly slice the mozzarella alternative and arrange over the vegetables.
Scatter over the whole cherry tomatoes and peas
Bake for 15-20 minutes, until the crust is crisp and lightly browned. To serve, cut into four wedges.
Dinner
Nut Roast with potato wedges and cauliflower
Ingredients
1 onion finely chopped
2 tablespoons olive oil
200g chopped mixed nuts
2 tablespoons ground almonds
100g wholemeal breadcrumbs
1 tablespoon dried sage
Salt and pepper to taste
3 medium sweet potatoes
1 tablespoon of olive oil
1 medium cauliflower
How to prepare
Pre-heat oven to 180C/350F/gas mark 4
Fry the onion in the oil until soft
Combine the onion, nuts, breadcrumbs and sage together before turning into an oiled ovenproof dish and baking for 30 minutes until golden brown
Peel and cut sweet potatoes into thick wedges the each half into three wedges
Brush with olive oil
Season with salt and pepper
Place in the oven with the nut roast for 20-30 minutes
Divide the cauliflower into florets and put in a pan of boiling water for the last 10 minutes of the cooking time for the nut roast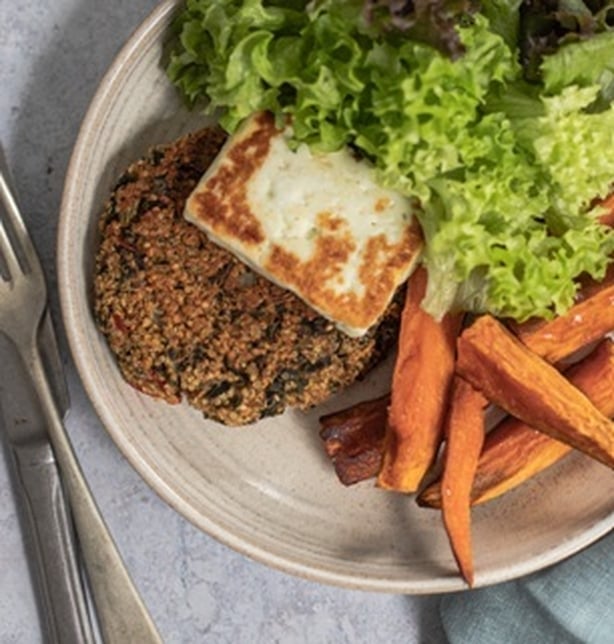 DAY 7
Breakfast
French toast with berries
Ingredients
75g of liquid left from chickpeas
1 teaspoon vanilla extract
4 teaspoons honey
8 slices of crusty bread
2 tablespoons olive oil
400g mixed frozen berries (thawed overnight in the fridge)
How to make
Mix the chickpea liquid with the vanilla extract and honey in a bowl.
Brush each side of the 8 slices of bread with the mixture.
Heat 1 tablespoon of the oil in a frying pan. Cook the 6 slices of bread (on one side) until crisp and golden brown (about 3 minutes)
Add the other tablespoon of oil and fry the 8 slices of bread on the other side until brown and crisp (about 3 minutes)
Transfer the French bread to 4 plates and top with the berries.
Serve with extra honey (1tsp each) if you like
Lunch
Creamy mushroom pasta
Ingredients
500g pasta of your choice
50g cup olive oil
4 cloves garlic crushed
1 small onion or 4 spring onions finely chopped
800g of fresh mushrooms chopped
3 tablespoons flour
750ml of soya or other plant based milk alternative (almond is good in this recipe)
100g fresh parsley chopped
400g of frozen peas, thawed
Salt and pepper to taste
How to prepare
Cook the pasta according to directions
While pasta is cooking cook the mushroom sauce
Heat olive oil in a frying pan over medium heat. Add garlic, onions, mushrooms and ½ tsp salt and cook stirring occasionally, until mushrooms are browned and tender, about 10-15 mins, turning down to medium low after 5 mins.
Sprinkle flour over the mushrooms and stir to coat, allowing to cook for 30 sec-1 min. Bring heat back up to medium-high.
Add 200ml almond (or soya) milk alternative alternative, stirring constantly and it let simmer for 1 min. Make sure to break up any clumps.
When completely smooth and thickened slightly, add remaining almond (or soya) milk alternative alternative and pepper to taste, return to a simmer, stirring constantly.
Cook until the sauce thickens slightly again, about 3 mins.
Remove saucepan from heat. Add peas, and salt & pepper to taste and cook for 1 additional minute or until peas are heated through.
Add the pasta to the mushroom sauce and toss to coat.
Serve garnished with extra parsley and serve immediately
Dinner
Homemade burger with coleslaw (or could buy vegan burgers ready-made)
Ingredients: burger
1 small red onion
1 400g can of red kidney beans rinsed and drained
Wholemeal breadcrumbs from 1 slice of bread
25g mixed nuts
2 teaspoons chilli powder
50ml chickpea liquid
1 tablespoon tomato puree
4 wholemeal rolls
How to prepare
Chop onion in food processor
Add kidney beans, breadcrumbs, chill powder, chickpea liquid and tomato puree and mix again
Shape into 4 burgers and grill under a hot grill for 5-7 minutes a side
Top burgers with sliced tomato, red onion and crispy salad from bag
Ingredients: Coleslaw
300g shredded white cabbage
75g shredded carrots
150g Greek soya yogurt alternative
2 tablespoons cider vinegar
2 tablespoons olive oil
1 teaspoon Dijon mustard
Salt and pepper
How to prepare
Mix yogurt, cider vinegar, olive oil, mustard and salt and
Pour dressing over the cabbage/carrot mix
Stir until well mixed
Serve with burgers
Watch What Planet are you on? on RTÉ One at 7pm.