Neven Maguire, our favourite Cavan chef has been combing the coast for Ireland's best seafood on the latest installment of his Food Trails series.
So far he's sampled the very best of Mayo, Cork, Donegal, Sligo, Kerry, and Galway, learning how artisanal practices meld with traditional fishing to create a cuisine that is both familiar and irresistibly modern.
For the final tonight, Neven pulls off a mad dash across Dublin, Donegal, and Kilkenny, sampling just some of the inspiring and varied treats on offer.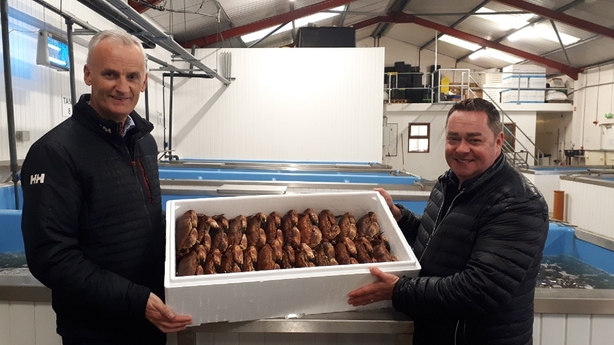 Starting up North in Donegal, Neven drops by the Live Irish Shellfish operation, where he gets to grips with how crab and lobster are prepared to be exported live. With Ireland exporting over €600 million worth of seafood every year, preparing this delicate and prized cargo is of the utmost importance. 
Next, Neven travels to Dublin, specifically to St Stephen's Green in the bustling heart of the city, where he meets Head Chef Sean Smith at the Cliff Town House. Showcasing just how varied seafood can be, Smith shares his recipe for a tangy and invigorating Peruvian Turbot Ceviche, a raw fish dish using citrus juice to flavour and slightly cook the fish. 
Nipping over to Blackrock, South Dublin, Neven stumbles upon something even more unexpected than ceviche: Hawaiian sushi.
A relatively new cuisine in Ireland, Hawaiian sushi - or "poké" - is worlds apart from Japanese sushi, using grains, alternative seasonings, vegetables, dressings and garnishes and beloved across the world as an exciting take on clean eating. 
We need your consent to load this Instagram contentWe use Instagram to manage extra content that can set cookies on your device and collect data about your activity. Please review their details and accept them to load the content.Manage Preferences
To learn more, Neven calls into Shaka Poké where owners Jamie Haughton and Dave McParland introduce him to poké. 
With a final stop in Kilkenny, Neven wraps up his delicious and exciting Irish seafood trail with a visit to Goatsbridge Trout Farm, the oldest privately owned fish farm in Ireland. Ger Kirwan brings Neven on a tour of the impressive property and even lets him try some trout caviar. 
As his parting gift to us, Neven prepares another delectable dish, this week's being Steamed Hake with Chorizo and Beans - get the recipe here. 
Watch Neven's Irish Seafood Trails on RTÉ One tonight, February 13th, at 8:30pm.