First Course
Cockle Soup
Fried Trout
A Sagoo Pudding
Scotch Collops
Pullets boiled in Bladders
A Hogoe  
Second Course
Rabbits Surprise
Eels with White Sauce
Kid Pie
 Spinach Toasts
Farced Lettuce
Sweets
Potato Cheesecakes
A Chocolate Tart
Fruit Ices
Cockle Soup
Boil your cockles, pick them out of the shells, then wash them, and put them into a sauce-pan; take two or three pound of fresh fish and a cullis, as for the cray-fish soop (see below), and strain it through a sieve to the thickness of a cream, put a little of it to your cockles; cut the top off a French Roll, take out the Crum and fry it in a little Butter.
Place it in the Middle of a Soop-Dish, your bread being soak'd with some of your Cullis; garnish with a Rim of Paste, lay the Cockle Shells round the outside; thicken up the Cockles with the Yolk of an Egg, as you do a Fricassy, and put one or two into each Shell, round the Soop; also fill up the Loaf in the Middle; the Cullis being boiling hot, squeeze into it, and on the Cockles a little Lemon, and serve it up.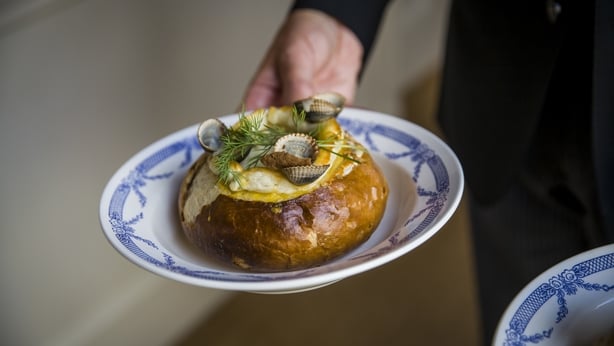 To Fry Trout
Scale them, gut them, wash them in salt and water, and wipe them clean with a napkin; then flour them and fry them in fresh Butter 'till they are brown and crisp; then take them out and lay them in a heated dish; set them before the fire to keep; pour off the butter you fry'd them in.
Then in other butter fry sage and parsley crisp, and lay them on your trout. In the meantime let some butter be beaten up with a few spoonfuls of scalding hot water, in which an anchovy has been dissolved, and pour this Sauce over your Trout. Garnish the Dish with parsley and strawberry-leaves and serve it up.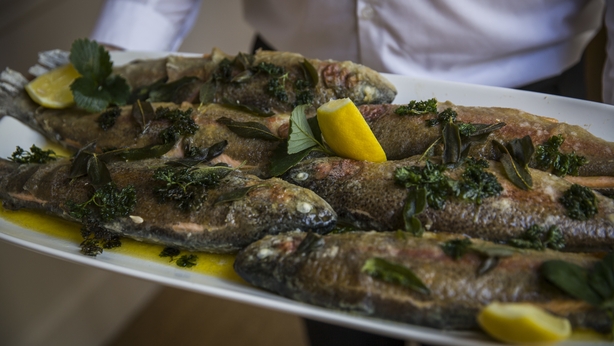 A Sagoo Pudding
Take three or four ounces of sagoo, and wash it in two or three waters, set it on to boil in a pint of water, when you think it is enough to take it up, set it to cool, and take half of a candied lemon shred fine, grate in half of a nutmeg, mix two ounces of jordan almonds blanched, grate in three ounces of bisket if you have it, if not a few bread-crumbs grated, a little rose-water and half a pint of cream.
Then take six eggs, leave out two of the whites, beat them with a spoonful or two of sack, put them to your sagoo, with about half a pound of clarified butter, mix them all together, and sweeten it with fine sugar, put in a little salt, and bake it in a dish with a little puff-paste about the dish edge, when you serve it up you may stick a little citron or candied orange or any sweetmeats you please.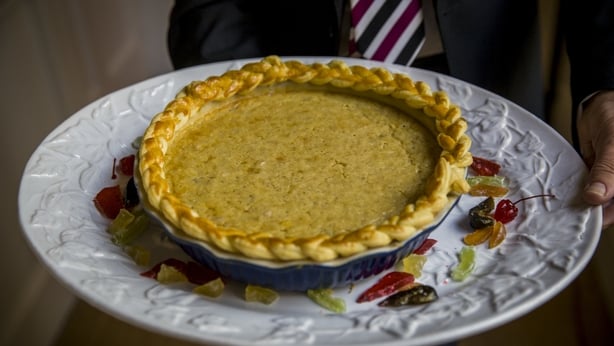 Scotch Collops
Cut thin slices off a leg of veal; beat them, lard them with bacon; then rub them over with a seasoning of salt, pepper, nutmeg, young onions, savory, parsley, marjoram, and thyme shred small; dip your Collops in the yolks of eggs, tempered with flour, and fry them in fresh butter.
In the meantime, dissolve some anchovies in strong gravy, and a glass of claret, a shalot, or two, and the juice of a lemon. Let these stew over the fire for some time, then thicken it with the yolk of an egg beaten up with butter. Then pour this over your meat with forc'd-meat balls, crisp'd bacon, fry'd oisters, mushrooms and veal sweet breads cut in pieces. Garnish the dish with barberries and horseradish.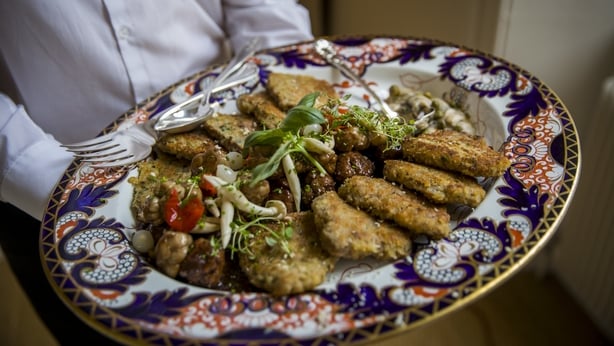 To Dress Pullets with Oysters in Bladders
Raise up the skins of the breasts of your pullets, then take a quart of oysters, hard eggs, marrow and chestnuts, season these well, mix them together and stuff them between the skin and the flesh of your pullets, and also put some of it into their bellies.
Then take some bladders, clean them well and put a pullet into each Bladder, tye them up and boil them: if you please, you may take out the Flesh of the Pullets Breasts and make a forc'd meat of it, and stuff their breasts with it again. For the sauce, make a fricassy of oysters (see below), garnish'd with petty-patties (below) and a hash (below). Bind the ingredients with grated bread and the yolks of eggs raw. The pullets with take two hours and a half's boiling in the bladders.
Fricassy of Oysters
Wash and strain them; put them on the fire and give them a scald; lift them out of the liquor, and thicken it with a little butter and flour. When it boils, put in the fish; let them just get a boil or two, and then take them out.
Cast two yolks of eggs; take out a little of the liquor and mix it in the eggs, adding a glass of white wine, a scrape of nutmeg, and a very little salt; then put the whole in a pan, and give it a toss or two on the fire, but do not let it boil.
To Make a Hogoe
Take a leg of mutton, take the skin off whole together with the upper knuckle, then mince the flesh very small with a couple of pound of beef-sewet: Shred also very small shallots, spinach, savoury and thyme; season with salt and pepper; and with the yolks of six or eight eggs, work the meat together into the form of a ball: then take a cabbage, open the leaves and cut out the middle to make a hole to put your ball of meat in.
When you have done, make it as much as you can into the form of a duck and boil a duck's head and stick it on with a skewer; then tye up the body close and boil it: Against it is done, fry some sausages dipt in the yolks of eggs with a little flour and nutmeg, a good quantity of butter, with anchovies dissolved in the sauce first, and beat up with the butter and pickles and serve it up.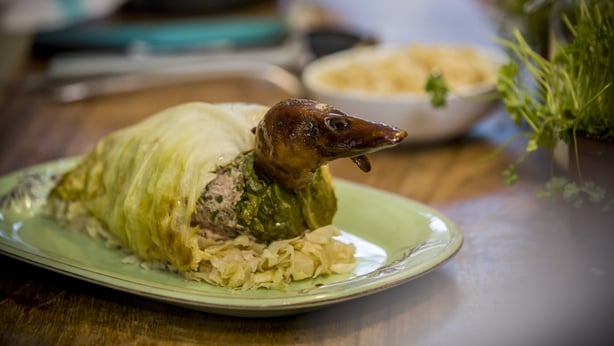 SECOND COURSE
To Farce Eels with White Sauce
Skin and clean your eel well, pick off all the flesh clean from the bone, which you must leave whole to the head. Take the flesh, cut it small and beat it in a mortar; then take half the quantity of crumbs of bread, beat it with the fish, season it with nutmeg and beaten pepper, an anchovy, a good deal of parsley chopped fine, a few truffles boiled tender in a very little water, chop them fine put them into the mortar with the liquor and a few mushrooms.
Beat it well together, mix a little cream, then take it out and mix it well together in your hand, lay it round the bone in the shape of the eel, lay it on a buttered pan, drudge it well with fine crumbs of bread and bake it. When it is done, lay it carefully in your dish, have ready half a pint of cream, a quarter of a pound of fresh butter, stir it one way till it is thick, pour it over your eels and garnish with lemon.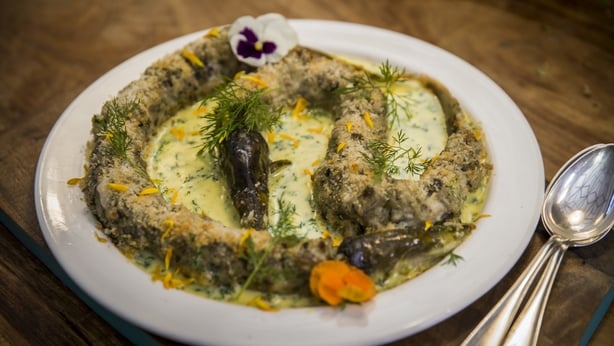 A Kid Pie
Cut your goat (kid) in pieces, free from bones, and lard it with bacon; season it with pepper and salt, nutmeg, cloves and mace; lay on butter according to the bigness of your pie and close it. When it is baked, take a quart of oysters well dry'd and fry them brown; toss them up in half a pint of white-wine, the oyster-liquor, some gravy and barberries; thicken it with eggs and drawn butter; cut up the lid and pour it into the pie.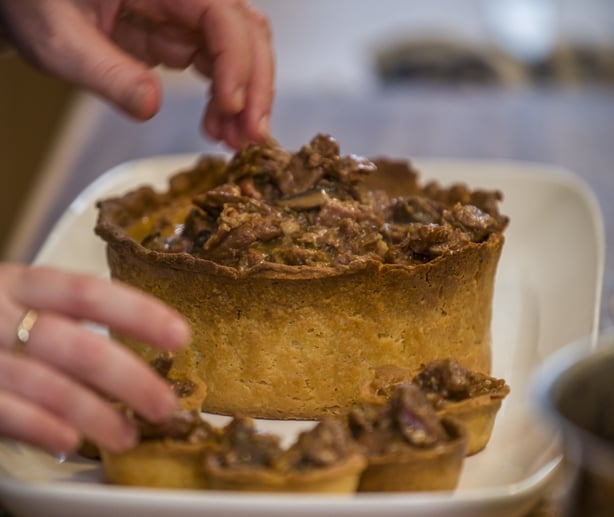 SWEETS
Potato Cheesecakes
Take six ounces of potatoes, four ounces of lemon peel, four ounces of sugar and four ounces of butter; boil the lemon peel till tender, pare and scrape the potatoes, boil them tender and bruise them; beat the lemon peel with the sugar, then beat them all together well, and let it lie till cold; put crust in your pattipans and fill them a little more than half; bake them in a quick oven half an hour, and sift some double refined sugar on them as they go in; this quantity will make a dozen small pattipans.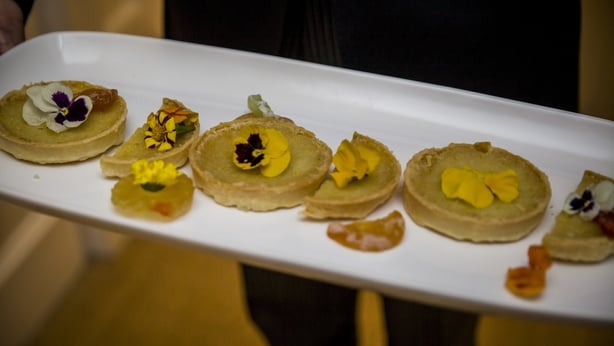 A Chocolate Tart
We take two spoonfuls of rice flour, some salt, with the yolks of four eggs, and a little milk; mix all these together, but don't let them curdle; then grate some chocolate, and dry it before the fire and when your cream is boiled mix the chocolate well in it, and so set it to cool; make your tart of good fine flour, put in the cream, and bake it: When it is enough, glaze it with powder sugar with a red-hot fire shovel and serve it.