There are no surviving 14th-Century Irish recipes. Instead, the dishes in this episode are based on references to food, hospitality and farming in old Irish texts and archaeological evidence, with an emphasis on native and wild ingredients.
First Course
Soup of the Dagda
Roast Trout
Shellfish
Goose Eggs
Beef Stew
Second Course
Roast Pork
Boiled Venison
Pig Belly Pudding
Roast Goose
Drop Scones
Sweet Curds
Mead
Soup of the Dagda
"They filled the king's cauldron which was five handbreadths in depth. They threw into it eighty pots of milk and a proportionate quantity of meal (oats or barley) and fat, with goats and sheep and swine which they cooked along with the rest."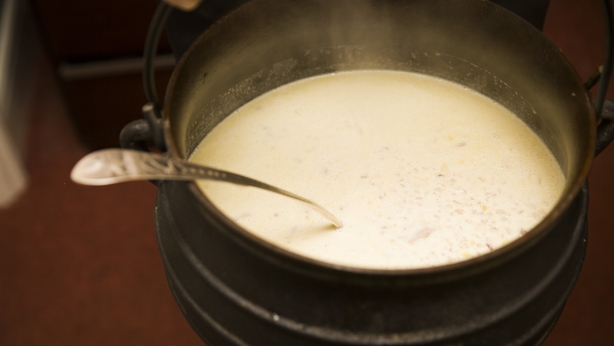 Roast Trout
Trout roasted over a fire of applewood, basted with honey and salt and shepherds purse seeds.
Serve with wild greens (hairy bitter cress, dandelion leaves, sorrel).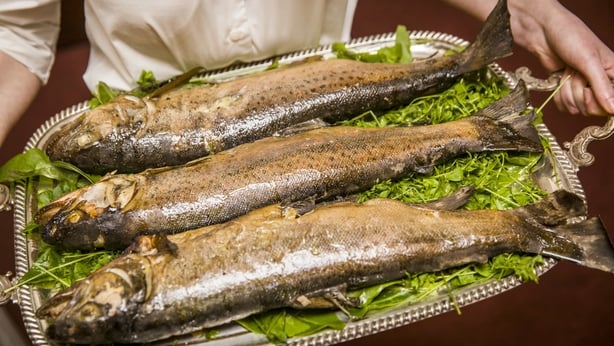 Shellfish
Shellfish (oysters, mussels, limpets and periwinkles) with seaweed (dillisk or sloke), onions, leeks, parsnips and/or carrots, and smoked salmon, in milk, thickened with bread (oat or barley).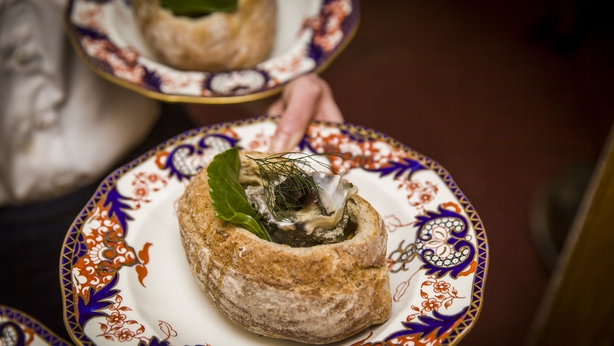 Goose Eggs 
Poached in salt and fermented fruit juice, served with wheaten bread, honey and Cloonconra cheese with chopped garlic and leaves.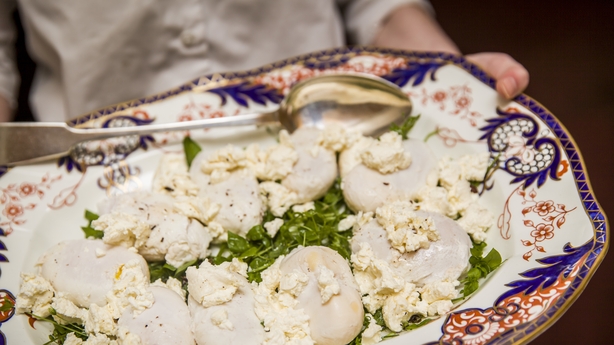 Beef Stew 
Take a very good cut of salted beef and cut into pieces.
Add bacon and cook in ale, water, salt, garlic, onions, fermented sloe or crabapple juice, leeks and cabbage.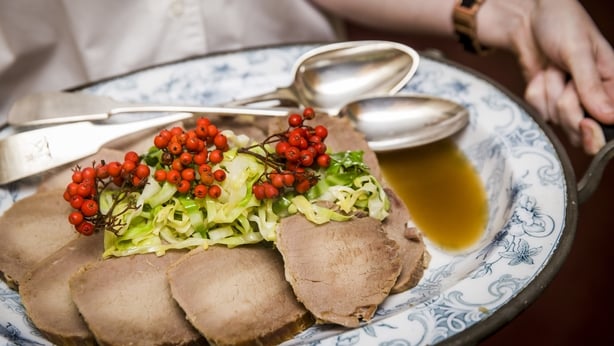 Saddle of Pork 
Roasted on a spit with a sauce of Shepherd's purse seeds (like mustard).
Grind the seeds, cook with butter, cream, garlic, honey and salt.
Serve with green leaves, crab apples, rowanberries.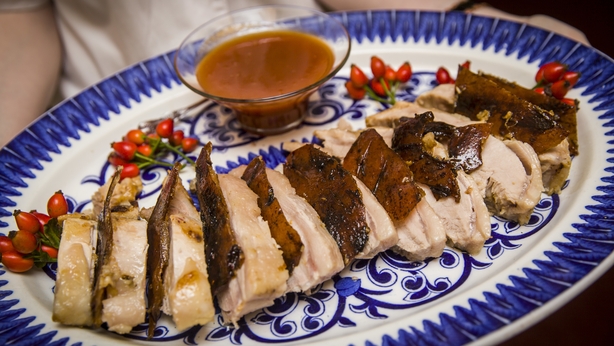 Venison 
Take a haunch of venison, wrap it in marsh grass with a súgán (hay/straw rope) twisted around it.
Boil it and serve with rosehip and crab apple sauce (stew together and sweeten with honey).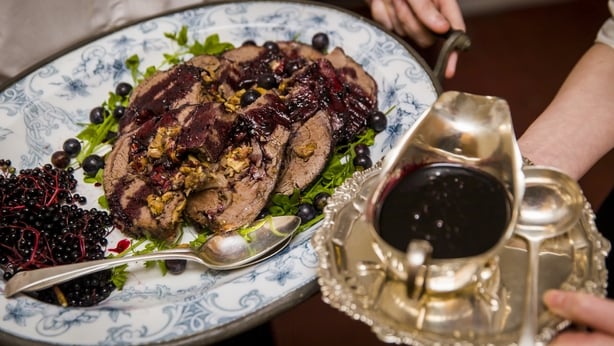 Seasoned Belly Pudding of a Pig
Take the belly of a pig and wash it out in clean water, stir 3 Tbs of salt into 2.5 litres of cold water in a clean bucket and soak it overnight. 
Take pig kidneys and heart, wash them and boil them in salted water, simmer for 45 minutes then drain and reserve in the fridge overnight. 
The next day, turn the soaked stomach inside out, rinse under cold running water for 10 minutes to wash out all the salt, then set aside to drain. Finely chop herbs (options: ground elder, chickweed, nettle, hairy bitter cress, dandelion leaves) and salt and Alexander seeds (instead of pepper) and reserve. 
Shred the suet very small, like breadcrumbs. Coarsely mince the kidneys and heart and add to the suet with some oats. Add the herbs and seasoning and add some beaten eggs and stir. Optional step: stew all together in a small amount of lamb or beef stock. 
Spoon the mixture into the prepared stomach (turned the right way around) and sew up the opening with linen thread or thin butchers string. Make sure it's not too tightly packed or it will burst. 
Put into a large saucepan of boiling water and simmer gently for 3 – 4 hours. Using a sharp needle prick the paunch once or twice in the first hour to allow steam to escape and prevent the pudding from bursting. 
Afterwards, the pudding can be split open and the filling served.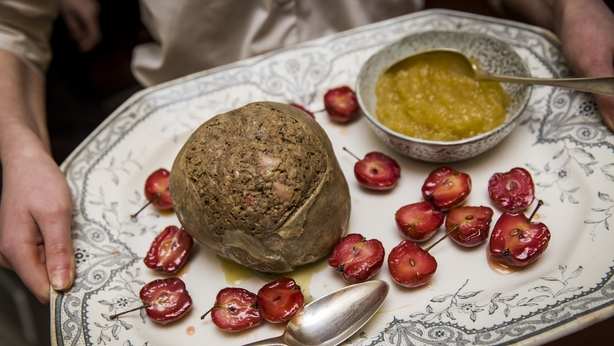 Roasted Goose 
Roast the goose with a stuffing of bread, apples, leeks and butter with herbs.
Serve with stewed apples sweetened with honey.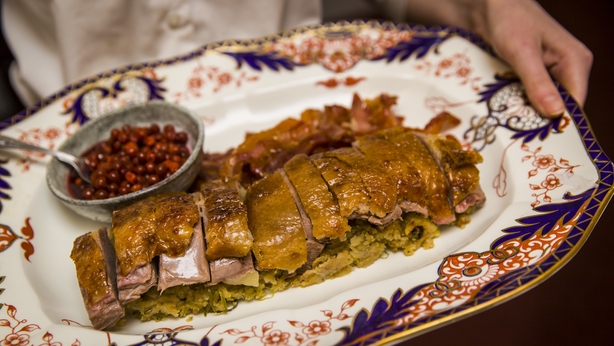 Sweet Drop Scones
Serve with Butter, Blackberries, Damsons.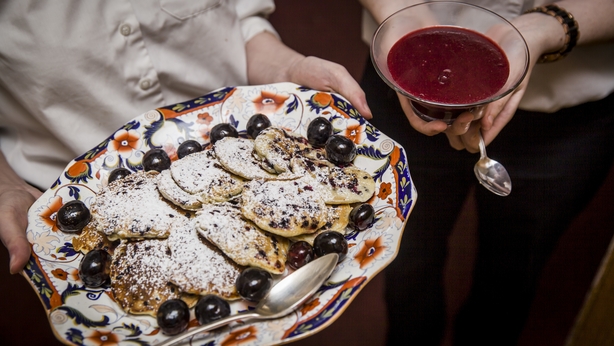 Sweet Curds
Cheese curds served with Honey, Blackberries, Elderberries, Hazelnuts.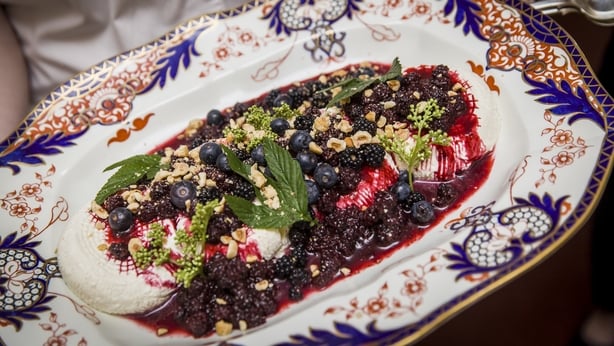 Mead