In Ireland, we consume 14 million assorted meals, 9 million snacks, 1.3 million packets of crisps, 1.6 million apples, and 15 million cups of tea. Every. Single. Day.
This is according to One Day: How Ireland Eats - a new documentary that looks at how food is made, supplied and consumed across the country.

Sandwich Stats
Last night, the programme revealed our lunch-time habits. Apparently, 40% of us will tuck into a trusty sandwich on our lunch break. Lovely!
Until you realise that, on average, that sandwich you're chewing could have been touched by anywhere up to 23 people on the line. That's 46 hands for one simple sandwich.
Check out the video below to see just some of the caterers who fill and pack 200,000 sandwiches every single day.
How often do you eat? And where do you eat it? Personally, we have found ourselves eating at the desk, in the car or in front of the TV far too often.
Compared to how people ate in the past, and the availability of food in that time, Ireland has transformed when it comes to its dining habits.
In fact, research shows that the Irish diet has changed more in the last 40 years than it did in the previous 5,000.
The Obama Plaza on the M7 has become a hot spot for the Irish public when it comes to 'dashboard dining'. Check out the video below.
Despite much talk about local food and traditional grocers, most Irish people get their food at a supermarket, spending over two hours there in an average week.
Although there is increased demand for free-range and organic, the majority of us still opt for low price and convenience.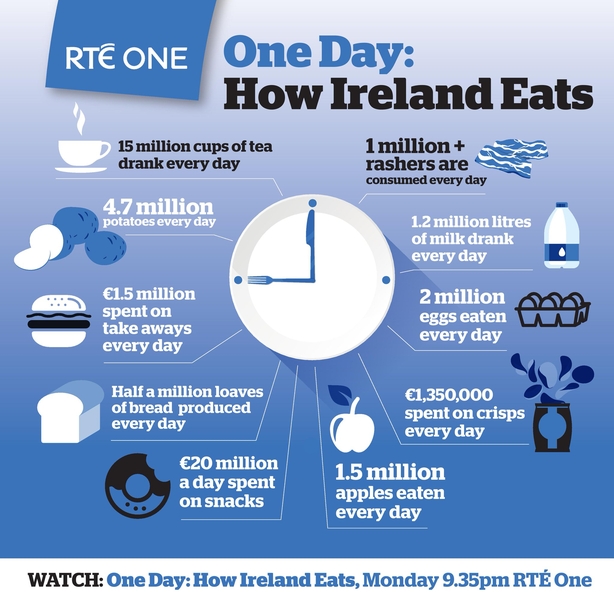 Extra Food Facts
We spend over €11 Billion per annum on food
We spend over €20 million a DAY on snacks
We consume 1.2 million litres of milk a day
Half a million loaves of bread are baked each day in Ireland
We eat over 1 million rashers a day
Over 2 million eggs are consumed in Ireland every day