Derval O'Rourke is a former sprint hurdles athlete who took home the title of 'World Indoor Champion' in 2006. These days, the Cork woman is working as a couch on Ireland's Fittest Family. Here, she shares her top tips for eating well over Christmas.
Having a happy and healthy holiday season is not about deprivation, it's about using a few simple tweaks to make better choices when we can and then enjoying the rest of it all.
1. Stay Hydrated
This is one of my top health hacks. We may not realise it but even mild dehydration can affect performance, and whether we are at work or home we want to be performing at our best.
It's also important to stay hydrated as we can often mistake thirst for hunger. If you find it difficult then why not add flavour to your water. Personally, I love lemon, lime, orange, and mint or any combination of the above.
2. Eat Breakfast
This is one of the first habits I tell anyone looking to live a healthier lifestyle to adopt. For me, breakfast is non-negotiable and regularly starting the day with a nourishing breakfast is a cornerstone of my day.
Make it a balanced breakfast to include:
Wholegrain carbohydrates - like porridge oats.
Protein - milk, yoghurt, and eggs are a fab source.
Fruit and vegetables - try adding berries to oaty breakfast and spinach to eggs
Healthy fats - try adding nut butter to oats or avocado to toast.
3. Watch your portion sizes
Fill your plate with veggies and lean protein first then simply be more mindful of things like gravy, roast potatoes, and stuffing.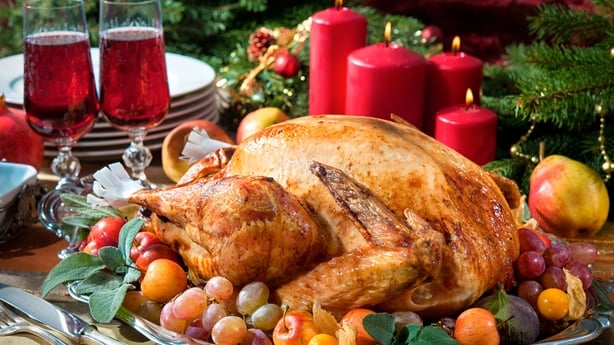 4. Cook from scratch and in bulk
I consider 'batch cooking' one of the best things you can do to support yourself in your health and wellness journey.
For example, if I am cooking something like a Chilli Con Carne, I will cook it in a big pot so that I have enough of it for two or three nights.
Maybe do something like a beef stew or a chicken stew, very balanced stuff so that you're getting good quality protein in, you're also getting some colours in there so you're getting antioxidants with your vegetables.
5. Drink sensibly
Christmas, to me, is about good quality time with my husband and child so while I will enjoy a few drinks*, I will also keep in mind that its family time for all of us.
My top tip would be to stay hydrated throughout the night by alternating every alcoholic drink with a glass of water and also to have a good meal before you go out.
*If you are affected by any of the issues raised in this article, you can visit Ask About Alcohol