The childhood obesity survey results were released recently, and the results, although shocking to many, do not come as much of a surprise to many professionals working to combat this growing trend in Irish children.
Amongst those professionals, Professor Donal O'Shea, chair of the Obesity Policy Group in the Royal College of Physicians, who was Sean O'Rourke's guest on the Today programme.
"Where we are is unacceptable. One in four of our seven-year-olds is overweight or obese.
"There is a trend downwards in the better off, better educated, kids, from about 25%, six or seven years ago, to 20% now.

"In the disadvantaged schools, that trend is not seen."
As a consequence, in relation to childhood obesity, the downward trend in more socio-economic league advantaged areas introduces another element to the discussion.
"The social justice element and the health inequality element of childhood obesity is, I feel, its biggest challenge for addressing."
Professor O'Shea points out that, in areas of socio-economic disadvantage, the ratio of healthy food outlets and supermarkets, as opposed to fast food outlets, is skewed towards the latter.
"In the better off areas, you are closer to your Happy Pear and your Supervalu then to your cheap takeaways," he says.
The release of the survey results come as what Prof O'Shea regards as an unhappy coincidence with another announcement.

This time, from Finance Minister, Michael Noonan, who has revealed that revenue from the new sugar tax will not be ring-fenced to fund initiatives to tackle obesity and promote healthy lifestyles.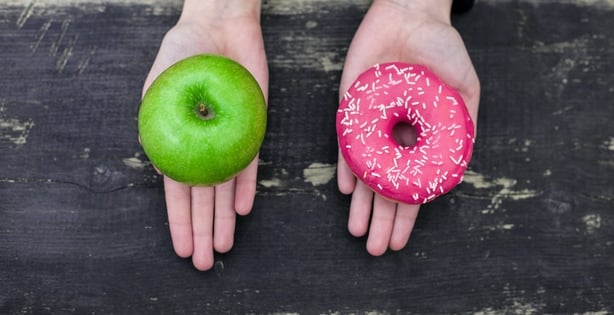 It is estimated that new tax could raise as much as €100 million. And Prof O'Shea is very unhappy at the message from the Minister that such ring-fencing is not possible.
While dismissing that particular suggestion, he has a suggestion of his own: "I don't mind them saying we are not ring fencing, once on budget day they announce, we expect the sugar tax will raise €100 million.

"And in the next line, we are committing €100 million to preventive measures for obesity."
Prof O'Shea is adamant that we have to start taking obesity trends more seriously. "We have to start winning the prevention of obesity fight," he said. "It's already clogging our hospital trolley system."
According to Prof O'Shea, 80% of the obesity battle is around prevention. But we have ignored the problem so long that we now have abject obesity outcomes in this country.
Having said all of this, as Sean pointed out, there are some indications that the industry seems now to be reducing the sugar content in food and drink, for a couple of reasons.
First of all, they are chasing the healthier market. And secondly, they are conscious that sugar taxes will drive the cost of their products upwards. Prof O'Shea's reaction?
"If the sugar tax fails to generate revenue because it results in less sugar consumption and healthier drinks on the shelves, well that's a wow!"
You can listen to the full interview above.