The annual Academy Awards are taking place this Sunday night and not only is it one of the biggest film and fashion events of the year but the glamour also extends to the menu.

Oscar nominees Ruth Negga, Meryl Streep, Emma Stone, Ryan Gosling, Natalie Portman, Andrew Garfield and many more will be served up everything from lobster corn dogs, spicy tuna tartare and baked potatoes with caviar at the official after-party.
The Governors Ball is on straight after the Oscars ceremony and the guest list includes all Oscar winners and nominees, as well as the presenters and performers.
Celebrity chef Wolfgang Puck unveiled the luxury food to be served at this year's Governors Ball in Hollywood, where the menu includes gold dusted truffle popcorn, spiced Wagyu short rib and smoked salmon in the shape of Oscar statuettes. Oh and 24-carat gold chocolate Oscar statuettes...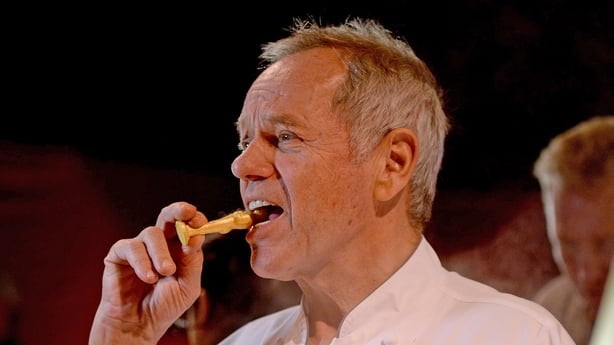 "When we do the Oscar menu we have so many people saying: 'Are you going to do this? Are you going to do that?'", Celebrity chef Wolfgang Puck, who is in charge of the menu at the Governors Ball in Hollywood, said.

"Barbra Streisand, I saw her at the Bel-Air hotel, and she said: 'Are you going to make your chicken pot pie because this is my favourite?'

"I saw Viola Davis the other day and she said: 'I love the macaroni and cheese you make.' So I said: 'For sure we're going to make it.'

"This year we have lobster corn dogs. We make our own lobster mousse and then make little sausages and then put them in batter and fry them.
"We serve them with a little jalapeno sauce, so it's really tasty. It's a good snack.

"A twist on a classic English dish."

Guests will be served 10 kilos of farm-raised caviar, 250 Maine lobsters, 6,500 Oscar-shaped flatbreads and 2,400 bottles of Piper Heidsieck champagne, according to the Press Association.
After all the hard work and exercising to fit into the fabulous gunas, stars can enjoy caramel cappuccino Oscar lollipops, mini eclair gianduja mousse and caramel banofee pie.
The 89th Oscars are on this Sunday February 26 at the Dolby Theatre in Hollywood and we will have all the fashion highlights here throughout the night and you can watch the highlights on RTÉ 2, from 9.30pm until 11.15pm.