An old family recipe, a product you've always thought would make a fortune and a brutally honest audience... yes, it's time for The Taste of Success to return to our screens.
The show that gives food entrepreneurs the chance to win a prize worth €100,000 and see their winning product on the shelves of Lidl stores nationwide.
There's a stellar line-up of culinary talent to judge, help and mentor the contestants, who hail from all over the country. New to the show this year is health food fanatic and best-selling author of Natural Born Feeder, Roz Purcell as the Leinster mentor. She'll be joining new Munster mentor, Eunice Power, who has garnered a reputation for being the best gourmet caterer in the country. Last year's winning mentor– Michelin-starred restaurateur JP McMahon, returns to defend his title and mentor the Connaught / Ulster region. Lastly, culinary author and food entrepreneur Domini Kempis once again the Dublin mentor.
Having reached the final in each of the last two series, she's out for a win this time. This year the mentors have chosen the top 20 dishes from all around the country and all types of cooking and baking are represented. From traditional Irish soda bread, to a Tex–Mex Irish enchilada. There's an inside-out burger competing against baby food and a contestant who attempts to hide a vegan sausage from presenter and meat lover Dáithí O'Sé.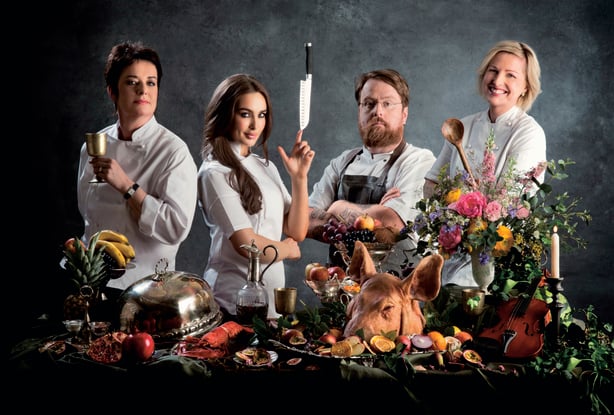 The food industry in Ireland has really evolved in the last five years with more cafes, restaurants and donut shops popping up than ever before – I mean you were lucky if you could find a Dunkin Donut in Ireland not long ago. We have caught up with the world, we're more health conscious and that is reflected in the businesses that are opening and the food we're consuming.
Domini Kemp has long been at the fore of a healthier food movement, her businesses with her sister Peaches goes from strength to strength - the Itsa chain, catering business Feast, Hatch & Sons Irish Kitchen, Alchemy juices and coffee outlet Joe's, all have a novel approach to dining in and out. After her battle with breast cancer over three years ago, Domini herself completely changed her diet, giving her a sense of control over what she was putting into her body.
"I found it helpful to do as much as I could to support my immune system and general health during treatment. I wanted to ensure I didn't pick up infections and that I improved my overall health".
She has detailed her eating plan and recipes in her latest book The Ketogenic Kitchen which outlines this low-carb, high-fat diet and how it may, along with other treatments recommended by medical professionals, offer new hope against many chronic illnesses. Here the business woman talks about the new season on The Taste of Success, her growing empire and feeling incredibly lucky.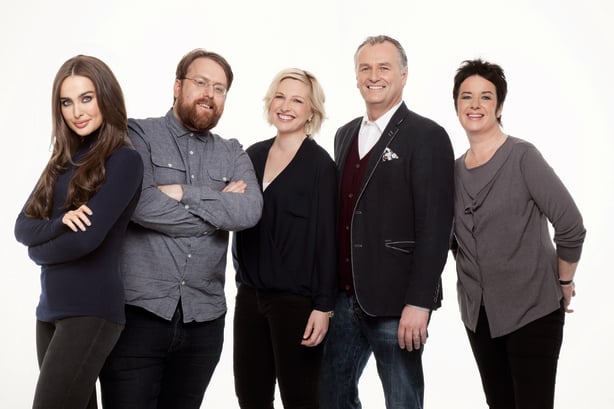 As you gear up for another year on The Taste of Success - have you noticed a change in the calibre of contestants as the show develops?
Undoubtedly the standard is getting better and better each year. It's inevitable. Interest is growing and it's clear to see how this competition can really change someone's life. That encourages better entries and makes it so interesting to be involved in.
How have you changed as a mentor- are you more comfortable in the role?
I think I am brutally honest and that it's not my job to sugar-coat it for my contestants. But I love working with food and people and trying to get the best out of both, that's always been my way. We can only improve a dish so much and after that, the decision is up to the judges and I think it's so hard to predict what they'll go for.
Your health and what you eat is evidently important to you: Is it hard to maintain such a healthy lifestyle?
I maintain a low-carb and healthy fat diet most of the time, plus some fasting and lots of exercise and I feel brilliant on it. As a chef, I adore all food. I do try to watch what I eat most of the time, but not always.
What are the benefits of a ketogenic diet?
For me, I just stick to a low carb diet with healthier fats and moderate amounts of protein. I don't eat a full blown ketogenic diet because I find my diet works really well for me: easier weight management, lots of energy and all round good health. My diet used to be full of carbohydrates - lots of whole grains, and very low fat and it did not suit me at all. Nutrition is shifting and our old guidelines are being ripped apart. It's an interesting time!
Thankfully you are three years cancer free. How would you describe your health at the moment?
I feel really great – I'm incredibly lucky and full of gratitude for what I have in my life at the moment. I don't dwell on it too much, I've tried to move on and be thankful that I came out the other side.
Your work and business seem to just keep getting better, what keeps you so motivated and driven?
I love what I do and feel hugely motivated to continue learning and working hard. I have a brilliant team around me and just want to keep getting better.