In his seven-part series, Neven visits Bilbao, San Sebastian and Bermeo in the Basque Country; and Haro in La Rioja. Every part of the region has its own speciality: fish in Bermeo, where Neven sees mackerel being landed and visits a tuna canning plant, pinchos in San Sebastian, wine in Haro, cider in Altzaga and cheese in Segura.
Watch as Neven Maguire visits the beautiful San Sebastian. The city is unique in having a university dedicated to food, and Neven drops by to meet the director Joxe Mari Aizega. Neven also calls in at Arzak, a Michelin-starred restaurant with a 'lab' in which new dishes are created. While there, he learns how to make one of the restaurant's most famous chocolate desserts.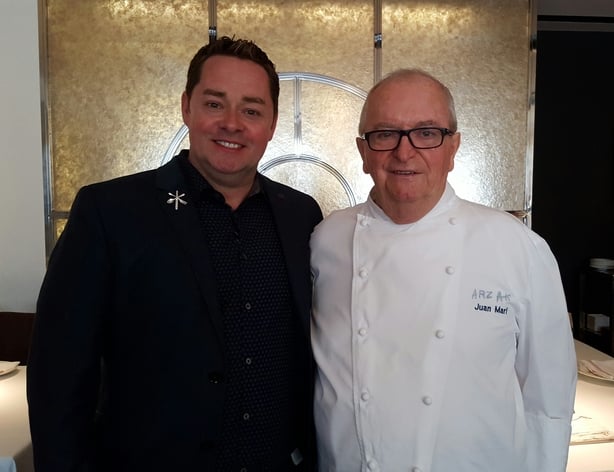 As a young chef, Neven did a 'stage' at Arzak which is the only restaurant in Spain to have had three Michelin stars for nearly 40 years. Neven catches up with his former mentor, Sr. Juan Mari Arzak. Neven's recipes in this episode include Flourless Orange and Almond Cake with Rosemary Syrup, and Saddle of Rabbit stuffed with Black Pudding.
This is Neven's most exciting and ambitious series to date, and he relishes the chance to bring viewers to a part of the world that he loves and admires. Check it out on RTÉ One every Thursday at 7pm and if you miss it, play catch up on the RTÉ Player.
Love Neven's recipes? Watching Food Trails? Let us know on Twitter and Facebook!