Millennials – a word, phrase, phenomenon, way of life that has everyone who doesn't fall into this new-age category a bit bemused. For those of you not familiar with the term, it pretty much describes twenty-something-year-olds who are ramen-eating, selfie-taking, yoga-loving youngsters. They missed the Celtic tiger, they managed to scrape through the recession, they're so well put together they could be on the cover of Vogue, they're happy to use Tinder and for them, CD players are as archaic as flip-up phones. On the plus-side, they probably drink a lot less, are much healthier and have an abundance of confidence. If I was to pick a perfect millennial example it would be Roz Purcell. If fact as I write this piece she's just popped up in the '50 Millennials Shaping The Future Of Modern Ireland' list compiled by website Lovin' Dublin.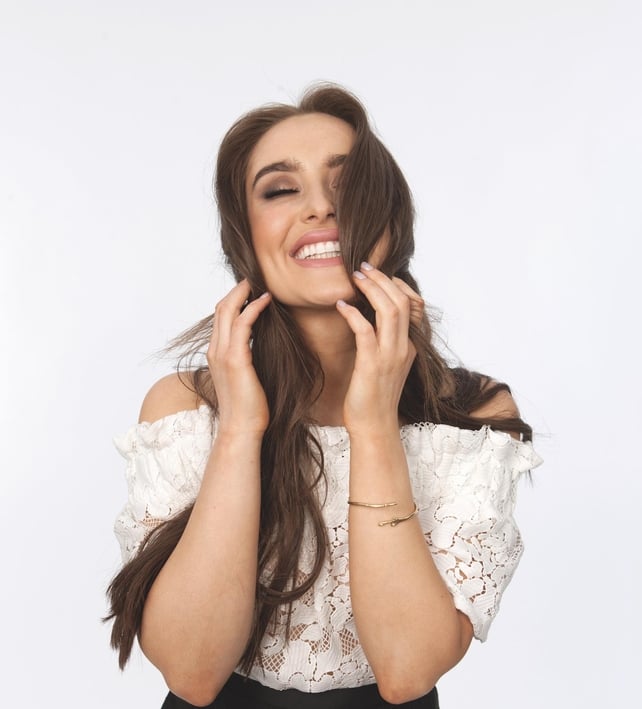 The stunning Tipperary native, 25, began her career as a model and Miss Universe contestant, but thanks to some serious smarts and family encouragement, transitioned, with the use of social media, into the booming world of healthy food. With her blog, cookbook (both called Natural Born Feeder),  Instagram account that amounts to 148,000 followers, and increasing TV appearances, it's safe to say that Roz is well on her way to building a pretty nice empire. 
When she arrives for our cover shoot she's make-up free and absolutely flawless. It's no surprise that she was approached by a talent scout not long after she started college in Dublin. The only thing that distracts from her striking good looks is her furry companion Wilko, a particularly cute Jack Russell Terrier puppy that accompanies her everywhere. With a bandana around his neck, the excitable pup, which she and her sister Rachel rescued from the ISPCA, did a good job at stealing the spotlight. "My sister really wanted one, a dog that is. I think everyone thought Bressie and I got him but it wasn't the case. We didn't think the landlords would let us have one but they said 'yes' so we were thrilled."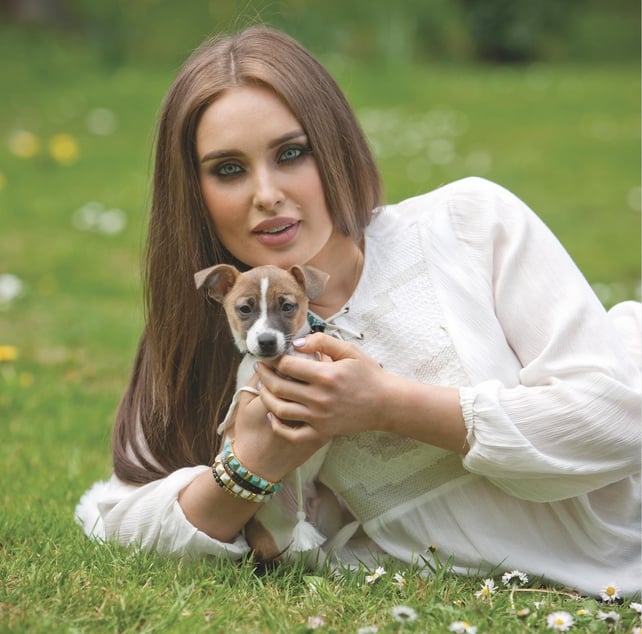 Speaking of Bressie (Niall Breslin), we agree we may as well address the elephant in the room. The model and her boyfriend, musician and Voice of Ireland coach Bressie, who had been together for four years, announced their break-up via social media the weekend before I chat to her. In the post Roz wrote, "Myself and Niall decided to end our relationship some time ago. We are still friends & love each other very much. We won't be saying anything else about it so appreciate if you could respect that."
Staying true to her Instagram message, she understandably doesn't want to go into the details of the split but is sincere when she says the break was amicable and that they are still on good terms. "There's actually no story to it, people keep looking for one, we just both decided to break up and that's it," she says honestly.
"It's just totally magnified because we're in the public eye. We're still friends, we were always such good mates and I'll always wish him the best. The last few years have been such a whirlwind, I really haven't had the time to just stop and take it all in."
Does she find the media attention difficult to deal with?
"I don't really see a downside to being well-known in Ireland. But I guess I don't feel like I'm a 'celebrity', I'm just doing my own thing, living my life and I don't notice if people are acting differently around me or not. I'm not Beyoncé." 
Speaking to Roz, one thing that really strikes me is her fearlessness. The youngest of three girls (Rachel and Rebecca being the elder siblings), she was brought-up with a go-get 'em attitude. Her childhood on a horse and cattle farm in Tipp also gave her an appreciation for hard work as the girls were drafted in to help with the daily chores. "I had to do my fair share of work on the farm, sweeping the yard, bringing in the horses, whatever needed to be done really. I look back on it now and it makes sense why I was so fit and could eat so much cake. I just never stopped."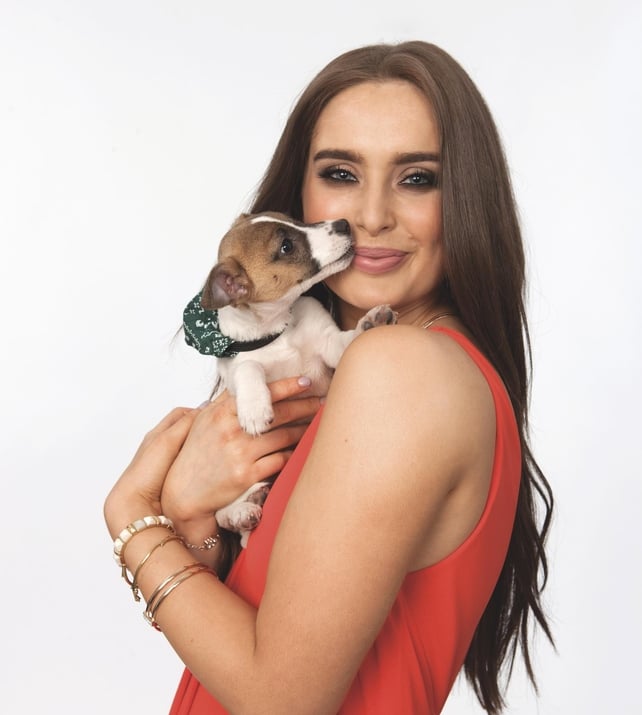 Following the Miss Universe competition, in which she came in the top 10, Roz was signed to Donald Trump's model agency in New York. At 19 she packed her bag and moved to the Big Apple. "I was so excited to go there," she recalls. "I mean you're always a little on edge because you don't have your home comforts, but that's when people excel, when they're put out of their comfort zone. I went travelling on my own from when I was only 12 so I've always been someone who's up for adventure and spontaneity and my parents have always encouraged that." 
Roz came home after four months, joined the Andrea Roche agency and then moved to South Africa for a time. As she became jaded with the modelling world and the pressures that came with it, her focus turned to home and a healthier lifestyle. 
"With my weight, it was totally feast or famine and I just got sick of it. My parents were worried about me as well and I just wanted to come home. So I decided to educate myself properly on food and make sure what I was eating was as healthy as possible.

"When you start modelling there's always that thing in the back of your head 'what am I going to do next?' It was very organic how the food thing happened and it was down to social media. I've always had a passion for food and sharing recipes. I never thought of it as a career but it just took off." 
And took-off it did! Her healthy living blog became an instant hit, full of recipes and ideas for fuelling your body the right way. Roz, an avid Triathlete, openly shared her wisdom and more importantly, showed her down-to-earth personality that probably hadn't come across until then. 
 "I've always been such a tomboy, my guy friends see me as one-of-the-lads, because I am," she laughs. 

"There are definitely two sides to me. And before I started my blog, I don't think people knew me that well. They can relate to me much more now. You're able to show your personality and image in the way you want, as opposed to someone else portraying them. As a model I felt I couldn't really show that I loved food so much or that I loved nothing more than going out on my bike with my lad friends and training. I wouldn't tell people about that side of me."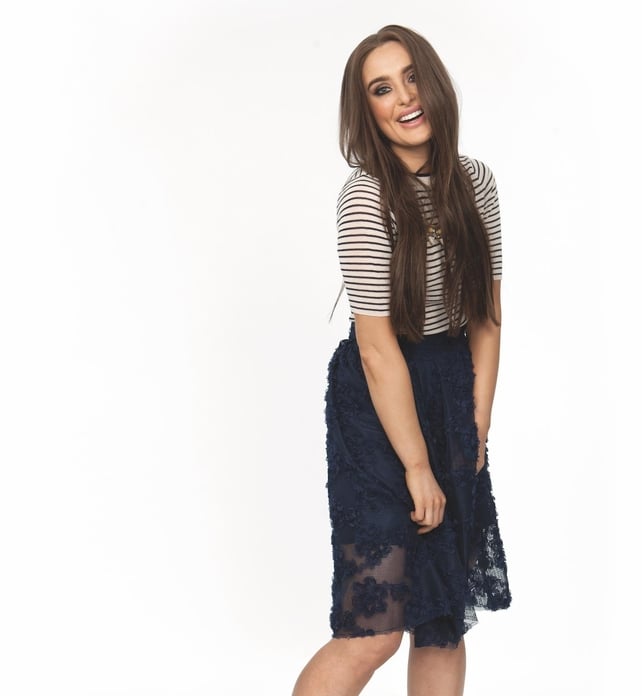 She's surprised by the success of her cookbook, Natural Born Feeder, which has been a best-selling sensation. "I didn't expect it to do so well. It has been amazing and at the same time I don't feel like it's me, it's quite surreal. It was such a rewarding experience, probably the best thing I've ever done." 
Fans of the book will be happy to hear that there are plans for book number two. 
"I know what I want to have in the book, it's just when I want to publish it," she says. "In the meantime I'm headlining the theatre of food at Electric Picnic and will try to fit in some travelling." 
Well there you go, millennials...at least with the likes of Roz, the future is in good hands.
Originally published in the RTE Guide