Cool Beans are part of SuperValu's Food Academy Programme, where they work with and nurture over 200 businesses from start up to getting their product on their shelves. The little pots of goodness were recently launched in the UK with Waitrose.
What is your food product?
Cool Beans are a bean revolution. It is essentially very fancy baked beans in three delicious flavours – original tomato, smokey paprika and hot chilli. Cool Beans is low calories, low fat and low salt. There is no refined sugar and it's gluten free. It is a healthy, convenient and tasty side to add to any meal or make a healthy snack. Cool Beans is natural, wholesome food. It is packed full of beans in a fresh, healthy sauce. It contains no nasties and no preservatives. We source only the best ingredients and it is made with love
How is it made?
The onions are sweated to release the full flavour and then the other ingredients are added to a large pot. It is slowly agitated and the sauce reduced. We then add in the cannellini beans and simmer until ready to be packed.
When and how did you first come up with the idea for the product?
Isolde and I initially came up with the idea because like many others we worked really long hours. At the end of the day we yearned for something super healthy and tasty for dinner but we just weren't inspired by any of the convenience foods we found in supermarkets as many of the products were packed full of sugar, salt, additives and preservatives. (we have no additives or preservatives in our product, just fresh wholesome ingredients you would find at home in your own kitchen).More often than not we had cereal for dinner which is not ideal when you expect your body and mind to perform for 8 - 10 hours a day. At the same time we noticed a growing trend of gourmet baked beans on toast popping up in brunch places around Dublin but you couldn't buy these as a retail product. After a little bit of research we realised how nutritious beans really were (we like to call this beaneology) and we knew we had to share this with people so we set about creating our own homemade baked beans. Cool Beans was born bring fancy baked beans and beaneology to the masses.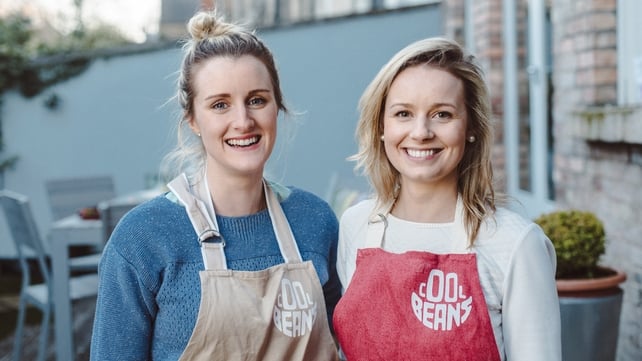 Who buys your products?
We initially hit it big with the young professional market however the product is attracting fans from every walk of life. One of our growing markets has been amongst the family market. Mums and Dads have been using Cool Beans as a healthy after school snack, a protein packed side for the whole family and as an addition to pasta, spaghetti bolognaise or chilli con carne. If you are a busy parent but want your children and whole family to have fresh, nutritious tasty food in minutes then Cool Beans is the perfect product.
Where do you source your ingredients?
Everything is sourced in Ireland where possible but we get our beans from Italy.
Does your product carry the guaranteed Irish label?
No, we haven't gotten around to that yet but it's on our list!
Is your product packaged in Ireland and is it recycled/recyclable?
Yes it is and we buy all our packaging from Complas, based in Naas. It is recycleable and we encourage people to reuse the pots as handy storage for leftovers!
Other than your own, what's your favourite product?
We are loving Nobo dairy free ice-cream. They make dairy free, sugar free ice cream and it's our guilty pleasure. Isolde likes the lemon but I love the salted caramel.
What is your view on 'organic' produce?
Organic is great if you have the access to products and disposable income to afford it but the food needs of growing populations mean it is too difficult to maintain on mass at an affordable level. It is a real shame as ideally every food would be organic. We encourage people to look for ethically produced products if you can't get organic and buy local where possible.
Many food producers are very passionate about their products – have you a message you would like to share with your customers?  
Yes, our main message would be that in todays hectic world, life can be very fast paced, but it's not an excuse to compromise your health through a bad diet. It happened to us and that's why we started Cool Beans. Buy products like ours that you can have in the fridge so that you reach for a fresh, nutritious meal rather than a frozen pizza.
Is there salt and/or sugar in your products? If so, how much and why?
We have a small amount of salt and are green on the traffic light system for salt intake. We don't use refined sugar but instead add honey to our beans and it is less than 5G per 100G so suitable for diabetics.
What is the shelf-life of your product and how come?
The product has 14 days shelf-life as it is cooked to over 90 degrees and then blast chilled; the fridge then keeps it fresh and tasty. You can also use half and then pop it back in the fridge and it will hold for a few days.
What would your death row meal be (aside from your own products!)?
Tough question!! Probably my mum's lasagna with sweet potato fries, garlic mayo and baileys cheesecake for dessert, with a scoop of nobo salted caramel!...if its my death row meal I'm going for it!!
Where can people buy your food and find out more about it?
Cool Beans can be bought nationwide in Supervalu. We sell 400G pots at €3.49 and we are also stocked in Fresh Food stores in Dublin and selected Mortons. We also recently launched in the UK with Waitrose.
For more info www.coolbeans.ie or check Cool Beans out on Twitter or Instagram