This week's edition of Joe Duffy's Spirit Level falls during the Halloween weekend and in keeping with the festivities Joe and his guests discuss Samhain and our ancient traditions. In particular our regard for our ancestors and how we honour them.
Saints were radical individuals who suffered for their beliefs and people revered them because they were human beings and not mythical figures. Joe talks to Former President Mary McAleese's about St Columbanus and ask her what was it about this particular saint that motivated her to get involved in the documentary she help make about him.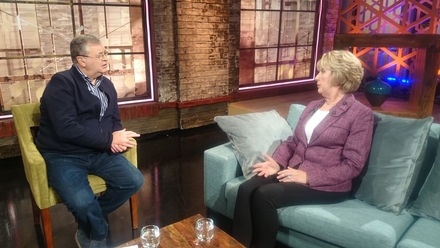 Declan O'Rourke chats to Joe about his recent marriage and performs a song that he composed with personal significance to him called Be Brave and Believe.
Guest Chef Susan Jane White makes a sinful but Saintly Celebratory Cake an adaptation from her book – The Virtuous Tart with a new twist on our traditional Barn Brack and we've got the recipe right here for you to try at home.
Ingredients:
For the biscuit base:
3 & ½ cups walnuts
10 medjools dates, stones removed (presoaked regular dates also work)
1/2 teaspoon sea salt
Squeeze of lemon
For the filling:
4 & ¼ cups raw unsalted cashews, soaked overnight
250 - 300ml raw honey or light agave syrup
190ml melted coconut oil
The juice of 2-3 lemons
5 tablespoons freshly grated ginger
4 teaspoons dried turmeric
Edible flowers or rose petals, to decorate

Method:
You'll need to oil 3 springform tins, of ascending sizes like in the photograph. These are a special type of baking tin usually used to make cheesecakes and fancy tortes. You'll find them on Amazon. I use mine every single week.
To make the base for all 3 tins, briefly pulse the listed ingredients together using a food processor. A blender will puree the ingredients, so it's really essential to use a processor here. Stop the motor when the dough starts to clump together.
Spread the nutty dough over the bottom of each of your 3 springform tins.
Place in the freezer to chill.
For the filling, drain the cashew nuts and discard the soaking liquid. Cream the softened cashews with the remaining filling ingredients until smooth and glossy. This should take 2 minutes in a blender or food processor. Taste, and see whether you'd prefer more mango or ginger. It will taste milder once set.
Pour this creamy luminous filling over your 3 bases and return to the freezer until set.
Allow the cakes to thaw for 5 minutes before removing from their tins, and stacking on top of one another. Parachute some edible flowers (actually, any flowers will do because no one ever eats them).