What are your favourite BBQ meats to cook?
SuperValu has a huge range of quality BBQ ready meats on offer and we have expert butchers in-store to give customers tips and advice on getting the most out of your meat this summer. Also, we only sell 100% fresh Irish meat that is born, bred and reared in Ireland.
Meat I would recommend for the BBQ include - Irish beef quarter pounders, pork chops, as well as the 'Prepared by our Butcher' range which includes a selection of ready-to-cook meat dishes freshly prepared in store. We also have the 3 for €10 BBQ range. Sausages are always popular and SuperValu is proud to be home to the much loved Superquinn sausage. If steak is your thing, try rib-eye steaks, which are becoming very popular for outdoor cooking as they have a delicious flavour.
Have you any special ways to jazz up simple cuts of meat such as chicken wings?
When it comes to chicken wings it's all about adding spice. Marinades such as honey and mustard, BBQ sauce or hot sauce work great with wings and are a real party pleaser.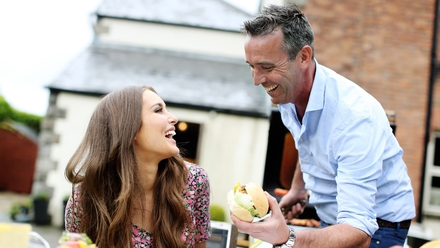 What is the best way to cook meat on the BBQ?
Make sure the BBQ is nice and hot before putting meat on it. Also, make sure you marinate your meat a couple of hours before cooking it on the BBQ. It is best to use glass or ceramic dishes rather than metal as it can react with some ingredients and spoil the flavour of your dish; and take your time, the longer you marinate, the more intense the flavour will be. Remember, don't press meat down as you will push the juices out and it will dry out the meat. When cooking sausages always start on a high heat, then move to a higher level shelf on the BBQ to ensure they're cooked through.
What are your favourite marinades? Do you make your own or buy them?
I love let to let the quality of meat speak for itself so don't always use a marinade. Pork chops are delicious basted in a garlic & herb marinade. Ask your local SuperValu butcher who can give you ideas for different marinades and make them up for you in store which makes preparing for your BBQ hassle-free.
What should people be careful of when barbecuing to make sure the meat is cooked thoroughly?
There are a few simple food safety rules to remember when cooking on the BBQ. It is important to always check that meat is cooked through before serving – particularly when it comes to chicken. A good tip is to pre-cook you chicken first and finish it off on the BBQ. Keep one side of the BBQ for raw meat and the other side for cooked meat.
Are there any unusual cuts of meat you like to barbeque?
Chilli Pork Ribs will add some heat to a summer BBQ whatever the weather, or why not spice up your menu with some flavoured jumbo sausages.