The 'Incredible Egg Man' himself, renowned New York chef Howard Helmer, was in Dublin this week to support the campaign.
New York chef Helmer is the world's fastest omelette maker, holding two Guinness World Records for his spellbinding high-speed cookery.
A lover of all things egg related, Howard can cook up a whopping 427 omelettes in just 30 minutes! In 2006, he became the world's fastest omelette flipper (the omelette staying intact throughout 32 flips in a minute), as well as making the fastest single omelette from eggshell to plate (49 seconds).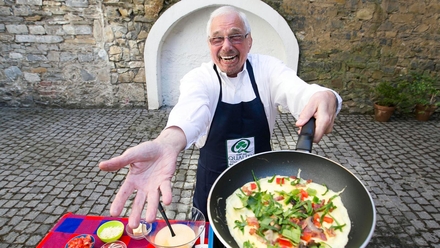 Speaking about his first trip to Ireland to promote eggs on behalf of Bord Bia, Howard commented, "Talk about culinary art...an omelette is a blank canvas that can be painted however you like: with all manner of vegetables, protein foods, sweets, savouries, everything nutritious. How versatile is that?"
For a selection of egg recipes using Bord Bia Quality Assured eggs and videos of celebrated chef Donal Skehan creating egg recipes check out www.bordbia.ie.