Over the last three weeks eight has become five as comedian and actor Gary Cooke, national Lottery Presenter Kamal Ibrahim, and RTÉ Sports Presenter, Tracy Piggott lost their aprons on Celebrity MasterChef Ireland.
Remaining in the competition are RTÉ Newscaster, Aengus Mac Grianna; model, TV presenter and columnist Yvonne Keating; Olympic athlete David Gillick, writer and producer Maia Dunphy and Irish Times Consumer Affairs Correspondent Conor Pope.
In tonight's episode, having survived the halfway point of the competition, the five remaining celebrity cooks will be given the ultimate challenge in pressure cooking when they are tasked with providing a two course, main and dessert, in their first ever restaurant service for their invited guests. Their guests will be joined by food bloggers, writers and successful food producers. Dylan will be keeping a watchful eye on them in the ktichen as he runs the pass and Nick will be looking after front of house.
The diners will have a choice of three main courses, which will be cooked by Aengus, David and Yvonne, and two desserts, which will be cooked by Conor and Maia.
Yvonne has invited her close friend, international bestselling author, Cecelia Ahern. Model Rozanna Purcell is Conor's guest; Maia's husband, actor and comedian Johnny Vegas will be sampling her dessert option. David is keen for his friend and fellow athlete Derval O'Rourke to sample his main dish; and Aengus has asked along his colleague and friend, RTÉ Journalist and fellow Newscaster Kate Egan.
The cook that fails to impress Nick, Dylan and the invited guests will lose their apron and leave the MasterChef kitchen, as the remaining four will go forward to the Celebrity MasterChef semi-final.
The Main Courses are:
Yvonne: Pan-fried cod, fresh linguini with white asparagus and smoked bacon with a drizzle of white truffle oil
Aengus: Pan-fried pork chop with celeriac mash, apple and tarragon gravy with fried asparagus wrapped in prosciutto
David: Roasted loin of veal, prosciutto and gorgonzola mash, sage and garlic jus accompanied with green beans, lemon zest, walnut and peas
The Desserts are:
Conor: Prosecco and crème de cassis poached pears with lavender and blackberries crème Anglaise and shortbread
Maia: Tarte tatin with vanilla ice cream and a mini toffee apple
Cecelia Ahern says of her friend Yvonne Keating's progress in the competition: "Yvonne's just said it's (Celebrity MasterChef Ireland) really intense. You know, I think Yvonne has been mommy and wife for however many years now and I think for the first time she's doing something for herself and I think she's just throwing herself into it, so I'm chuffed for her.
"I mean, I watch it all the time and I'd be sitting there with my baked beans going, 'Oooh that's not a good dish' - but doing it yourself is a whole other issue!"
Conor Pope's guest Roz Purcell says: "I had to order the poached pear done by Conor as I am his guest. He knows I love desserts so he'd better put on a good show!"
When asked how David Gillick will cope with the pressure, guest Derval O'Rourke says: "What his bread and butter normally is is just having one moment where he has to do really, really well. He has a couple of hours on the track where he prepares and then he races, so I think the restaurant situation will suit him down to the ground. I think he'll come out on top in it, but I might be a little biased!"
When asked about his wife Maia Dunphy's culinary talents, Johnny Vegas replies: "At home she's an amazing cook. She is incredibly tough on herself. I try to do the washing up, but the kitchen is Maia's domain, I've gotta say. I've not fought that; I've been supportive as much as I can! If she feels she needs to do the dishes after slaving over a hot meal who am I to argue? I was a very modern man when I met her; now I've just gone backwards!"
He adds: "We're nervous on their behalf, but they're in the kitchen. And we're sitting out here, enjoying the spoils of it!"
Aengus Mac Grianna's guest Kate Egan says: "I'm expecting great things from him I have to say. I know he's a really good cook. He knows his food so the pressure's on him."
Johnny Vegas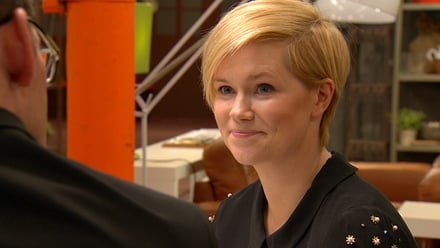 Cecelia Ahern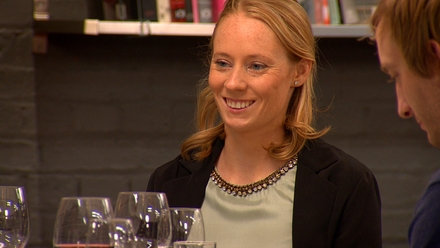 Derval O'Rourke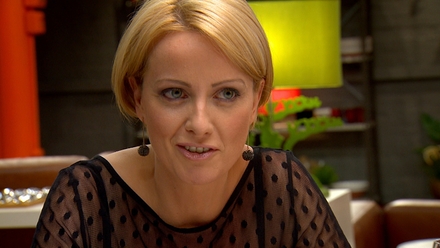 Kate Egan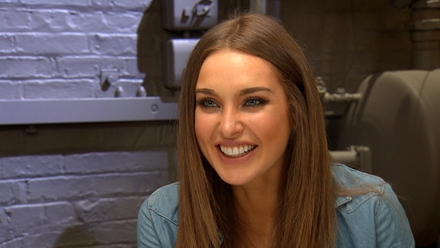 Roz Purcell