Whether it's embracing the breathtaking Irish scenery at the Dingle Walking Festival, sharing a kiss on the Cliffs of Moher or treating each other to a couples massage in one of Ireland's world class spas, there's every opportunity to make it a Valentine's to remember.
For inspiration on how to discover the best that Ireland has to offer this Valentine's Day go to www.discoverireland.ie. In the meantime, here are some of our top suggestions to get you in the mood for love.

Make it a cliffhanger…
When the famous Chinese detective writer Zhao Yan and his new DJ bride Zhao Ruo Hong arrived on our shores late last year, the honeymooners got to soak up some of Ireland's top romantic spots while on their visit- amongst them, the Cliffs of Moher.
The outstanding beauty of the Cliffs of Moher still makes it one of world's most breathtakingly beautiful and romantic attractions. Offering stunning views over the wild Atlantic Ocean, the Cliffs of Moher is an ideal way to woo your loved one this Valentine's Day and provides the perfect setting to pop the question should you be inspired.
While there, why not follow the lead of the Chinese celebrity visitors and make a stop at Bunratty Castle to relive the moment and cosy up with a spot of afternoon tea.

Ring of Love
Once described as "the Most Beautiful Place on Earth" by National Geographic, you haven't experienced romantic Ireland until you've explored the Dingle Peninsula. And this Valentine's, The Dingle Walking Festival provides the perfect opportunity to do just that.
Taking place Valentine's weekend February 16th and 17th, the festival offers the chance to pick from a host of stunning treks suited to all fitness levels. Whether you merely fancy a romantic stroll with your beau to take in the stunning scenery and wildlife or would prefer more of a challenge together, the Dingle Penisula will ensure your Valentine's break away together will be enriched with amazing memories.
Take your pick from treks such as Cnoc an Chairn, Mount Eagle or Mount Brandon and then relax in one of the top class guesthouses and soak up the views across the bay. Why not gather around the fire in a cosy pub with that special someone and enjoy Dingle's famous craic agus ceoil late into the night? See www.dinglewalkingfestival.com or www.discoverireland.ie/kerry for more information.

Light Up Your Love
This Valentine's put your loved one at the heart of a plot that would be at home in a romantic Irish novel.
Wake up to the sound of the sea thrashing against the cliffs and experience a romantic break of a lifetime in a lighthouse all of your own.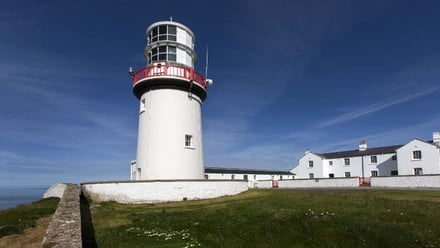 The Landmark Trust offers a range of self-catering options in a range of unique heritage buildings around Ireland. Take your pick including The Galley Head Lightkeeper's House in Clonakilty, West Cork, perched on dramatic cliffs 130 feet above sea level, The Loophead Lightkeeper's house in Kilbaha, Co. Clare, right on the Atlantic ocean, or the Wicklow Lighthouse at Dunbar Head which dates back to 1781.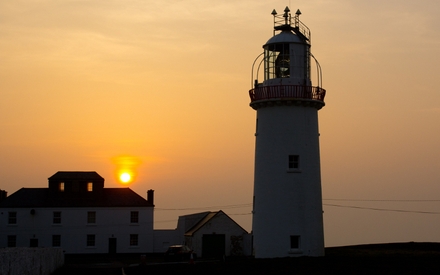 After a romantic stroll along the cliffs enjoy a candlelit dinner as the sun sets in your cosy temporary home. www.irishlandmark.com

Culture of Love
Why not join the company of Ireland's great romantics this Valentine's and express your love with music, poetry or film?
There are so many opportunities to express your love in a unique and memorable way. The Cork Spring Poetry Festival, which takes place from February 13th-16th will not only feature poets from across the world but will host a Male Muse workshop to help inspire great Irish poems from its attendees. Log into to www.corkpoetryfest.net and www.discoverireland.ie/cork for more information.

Or if music is more your means of expression, this Valentine's Waterford will be host top classical musicians Keith Pascoe (violin) and Brian McNamara (piano) to get you both in the mood for romance. Two of Ireland's top classical musicians will perform a mixture of Mozart's and Beethhoven's finest works in City Hall. See www.waterford-music.org and www.discoverireland.ie/waterford for more details.

For film lovers, the Jameson Dublin International Film Festival opens up on Valentine's Day and runs until February 24th. Immerse yourself in the best of Irish and international film and choose from over 120 films presented in Dublin's city centre theatres including Cineworld, The Savoy, Screen, Irish Film Institute and Light House Cinema in Smithfield. This year's star attraction this year is funny man, actor and producer Danny De Vito, famous for his role in the hit TV show Taxi, and One Flew Over the Cuckoo's Nest. See www.jdiff.com and www.visitdublin.com

Savour your love with a delicious meal
Why not upgrade your culinary skills this Valentine's Day and show your love how much they mean to you with a dish made from the heart.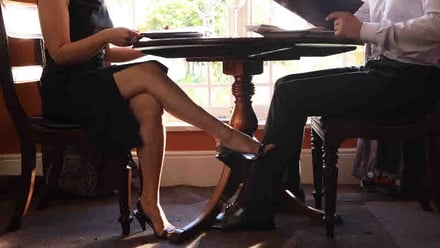 Get your preparations in place for the big day with a Cook For Your Valentine course in The Cooks Academy on February 13th. Learn the essential techniques of cooking and soak up the love on Valentine's from your appreciative other half.
Or for a sweeter option, chocolate lovers out can opt for the Butlers Chocolate Valentine's Cookery Class which takes place February 9th.
If cooking isn't your forte, you can always make a break for it and book into a hotel in the capital and dine out in one of the city's top restaurants. See www.butlerschocolates.com and www.cooksacademy.com and www.visitdublin.com to get your preparations underway.

Get pampered this Valentine's Day
Nothing says I love you like a romantic pampering session from your loved one. This Valentine's Day, why not make the most of Valentine's and treat yourselves to a romantic getaway in one of Ireland's world class spas.
When was the last time you both took some time out and really relaxed? Valentine's is an ideal excuse to get away from the hustle and bustle of everyday life. Why not try a couple's massage or lounge in a hot tub together in one of Ireland's approved spa options all over Ireland. Look out for great Valentine's deals throughout the country which offering amazing spa packages.
Check out www.discoverireland.ie/spa for more information.

So this Valentine's make sure to tap into all that Ireland has to offer to create the perfect romantic day for you and your loved one. For more ideas on experiencing all that romantic Ireland has to offer this Valentine's Day and all year round, visit
www.discoverireland.ie