A Christmas market can melt even the most cynical of hearts. It is impossible not to fall under the spell of sweet mulled wine, the sound of carol singing, and the infectious spirit of merry shoppers! You don't have to travel to Prague or Budapest either to immerse yourself in a festive market. Why not soak up the seasonal spirit and combine a visit to a Christmas market with a getaway break in Ireland?
Make your list now, check it twice, and then plan your festive shopping experience at www.discoverireland.ie/christmas.

Docklands Delights!
The Dublin Docklands Christmas Festival (December 7th - 23rd) is back with seasonal cheer. Over 80 traders will be on hand to supply hot chocolate and marshmallows, and great gift ideas. Don't miss the beautifully illuminated carousel, the helter-skelter and the other Victorian fairground attractions, providing fun for all the family. Listen out for the carollers and don't forget to check out the 1950s Airstream bar, serving hot buttered rums and hot toddy's, the perfect accompaniment to some of the gourmet offerings on the food stalls.
Christmas on the Square
Have a very Merr(ion) Christmas and do some inspiring shopping in the magnificent surroundings of Merrion Square in the heart of Georgian Dublin. The Merrion Square Innovation Network is hosting a special pop-up shop in association with Irish Design Shop (December 1st). You can meet the makers and see the best of Irish design in the shop at the Irish Architectural Archive at No. 45. There will be special Christmas treats for shoppers throughout the day, including beautiful choral music.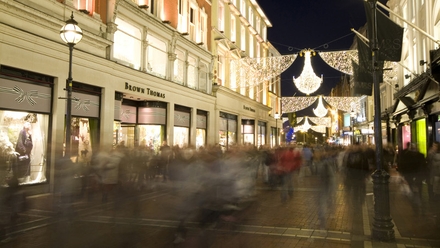 Brown Thomas' Winter Wonderland
Brown Thomas Dublin is delighted to welcome a leading selection of Irish and international fine foods and wines to sit alongside a selection of artisan and handcrafted Christmas produce; the latest and final instalment to the traditional Christmas Market at Brown Thomas Dublin and Christmas Shops at Brown Thomas Cork and Limerick.
In true Bavarian Christmas style, the new food offering will feature a wide range of indulgent delights, ideal for Christmas entertaining and Christmas gifting solutions. Customers will be spoilt for choice with tantalising delights as well as much-loved Christmas favourites from new and exciting exclusive brands including: Artisan du Chocolat, Bespoke Foods, Candy House, Choc on Choc, Domini Kemp, Gourmet Candy Company, Hadji Bey, Lindt, Michton, Mille et Une Huiles, Odias Foods, Scarlet Bakes, St. Kews and Valrhona.
Waterford's Winterval
A winter wonder awaits you in Waterford with the new Winterval Festival (November 30th – Dec 23rd) celebrating Christmas traditions in medieval times. Cathedral Square at the Viking Triangle in Waterford city will echo the joys of Christmas past and present in this rich cultural environment. Children can sample hot chocolate and crepes whilst Mums and Dads can enjoy a seasonal cup of Gluhwein whilst searching for the perfect gifts at the many artisan craft stalls which will line the historical cobbled streets of the City.
The festival features a free 'Sol Luminiere Lightshow' a 3D spectacular which will light up the Deanery in Cathedral Square every evening. There will also be a very special chance for older visitors to take a festive trip down memory lane at the Toy Museum in City Hall!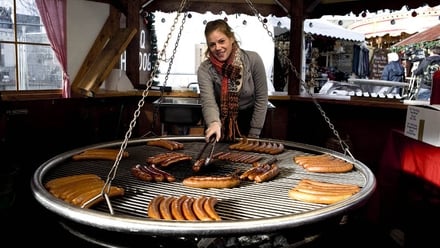 Go Continental in Galway!
Head west to the Galway Continental Christmas Market (November 23rd - December 22nd). Eyre Square will be transformed into a winter wonderland with retailers in traditional wooden chalets providing European-style seasonal fare and gifts. This year's event has been extended by five days meaning Christmas shoppers can enjoy the addition of live performances and entertainment from the city's top bands and DJs. Look out for everything from puppet shows to school choirs, storytelling and carollers. And, for a yummy yule, don't miss the goodies on offer from local artisan producers.
Get Crafty about Christmas!
For some capital gifts head to Dublin for the annual National Crafts & Design Fair at the RDS (December 5th - 9th), where you are guaranteed to get Christmas shopping done with a minimum of fuss. Choose from the work of more than 500 designers, artists and craftspeople selling everything from delicious chocolate, hand-made jewellery to high fashion under the one roof. To make life even easier, organisers produce a handy gift guide to help cut leg work to an absolute minimum, leaving you more time to enjoy the treats on offer at the Food Emporium.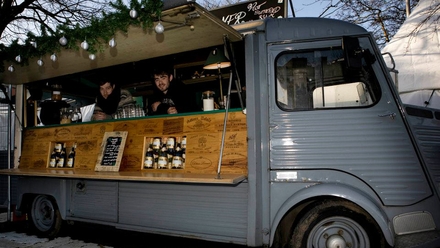 Jingle Bells in Limerick!
Get a head start on your yuletide shopping at the Limerick Georgian Quarter Christmas Market (November 23rd - 25th). Based on Pery Square right in the city centre, festive fare will include local artisan food producers, arts and crafts, and unusual Christmas gifts. Learn how to make your very own Christmas wreath and the kids will love the fireside story telling. And while you are in lovely Limerick, don't miss the opportunity to visit the famous Milk Market at Cornmarket Row (every Friday, Saturday and Sunday). This is a haven for food lovers and will be chocker block with Christmas delights!
Christmas in the Kingdom!
The Kingdom will sparkle for the Christmas in Killarney market (December 14th, 15th and 16th and December 21st – 23rd). Stroll through the town's beautifully lit streets and soak up the festive atmosphere while you browse a fine selection of local crafts and artisanal produce.
The ever popular open air market stalls showcase a wide selection of handmade crafts, including ceramics, stained glass, candles and jewellery. Treat yourself to culinary delicacies ranging from organic cheese, fudge and preserves to freshly baked bread, olives and charcuterie.
If you plan to get in some early Christmas shopping make a bee-line for the Christmas Craft and Food Fair at the Malton Hotel Conference Centre (November 25th) in Killarney where lots of goodies will be on offer.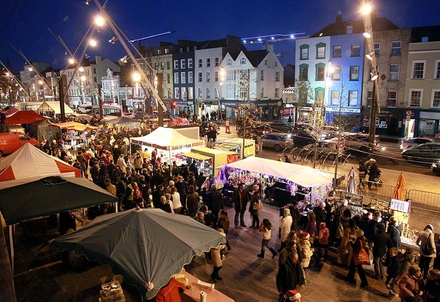 Cool Yule in Cork!
Have a special southern Christmas this year and head to the real capital to shop in markets which form part of A Cork Christmas Celebration (Every Friday, Saturday and Sunday from November 23rd – December 23rd). Bishop Lucey Park and the Grand Parade will be magically transformed into a wonderful haven of Irish and international crafts and food stalls.
For the really early Christmas birds the Cork Art & Design Craft Fair takes place in the Grain Store in Ballymaloe House in East Cork (November 17th – 18th )with 50 craft stands and food from all over the country.
Make Merry in Mayo!
Westport will be transformed into a winter wonderland with a spectacular Christmas Market as part of Spraoi na Nollag (December 14th – 16th). Indulge in tasty treats and buy special gifts for your loved ones at the open air market featuring artisan food and craft producers from all over the county. As well as an appearance from the man in the red suit, traditional retailers will be doing their best to play Santa too, many offering special discounts for the weekend. Now that really will help with the Christmas shopping.
Crimbo in Carlow!
Romantic Duckett's Grove House and Estate will be transformed into a winter wonderland when it hosts its annual Christmas Fair (December 9th). A hive of festive fun, there will be over 70 stands plus musical entertainment. Look out for ceramics, knitwear jewellery and embroidery, as well as handmade Christmas cards and decorations. And oh the food! You can stock up on Christmas cakes, puddings, mince pies, seasonal fruit tarts and chutneys. You can also source your mistletoe and Christmas wreath here!
Doonbeg Delights!
Step back in time in the grounds of gorgeous Doonbeg Lodge, in Co. Clare (December 7th – 9th) for its annual Christmas Market. Visitors will be promised lots of traditional Christmas atmosphere in the courtyard, with the scent of gingerbreads baking and meats roasting from the outdoor cafe. Enjoy the cheer from 60 stall holders. The kids will love the nativity scene and the Santa Station. A perfect recipe for a special yuletide shopping experience!

Whichever part of the country is on your wish-list this Christmas, make it come true at www.discoverireland.ie/christmas