Dust down the walking boots and join the legions who will take to the great outdoors to explore the stunning Irish countryside on foot this autumn. Whether you're a single walker, in a group, or with your family and friends, a walking festival is a great way to sample some of Ireland's spectacular scenery with lots of craic and local insights along the way. Most festivals have options to suit all levels of walkers. And after an invigorating day filling your lungs with fresh air, you can wind down with new friends in front of a roaring fire and a sing-song in a local pub.

Sign up for one of the many walking festivals around the country and let www.discoverireland.ie/walking be your guide.

The Rocky Road to Clare!
If a rocky stroll is right up your street then look no further than Co. Clare which hosts two walking festivals this autumn. On the Burren Peaks Walking Festival (September 28th-30th) in Ballyvaughan, you'll discover fairy forts and lunar-like landscapes while marvelling at the Burren's birds of prey. The festival offers three grades of walks and incorporates the 'Riches of Clare Experience' featuring traditional Irish music, song and dance, heritage tours, local crafts fair and a visit to the amazing Ballyvaughan Farmers market.
Down the road the East Clare Walking Festival (October 5th to 7th) in Mountshannon takes in breath-taking views of both Lough Derg and Lough Graney, which loops around sections of the East Clare Way, a national way marked walking route.

All Heart In Baltimore!
There is no better way to explore the spectacular West Cork coastline this autumn than on a guided walk with a bunch of fellow enthusiasts! The Baltimore Walking Weekend (September 29th and 30th) has a number of walks led by historians showcasing this spectacular area of outstanding beauty and its long, rich history. There are walks for all ages, and some are even suitable for children in buggies. If you miss this weekend you can catch The Irish Heart Foundation Walking Weekend in Baltimore the following week (October 6th and 7th). Each walk takes in a different area or island and vary from leisurely to strenuous - so choose the one that suits you best!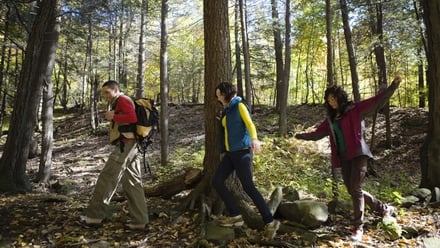 Conquer The Nire!
Discover a region steeped in history, music and tradition at the Nire Valley Annual Walking Festival (October 12th – 14th) in West Waterford. The festival begins with an introductory evening where you learn about the history and geography of the areas you will later explore, including Uisce Solas, Sgillogue Lochs, Coomeragh Plateau and Mahon Falls.
The Saturday walks are for more experienced hikers through the hills, and the Sunday walks are a little more relaxed, taking you at a leisurely pace through the valley. A festival dinner and ceol agus craic with the locals is open to everyone on the Saturday night.

Follow Me Up To Carlow!
All roads lead to Borris for the Carlow Autumn Walking Festival (October 12th to 14th). Whether you're a serious rambler or someone who just likes to stretch your legs and enjoy the view, Co. Carlow is a brilliant destination to explore on foot. You'll also find plenty of venues where you can unwind in the evening time enjoying traditional music and dance if your feet aren't too sore!
New to this year's programme is a Night Hike on Mount Leinster, Canoeing Tours on the River Barrow, and a walk with Eanna Ni Lamhna.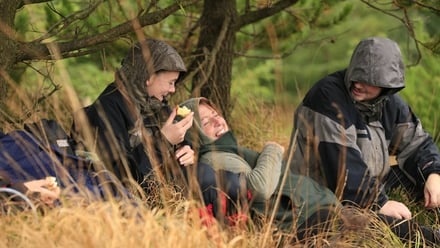 Go Diamond Hunting in Connemara!
Head west and make a date to explore the rugged Connemara landscape at the Connemara Four Seasons Autumn Walking Festival (October 19th-21st). Walking guides will provide a fascinating insight into the unique cultural, archaeological and historical heritage of the area. On Saturday you get to walk Diamond Hill in Connemara National Park, and see spectacular ocean, island and mountain views. On Sunday take the ferry to the beautiful island of Inishbofin, the Island of the White Cow, known for its magnificent scenery, relaxed lifestyle and traditional music. Only five miles long and two miles wide you should see the entire island in one day!

Gather at Roundwood!
Stunning walks through some of Europe's oldest peat boglands and heather-covered mountains await at the Footfalls Wicklow Walking Festival in Roundwood (October 26th to 29th). Based in the heart of the Wicklow Mountains, between the villages of Laragh and Glendalough, all walks are led by experienced guides who will enthral you with tales from yore!. Keep your eyes open - you might spot wandering deer, foxes, and badgers. The weekend also includes Nordic Walking lessons and a photography workshop.

Follow in the Footsteps of Legends!
If you love history the Annascaul Walks Walking Festival (October 26th – 29th) in Co. Kerry is a must for you. The weekend features a night walk on Meelin Hill and a challenging climb of Ireland's second highest mountain, Mount Brandon. This takes in the wreckage of World War II planes as you trek along the magnificent Pater Noster lakes and the steep climb to the summit. The magnificent views of Chorca Dhuibhne and the majestic south west Atlantic from the Blaskets to Scellig Mhichil will take your breath away.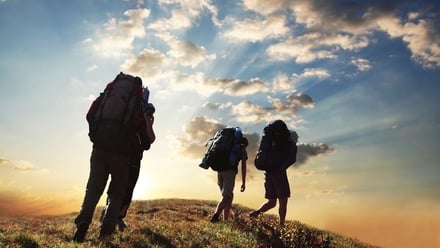 Walking & Talking in Co. Donegal!
Co. Donegal hosts the Walking & Talking weekend from 26th – 29th October, taking in Fanad peninsula coastal walk, Glenveagh National Park, Ards Forest Park, Knockalla Mountain, Muckish and Errigal. The all-inclusive package costs just €250 and you will get 3 days accommodation, breakfast, packed lunches, evening meals and 3 guided walk. The walks are done at a steady pace with time for photos and a picnic. Glenveagh National Park has wonderful gardens, landscape and a dark history. The coastal walk in Fanad takes you over sand dunes, rock sculptures and long sandy beaches. The views from Knockalla mountain are stunning.

Get in Tipp Top Shape!
It's not such a long way to Tipperary when there is a great walking weekend at the end of your journey! Head for the Upperchurch Walking Festival (November 9th to 11th) which features a multitude of walks for everyone from families and beginners to the more experienced hillwalker. Enjoy looped walks, a lowland mystery walk as well as the Kilcommon Pilgrim trail. For those with boundless energy, there's dancing lessons and traditional music in the evenings!

Sign up for one of the many walking festivals around the country and let www.discoverireland.ie/walking be your guide.