Dublin will make major waves as a festival atmosphere washes over the Docklands from Thursday August 23rd to Sunday August 26th for an action-packed, free, family festival marking the last leg of the Tall Ships Race 2012.
The north and south quays of Dublin's Docklands will come alive over four fun-filled, magical days with music, children's activities in a special 'Family Zone', a food theatre, markets, watersports, street performances and Dublin's first floating cinema! There will also be literary trails and art exhibitions celebrating the personal stories and memories of the city's seafaring community and life on the docks.
Dublin is the final port of call for what is one of the most visually stunning sailing races in the world with 60 magnificent ships taking part. The fleet set sail from the Northern French port of St Malo in early July, and will have raced across the Bay of Biscay to Lisbon in Portugal and Cadizin (Spain) before its arrival in Dublin.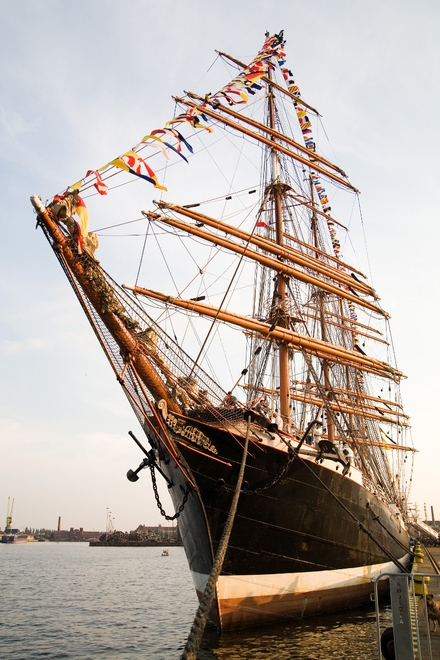 One of the highlights of the Festival will be the Crew Parade (August 25th), when 1,500 sailors parade through the city to a prize giving ceremony. The weekend will end in spectacular fashion with the Parade of Sail (August 26th) when all the ships leave port together with their graceful sails hoisted.
Seafarer or landlubber go to www.discoverireland.ie for festival details and have the wind taken out of your sales by an unforgettable visit to Dublin. While you are in the city why not take the opportunity to take in some of the other attractions that the capital has to offer.

Ahoy! Lots of Family fun
Grand Canal Square will be the centre of the Tall Ships Festival action for kids, with a lively programme of free events. There will be an interactive Sea Orchestra, a Headphone Disco with pirate and mermaid themes, a Wooden Games area, and lots of water activities in the Grand Canal Basin. Kids will love the special Pirates Cove play area and the aquatic themed workshops will keep them afloat. Oh and did we mention the open air trapeze and circus sideshow? That should get young heads spinning! The so-called 'Box on the Docks', the Waterways Ireland Visitor Centre in the Grand Canal Basin, will also be hosting puppet workshops.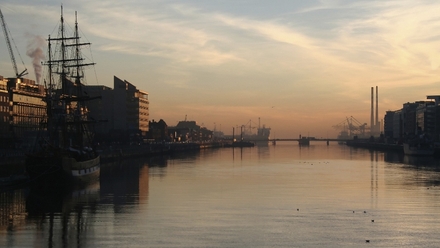 Rock on to Maritime Music!
No festival is complete without music. The Bulmer's Music Stage at St George's Dock will host top, live acts each day of the Tall Ships Race Festival until 10 p.m. The line-up includes Duke Special, Cathy Davey and Jerry Fish (Thursday, August 23rd) ; Lost Brothers, Mark Geary, Ryan Sheridan and Ash (Friday, August 24th); and Delorentos, Frank & Walters, Therapy and The Undertones (Saturday, August 25th). On Sunday the Dublin Gospel Choir will perform from 11 a.m. to 2 p.m. as the ships depart Dublin.

Jump Aboard for Tasty (Sea) Food!
All that fresh sea air will make you hungry. And there will be more than ships' biscuits served up at The Tall Ships Races Festival. Linear Dock will be transformed into a sumptuous outdoor Food Theatre with mouth-watering demos and displays, food courts and farmers market stalls. You will be also be able to sample foods to satisfy every taste on North Wall Quay and Sir John Rogerson's Quay where you can relax and nibble in seated picnic areas while enjoying the best views of the breathtaking Tall Ships.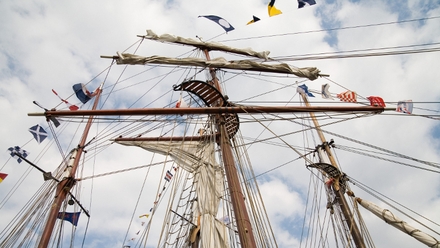 Join the Water Sports Crew!
All that talk of ships might inspire you to learn more about water sports. Waterways Ireland will host Watersports Demonstrations at Grand Canal Dock focusing on wakeboarding, paddle boarding and kayaking. There will also be gladiator-style water battles plus an opportunity to try your hand at crazy golf on a gently bobbing pontoon!
Each evening Grand Canal Dock will transform into a floating cinema, with a giant screen on a barge showing classic, watery themed movies each night at 9.30pm with Planet Oceans (Thursday August 23rd), Life Aquatic (Friday August 24th) and Jaws, (Saturday August 25th).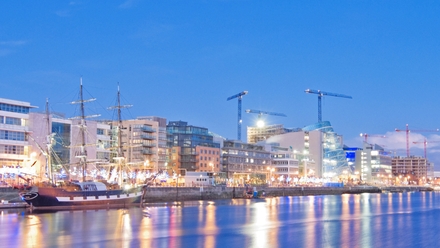 Meet the Kings of Concrete!
The Kings of Concrete, an action packed, adrenaline fuelled group of livewires, will provide a hugely entertaining display at Hanover Quay over the weekend with skateboarding, live graffiti, break dancing, hip hop and beat boxing. Don't miss their skateboarding stunts at the specially built Skate Street Course.

Celebrate Dublin's Maritime History
The CHQ building on the Quays is the festival hub and will host events bringing visitors on a journey through Dublin's rich maritime history. Don't miss Stevedore Stories, a multimedia exhibition by Moira Sweeney and the Pop-Up Ships installation by Maeve Clancy.
Fingal Living History will bring you back to the Viking era with their re-enactments, while the Dublin Dockers Preservation Society will hold an exhibition of historic dockland images. There will be a talk about Ireland's maritime icon, Granuail, known as the Sea Queen of Connaught, by Anne Chambers (2 p.m, Friday August 24th and Saturday August 25th at 4 p.m.)
There will also be a talks and literary Trails in pubs and cafés on the Quays and on some of the barges. Join the animated historical walking tour starting at Pearse Square (Friday August 24th, 12 noon). Catch Paul O'Brien's Tales from the Docklands on board the MV Cadhla at Grand Canal Square. (Saturday August 25th, 12.30 p.m )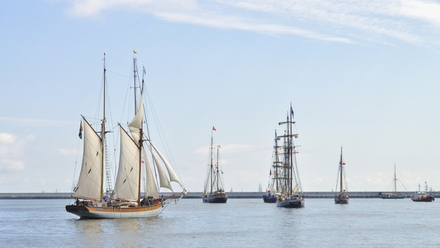 All Aboard!
Many of the graceful tall ships will be open to the public (Thursday August 23rd to Saturday August 25th). The crews will show you around and give you a taste of life on the ocean wave. Be careful you don't get captured by pirates! Look out for the two Irish boats, the Spirit of Oysterhaven and Creidne.

Prizes and Parade of Sail
Thousands are expected to turn out for one of the highlights of the Festival - a parade of up to 1500 crew members along the Quays (Friday 24th at 3pm) to The Custom House for the awards ceremony.. The festival will culminate on Sunday 26th when the Tall Ships sail out of Dublin in an unmissable Parade of Sail. A mighty traditional music session in Grand Canal Square will send the ships on their way in uniquely Irish fashion.

Don't miss this spectacular festival! www.discoverireland.ie