Wild, rugged and beautiful, Ireland's islands have captured the imagination of visitors at home and abroad for hundreds of years. A visit is an enlivening experience, and provides a much needed switch-off from the stresses of modern-day living.
And remember these communities are surprisingly easy to get to. Some, like Achill and Valentia, are connected to the mainland by a bridge; others can be accessed by small boat, ferry, air and even cable car! And when it comes to accommodation, eating out or doing a course or activity, their value-for-money is exceptional and justify a longer stay.
Why not take the opportunity to explore the West Cork islands and all they have to offer on June 23-25 when the Discover West Cork Islands Weekend offers reduced rates on activities, services and accommodation? Jump on a ferry or cable car to one or more of the following: Bere, Cape Clear, Dursey, Garinish, Heir, Long, Sherkin and Whiddy.
Here's just a snapshot of what you can experience on the islands along the west coast.
SOUTH WEST
Oileán Chléire (Cape Clear) - Best for birdwatching, walking, Irish language courses
The wildly romantic Cape Clear, or Oileán Chléire, is a Gaeltacht island 13km off the coast of West Cork. It is Ireland's southernmost inhabited island, located right on the cusp of the continental shelf off Baltimore in West Cork. The entrance to Roaringwater Bay is one of the leading dolphin and whale sighting locations in Europe and, if the weather's on your side, a visitor might also catch sight of leatherback turtle, sunfish and shark. The island is also home to Ireland's only manned bird observatory, which has been maintaining a daily species log since 1959. The plethora of flora and fauna makes for fabulous walking.
Whether you come to Cape Clear to get close to nature, learn a bit of 'an Ghaeilge', taste some goats milk ice cream, take a boat trip or enjoy one of its many festivals, such as the Walking/Talking Weekend in May, and the International Storytelling festival in September, Oileán Chléire offers relaxation, nature and peace.
Bere Island – Military history, Walking, Marine life
Bere Island has been voted Ireland's tidiest Island for the past five years and the Islanders extend the warmest West Cork welcome to all their visitors. It lies at the entrance to the spectacular Bantry Bay and guards the deep water harbour of Berehaven, in West Cork. The island is rich in archaeological sites dating from the Bronze Age through to Medieval times, including ring forts, standing stones, wedge tombs and burial sites.

IRELAND WEST
Inishbofin - Best for traditional music, looped walks, sailing
Inishbofin Island, 11km of the Galway coast, is renowned for its white sandy beaches, rare flora and fauna and magnificent scenery. It is an inspirational haven for artists, musicians and photographers.
An important centre for traditional Irish music and song, it boasts its own Ceilí band and local contemporary musicians and plays host to many visiting musicians and artists.
Inishbofin boasts three splendid looped walks, clear waters (for swimming, snorkelling and diving), and a diverse array of birds, and wildlife. Artists and photographers find inspiration, fishermen cast off, and a heritage museum evokes Inishbofin through the ages. Festivals include the Inishbofin Arts Festival and Inishbofin half-marathon in May,
Aran Islands
Arainn – Inishmore - The "big" Aran Island - Best for nightly music session and regular dances
Inishmore (Árainn) is the largest of the Galway Aran Islands and is an extension of the famous limestone rocks of The Burren. The landscape of Inishmore is a patchwork of fields hemmed in by precariously balanced dry stone walls.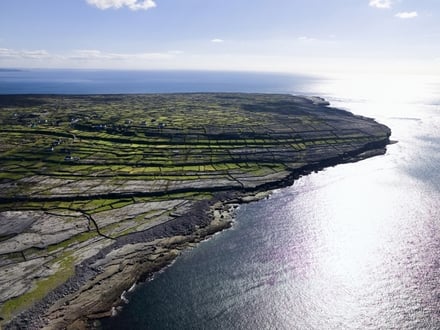 You can walk, cycle or ride the lane ways here to discover the island's most celebrated monument, Dún Aonghusa, one of Ireland's three impressive forts which are on the World Heritage tentative list. Elsewhere circular forts, early Christian remains, 12th Century high crosses and medieval churches dot the island.
Traditions are very much alive on Inishmore; nightly music sessions, regular dances and even Currach racing are part of everyday life. In July, the islands will offer a marvellous vantage point for watching the approach of the boats in the Volvo Ocean Race.
Inis Óirr – Inisheer - Best for tracing Father Ted, walking, arts & crafts
As you pass the rusty-red shipwreck on Inis Óirr's (Inisheer's) eastern shore (off the coast of Co. Clare), you will begin to recognise the real-life Craggy Island that features so famously in the opening credits of the renowned television series Father Ted.
To the north of the island golden sandy beaches offer safe swimming and stunning vistas of Connemara; while the eastern shore boasts a shipwreck and breath taking views of the Cliffs of Moher and the Burren.
The island has a cookery school where you can learn to cook with seaweed or even catch and cook your own fish. The island's arts and cultural centre, Áras Éanna, offers a range of workshops, concerts and exhibitions. If you visit in August you may get to see the traditional currach boat races.
Inis Meáin - Inismaan– Best for walking, heritage, Irish language and culture courses
Inishmaan, or Inis Meáin is Aran's Middle Island and the quietest of the three Aran Islands.
A maze of narrow winding roads, sheltered paths and trails criss cross the island, from the rocky hillsides of the south to the deserted sandy beaches on the north shore. Wild flowers bloom everywhere and numerous examples of early settlements dot the limestone karst landscape.
Don't miss Teach Synge, the restored island cottage of writer John Millington Synge, for whom the island was a favourite retreat and from where he drew inspiration for classics like The Playboy of the Western World.
NORTH WEST
Arranmore - Árainn Mhór - Best for walking, angling, diving, bird watching
Árainn Mhór is an island for all seasons. With a population of 500 and six traditional pubs, this Irish-speaking oasis is a lively place to visit at any time. Savour the beautiful and untamed landscape, Gaelic culture, quiet country roads with abundant wildlife, turf fires and lively pubs.
There is a marked trail leading from sandy beaches to the island's rocky summit, providing spectacular views of the glittering sea, the cliffs, rock arches and the majestic mainland mountains; from Glen Head to Tory Island.
The crystal clear waters surrounding Arranmore provide great dive sites and sea angling, while the island's freshwater lakes are home to brown and rainbow trout. Boats for sea angling can be hired. Birdwatchers will enjoy seeing fulmars and shags and climbers can tackle the steep cliffs.
Tory - Toraigh - Best for traditional music, heritage, bird watching
Nine miles off the coast of Donegal, Toraigh's (Tory's) has a small population of 140. Toraigh's dazzling cliffs and treeless landscape are a huge creative draw, and the island is famous for its school of "primitive" artists who were encouraged by the internationally famous painter, the late Derek Hill. Gailearaí Dixon exhibits the work of island artists.
Historical sites include a round tower that once protected monks from Viking raids, the ruins of St Colmcille's 6th century monastery and the intriguing Tau Cross that suggests early seafaring links to the Coptic Christians of Egypt. The island also boasts an abundance of rare bird life and wild flower species as well as a rich submarine landscape that can be explored through the local dive centre.
Many of Toraigh's ancient customs still survive, including the appointment of the island king or Rí Thoraí.
For further information on Ireland's Islands, how to get there, where to stay and things to do, go to www.discoverireland.ie/islands