Ger and Mags Kirwan of Goatsbridge Trout Farm in Thomastown have launched the culinary delicacy, with plaudits coming from the Russians, makers of the world's best.
Mags said they are heartened with the response, having received great interest from restaurants nationwide already. "We are thrilled to be the first making it in Ireland and believe it represents the sort of innovation required in the food", she said.
The caviar has received a nod of approval from the Russian contingent at the recent Bord Bia food buyers showcase in Dublin. Russia is widely held as the best caviar producers in the world. The Kirwans said this approval was a huge accolade for them and their product, "we weren't sure how the Russian visitors would respond to the Irish-made caviar but the samples went down a treat with them and this has given us confidence that we can achieve strong export sales as well".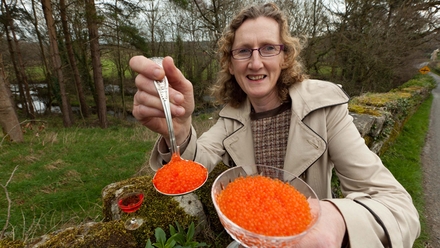 Mags with their new caviar
Caviar is made up of processed, salted fish roe, or eggs. There are a number of varieties, with sturgeon caviar believed to be the best. Goatsbridge trout caviar has large golden-orange beads and quite a subtle flavour. The product will be delivered to restaurants nationwide in the coming weeks to gauge interest. The caviar will be available in shops towards the end of 2012
The Kirwans have been running their trout farm for 20 years, taking over from Ger's parents' 30 year-old business. The business is one of Ireland's only independent trout farms and the Kirwans received inspiration to produce caviar by visiting farms in North Carolina, USA a few years ago.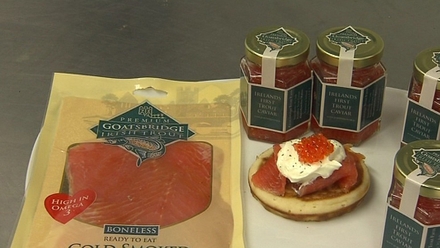 A selection of Goatsbridge trout products
Goatsbridge fresh trout is currently available nationwide, with a stream of smoked trout products in the pipeline within the immediate future.