Vicky from stasty.com shows you two beautiful ways to mark Valentine's Day for you and the special person in your life.
I don't know about you, but I sometimes think girls get a lot of spoiling on Valentine's Day with flowers and chocolate. I think men are sometimes a bit left out. So ladies, this is one for the men.
This is the perfect hearty brunch to spoil the man in your life and earn you lots of brownie points. The creamy hollandaise, buttery spinach and delicious smoked salmon are sure to get his heart racing. It is a bit decadent, but Valentines is only once a year.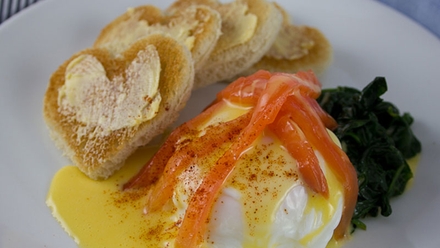 A hearty Valentine brunch
Serves 2
Ingredients
Hollandaise
• 2 free range egg yolks
• 1 dessertspoon of cold water
• 100g of butter
• 1 teaspoon of lemon juice
• Salt, to taste

Buttered Spinach
• 2/3 large handfuls of spinach (washed and dried)
• 25g of butter
• Salt and pepper
• Some grated nutmeg

Smoked Salmon, Toast and Egg
• 100g of wild Irish smoked salmon.
• Four slices of white bread, cut with a heart shaped cutter.
• Butter, for toast
• 2 free range eggs
• Sprinkle of cayenne pepper
Method
In a food processor, blend the eggs, lemon juice and salt.
Place the butter in a saucepan and heat until melted. Once the butter has melted and is starting to foam, put the food processor back on and slowly trickle the butter into the egg mix until all well combined.
It's important that you trickle the melted butter in very slowly as this mixture can easily spilt. The trick is to make sure the melted butter has combined with the egg before adding the next drop.
Once all the butter is added, you should have creamy yellow sauce. Season with a pinch of salt. To keep the hollandaise warm, place in a bowl over a saucepan of just boiled water.
For the spinach, make sure it has been thoroughly washed before use. There is nothing worse than getting a mouthful of gritty spinach. Melt the butter in a medium sized saucepan. Once the butter has melted, add the spinach.
Cook on a medium heat for a few minutes. Some spinach is quiet watery, so if necessary drain away some of the excess liquid. Taste and season with salt, pepper and some grated nutmeg. Keep warm until ready to serve.
Slice the salmon into thin strips. Poach two eggs in boiling water. Once poached, leave the eggs to drain on some sheets of kitchen paper to remove excess moisture.
I used a heart shaped cutter, to cut hearts shapes from the bread. Toast the heart shaped bread pieces under the grill. They are very small so will burn easily, if you are not watching carefully. Butter the heart shaped toast. Arrange the toast on one side of the plate.
On the other side of the plate, place a small bed of spinach. Lay the poached egg on top. Place a few strips of the salmon on top of the egg. Drizzle over some hollandaise and finally sprinkle on some cayenne pepper.
Love Heart Sweets
Love Heart sweets were one of my favourite treats as a child. We used to swap them in the playground and felt very adult and grown-up, exchanging our secret messages. As it's coming up to Valentine's Day, I decided to take the idea of the Love Heart sweet and ice the messages on biscuits instead of sweets.
These dainty biscuits are the perfect way of sweetening up your loved one for Valentine's Day. You could even personalise the biscuits by icing your partners name on them.
The biscuits themselves are a cinch to make, but you will need a steady hand when it comes to the icing. As with everything, practice makes perfect, and you will be icing like a master after a few practice runs on a sheet of parchment paper.

This recipe makes 12-14 biscuits
Ingredients
• 3oz plain flour
• 2oz of butter, chopped into cubes
• 1oz castor sugar
Icing
• 7oz of icing sugar
• 2-3 tablespoons of water
• 1-2 drops of pink food colouring. (½ a drop of red will also work if you can't get pink.)
• 1-2 drops of yellow food colouring.
• 1 red icing pen
Method
Preheat the oven to 180 degrees Celsius. Line a large baking sheet with parchment paper.
Begin by sifting the flour into a large bowl. Add the caster sugar and mix in with a spoon. Add the butter pieces to the sugar and flour mix. Rub the butter into the flour and sugar with your hands, until it resembles breadcrumbs. As soon as it looks like breadcrumbs, gather the mixture together. It should stick together to form a large ball of dough.
On a floured surface, roll the dough out to ¼ inch thickness with a rolling pin. Using a round biscuit cutter, cut out round biscuit shapes and place on the prepared baking sheet. Place in the pre-heated oven for 8-10 minutes until pale and golden. Once cooked, place on a wire tray and leave to cool and set.
To make the icing, sieve the icing sugar into a medium sized bowl. Add the water and stir it in until it forms a smooth paste. If the paste is too thick add a drop more water. Take half of the icing mixture out and place in a separate bowl. Next add the pink/red food colouring to one bowl of icing and the yellow to the other. I used the yellow really sparingly as the genuine love heart sweets are almost cream rather than yellow. Carefully spread the pink and yellow icing onto the biscuits using a knife. Set aside until the icing hardens.
Once the icing has fully set, you can now ice on the different messages. I used the icing pens which are available in most good supermarkets and kitchenware shops. I practiced writing the messages a few times on some parchment paper, just to get the hang of it and calm my jittery hands. After a while you get into a flow and will be ready to ice on your biscuits.
Once you have iced the messages on the biscuits, leave to set and harden. These biscuits are quite sweet but are perfect with a cup of tea. As a Valentine's Day gift you could place the biscuits in a small box with pink tissue paper, the perfect home-made gift.