We should all be wearing SPF every day, but even if you're slathering the suncream on hot weather and bright days can leave us looking like dried up grapes.
Jennifer Rock of The Skin Nerd joined the Jennifer Zamparelli show to share her tips and tricks for minding our skin when things heat up.
High temperatures can leave the skin sapped out hydration, leaving it looking dry and patchy. Rock's key advice is "inside out is key", so keep slugging the water during the day.
We need your consent to load this Instagram contentWe use Instagram to manage extra content that can set cookies on your device and collect data about your activity. Please review their details and accept them to load the content.Manage Preferences
"Whilst you're hydrating the skin, it's as simple as cleansing in the morning to give that hydration back with a nice cream cleanser. You then can put something like hyaluronic acid onto the skin, it's a beautiful ingredient found in so many serums these days."
Hyaluronic acid is naturally found in the skin but from 30 onwards, Rock says, it tends to start declining. Adding hyaluronic acid into your skincare routine can counteract this somewhat.
"We would always say if you feel like you're almost raisin-like, put this hyaluronic acid on and it swells the tissues so it's dewy and plump. Also if our skin is hydrated it's more likely to defend itself against the elements, because it can behave well.
SPF in the sun is essential, but how do you know which one to get? Rock suggests that everyone wears a high factor suncream regardless of how sunny it is out. The Irish Cancer Society suggests wearing 30 and above as the minimum.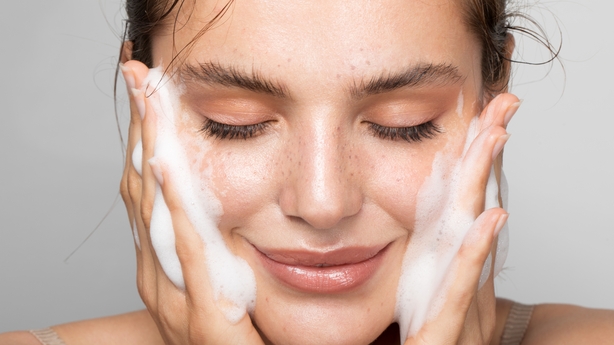 When wearing factor 50, Rock says "don't lure yourself into a false sense of security in thinking, 'I've put it on once in a day, I'm done for the day'".
"If you look at your hands right now and you look at your fore finger and your middle finger, and you imagine putting product the whole length across both of those fingers, that's how much SPF you should be applying from your collarbone up."
As for the rest of your body, Rock says "you're talking nearly a teaspoon to a tablespoon amount depending on the size of the body".
You also need to let the product settle before putting makeup onto the face, at least five to 10 minutes.
You can choose from chemical SPF and physical SPF, but Rock says that neither are better than the other. Physical SPFs contain titanium dioxide or zinc oxide, which creates a barrier and reflects the rays away, while chemical SPFs absorb the light into the skin.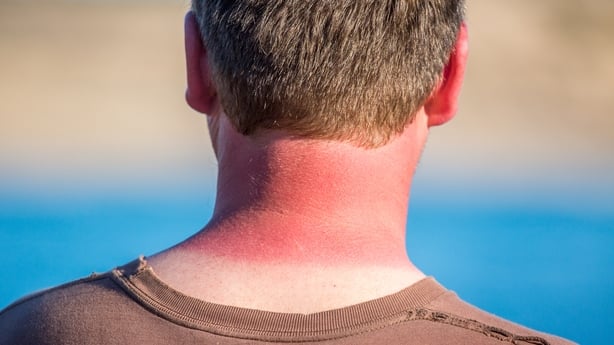 "The best SPF is the one that you like. If you like it, you will apply it."
If you want to use makeup while also protecting your skin, Rock suggests getting an SPF that is tinted to hide any imperfections.
"The one issue that seems to happen repeatedly is people tend to get a lot of spots and congestion, so maybe try and not apply as much foundation as you would at home, or using something with salicylic acid sparingly whilst your in the sun.
"Anything acid-based, bar that hyaluronic acid, will exfoliate the sun, so try not to exfoliate too much whilst you're not used to it."
It's worth considering what you're eating while out in the sun, Rock says. Being in hot weather might make us lose our appetite, but Rock suggests focusing on foods that hydrate the skin like essential fatty acids, such as nuts and oily fish.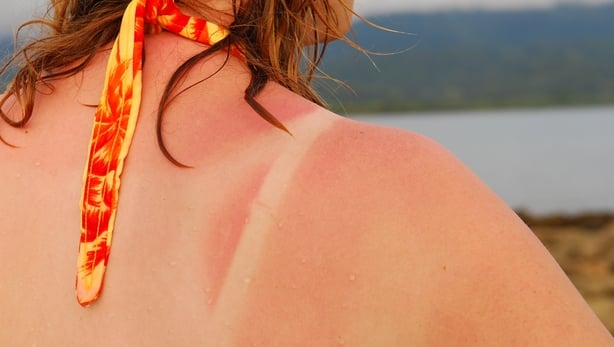 Sometimes, despite our best efforts, we still get sunburned. What are the best ways to treat it?
Rock says, first and foremost, don't beat yourself up about it. "Don't put any oils onto the skin. Though that might feel like and comfortable, that oil will actually trap the heat in. Think about the word sunburn, it's exactly that - a burn - so you wouldn't put anything too occlusive on."
Opt instead for products that are lightweight and cooling, such as aloe vera. Keep applying SPF while you have a burn, ideally every hour and a half, to protect the skin, and stay out of direct sunlight.
Once home, Rock suggests using vitamin A-based oils once the skin is no longer red, sore and peeling. They will "help regenerate the skin at a lower level so that the trauma isn't as severe as it could be". This will stop it turning into pigmentation.
For the full interview, listen back here.