Victoria G.L. Brunton sits down with Aoife Rooney, a sustainably-minded Irish designer using her off-cuts for pet wear.
You may recognise Irish brand aoife ® for their iconic handbag silhouettes - sold in Avoca and Brown Thomas, showcased in London and featured in British Vogue - but the award-winning, circular Irish brand is on many-a-radar for something far more important: setting the bar for sustainable fashion.
Having upheld extremely high standards of sustainability throughout its supply chain from the very beginning, the brand now turns to outerwear for the first time.
In this AW23 collection, the label once again exceeds itself in terms of sustainable innovation; using fabric offcuts that would otherwise go to waste, the Irish brand introduces Ireland's first and only luxury dog-wear collection.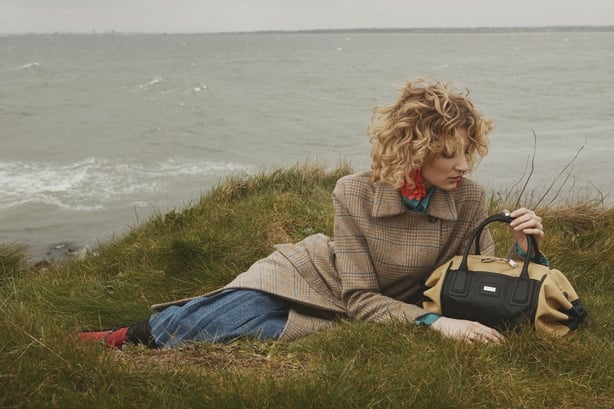 So, why jump from accessories to outerwear?
"Coats and bags are a few garments that instantly transform and elevate a look – wardrobe staples – giving you a sophisticated silhouette and a certain je ne sais quoi," designer and founder Aoife Rooney explains.
As focused as ever on prioritising its social and environmental responsibility, the luxury brand continues to source ethical, eco-friendly fabrics for its creations. This line-up consists of three traditional coat silhouettes, each made from traditional Donegal Tweeds straight from Mount Errigal.
The inspiration behind this collection is simple, in the words of Rooney: "No one knows the importance of a good coat as we do in Ireland, where most of the year is spent bracing for chilly mornings, wet days, and freezing nights. The right outerwear becomes vital, so we have produced loosely tailored coats that act as functional, year-round staples."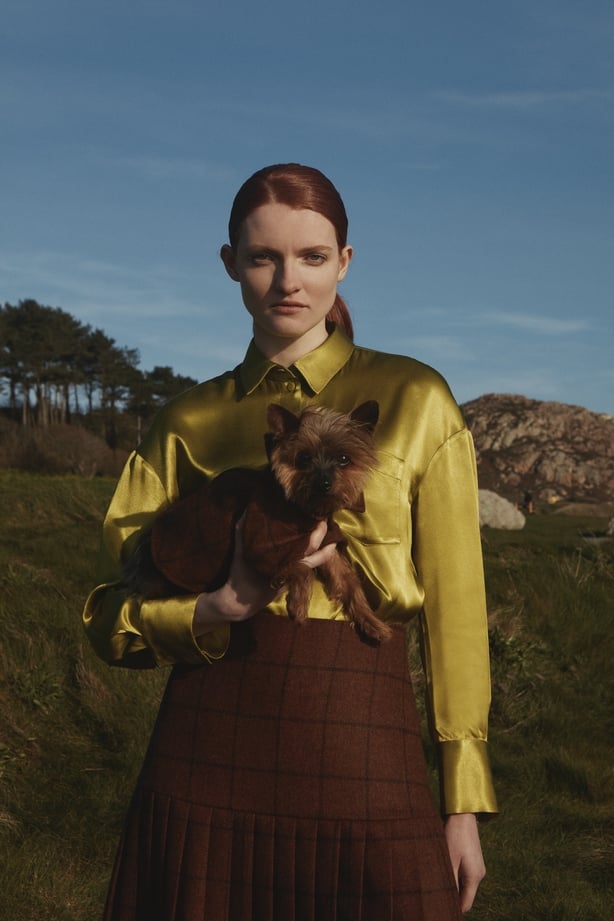 Each coat is made-to-order using a pre-order production method, allowing the brand to plan its production, reduce waste and thereby keep in line with its core philosophy of creating a positive impact.
It was on this basis that the brand's founder had her 'aha' moment; thinking about what would be the most sustainable, circular way to use or dispose of leftover fabric off-cuts, Rooney decided to combine her love of animals with her passion to design – and so, dog-wear by aoife ® was born.
"Fashion can be a serious game keeping up with trend after trend and we don't work to the micro-seasons. So, for myself, as a designer, it was a little relaxing and a lot of light-hearted fun to create a luxury Irish pet accessory line - all while ensuring zero waste," Rooney explained.
"I wanted to try to create an accessory line that was some fun, one that would enable, encourage, and promote empathetic values towards animals."
Speaking on the furry friends' photoshoot, Rooney said: "It was the best and most humorous shoot we've ever done; my pet handler Grace and the team had a huge amount of fun on set. Honestly, I can't wait to grow the line, and the ideas of what to do next kept flowing throughout the shoot. It was a hilariously funny morning – getting all the dogs to sit, relax, pose was a challenge, but they were all naturals, and, in my opinion, paw-fect!"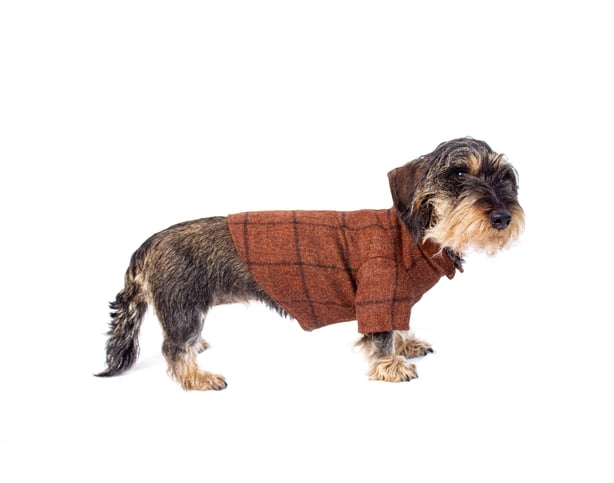 Pet-wear fans can choose from a striking blue, yellow, and pink grid-checked tweed, classic brown and black check, or flecked herringbone Donegal tweed, and rest assured your four-legged companion can follow suit!
As fun as dressing your dog up in adorable prints is, it's worth noting the brand's affinity for animals goes far beyond canine-centered clothing.
Their charity work includes support of the Healthy Seas educational programme which features informative presentations explaining topics of marine life, ghost fishing, ghost nets, the circular economy, and climate change to children between the ages of six and 18.
Not only does this programme support environmental conservation and economic development, but it also encourages social responsibility among younger generations.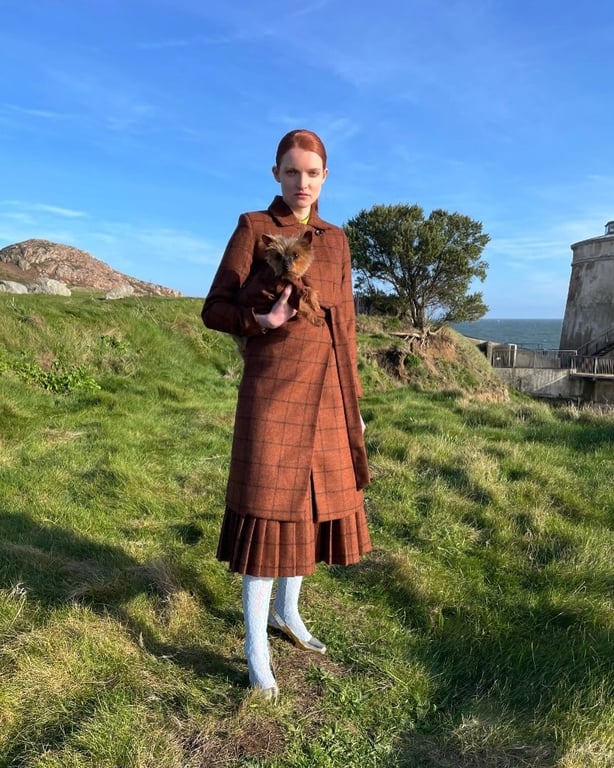 Moreover, for every product aoife ® sell online, they plant a tree to combat deforestation: an increasingly, and gravely, important issue our environment is facing.
According to the UN Food and Agriculture Organization (FAO), the global forest area shrank by an annual average of 3.3 million hectares between 2010 and 2015 alone.
This is particularly devastating when you consider that, not only do forests generate the oxygen we breathe, and provide water to quench our thirst, but they provide livelihoods to some 1.6 billion people worldwide.
Reflecting on their place in the fashion industry, aoife ® says that their philosophy is defined by this simple-yet-effective quote from American essayist Ralph Waldo Emerson:
"To leave the world a bit better, whether by a healthy child, a garden patch, or a redeemed social condition; to know that even one life has breathed easier because you have lived - that is to have succeeded."