Dust off your dancing shoes, slap on the sequins and tease your hair to the heavens, Dancing with the Stars has officially returned to our screens!
Along with the dazzling dances and the quippy presenters, there are oodles of sparkles and sequins, not least on judge Loraine Barry, who week after week stuns viewers with her elaborate and glamorous outfits.
More dazzling, however, is the story behind many of her enchanting ensembles, as the former professional dancer and one-time costume mender has revamped some of her previous show outfits and given them a second life.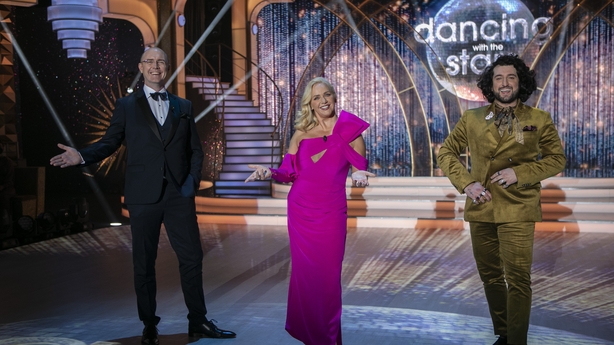 Barry worked with her dressmaker Francesca Lazzari to reimagine her outfits, which she says is both a personal commitment to sustainability and a tribute to her late dressmaker, Sandra.
"I have a lot of dresses and I don't like wasting things, whether it be dresses or food or anything like that", she told RTÉ Lifestyle backstage at Dancing with the Stars last Sunday. "I just don't like waste."
She continued: "So when I had a new collection last year and I had a new dressmaker/designer, I threw that idea at her for this year about sustainability and about revamping the dresses she made me, but also about revamping some other dresses that I had as well, that was from my former dressmaker who sadly passed away at the age of 52."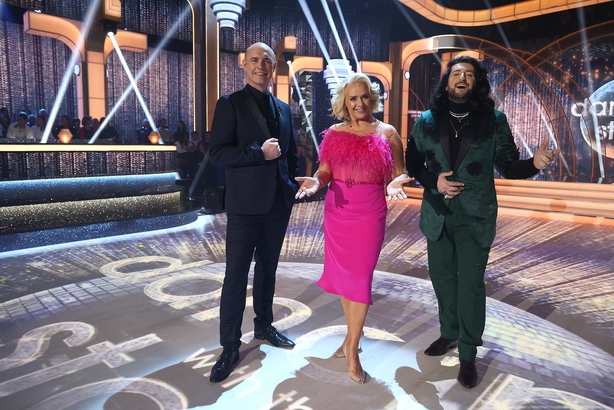 She recalled that, at first, Francesca was "a little bit reluctant" and unsure of what such a project would entail work-wise. However, as Barry explained, it was as straightforward as take away this, add that, and always add a smattering of jewels or feathers.
Many of the outfits were created by Lazzari in previous years, such as the shimmering jumpsuit from 2022 that she reimagined as an elegant gown, or the sleek black tuxedo also from 2022 she turned into a skirt and jacket.
Walking us through the revamp of last week's dress, a flirty hot pink number edged with feathers that ticked all the Barbiecore boxes, she said: "This was 2022 dress number one that I wore for the opening show. It was long, it had a gorgeous big bow on it so of course we made it shorter, took the bow off and added in all the feathers.
"Tonight for some reason, everyone is gone crazy about this dress! It's such a great colour, especially for television. It wouldn't be one of my favourite colours that I would wear every day, but certainly for television it is."
We need your consent to load this Instagram contentWe use Instagram to manage extra content that can set cookies on your device and collect data about your activity. Please review their details and accept them to load the content.Manage Preferences
It's not just in front of the cameras that Barry is committed to sustainability, however, as she said it's something she's become keenly "conscious of".
"I don't have children but I have nieces and I have nephews and they have this world and the earth to live in, so I'm conscious of it", she said. "I feel I'm doing my bit, and especially when it comes to the dresses. I just thought it was something that I could take on, it would be very good, very healthy and something that I could contribute to."
As for where she gets her inspiration for her dresses, she said it's firmly fixed on what works best for her. After years in the spotlight - literally and figuratively - it's unsurprising that she knows her style inside and out.
"My inspiration is, of course, style and it's based on my style. It's not really about looking at what is fashionable today. It's about creating a style that suits me, that I feel very comfortable in.
"You can buy so many things today but they're all for the younger girl, and I'm not that young girl. I'm not afraid to say it, I'm 58 years of age and I want a dress where I feel very comfortable, and it's appropriate for me, plus I feel good."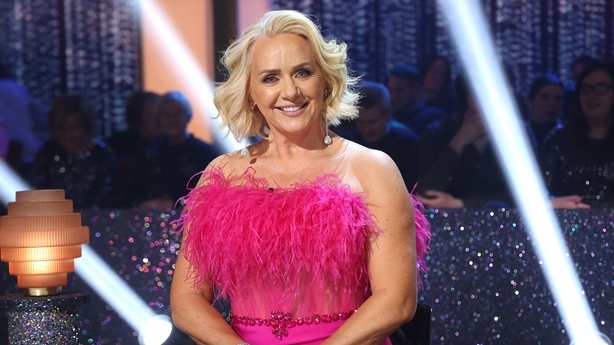 As any Dancing with the Stars fan will tell you, Barry positively glows each week and we can confirm that her complexion is just as luminous off the screen as it is on. She credits this with the two skilled women looking after her each week.
"It's the Skin Nerd", she says of her skincare routine. "I started with her just after Covid when we came back, she came in and she gave one facial and then I started using her products.
Tonight for example I will go home, cleanse all the face, take it all off, wash it as well with these gorgeous cloths that she has and then put on the two creams, the serum and also the [Skin Protein] cream that goes onto the skin."
She continued: "If you look at the makeup, it's Paula Callan, she's fantastic! And I love that she always put the makeup on that suits me and [is] aware of lip colour. Very bright pink, she puts on a pale pink. And I've got Sian Sharkey for my hair as well, so I'm very lucky!"
Watch Dancing with the Stars on Sundays at 6:30pm on RTÉ One.