After two years of pandemic dressing – leggings, oversized t-shirts, trainers – many of us are back to our normal routines and the outfits that go with them.
Days in the office, nights out in the city and everything in between have come back with a bang, and their return has been reflected in our fashion.
As a new season kicks off in the fashion industry, priming us for Spring/Summer '23, we attended the Brown Thomas Spring/Summer fashion show, held in the atmospheric setting of 76 Sir John Rogerson's Quay.
We need your consent to load this Instagram contentWe use Instagram to manage extra content that can set cookies on your device and collect data about your activity. Please review their details and accept them to load the content.Manage Preferences
After the inspiring show, we caught up with Brown Thomas Fashion Director Shelly Corkery to hear her thoughts on the trends ahead, what role pop culture is playing in what we wear and what key pieces we can add to our wardrobes this season.
"It's a fantastic, exciting, expressive season", she said."We have such an amazing, diverse mix of designers and a huge, huge array of trends." The runway looks pulled from some of the most coveted international designers out there, from Victoria Beckham and Prada, to Loewe and Mugler.
Column Dressing honours the revamp of the slinky column dress, now made sharper and more finely tailored, and was heralded back onto runways by Dolce & Gabbana's 'Ciao Kim' Milan show.
Soft Utility references the functional trend that's given a feminine edge, with Corkery saying: "That sort of utilitarian trend is huge this season, you can see that in the show today with all the cargos and the functional fashion, which is really, really fabulous and really outstanding for the season ahead."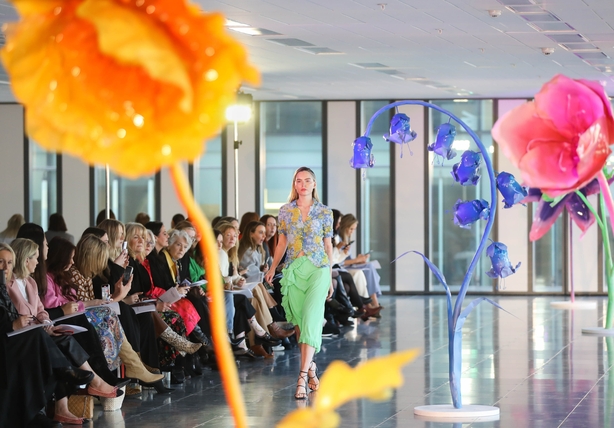 Shades of Sunset offered a colour story for the season, picking out pinks, oranges and yellows as standout colours.
"There's a lot of colour in the show today, so huge focus on colour, so oranges, bright pinks and those sunset colours are really important this season", Corkery noted. "But on the other hand, we also see a lot of black because there's definitely a summer black running through all the collections this season."
Grecian Goddess takes its inspiration from the mythical goddesses of Ancient Greece, with ethereal gowns, sensual draping and Grace Jones-inspired hoods. The trend came through in dresses, in particular, which filled the show with dynamic silhouettes.
"Fashion this season is much more sophisticated than it has been in a while, and I think people are really getting dressed up and really moving away from that very, very casual, mundane casual wear into wearing their oversized denims with a stiletto", Corkery said.
"Everybody wants to get back in their dresses, so there's quite an elevation in terms of sequins, over-embellishing and getting dressed up but in a very sophisticated way."
We need your consent to load this Instagram contentWe use Instagram to manage extra content that can set cookies on your device and collect data about your activity. Please review their details and accept them to load the content.Manage Preferences
Neo Minimalism continues the sleek trend but focuses on easy tailoring and soft colours. "I think all that sartorial fashion is really important, oversized blazers, trousers", Corkery said. "The focus is on more streamlined fashion, we'll definitely see a drop in lengths", she added, saying it'll move from the midi down to the ankle length.
"Whether you're wearing your cargos or your oversized denim, the focus has been from your waist to your hip for this season. There's definitely a drop in the waist down to the hip, which makes it very casual in a very very funky way."
She suggested pairing this with trainers in the daytime and heels at night, with a bustier for the ultimate cool-girl look.
Skin Reveal was a nod to the lingerie trend that is sweeping social media feeds and red carpets alike, and another reminder that the 90s trend is firmly back.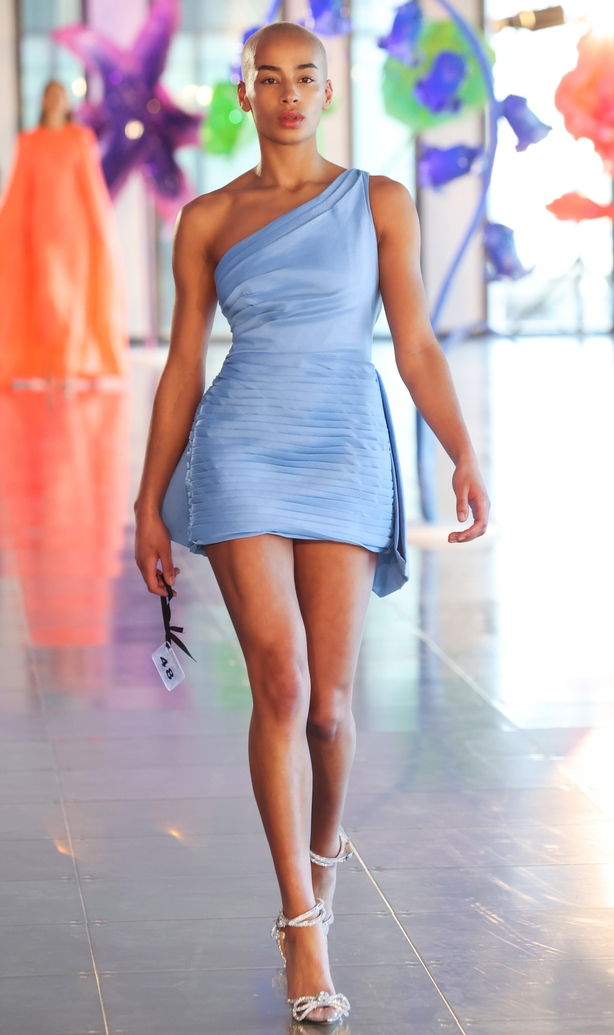 Just as the hit Netflix show Bridgerton led to the resurgence of the bustier and corset, Corkery noted that pop culture is still a driving force when it comes to fashion trends.
"I think pop culture is a young trendy, very energetic [influence] and I think all those bustiers worn with denim is a very cool way to get that look for the season ahead. All that bodycon is really important, and worn with something very casual and very functional is a way to get that look."
As for what statement pieces to add to your wardrobe if you're looking for a seasonal change, Corkery suggests going for some standout and versatile pieces.
"This season, there's so much happening, it's quite diverse. At the same time, it's very feminine and there's lots of takes on femininity this season", she said.
"I think a key piece for me would be the oversized biker jacket. I think the cargo trouser, dropped from waist to hip, is really important this season. And I think your denims in oversize this season is really important, that baggy, louche leg is very important in your denims or your trousers."
A full-length coat dropping to the ankle is another easy way to make a statement, but it's not all long lengths, either. "I talk about lengths and lengths are hugely important, but also the micro mini is very important this season."
For more of Shelley's tips, watch our interview with her above.