Sarah Magliocco breaks down the leading trends from this season's Fashion Month and speaks to Irish designers and creators about their thoughts on the bleeding edge of fashion today.
We're just a few weeks out of Fashion Month, and the countless runway shows spanning New York, London, Milan and Paris, and many of us are already planning our winter looks. It heralded in a fresh fashion era, moving into the brittle embrace of autumn/winter and the new selection of trends, styles and aesthetics that come with it.
At this time of year, there is a 'back to school' feeling in the air - often elevated by the plaids and colour schemes that cycle back into the high street in the latter portion of the year - and people are hankering for something new, fresh and innovative.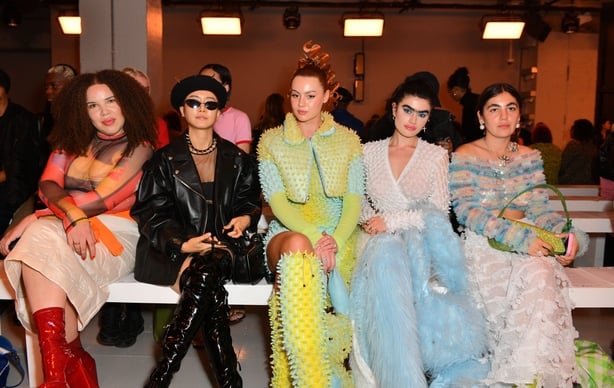 With the energy crisis, cost of living crisis and looming threat of recession, we should see a build on existing trends in the coming months, along with a response to the impending and current global crises. A number of designers and brands brought innovative adaptations of pre-existing looks to the forefront.
So, what and who is moving the fashion world both at home and abroad, and how can you embrace the current fashion climate in your own way?
Daring duality
Sustainable designer and owner of creative label Quiet Ceremony, maximalist dresser and trend oracle Lucinda Graham echoes the notion that the trends which will unfold before us in the coming months will be a precursor to future economic downturn and reactionary to ongoing strife.
We need your consent to load this Instagram contentWe use Instagram to manage extra content that can set cookies on your device and collect data about your activity. Please review their details and accept them to load the content.Manage Preferences
"For A/W22 I see a real duality. I see that early 2000s and late 90s normcore will be huge for women," Lucinda explained. "Think neutrals, leathers, we saw the rise of the shell necklace - the shell necklace is always a precursor for a recession because it's demonstrating accessories without breaking the budget."
This 90s normcore tainted with the silhouettes of the early 2000s was evidenced in Blumarine's SS23 show at Milan Fashion Week, where natural denims jostled against beige cargo skirts and stone coloured dresses.
When it comes to influences for this aesthetic, the designer has a particular muse in mind: "We look at style icons like Carolyn Bessette-Kennedy, who was the wife of JFK Junior, and died in a plane crash in 1999.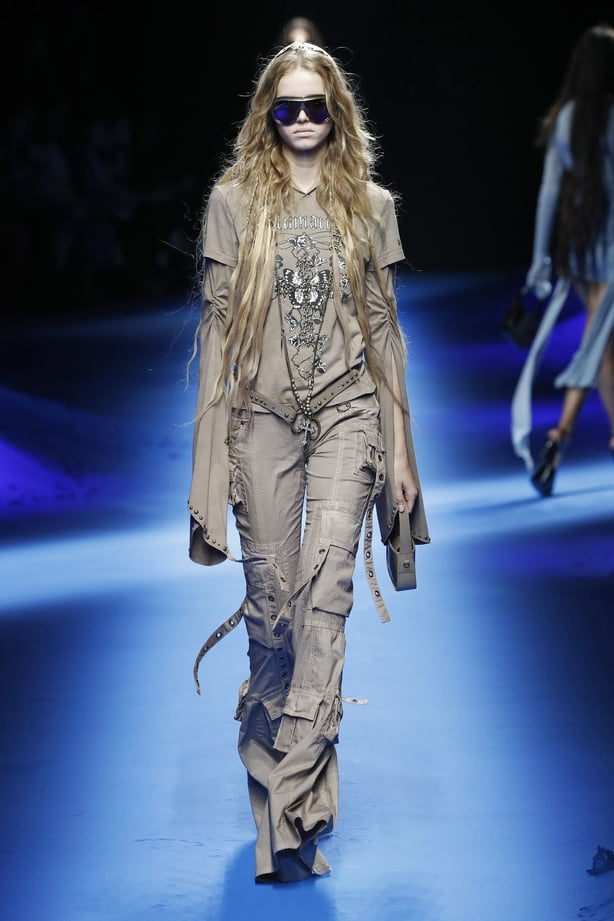 She was involved in Calvin Klein and was quite high up in the company, and wore incredible tones of browns and blacks and creams and they have a real classic look that's easy to replicate on a budget
"Coming into the cost of living crisis, we have people subconsciously bracing for the recession in practical colours and tones, but on the flipside of that, there is a cohort of young women who are really rebelling against the impending cost of living crisis and current general feel that is very very heavy," says Lucinda.
"We are witnessing the effects of the flooding in Pakistan, the war in Ukraine, and a lot of young people are using clothing as a rebellion and turning to bright colours and dopamine dressing and really OTT in clashing colours as a rebellion to say 'actually, I'm going to choose joy. I'm going to choose to dress for myself because it makes me feel better and bolder and happier within the absolute chaos that the world is presenting right now.'"
Reinterpreting classics
The reimagining of what we already have in our wardrobes will become more pressing as we move into the winter months.
One name on everyone's lips at London Fashion Week was Asian-American designer Chet Lo, who debuted at the UK-based event this year with a groundbreaking SS23 collection that was both inspiringly new and included callbacks to some hallmarks of the brand - specifically his spiky knitwear.
The collection paid homage to Lo's cultural background, and was titled Baai-San - meaning 'to pray' in Cantonese.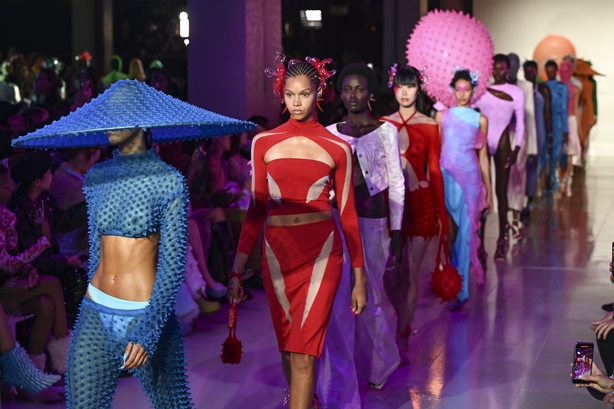 The designer is known to have a fascination with knitwear, and stretching the realm of possibility for the textile medium. After a few seasons of crochet and spidery knits, I'm predicting that Chet Lo's unique textural phenomenon of creating clothing with a rippled, barbed appearance will become the most coveted texture for true fashion devotees, and will allow those who have already bought into textured knitwear in previous seasons a few more months of cool-factor.
Staying with London Fashion Week, we have Irish designer Colin Horgan, who I first recall seeing in 2019 when pop singer-songwriter Soulé took to the stage at the debut Love Sensation music festival in Dublin in the late summer.
He has gone on to be worn by artists like Dua Lipa, Lady Gaga and Little Mix, and the Kerry native brought his trademark sculptural manipulation of textiles to a new frontier in his SS23 works, titled Imposed Faction.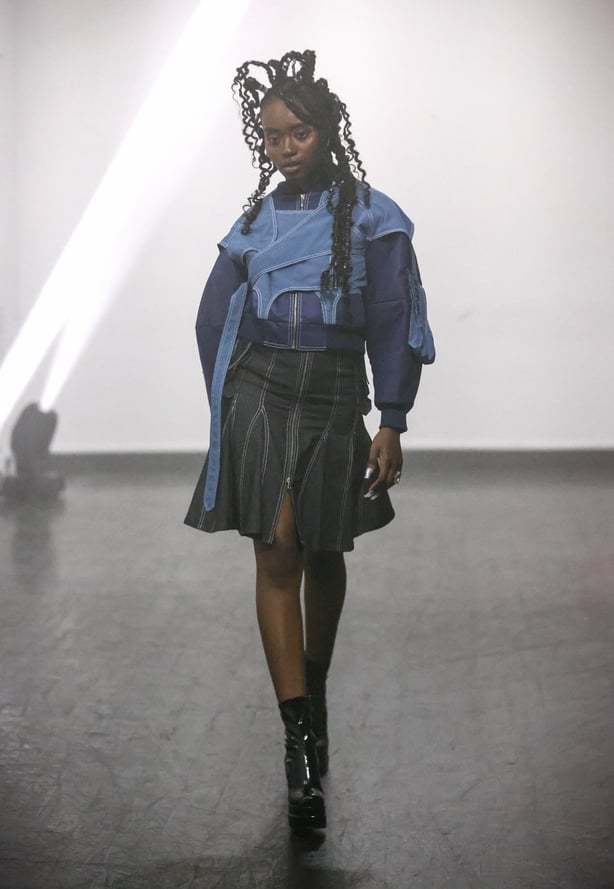 The collection heavily relies on layered blooms of fabric, restricted by the designer's penchant for straps and contrast stitching. Look 11 featured potentially the most interesting bomber jacket seen for years in any capacity, a deep blue cropped number with sky blue layered elements.
Who What Wear and Vogue have already declared the return of the bomber jacket as a stylish jacket silhouette for A/W 2022, and after their saturation in the mid 2010s, there's no doubt many of us already have one in our wardrobes.
Horgan's edition is on my extensive 'someday' wishlist, and for now, I'll be wearing my pre-existing jackets with Look 11 in mind, pointed boots and pleated skirts as essential pairings.
The new kind of fashion creator
It would be facetious to act as though fashion is separated from influencer culture. When most people are asked where they get their style inspiration, they're going to say the name of one of Ireland's well-known social media stars with a flair for personal style like Tara Kumar or Deirdre Phelan, or simply state a social media app like Pinterest, Instagram or, increasingly, TikTok.
We need your consent to load this Instagram contentWe use Instagram to manage extra content that can set cookies on your device and collect data about your activity. Please review their details and accept them to load the content.Manage Preferences
As the appetites of fashion content consumers change, and a growing interest emerges in how clothing is made, how outfits are put together and what other creative and personal ventures an influencer has going on, outside of posing for pretty pictures, we need to be looking at the digital creatives who are going outside of the box to cultivate an online community.
One content creator that the masses have been gravitating towards in recent months is Verona Farrell, known by her online moniker Second Hand Huns, who has garnered tens of millions of views on her now iconic street style videos across Instagram and TikTok.
The Irish street style videographer, currently based in Stockholm, is serving something different to fashion fans than the usual overly posed content we are used to seeing on the Instagram platform - and seeks to document something more real and candid than traditional influencers.
We need your consent to load this Instagram contentWe use Instagram to manage extra content that can set cookies on your device and collect data about your activity. Please review their details and accept them to load the content.Manage Preferences
"My videos can only be so candid because I prioritise getting permission from people," Verona tells RTÉ Lifestyle, linking in from the Swedish capital.
"It's candid in the way that these people are really walking on the street. It's real people living their lives, and what I love is seeing people dressed in a certain way, and knowing that they're not dressed for a photo, they're dressed for life. They might be on the way to work or going to meet someone, and they had the confidence to wear that outfit not for a photo but for everyone on the street to see. That's my motivation.
"It's all about the confidence within people that captures me. I love seeing people on the street that have put themselves out there, and they're wearing an outfit and they don't give a f*ck", she says. "That for me is impressive."
She continues: "What's not impressive is an influencer getting paid to do a big haul of clothes and then going to a specific location, hiding in their car, hopping out to take a picture and getting back in the car. That's not inspirational, in terms of how you look at yourself and in terms of confidence. I hope to capture something else. Something more genuine."
Grassroots voices
This move to follow those who make and do, rather than just pose, is a prime opportunity for grassroots creatives to launch their visions on the Irish landscape.
19-year-old Kildare-based Rebecca Ewnetu is one such innovator, who has been pouring herself into the establishment of her self-published youth culture and fashion magazine yEWth, all while managing a full-time job and cultivating her stylish social media presence.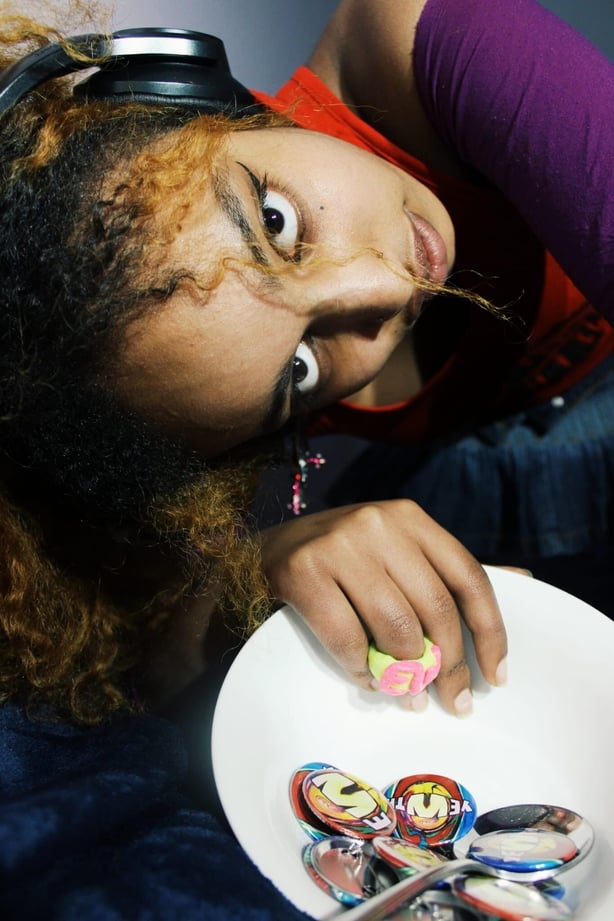 The magazine aims to be an outlet for Ewnetu's own visions, as well as promoting other young Irish creatives' work, particularly pedestalling voices that are still under-represented in media, with Ewnetu coming from an Irish and Ethiopian background.
"One of my visions for yEWth is for the project to be representative of everyone, and to inspire young WOC [women of colour] and aspiring creatives, to pursue their creative endeavours," she told RTÉ. "I hope to be a beacon of hope to other young black and Irish women; to show them that they can do anything and that all they need is the mere willpower and determination to just make something great.
"I want them to see that there are other girls like them, thriving and flourishing within the creative scene in Ireland. I just hope for yEWth to instill a sense of confidence in the Irish youth and especially black girls, to get out there, enter new territories and establish themselves!"
This move from social media with an affiliate code to social media with an adaptation of conscience is one of the more notable changes in the landscape currently, as wider global atrocities and the imminent threat of financial hardship hover menacingly on the horizon.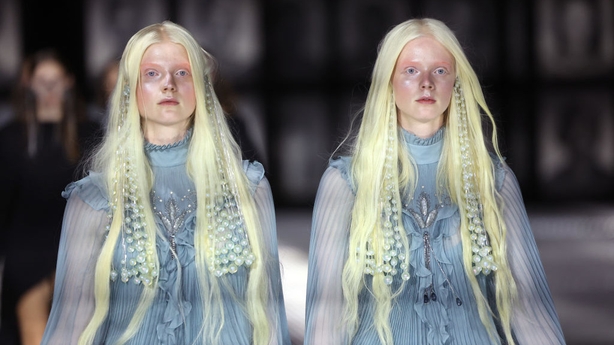 While many high-end fashion houses did show over-the-top, maximalist, sumptuous designs on the runway - cue Gucci with their Twinsburg show at Milan Fashion Week, featuring two sets of models, two sets of every extravagant design and double the cost - the true mood of fashion right now is pensive, forcing us to consider what the substance is within the style.
Thankfully, there are plenty of touch stones to look to for guidance in these strange times.