If you, like me, are still hanging on to your earliest memories of Diesel – a sporty, not-quite-fashionable denim label that swayed between high-street and high-end throughout the early 21st century – we have some re-thinking to do.
Founded in 1978 by Renzo Rosso, the Italian brand has always held inclusivity at its core. Firstly, its name was chosen due to being understood and pronounced the same way across the globe, as well as for the fact diesel was considered an "alternative" source of energy back then. Basically, the brand was always intended for those of "alternative" taste, and those outside the industry's usual target audience.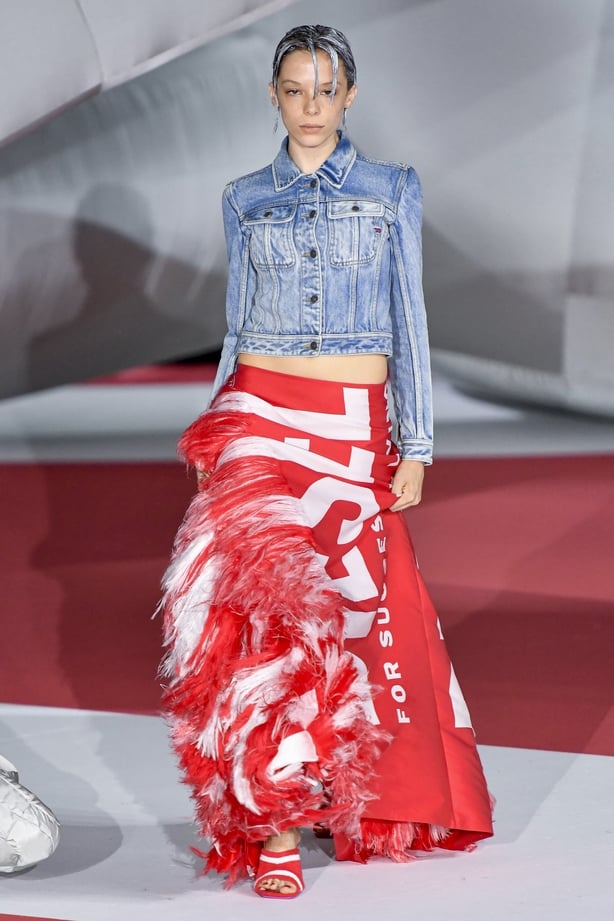 Since joining Diesel in 2020, Creative Director Glenn Martens has made it clear that staying true to the inclusive and accessible philosophy the brand was founded upon remains a top priority. He's since stated that he "wanted to open Diesel up to the public… It's what I believe about fashion and the state of mind - everybody can be part of diesel". The designer's SS23 showing stood to amplify this intention.
Hosted in Milan, the show took over an entire basketball stadium with a list of 5,000 attendees - the biggest event we have seen from the label since its inception. Battling the often elitist, inaccessible standards of fashion week, 3,000 seats were allocated to members of the public and a further 1,600 were reserved for students.
According to CULTED, of the 400 spots remaining for industry professionals and influencers, 70% were occupied by guests under the age of 26. Smashing decades of social climbing, ageism and exclusion like it was easy.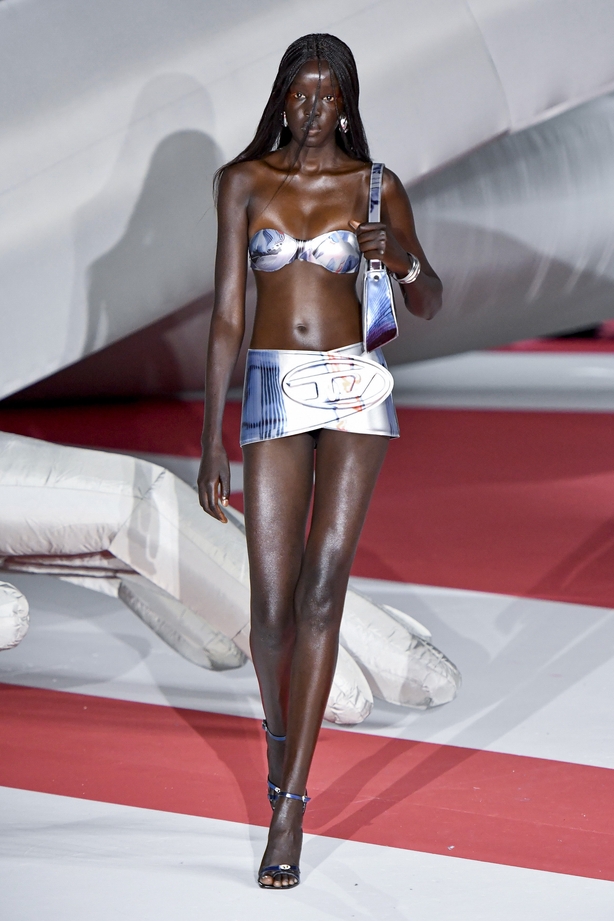 With these guests, especially those who have never been to a fashion show before, at the core of his intentions, Martens wanted to provide an unforgettable experience – and so, he did. Created and commissioned by the same company that constructs floats for the famous Macy's Thanksgiving Day parade, the show was choreographed around a colossal inflatable sculpture depicting an erotic distortion.
When I say big, I mean record-breakingly so - no, literally.
The Guinness World Book of Records verified that it was the largest inflatable ever made to date. Even the buzz created around the show was something to be a part of. Scenes of chock-a-block traffic and hoards of incredibly dressed people surrounded the arena's perimeters with enough security to imply a festival or huge concert was taking place.
We need your consent to load this Instagram contentWe use Instagram to manage extra content that can set cookies on your device and collect data about your activity. Please review their details and accept them to load the content.Manage Preferences
In terms of sustainability, fashion writer and analyst Mandy Lee (@oldloserinbrooklyn) noted Martens blatant repetition of styles that blew up last season; re-introducing metallic renditions of the culted 1R bags as well as the wrap-over belt/mini skirt hybrid and micro top two-piece. Lee interpreted the collection as "a version of slow fashion in the high fashion world". In short, Glen Martens is an outfit repeater, and we love to see it.
Led by a visionary designer very much in his prime, Diesel is fostering a community that feels electric, creative and futuristic - but also inclusive, realistic and inherently positive. My bets are on bigger, better and perhaps more record-breaking, things to come.