A simple pair of white runners can completely change your wardrobe.
From dressing up a relaxed lounge suit with a chic style, to dressing down a flirty summer dress, figuring out how to work runners into your looks expands your closet immeasurably.
But are they really as versatile as we've made them out to be? Post-pandemic, we've embraced the humble runner as a wardrobe staple, but should we start mixing it up a bit?
Darren Kennedy, presenter and fashion entrepreneur, Bairbre Power, fashion editor with the Irish Independent joined Today With Claire Byrne to debate whether runners are appropriate for every occasion.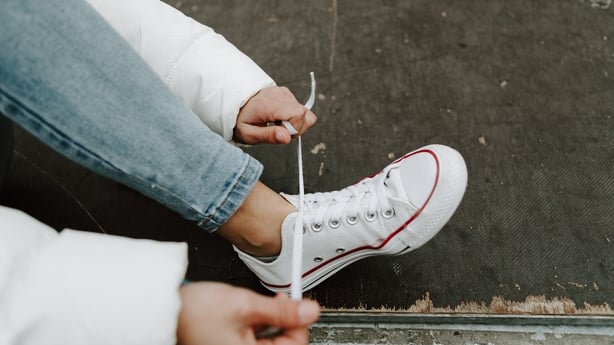 "I think the fact that they're so acceptable, it's one of the best things that's happened in fashion in years", she tells Claire. "I got to theatre first nights, people are wearing trainers, I was down in Kildare Village in a bridal shop last week, everyone was wearing trainers."
Power adds that she thinks they're appropriate in "maybe 85 per cent of situations", but "the big thing is, would you go to the wedding as a guest wearing trainers?"
For Kennedy, that's an emphatic yes! "Hopefully the wedding's in the Mediterranean or somewhere warm!"
Power adds that job interviews are another situation where perhaps trainers aren't acceptable, although at the same time she recalls how the actress Emma Thompson visited Buckingham Palace in trainers to collect her damehood from Prince William.
"Since the lockdown things have recalibrated, and trainers are far more acceptable", she says.
Kennedy adds: "There was no point to [wearing uncomfortable shoes]. Trainers have been fashion's biggest crush for the past couple of years, lots of people who were maybe seen as a little bit more adventurous were wearing trainers in situations that were maybe a little bit, prior to the pandemic, seen as more unorthodox."
He recalls how many workers would commute into the office in trainers and then do a quick change into stilettos.
He points to figures of power such as Vice President of the United States, Kamala Harris, who is regularly seen in her Converse trainers, or Barack Obama, as those who have paved the way for trainers becoming more acceptable.
"I have to hold my hands up and say I am a massive trainer/sneaker head, have been for a long, long time so much so that I have them on display in my interior design. You can express so much personality in a pair of trainers as well."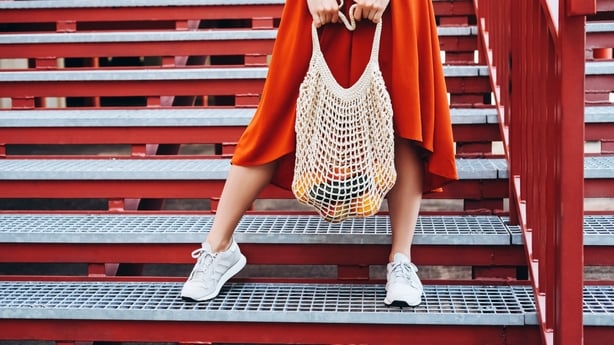 Some brides are wearing trainers for their weddings, too, as Power points out, adding that Barbara Bennett is one such Irish designer offering personalised trainers for weddings.
"She was saying to me that in the past brides would have worn maybe really high shoes and they'd put their initials on the shoes and the date on their Christian Louboutins and they'd keep them forever. Now they're getting trainers with the date, their initials."
While brides might not wear them up the aisle, depending on the wedding, but they'd wear them afterwards for the first dance.
Even for Kennedy, though, there is at least one situation where he wouldn't wear trainers: if he was going to meet the Queen. As for Claire herself, she's on the fence about whether she'd ever wear trainers on Claire Byrne Live.
To listen back to the full interview, click here.