Click through the gallery above to see the North Junk Kouture Wild Card: Packaging Punk Princess. This design was created by Ann Joseph, Niamh Gusterson and Mia Guidote from St Louis Grammar School, Ballymena, Co. Antrim.
---
Junk Kouture Powered by RTÉ is not only about sustainability and great design. It's about the people who take part, the inspiration behind the designs and being empowered through creativity.
60 haute-couture designs made from 100% recycled materials created and modelled by talented post-primary students took part in the Dublin City Final of Junk Kouture as seen on RTÉ 2 and RTÉ Player on 19 May.
Nine creations by young designers aged 13 -18 years from around the country were chosen by the Junk Kouture judges Louis Walsh, Roz Purcell, Soulé and Stephen McLaughlin to move forward as finalists in the Junk Kouture World Final happening later this year.
We need your consent to load this comcast-player contentWe use comcast-player to manage extra content that can set cookies on your device and collect data about your activity. Please review their details and accept them to load the content.Manage Preferences
Introducing the RTÉ Wild Card - where you get to vote for one more design to become the tenth Irish finalist in the Junk Kouture World Final taking place later this year.
The Junk Kouture judges have shortlisted five wild cards below from five regions, each with its own inspiration and story.
Find out the story behind the designs and cast your vote on rte.ie/junkkouture
Voting closes on Thursday, June 2 at midnight. Once the votes have been calculated, the winner will be announced live on Tracy Clifford Show in early June. Stay tuned!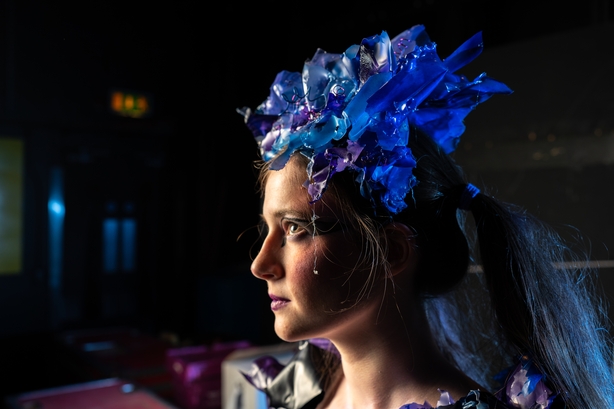 Junk Kouture Wild Card North: Packaging Punk Princess
"We built our design around the concept of an energetic teen princess who breaks the bounds of conformity to express her carefree inner self. This is epitomised by softened purple and blue tones which denote royal status in contrast to the shortened rule - breaking skirt and bodice top which snub order and formality in a fluffy, airy, bouncy fashion."
"Shards of dyed PVA create sculptural effects on the shoulders and head piece to evoke a strong-minded punk personality with edgy attitude. Hand crafted flowers are dispersed freely to embrace the aura of the cloudy punk princess."
"Soft 3D flowers have been assembled from a range of recycled packaging products including polystyrene peanuts, foam sheets and polystyrene sheets. Bubble wrap doubles up as fluffy layers for the skirt and colour has been extracted from discarded bottles of ink dyes and PVA glue to enhance the design."
"Repurposed cardboard tubing and wire have been combined to create a staff which completes the magical look."