The Internet had been abuzz with rumours that Kim Kardashian would walk the Met Gala red carpet in one of Marilyn Monroe's most iconic dresses, but no one could predict the organisation that went into such a show-stopping fashion moment.
Kardashian dazzled in Monroe's iconic 'Happy Birthday Mr. President' dress, the shimmering crystal-embellished wiggle dress the star wore to sing Happy Birthday to President John F. Kennedy in 1962.
We need your consent to load this Instagram contentWe use Instagram to manage extra content that can set cookies on your device and collect data about your activity. Please review their details and accept them to load the content.Manage Preferences
Sketched by Bob Mackie for the French-born Hollywood costume designer Jean-Louis, the dress caused a scandal at the time, thanks to its slinky silhouette and sheer-illusion effect, so it was a suitable choice for Kardashian, who has become comfortable with making scandals of her own.
Kardashian styled the nude gown with minimal accessories, adding dangling diamond earrings and see-through platform heels. She dyed her dark tresses platinum blonde, which was worn slicked back, and oozed glamour in a smokey eye look and nude lip.
Speaking about her outfit on Instagram, Kardashian wrote: I am so honored to be wearing the iconic dress that Marilyn Monroe wore in 1962 to sing "Happy Birthday" to President John F. Kennedy. It is a stunning skintight gown adorned with more than 6,000 hand-sewn crystals by costumier Jean Louis.
"Thank you Ripley's Believe It or Not! for giving me the opportunity to debut this evocative piece of fashion history for the first time since the late Marilyn Monroe wore it. I am forever grateful for this moment."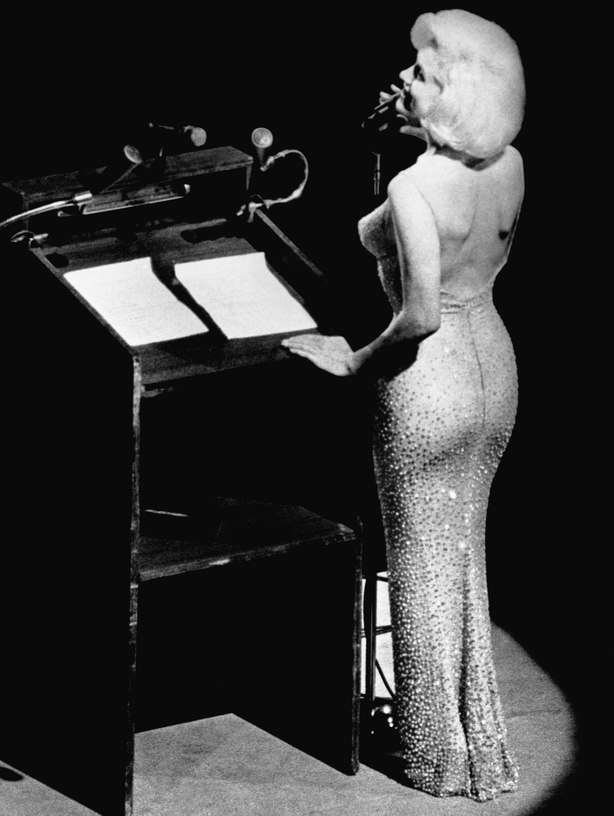 Kardashian has become accustomed to plucking fashion gems from the archives, often dazzling in vintage Mugler or Versace for red carpet events, but this fashion spectacle was arguably her most daring and demanding yet.
Speaking to Vogue about the vision she had for this year's Gala, Kardashian said the idea came to her after her appearance at last year's Met Gala, when she wore a face-covering all-black Balenciaga outfit that divided critics.
"I thought to myself, what would I have done for the American theme if it had not been the Balenciaga look? What's the most American thing you can think of? And that's Marilyn Monroe", she told the publication, adding that the "most Marilyn Monroe moment" was when she sang to JFK.
The dress has since become a fashion artefact, and despite Monroe reportedly paying Jean-Louise just $1,440 for the custom gown at the time, it has since gone on to sell for an astounding $4.8 million at Julien's Auctions in 2016.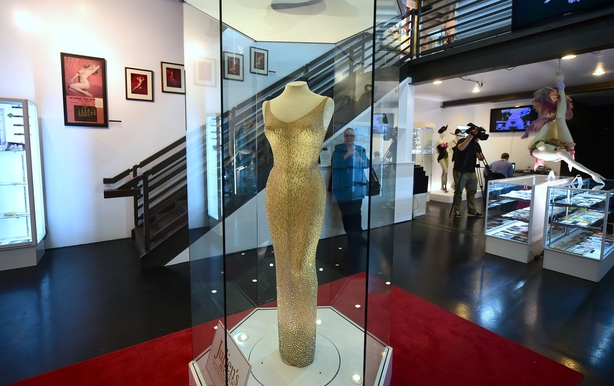 The gown was then acquired by Ripley's Believe It or Not!, which is how it ended up in Kardashian's hands – albeit briefly. "I'm a big fan of auctions and I own several JFK pieces so I know the owner of Julien's. He was able to connect me [with Ripley's] and that's how the conversation started", she told Vogue.
Thus began the gruelling task of making it to the Met Gala steps with the delicate gown in one piece and on Kardashian. The piece is incredibly fragile and stored in a darkened vault that's controlled at the optimum 68 degrees and 40-50% humidity.
A replica was first sent on for Kardashian to try on, which fit perfectly. Soon after, the original was transported with guards to the star's home, where she tried it on while wearing gloves. Unfortunately, the original didn't fit.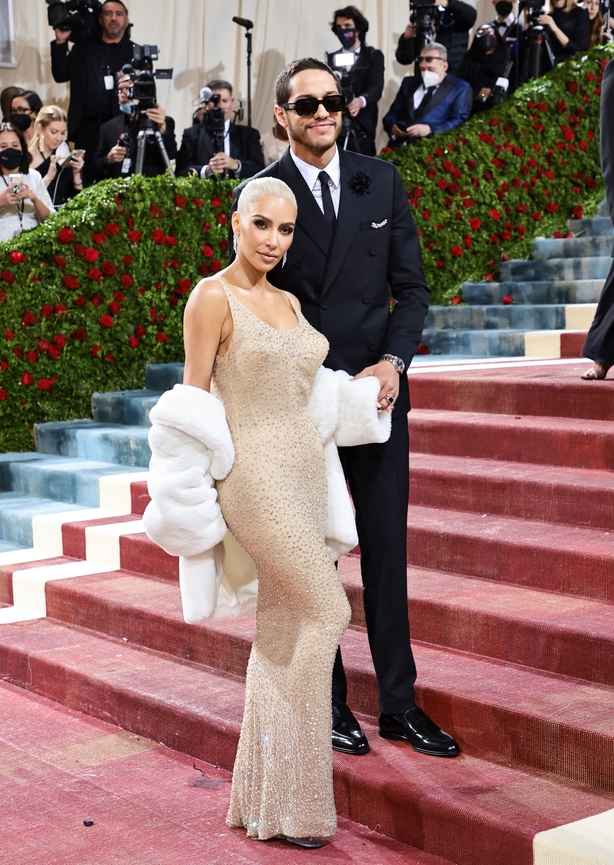 "I always thought she was extremely curvy", Kardashian told Vogue. "I imagined I might be smaller in some places where she was bigger and bigger in places where she was smaller. So when it didn't fit me I wanted to cry because it can't be altered at all."
Speaking to Vogue on the red carpet, she said she told Ripley's "give me three weeks" and determined to slim down to fit into the dress. "I would wear a sauna suit twice a day, run on the treadmill, completely cut out all sugar and all carbs, and just eat the cleanest veggies and protein," she said. "I didn't starve myself, but I was so strict." In total, she lost 16lbs to fit into the dress.
And that's before she even attempted to walk the red carpet in it, which was a highly choreographed exercise in itself.
Kardashian only wore the gown on the red carpet steps for mere minutes. She left her hotel wearing a dressing gown, with barricades set up to block paparazzi outside. She then entered a special dressing room set up beside the Met steps, where a conservationist from Ripley's was on hand to assist her in white gloves.
After her careful ascent up the steps, Kardashian changed into a replica, also lent to her by Ripley's. After all that, how did the star celebrate her fashion coup de grâce? A pizza and donut party in her room, according to her Instagram stories!