Arguably the biggest date on the fashion calendar, the Met Gala is an annual extravaganza that sees the world's most famous faces dare to display their most extravagant looks under the watchful eye of event chair Anna Wintour.
Cancelled in 2020 and delayed from its usual slot on the first Monday in May in 2021, this year's gala is set to be exceptionally celebratory with the spectacular theme of 'gilded glamour'.
According to Vogue, organisers have asked attendees to "embody the grandeur—and perhaps the dichotomy—of Gilded Age New York".
The Met Gala has been the setting for some of the boldest menswear looks in recent celebrity history, and tonight's sartorial spectacular was no different.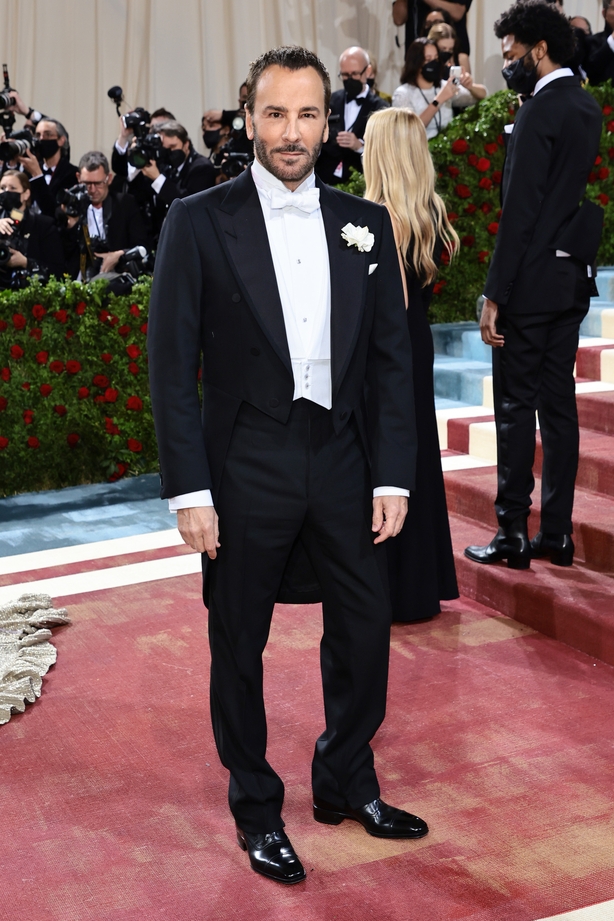 With iconic fashion designer Tom Ford as one of the event's honorary co-chairs – along with Vogue's Anna Wintour and Instagram's Adam Mosseri – the Met already has a renewed pedigree when it comes to mens' fashion, and with each event the guys get more ambitious with their looks.
Ford himself wore a classic black tuxedo with tails by his own fashion house, a white shirt and matching white vest. He added a white bowtie and white floral boutonnière to complete the look.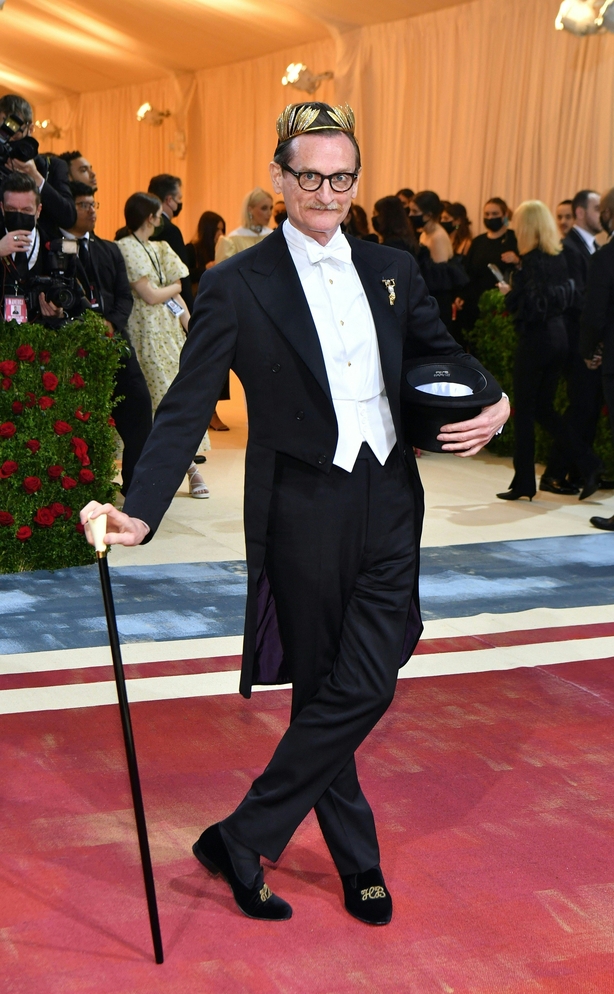 Vogue editor-at-large Hamish Bowles embraced the theme with a dapper Ralph Lauren outfit featuring slim suit trousers, trailing tails, a crisp white shirt and matching white bowtie. Accessories such as his black top hat and velvet loafers, embroidered with his initials, made the outfit even more evocative.
Most intriguing was his tiara of gold and silver feathers, upping the ante for men's jewellery for the night.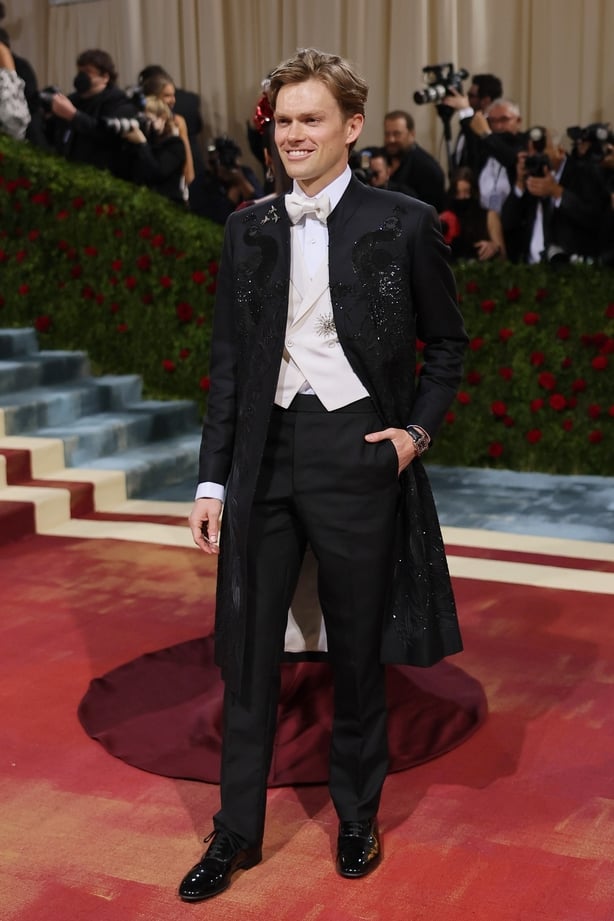 Fellow Vogue editor, Mark Guiducci – the tome's Creative Editorial Director – also dove into the theme arriving on the red carpet in a long frock coat adorned with black sequinned peacocks. He paired this with black suit trousers, a white shirt and a cream vest, embellished with a crystal brooch.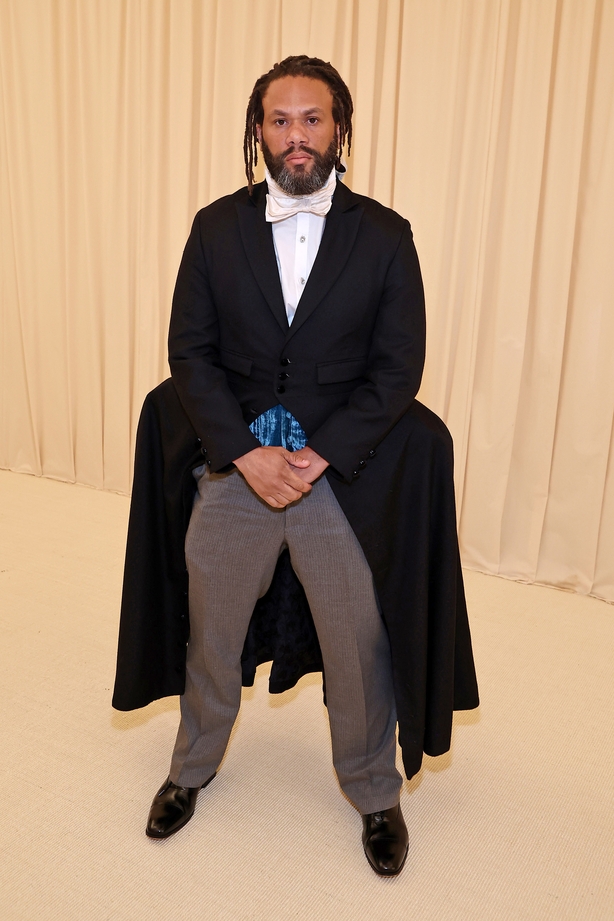 Franklin Leonard, an American film executive and creator of The Black List – a yearly round-up of the entertainment industry's best unproduced screenplays – embodied the theme perfectly, wearing a long black tuxedo jacket with wide hips, in the robe à la Française style. He paired this with grey trousers and a teal cummerbund.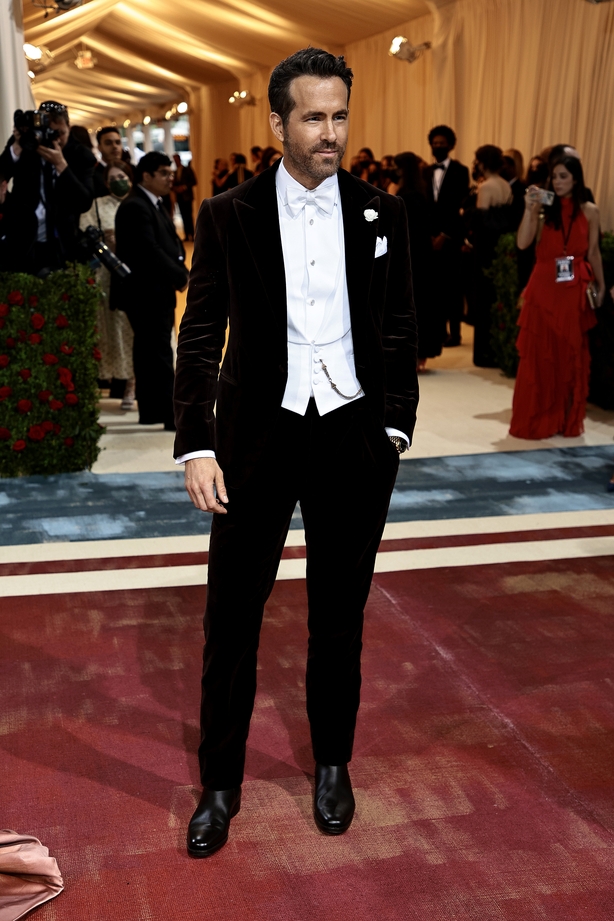 Ryan Reynolds went comparatively more traditional, wearing a deep brown velvet suit, paired with a white shirt, white vest, white bowtie and an elegant gold chain hanging from his vest pocket.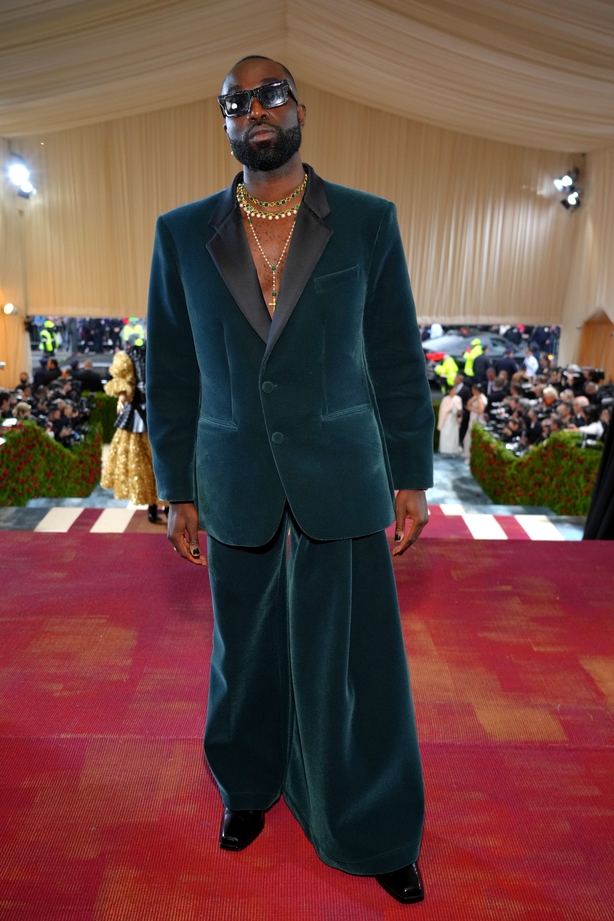 Actor Paapa Essiedu also went for a velvet look, this time going bolder with a wide-legged green velvet suit, enhanced by layers of gold and emerald chains.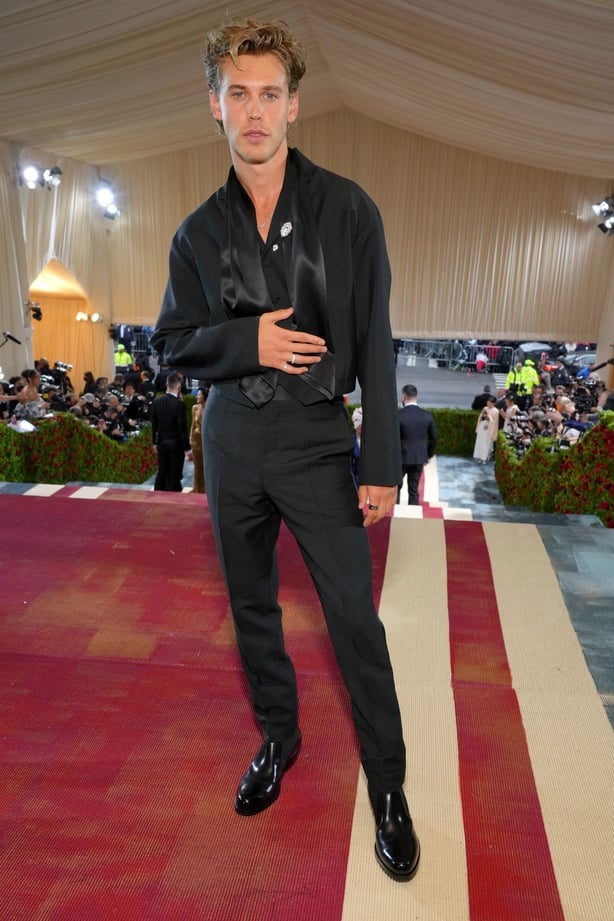 Austin Butler, who is soon to star as American icon Elvis Presley, took inspiration from the famed singer for his Met Gala look, looking slick in an all-black ensemble by Prada. He paired a black cropped buttoned blazer with black trousers and a black satin scarf that hung loosely around his shoulders, accented with a diamond brooch.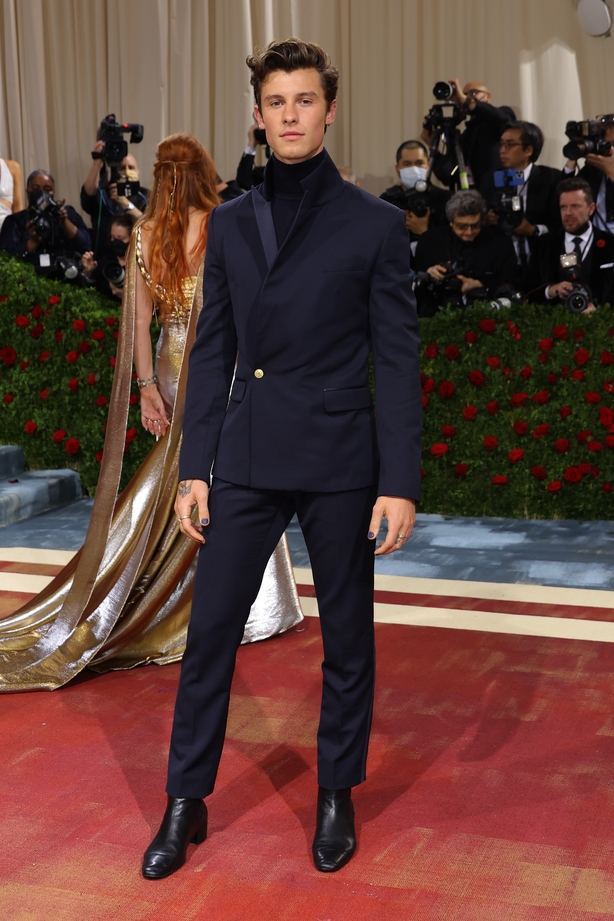 Shawn Mendes looked dapper in a navy and red layered outfit by Tommy Hilfiger, pairing a navy and red pea coat with a navy single-breasted suit jacket worn over a matching turtleneck jumper.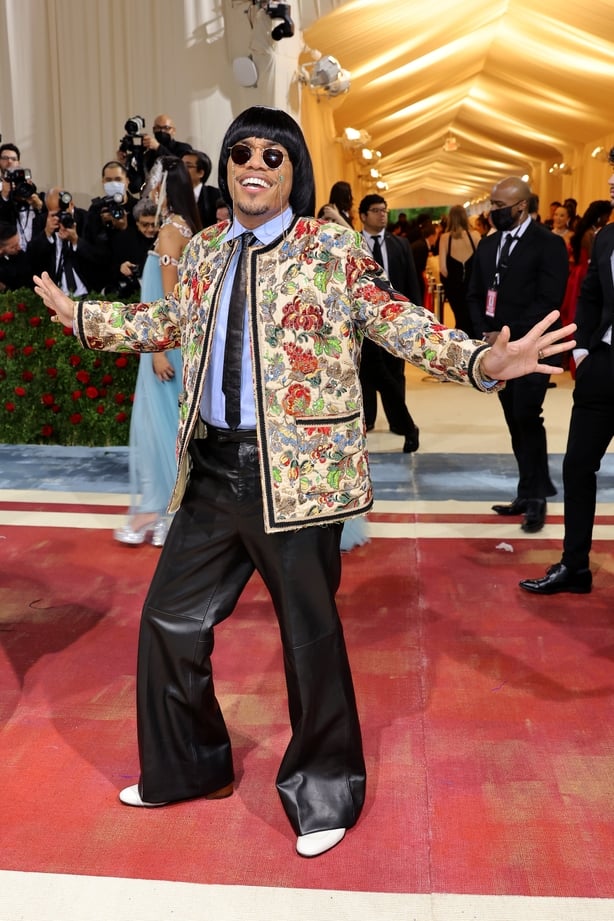 Anderson Paak went full 60's with his look, rocking a floral embroidered jacket, blue shirt, black leather wide-legged trousers by Gucci, with a bejewelled sunglasses chain. The black bowl-cut wig made the look, though.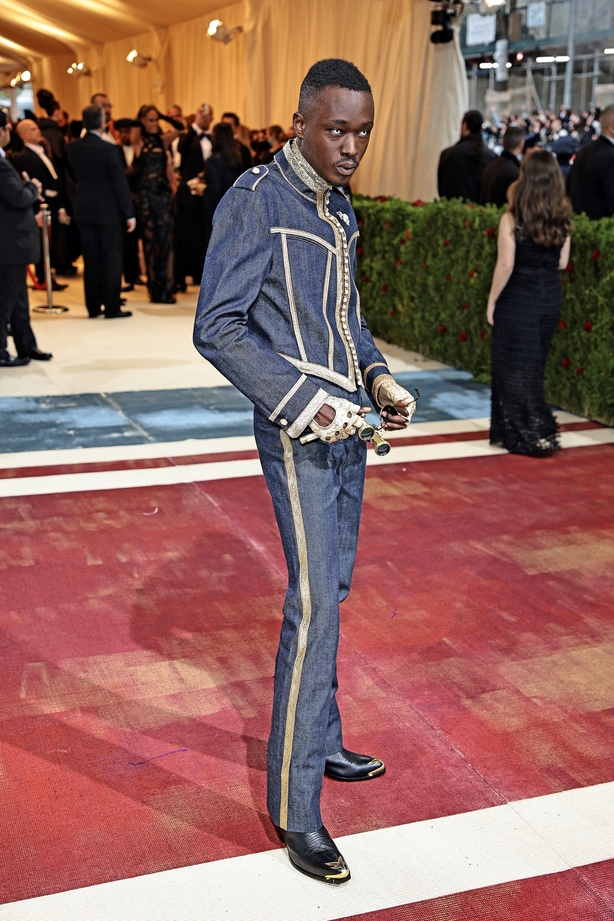 Ashton Sanders also went maximalist with his ensemble, wearing a blue denim and gold bus boy-inspired outfit by Casablanca complete with white contact lenses and gold-toed cowboy boots.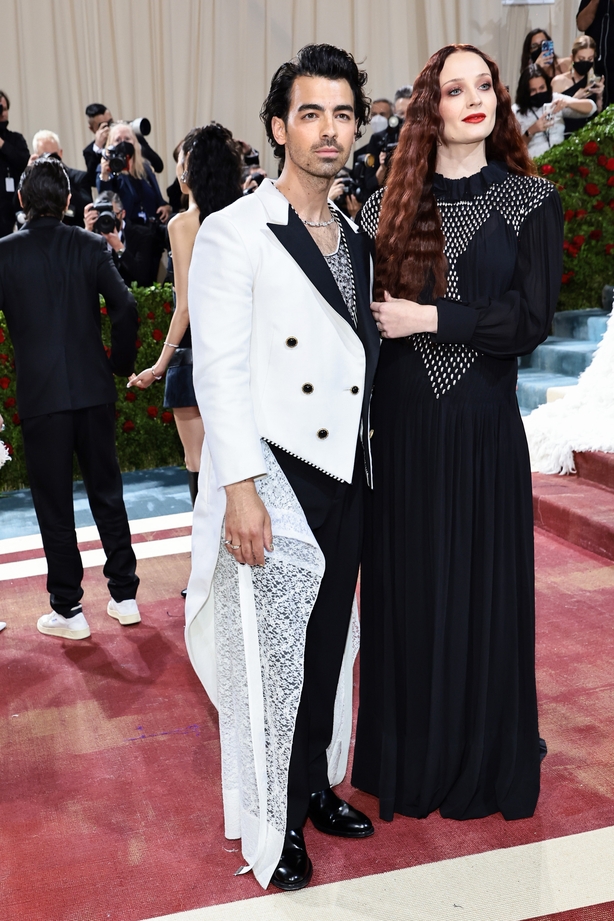 Joe Jonas continued his streak of bold red carpet looks with a striking black and white tuxedo jacket that trailed behind him and was edged with black and white piping and white lace. He paired the custom Louis Vuitton ensemble with black trousers and a shimmering vest.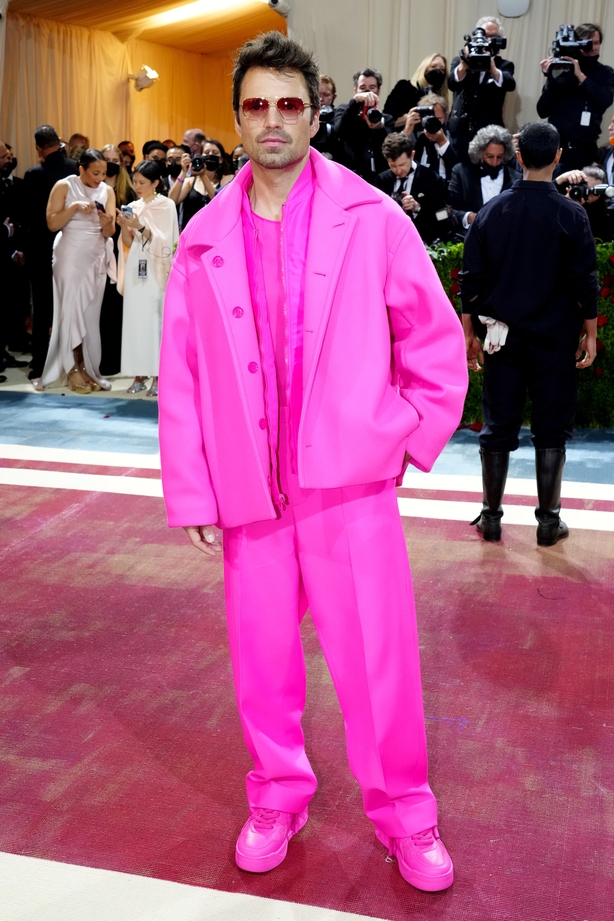 Pam and Tommy star Sebastian Stan further cemented his status as one of the most fashionable men in Hollywood today by walking the red carpet in a head-to-toe pink ensemble by Valentino. Stan layered a pink t-shirt under a bomber jacket, and topped it off with a matching jacket, trousers and boots.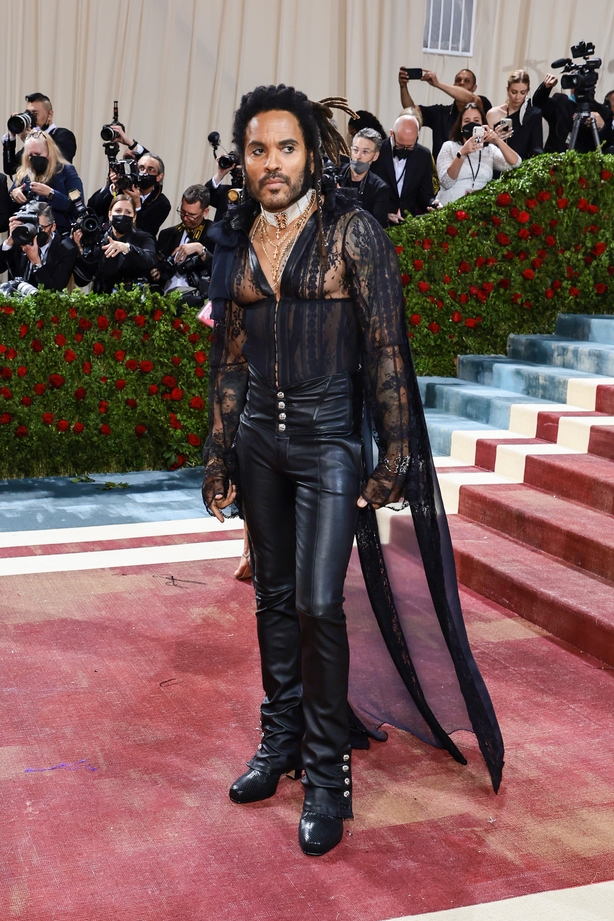 Lenny Kravitz committed to the theme of opulence and excess, wearing a leather and lace look featuring high-waisted leather trousers, a black lace shirt and a form-fitting black corset. He paired this with a sheer black cape and layers of gold chains.
Click through the gallery above to see the best 2022 Met Gala menswear looks of the night.