Sarah Magliocco delves into "Avant-Basic", the aesthetic taking over your TikTok and Instagram.
A vintage wardrobe without the effort of cherry-picking your way through car boot sale after charity shop after flea market in search of gems.
Adapting your blank IKEA flatpack flat into a marshmallow dreamland of psychedelic rugs, puffy framed mirrors and pastel candles. Changing your entire look every two or three months to keep up with the newest waves of must-have items, leaving garments you bought three weeks ago in the dust, now sorely un-cool and overdone.
This is "Avant-Basic".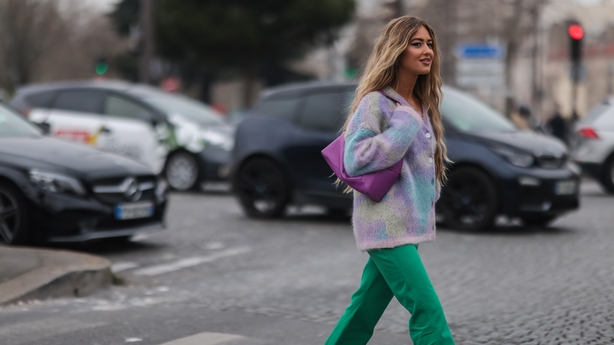 Avant-Basic is one of the most easily recognised aesthetics in contemporary fashion, with it's whimsical colour combinations and 60's inspired patterns and prints that make for statement, like-baiting outfits.
The term comes, of course, from the combination of the words "avant-garde" and "basic", first coined in 2020 by writer and creative consultant Emma Hope Allwood – Avant-garde meaning cutting edge, innovative and ahead of the curve, with basic being self-explanatory.
The aesthetics moniker may sound like a dig, but in actuality, it's the perfect representation of how a trend cycle has taken the most inaccessible elements of high fashion and managed to distil them down into hyper-consumable crazes for the masses.
While avant-garde innovation can change the direction of luxury fashion houses and shift the focus of the runways for years, introducing new design concepts over time, avant-basic style doesn't create lasting trends or new categories within fashion, it simply breeds micro-trends.
i hereby christen this style: avant basic pic.twitter.com/1NO3DxzkfO

— Emma Hope Allwood / EHA (@emmahopeall) December 22, 2020
Micro-trends are hyper fixated online mini-trends, usually focused on one particular it-item, causing the it-item to be knocked off and copied over and over, creating poorer quality and more abundant mimics of the original design until - in a period of mere weeks - the trend is dead and buried from over saturation.
What ends up on your TikTok For You Page or Instagram Home Feed is heavily dictated by a photo or video's ability to stop or slow people down as they propel themselves through their never ending daily scroll and engage in some way.
For this reason, avant-basic took off on social media thanks to its bold characteristics that easily draw the eye.
House of Sunny Hockney dress living in my mind rent free pic.twitter.com/ZbXKEmwwCw

— J. (@feelindior) December 8, 2020
The first contemporary example of "dead by microtrendification" is the Hockney Dress by made-to-order brand House of Sunny. One simple snapshot of Kendall Jenner on Instagram, posing casually in the brand's distinctive Hockney dress while lounging on a sun terrace was enough to launch the gúna to superstar status.
The dress became famous in summer of 2020, and while we always see a slow trickle of "inspired" look-a-like items on the high street in the weeks and months following a trend's genesis, the Hockney dress was recreated within days by a slew of fast fashion online sites which saw a boom in buyers during the beginning of the pandemic.
In mere months, the dress's fame had become infamy, as the item was dubbed cheesy, basic and over-done as it hit online hyper-saturation.
House of Sunny is one of a growing handful of brands which direct the tone when it comes to avant-basic trends – a label they would no doubt prefer not to be attached to, though lean into.
Still thinking about the no 564/ balance sandals by Paloma Wool yup pic.twitter.com/nO7vULrIob

— 𝓚𝓪𝓻𝓵𝓲 (@miumiugala) August 15, 2021
Paloma Wool, Lisa Says Gah, Poster Girl, Poppy Lissiman, Holiday, MaisonCléo and Gimaguas have all had certain collections or single items within collections become obsessions for the followers of avant basic – a ceremonial artefact to hold up in admiration at the altar of zany but lazy dressing, honouring it via Pinterest shares and restock waiting lists – until a cheaper brand inevitably makes a rip-off version inspired by the skyrocketing popularity of the original.
There is currently a pair of €230 desert sunset print jeans in my online cart on Lisa Says Gah, and my reason for not purchasing is two-fold: the initial cost (because these trend-setting brands are premium with price tags to match), and the fear that in the weeks after I make a purchase I intend to wear for a number of years, it will become an it-item, bastardised across the board by shoddy knock-offs.
While avant-basic may have its roots in the fashion industry, it spilled over into the interiors sector.
✨✨room decor shopee finds✨✨

theme: danish pastel aesthetic 💜💚🌷

A THREAD 👇🏼 pic.twitter.com/TBfF8jt2hw

— jamjam (@zmzlhlmy) July 29, 2021
Initially referred to as Danish Pastels, the trend was championed by famous influencers like the eternally trend-setting Matilda Djerf. It is impossible to open a photo-sharing app today and not stumble across a re-shared snap of her bright gingham bedding or wiggly shaped candles on a glossy coffee table, complete with fashion books and cobalt blue glassware.
Where we live became our personal domain more than ever during the pandemic. With the majority of people documenting their lives on social media for their followings – whether that be 200 followers of friends and family or a community of 200,000 – our homes and surroundings became fodder for online content more than ever.
This bred a need for cheap and cheerful decor items to spice up our spaces, and with the avant-basic fashion aesthetic cresting the wave of trendiness in 2020, it was the perfect over-the-top look to incorporate into our home decor.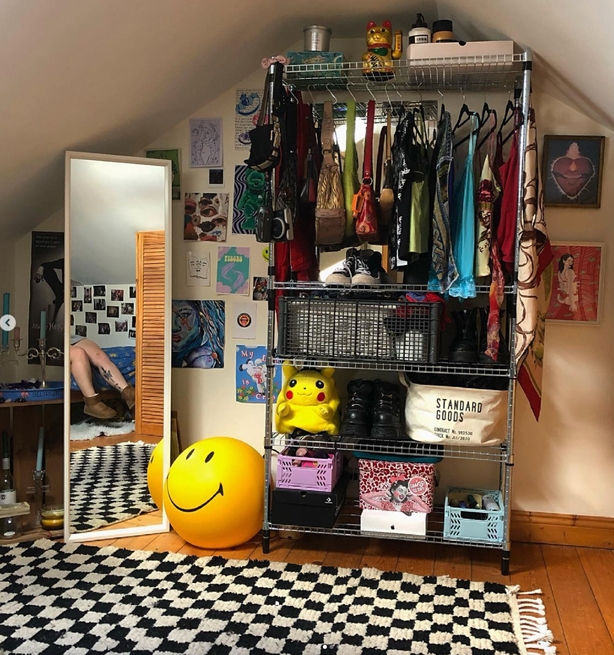 The style within homeware offers a kind of staged eclecticism, inspired by vintage furnishings mixed with Scandi-esque accessories and fabric elements in bold graphic patterns.
I myself fell victim to the lure of a hand woven checkerboard rug on a recent house move, which in hindsight I only bought because it was hyper trendy but thankfully adore still now that the trend is passing by.
Because the geometric, chequered, floral and more optic prints associated with the aesthetic are eye-catching and quirky, avant-basic took off as the most desirable home decor vibe of the 2020s. Spotting an opportunity, fast fashion companies got in on the trend.
For the first time brands like PrettyLittleThing and Missguided launched homeware lines, while overseas sites like AliExpress and Shein became popular, mass producing designer or small artist-inspired homeware goods for a fraction of the original price.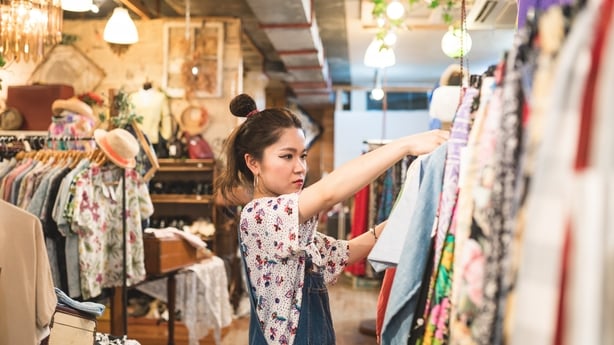 However, unlike traditional homeware trends that develop over years and even eras of history, the development of a rapid trend cycle within home decor mirrors the cycle of overconsumption and waste that we see within the garment industry.
Our online presence has helped to amplify and expose how much we see fashion as disposable, and that attitude is leaking over into how we present our homes with the rise of avant-basic.
Antique, thrifted and secondhand styles (that avant-basic has borrowed many of its aesthetic roots from) offer a more authentic, edgy look via environmentally friendly practices, and the sense of pride and achievement you get from sourcing a one of a kind piece, the work you have to put in, is all part of how much you ultimately value your big-ticket belongings like furniture and knick-knacks.
However, the value of how we are perceived in on-screen pixels has become higher than our urge for self-exploration and our want to discover and create our own bespoke personal style – in both homeware and fashion.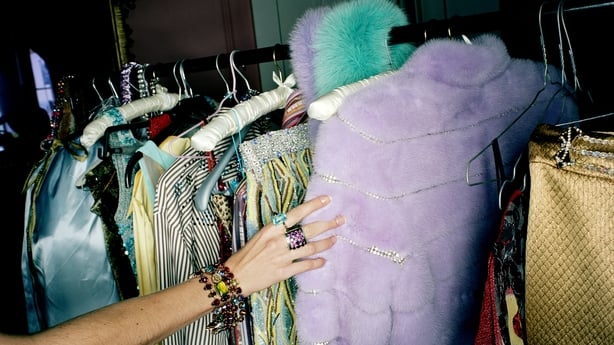 That is not to say that avant-basic isn't someone's ideal personal style – after all, the tastemakers who brought the style to life were initially innovative – but without the influence of online content and the lure of making the maximum statement to those who view us through the sliver of insight that is our phone screens, it could not have reached the levels of mass approval that it has.
Our homes should be an extension of who we are, our tastes, the books we read, the artists we love, the patterns that remind us of the past and the future we want to achieve all woven together into a place that actually says something about our personalities. What does avant-basic say, other than that we have a taste for what's trendy and a wifi connection?
People can love the aesthetic and adapt it into their homes without having to fill them up with knock-offs from unsustainable sources, or feeling the pressure to conform your space to something that is more palatable for an online audience.
While my imitation chessboard rug is here to stay, I'll be opting to keep my hunt for homeware as a natural process, picking up pieces here and there, rather than mass ordering someone else's aesthetic and it showing up in an Amazon box.