With fashion houses vying for our attention like never before, from Balenciaga's exclusive styling of Kim Kardashian to Fendi and Versace's epic collab, it can be tough to wow these days.
That is, if you haven't got Jeff Goldblum and Kyle MacLachlan on your model sheet.
Prada once again stole the show at Milan Fashion Week, as they sent the Jurassic Park and Sex and the City stars, respectively, down the runway at their Fall 2022 menswear show on Sunday.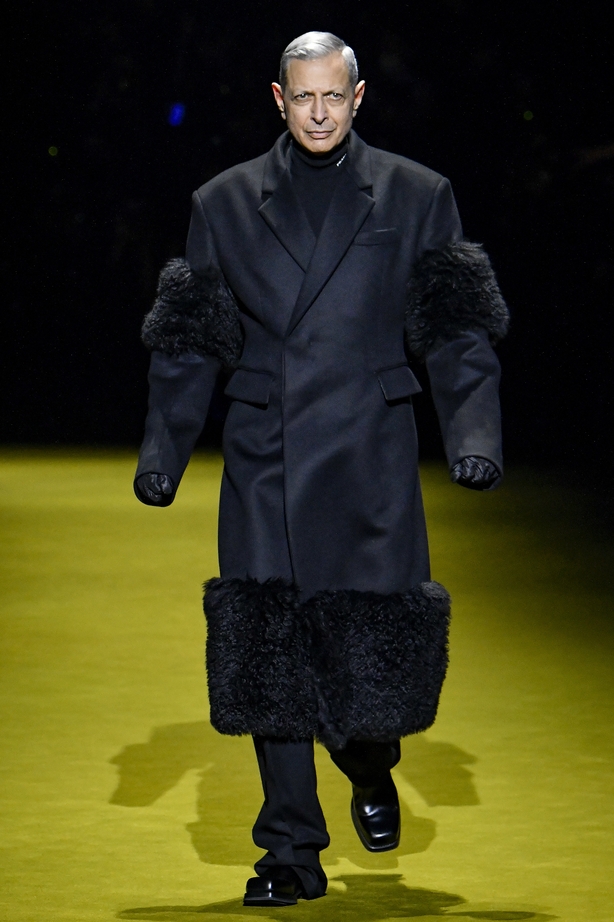 Already the reigning "Pra-daddy", thanks to his penchant for eye-catching Prada bowling shirts and his general aura of retro class, Jeff Goldblum stunned guests with his unexpected appearance to close out the show.
Although his first time on the runway, Goldblum looked totally at home, swaggering down the catwalk in a striking black trench coat, embellished with fur trim on the arms and hem. Worn over a black turtleneck jumper and black trousers, the coat perfectly suited his flamboyant and sultry essence.
However, Jeff wasn't the only famous face on the runway, as Sex and the City alum and Twin Peak's own Agent Cooper Kyle MacLachlan opened the sleek show. Dressed in a classic black overcoat, layered over a shimmering pale blue shirt and a white, purple and yellow turtleneck, he looked typically polished and, shall we say, damn fine.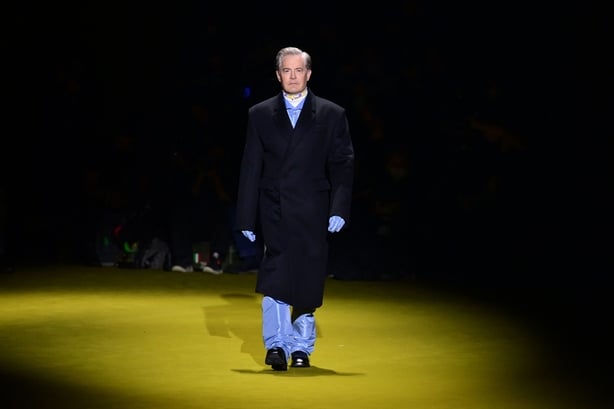 Although MacLachlan isn't as overt with his love of fashion as Goldblum, Prada co-director Raf Simons used stills of the actor from the film Blue Velvet in his AW19 collection.
Also strutting their stuff on the runway was Sex Education actor Asa Butterfield and Moonlight actor Ashton Sanders.
This isn't the first time Prada have welcomed Hollywood royalty onto their runway, as the 2012 FW show featuring Adrien Brody, Gary Oldman and Willem Dafoe all dressed in a range of sophisticated ensembles, which is still referenced today as a standout fashion show.
We need your consent to load this Instagram contentWe use Instagram to manage extra content that can set cookies on your device and collect data about your activity. Please review their details and accept them to load the content.Manage Preferences
The show took an unusual approach by celebrating work, arguing that two years after the outbreak of Covid-19, going to work has become a chance to elevate your wardrobe. As the fashion house said: "The collection celebrates the idea of working, in all different spheres and meanings. It is a practical, everyday thing. But […] every aspect of reality can be elegant and dignified."
Central to this was a selection of coat hybrids, from cinched-in workwear-inspired pieces to the extravagant businesslike trench coats. Theatre chairs made up the audience seating, in a nod to the performances of actors and the role of cinema as a mirror of reality.
On an Instagram post, the fashion house wrote: "In the #PradaFW22 Show actors are interpreters of reality, employed to echo truth through their portrayals. Here, everyday reality is valorized, its signs and signifiers exchanged with those of elegance and sophistication."