Fashion columnist and presenter Rob Kenny returns with his annual 'stylish Irish' list, giving you all the details on who to follow and why.
A country renowned for its high-end textiles and design skills, Ireland is home to those with exceptional style - but isn't always celebrated as such. With this list, I hope to shine a light on just some of the stylish celebs, stylists, models, podcasters, presenters and influencers who are killing it online.
As a regular at Paris Fashion Week, I have dedicated my time into finding those who are constantly putting their most stylish foot forward, right here in Ireland. Prepare to be inspired.
India Mullen
Normal People star (and Paul Mescal bestie, so jealous) India Mullen is one of Ireland's most talented actresses, but her creative talents don't end there. The striking blonde has an ethereal couture presence when she decides to get glammed-up, but it is her hipster-cool vibe when papped by day that really caught my eye. As someone who isn't afraid to experiment with colour, texture, and shapes, we can't wait to see what she brings next.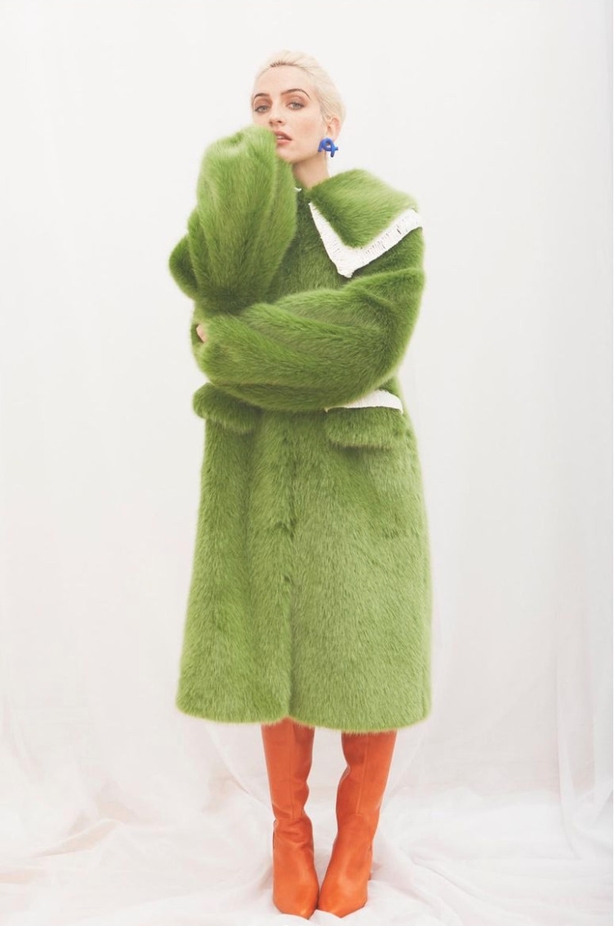 Adam Fogarty
Dancing King Adam, whose choreography you'll catch on the big screen next year in Disenchanted (the follow up to Disney's Enchanted), not only dances the part but dresses for it too. Effortlessly mixing luxury, high fashion brands with his own take on athleisure and set off by his immaculately peroxide gruaig. It's hard to say which one he does better. If you're into high-end street style, Adam is your guy.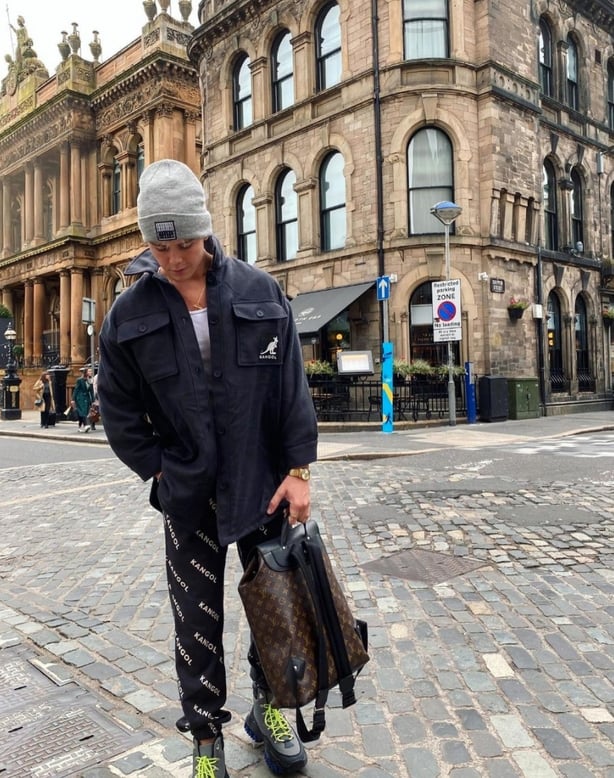 Moya Mawhinney
YouTuber Moya Mawhinney is living her best life in London and continually serving major Dua Lipa and Bella Hadid vibes with her chic 90s throwbacks. Think baggy pants, chunky boots and crop tops. The 22-year-old also enjoys a vintage Prada bag but, then again, who doesn't?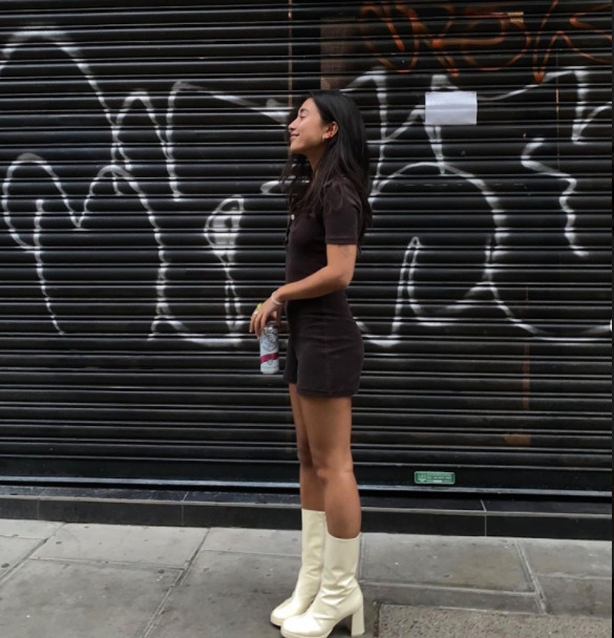 James Kavanagh
James regularly captivates fans with his penchant for high fashion brands - you'll spot him in Fendi, Prada, Gucci and Louis Vuitton - juxtaposed with his fondness for an Aran jumper or a vintage shirt. Flitting between events in Dublin City to relaxing in Currabinny, Co. Cork, he keeps us guessing with his looks, and regularly references international trends well before the rest of us mere mortals know they're a thing.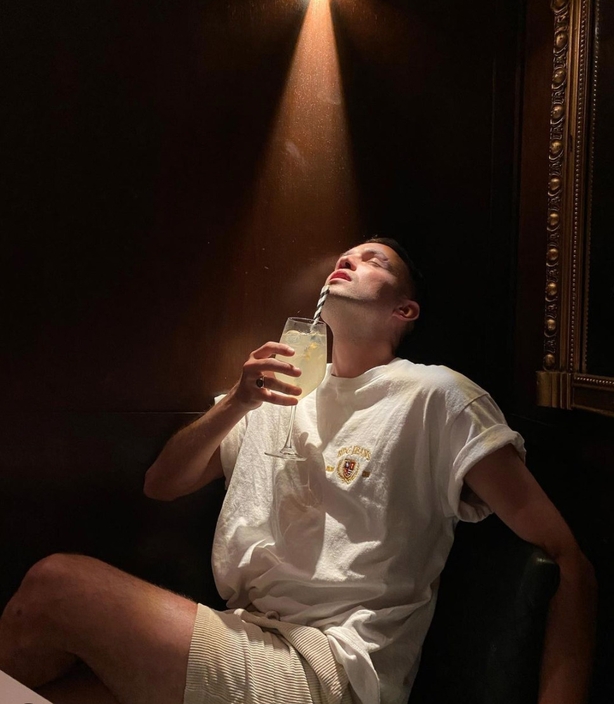 Jane and Ruth Flanagan
Stunning sisters Jane and Ruth Flanagan are a visual bliss. Promoting their lifestyle brand, Style Ignite, they promote a pastel palette with subtle feminine accents. To quote David Rose of Netflix hit Schitt's Creek, their aesthetic looks like "an English estate in the off season". We're here for it.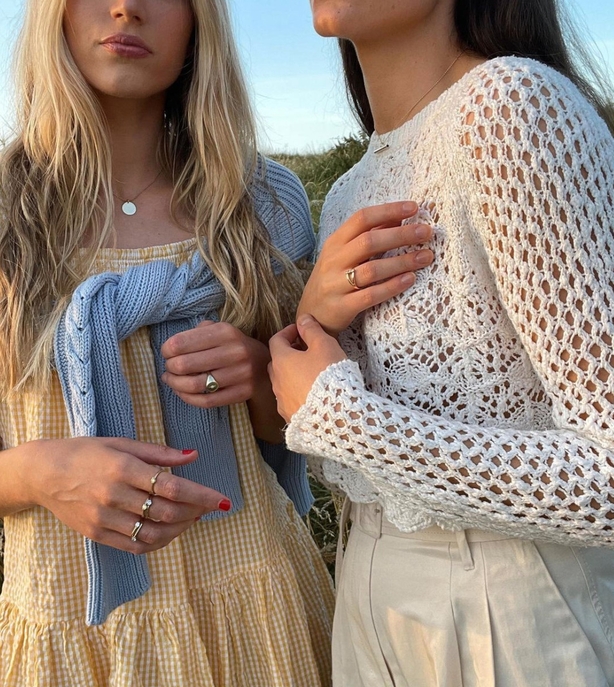 Aisling Farinella
As a stylist, creative director and consultant, it comes as no surprise that Aisling's Instagram is a fashion queen's dream. Especially when you consider her client rolodex. Prepare for a utopia of design inspo across her stellar editorial work. Her own style is utilitarian with elegant detailing. She is the master of shapes.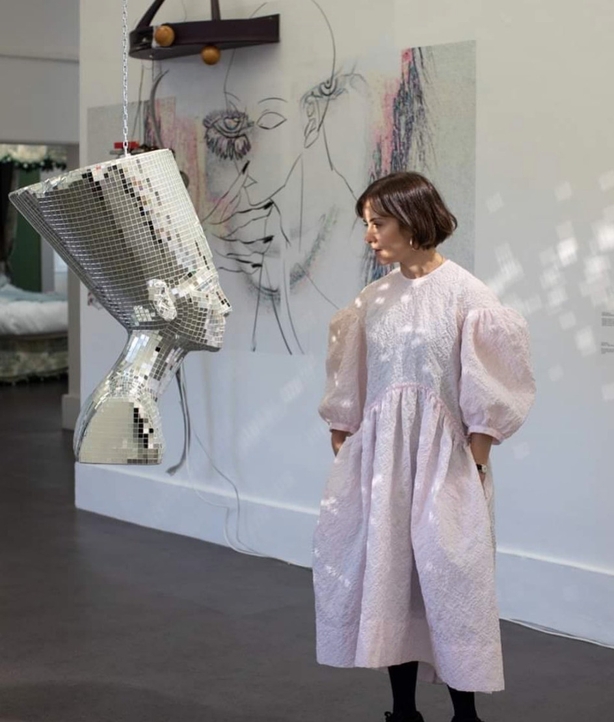 Amanda Ade
Amanda's following blew up last year as the creative director of the Black and Irish Instagram account, and one of the voices of RTÉ's Black and Irish Podcast. When it comes to her style, expect to see her playing with colour as well as a mix of cuts and silhouettes. She dresses down in a puffa with the same detail and finesse as she does in a glam dress on a night out.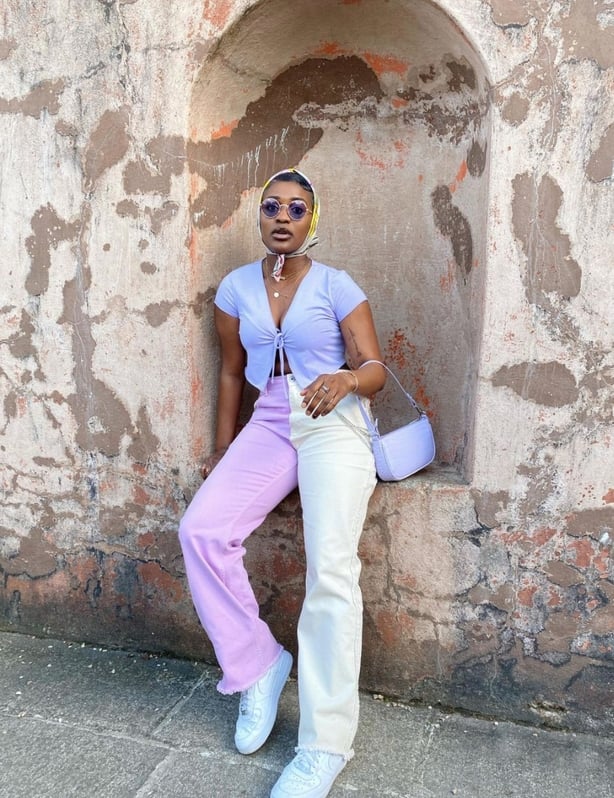 Sarah Battle
A Home Economics teacher by day, you may recognise Sarah as @housebythewhitethorns on Instagram. As the loveliest human inside and out, I'm always amazed by how this busy working mum still manages to look like she's stepped out of a COS editorial shoot. Her focus is all about how outfits flow and fall, and although she loves a minimalistic look, she's not afraid of playing with print.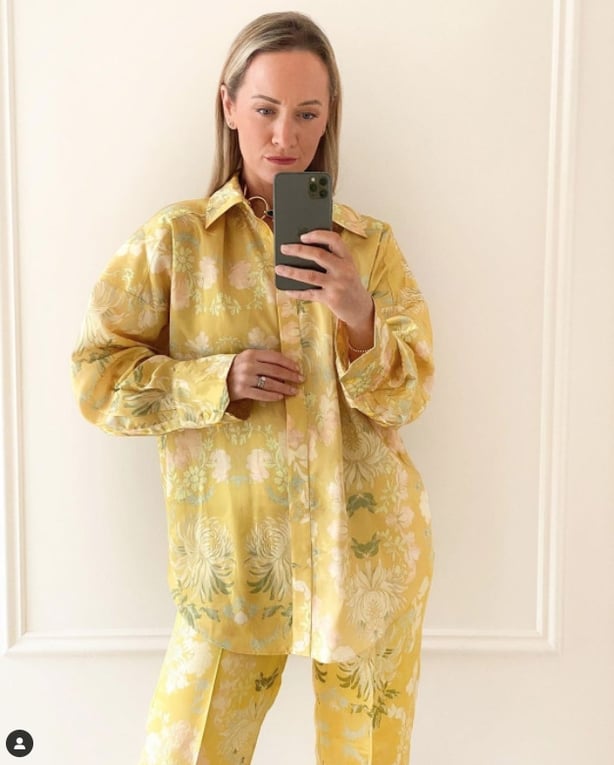 Vogue Williams
With a name like Vogue, it would be a tad awkward if she wasn't stylish! The co-host of the nation's favourite podcast, My Therapist Ghosted Me, Wiliams loves flowy, feminine pieces and has a knack of mixing casual, capsule items with high-end, statement pieces. If you like feminine and sophisticated, Vogue is your gal.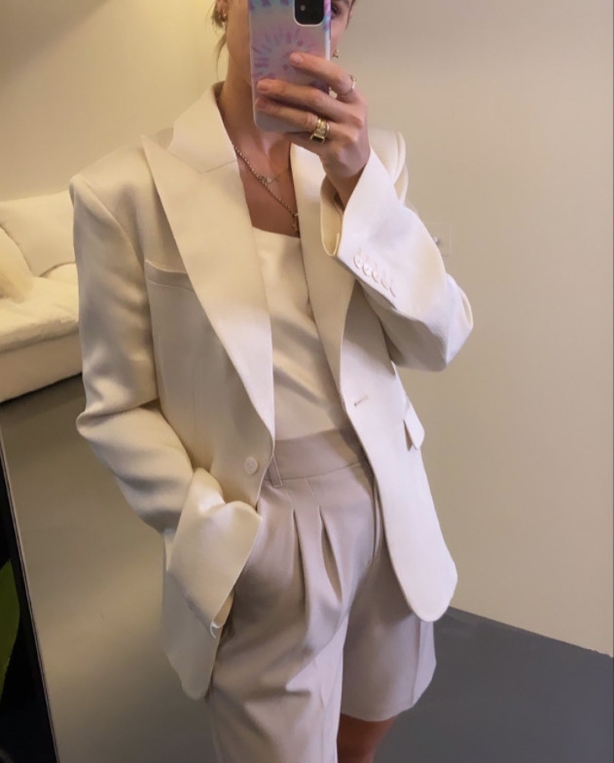 Amy Heffernan
As Assistant Editor at Irish Tatler, Amy Heffernan's Instagram serves luxe glam that is always on trend. Whether it's a fun tie-dye sweater, an elegant knit, or a show stopping floor length coat, Amy knows how to combine both classic and modern with absolute ease.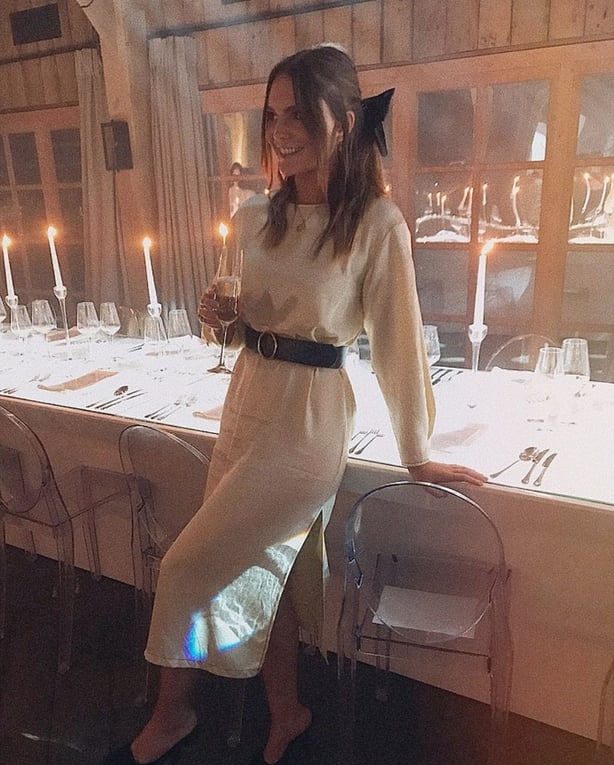 Andrea Horan
Owner of the Saoirse Ronan's favourite nail salon, Tropical Popical, as well as podcaster and avid nightlife advocate, Andrea Horan's style is both daring and playful. She is the walking embodiment of 'more is more' and it's honestly impossible to take your eyes off her. Expect to see expert layering of lace, shimmer and lots of sheer numbers as well as her signature leopard print.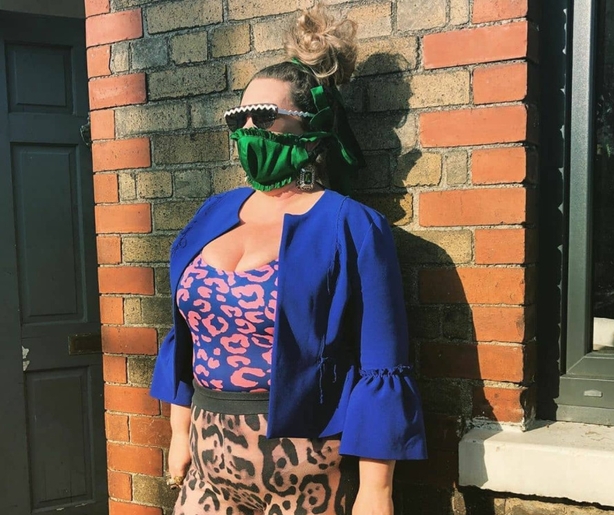 Anne Nuding
Fashion Campaign Marketing Manager Anne is always two, if not seven, steps ahead of the rest of us. Her enviable fairytale blonde tresses (think Galadriel in Lord of the Rings) only add to her impeccable taste. Pink is absolutely her colour, but you'll just as easily see her rivalling Kate Moss in leather leggings or Rihanna in a bucket hat. Anne always manages to have loads of fun with her looks, while remaining minimal and glam. Not always the easiest, but she does it effortlessly.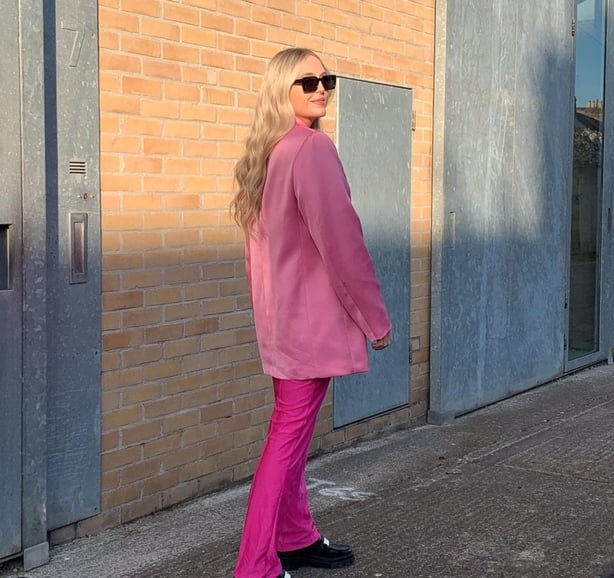 Anouska
Anouska's aesthetic is muted minimalism, so you'll find warm earth tones and monochrome throughout her feed. Her skills as a photographer complement her outfits perfectly with her sepia toned images. Find her in unlikely pairings that very much work, such as city shorts with trench coats.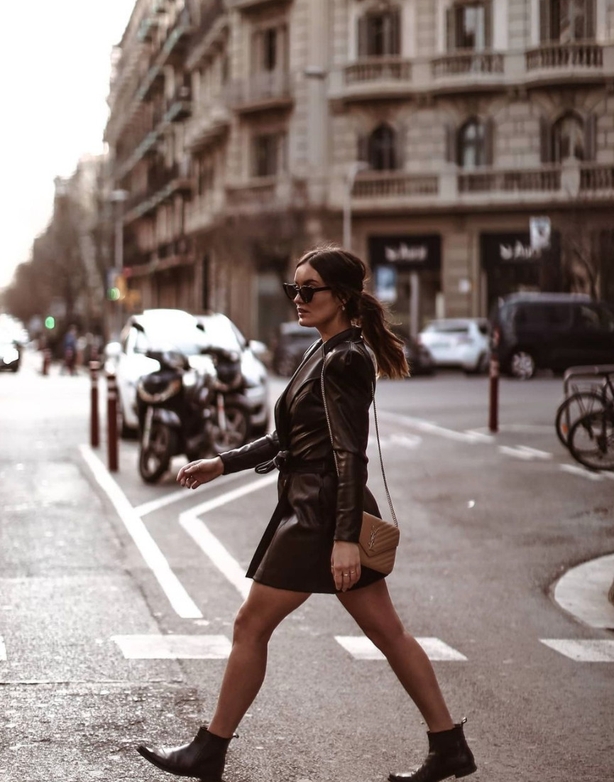 Brian Lyng
Fashion PR Executive Brian Lyng's high fashion facial hair is just the beginning. He dons silk scarves, prints, tailoring, and hats with flair and ease. Not to mention a statement sock. All off set by his glacial stare. Miranda Priestley would be proud.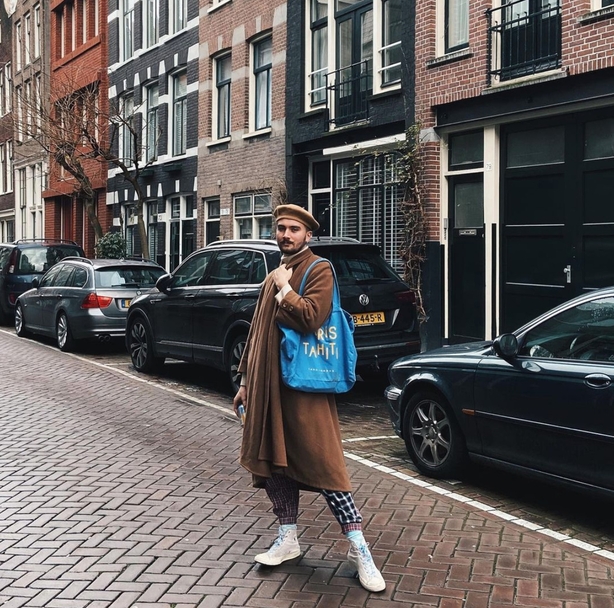 Celia Holman Lee
As the founder of Ireland's longest-running modelling agency, Celia Holman Lee is an icon in the Irish fashion world. She keeps it classic but never boring, always adding a splash of something to add visual interest. Her dresses in particular, whether daytime or evening, are always spectacular.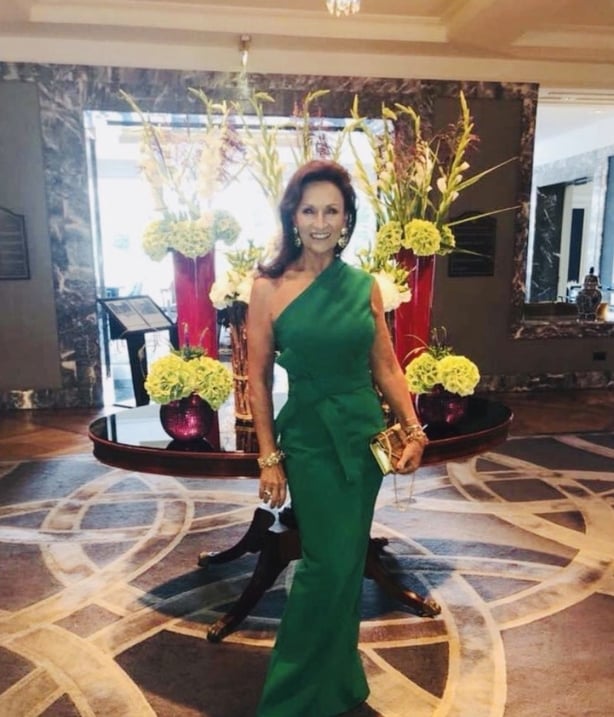 Chun Soot
Chun is one of Ireland's most well-known male fashion models, travelling internationally to work with coveted brands such as Balmain, Stone Island, and most recently, Fendi. Of course, this is evident in his style and accented by dangerously high cheekbones.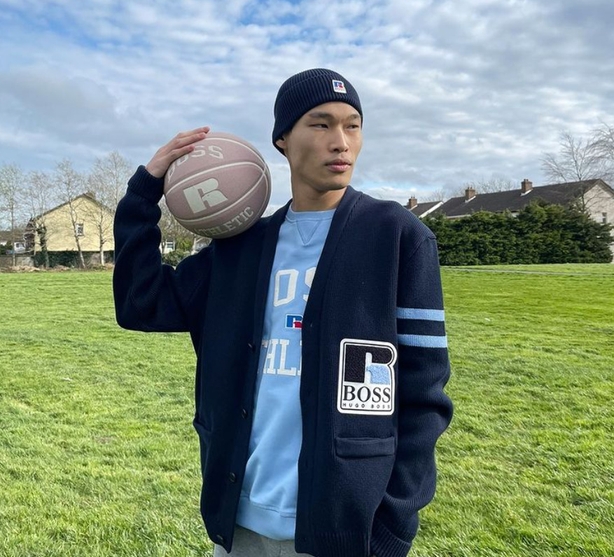 Ciara O'Doherty
Fashion influencer and IGTV sensation Ciara's seasonal ensembles are flawless. Sporting romantic florals for spring/summer against autumnal shades tones for autumn/winter, her looks are somehow always timeless and on-trend. Her retro-inspired ensembles frequently reference the 80s and 90s while her prints are expertly mixed. If you need tips on pulling an outfit together, she's your gal.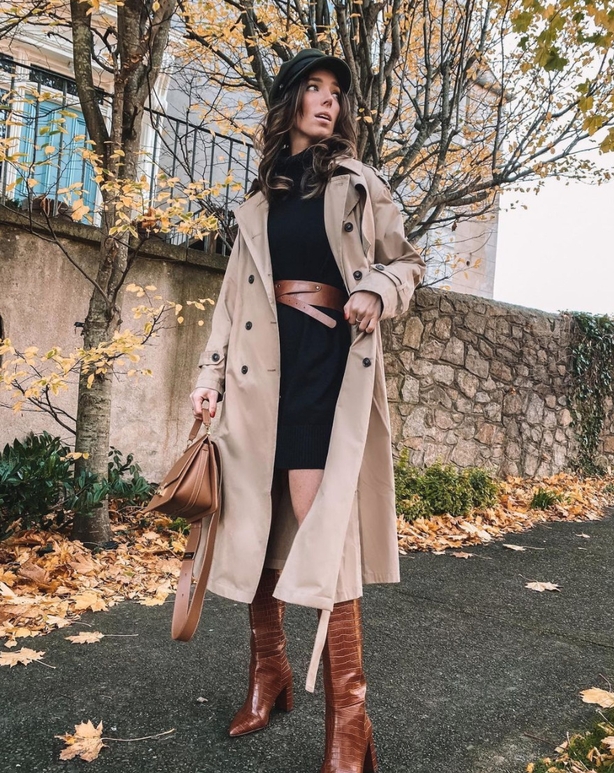 Claudine Kehoe
With 100k IG followers and counting, Claudine offers a masterclass in oversized tailoring and the art of styling a crop top. She's equally as comfortable in a slinky night out dress with a Jacquemus clutch as she is in jeans and an over-sized blazer. Think Hailey Bieber vibes.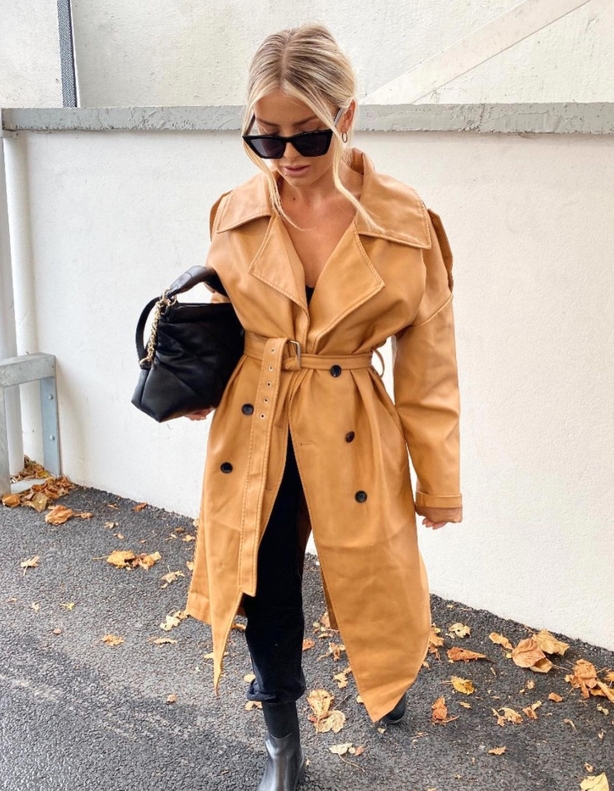 Clémentine MacNeice
As her name might suggest, Clémentine has a sophisticated French influence that's evident in all her looks. A celebrity stylist who has worked on shows such as Dancing with the Stars and The Voice, MacNeice looks to elegant, polished tailoring as her staple, always paired with minimal jewellery and a well chosen shoe. I want her bag, coat and sunglass collection asap.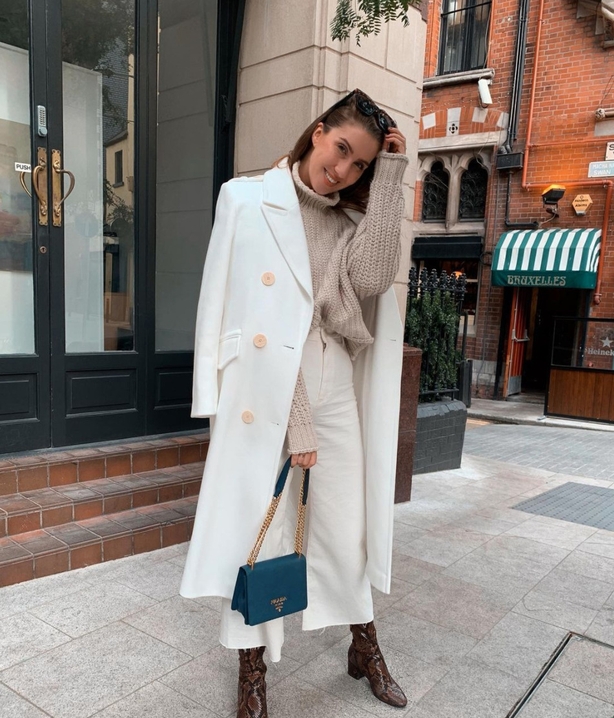 Courtney Smith
Content creator Courtney is a highly sought after stylist, whose clients range from The Sunday Times to Louis Vuitton. She herself is a regular on best-dressed lists, thanks to her international influences and bold style choices. With such a creative mind, it's tough to predict what she might wear next, but we're always dying to find out. Passionate about sustainable fashion, she is renowned for creating new looks from older items.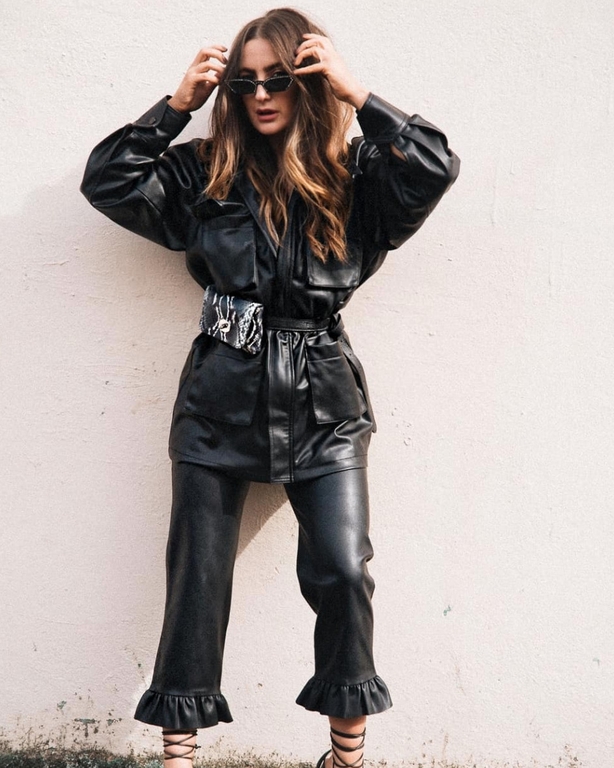 Denise Chaila
A fixture of the Irish music scene, Denise has become a household name recently since she released her self-titled hit, Chaila. Her incredible style is everything we want to see from a performer with plenty of statement jewellery, head pieces, structural tops and ethereal tulle dresses. This Irish Song of the Year nominee is one to watch.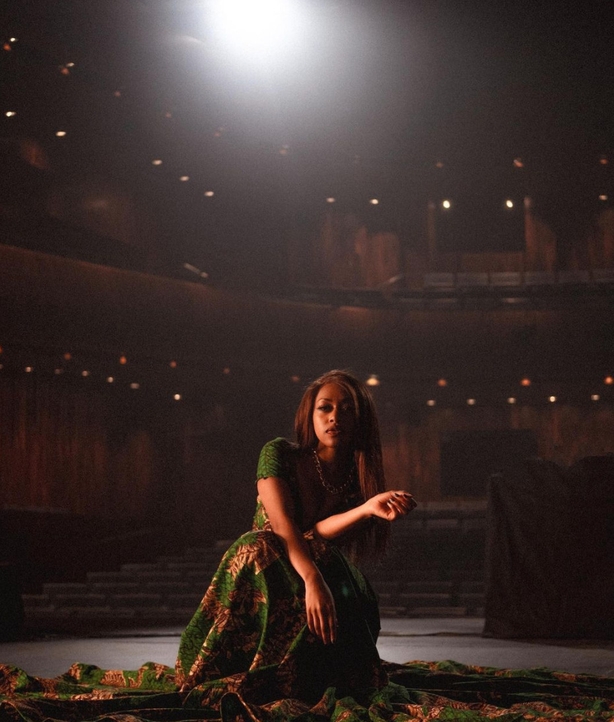 Dermot Kennedy
Dermot Kennedy has had a stratospheric rise to fame in recent years, and his fashion choices have seen him represent Ireland extremely well on the international stage. Regularly combining street style and casual wear with high fashion pieces, Dermot hits all the right notes on the style scale.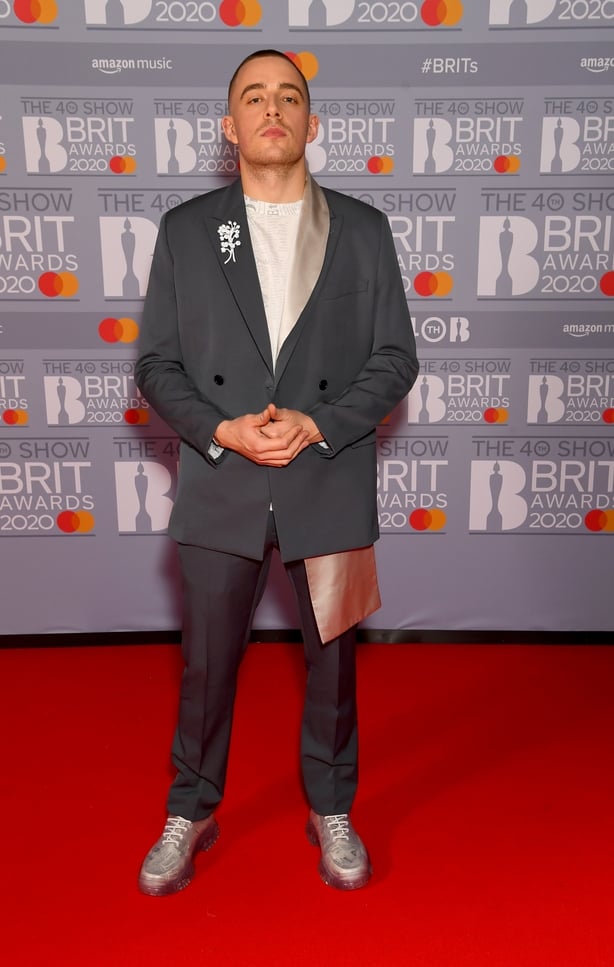 Diana Bunici
Presenter, author and journalist Diana Bunici's style is feminine and romantic. Particularly during the summer months where her mixes of florals and prints are absolutely stunning. It's the perfect contrast to her boyfriend, Kodaline frontman, Steve Garrigan's muted colour palette with playful 'rocker' touches.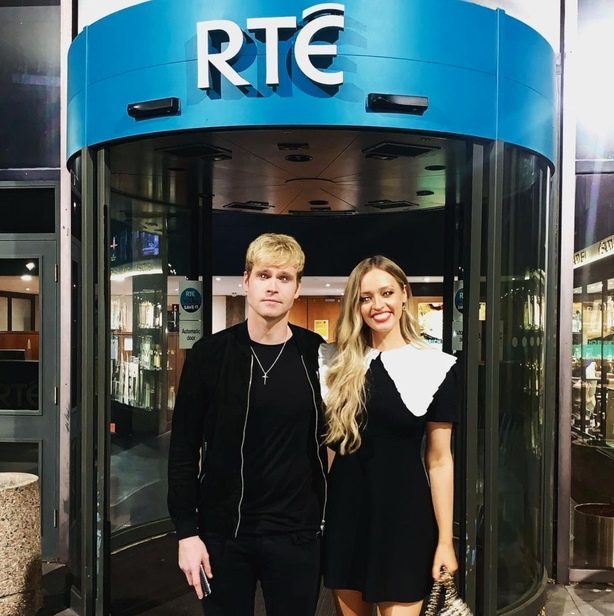 Eavanna Breen
As one of Ireland's biggest names in skincare, Eavanna Breen's Instagram has been inspiring us to perfect our wardrobe as well as our skin in the past few months. Expect to see casual and cosy glam executed with panache alongside her exceptional dress collection. Eavanna is an expert at finding standout affordable high street pieces and pairing them with a designer staple.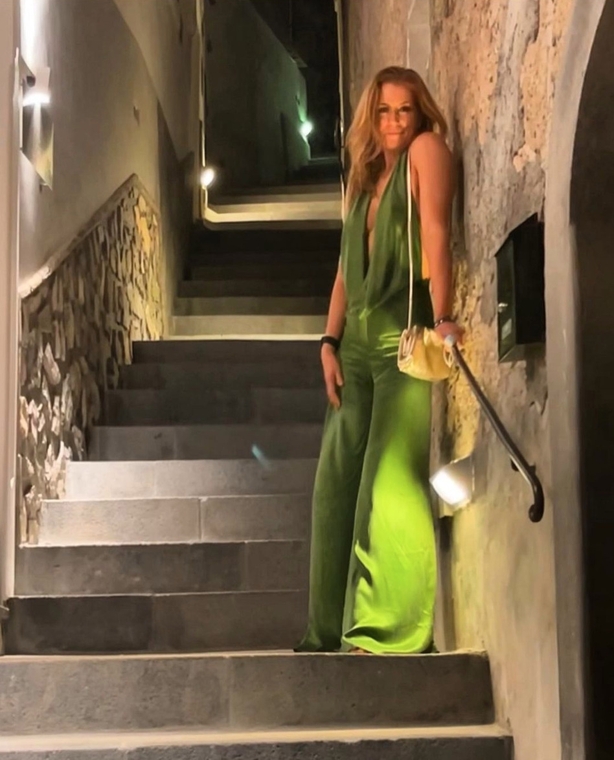 Erica Cody
Erica has been making waves in the music scene since she released her album Addicted in 2017 and her style is no different. If you're a fan of athleisure, Erica's your woman. But you'll also enjoy her seamless colour blocking (eye shadow included), rich textures and enviable boot collection.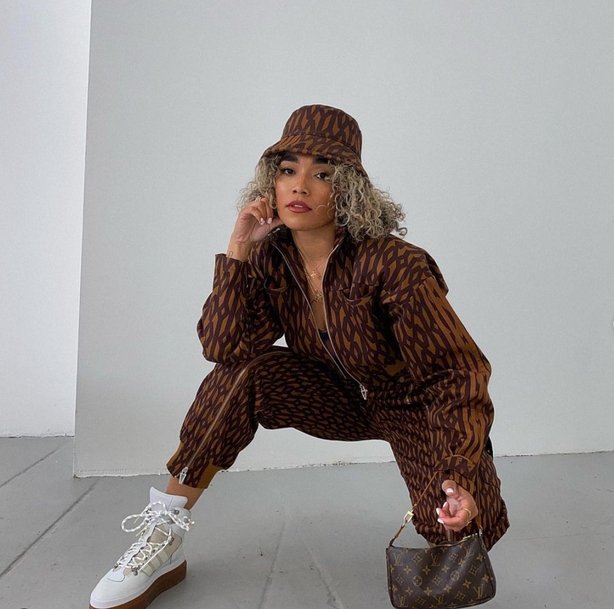 Fiona Gratzer
MD of Unislim, Ireland's only Irish owned health and slimming brand, Fiona is a huge fan of the professional cuts and shapes of designers such as Victoria Beckham and Bottega Veneta. Fiona has a talent for putting outfits together that you simply can't be taught. She also loves to support Irish design talent such as Stable of Ireland.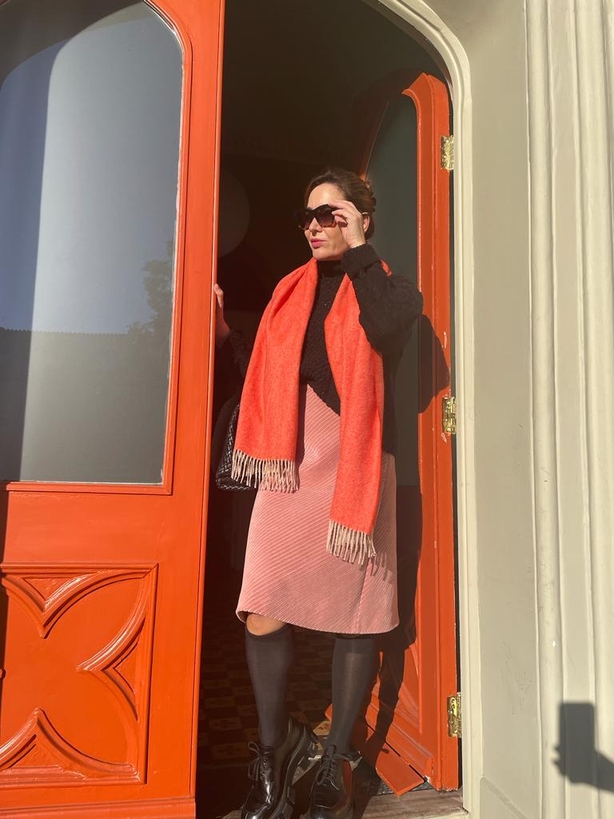 Fionn O'Shea
Standout star of Handsome Devil, Fionn's style is cool and refined. Expect a mix of prints, Chelsea boots, crisp white tees and a gorgeous geansaí here and there. He also rocks a very enviable quiffed hairstyle, always purposefully a little bit messy - a way the French would approve of.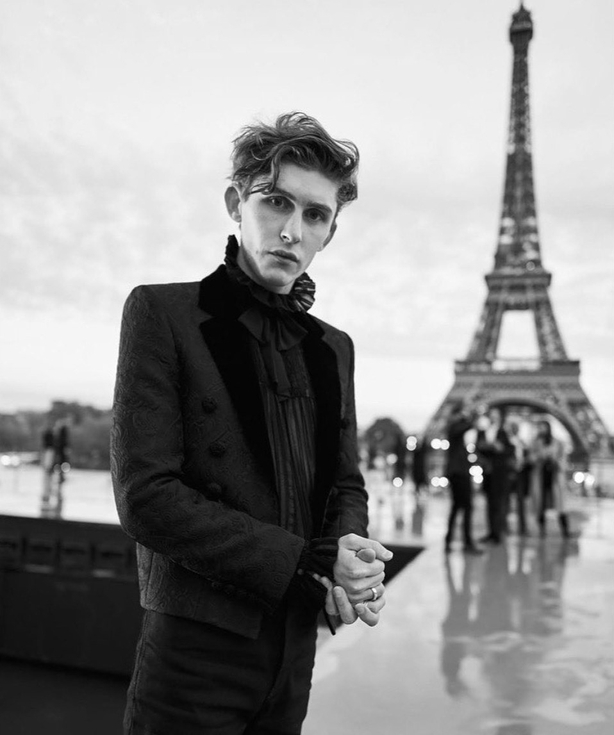 Freya Drohan
Fashion Director at the Daily Front Row, Freya is a self described 'fan of a fancy frock' and she absolutely delivers. We're talking every print, cut and silhouette under the sun. If you're in need of inspo for an event or wedding, look no further. These days, she's flying the flag in NYC - all while impeccably dressed.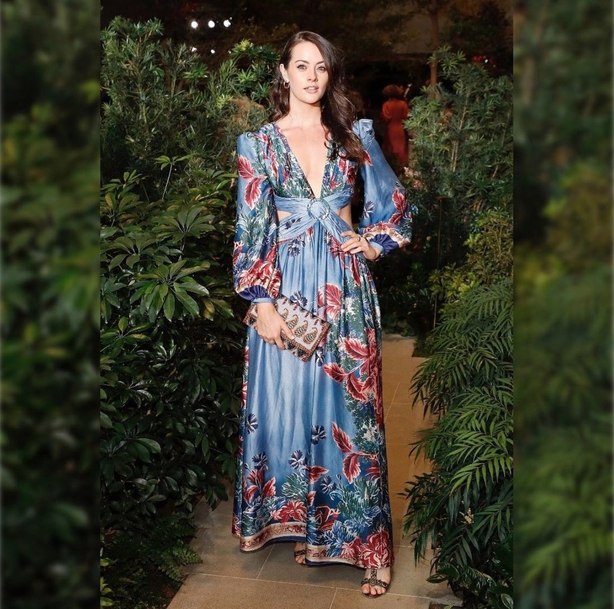 Hannah Saunders
Hannah Saunders is always perfectly tailored. To the point that we imagine even her pajamas to be structured and wrapped with a Céline belt. The PR maven with an ever growing client list is as meticulous with her wardrobe as she is her agency, from her enviable coat, boot and tailoring collection to her excellent eye for night out glam or the perfect summer dress. She also has the most enviable hair on Irish Instagram.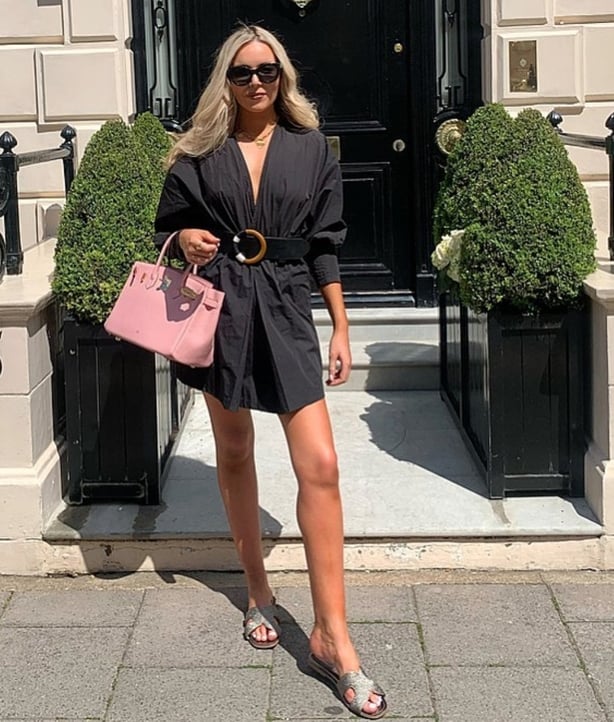 Isabel Gleeson
Fashion buyer and stylist at Styled By Isabel, Gleeson is the ultimate go-to gal for a beautiful (and unusual) dress collection. From her white wedding dress with rainbow bows to her colourful sundress collection, she always manages to stand out from the crowd in stylishly subtle ways. Her highly feminine wardrobe features oversized sleeves and subtle prints that never slip into the realm of tacky.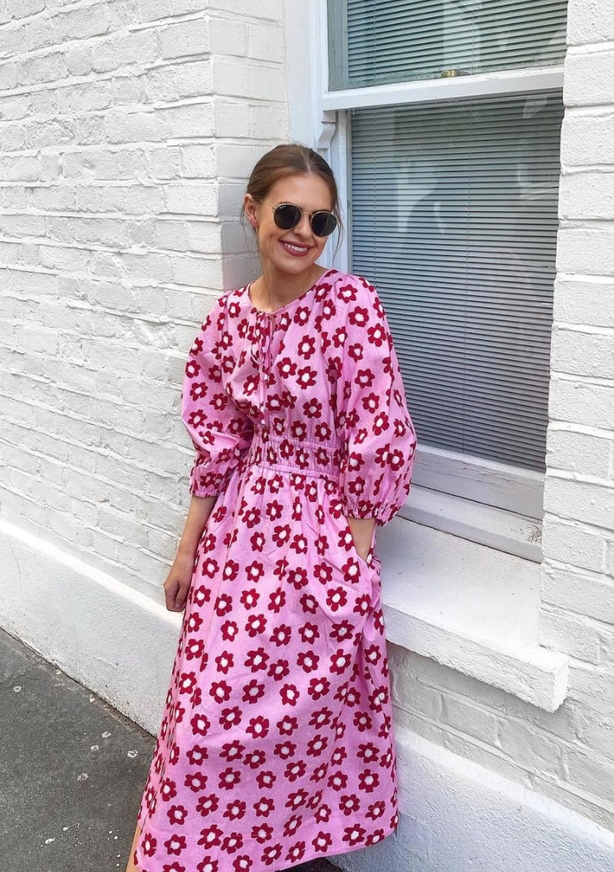 Holly Carpenter
Former Miss Ireland and Britain and Ireland's Next Top Model contestant turned entrepreneur, columnist and content creator, Holly Carpenter delivers a mix of feminine dresses, chic athleisure and some cool festival vibes. Regularly sharing her outfit details on Instagram, she delivers a mix of chic athleisurewear with chunky runners and delicate accessories along with grunge glam dressed and all-black ensembles. Her makeup tutorials are also known as some of the best in the country.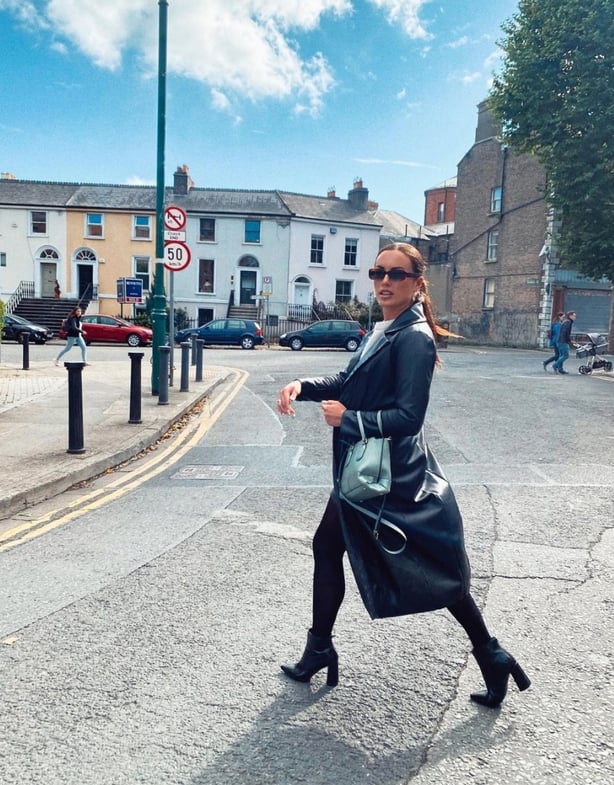 James O'Connor
With his piercing blue eyes and a jaw that could chop trees, model James O'Connor is a firm fixture on the ASOS website. His style is understated and effortlessly cool with clear nods to Parisian and Scandinavian influences. We're so here for it. And his jawline. Have we mentioned his jawline?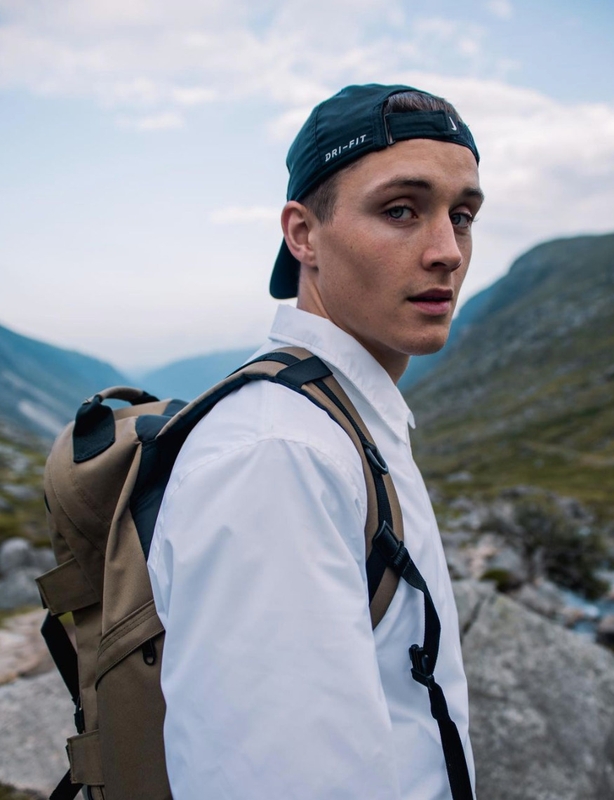 Joanna Cooper
Petite bombshell Joanna brings an edge to her ensembles. As a model, she has a keen eye for layering, an interesting cut, or a batch of carefully curated jewellery. Her daytime casual look is just as chic as her night time glam. Equal parts sexy, cool and runway ready. Think Rosie Huntington Whiteley.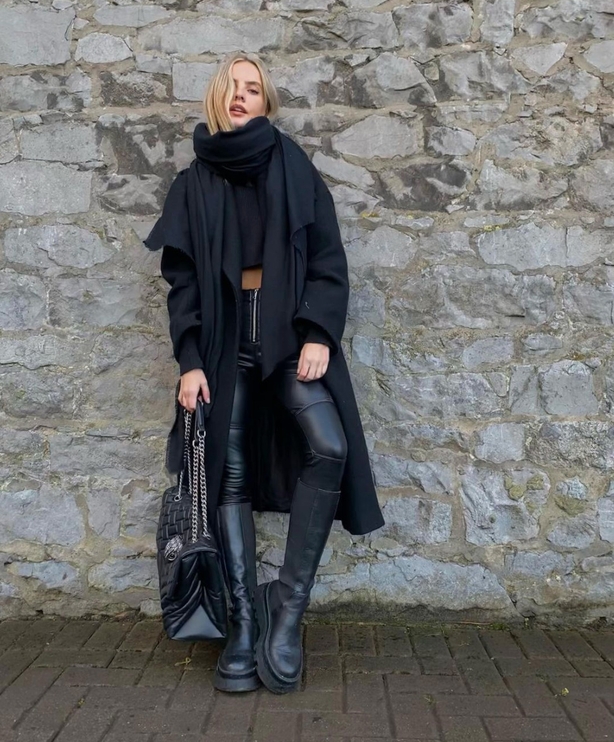 Jodie Wood
Fashion and beauty content creator Jodie often favours a clean line with structured layers and gleaming runners for her day time looks. Her summer wardrobe often features eye-catching items such as a patterned or citrus bright summer dresses, always with the perfect cut. Her jewellery layering skills are next level and her accessories are often offset with her striking blue eyes and perfectly waved hair. Elegant inspiration at every turn.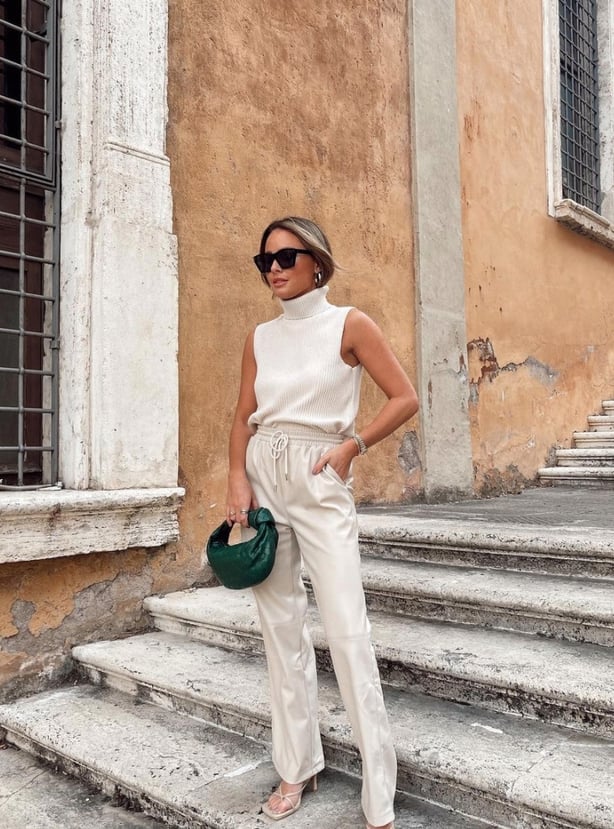 John Mangru
Irish fashion designer, stylist, and DJ John Mangru is destined for great things with his collection of Victorian inspired corsets. His designs are breathtakingly detailed and structured using an incredible mix of materials. We'll be keeping an eye on what's to come.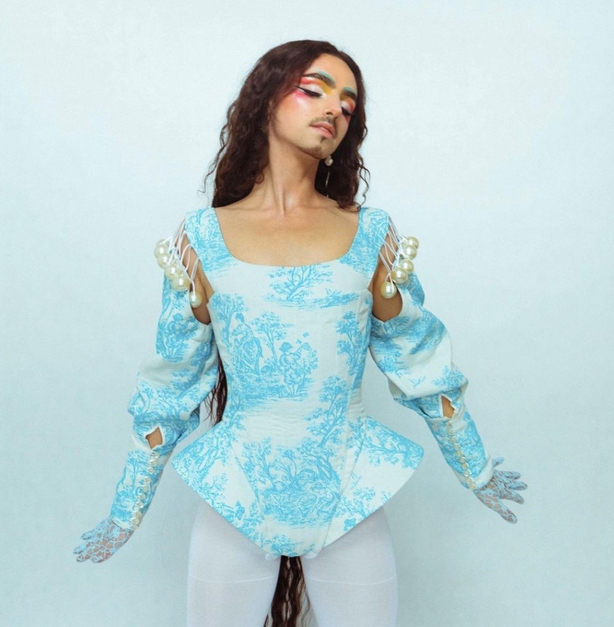 Katja Mia
Curve model and fashion blogger Katja's style is Y2k meets 2021, and she does it so incredibly well. Expect lots of fun co-ords in different colours, baguette bags and leather moments. All accentuated by her megawatt smile and fabulously long locks.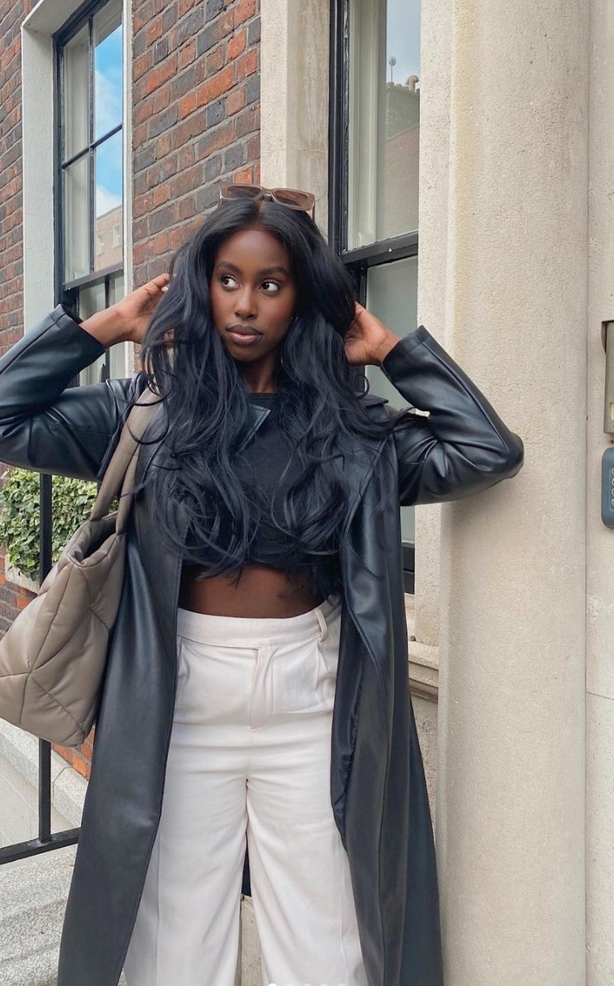 Kelly Horrigan
As a model with a Kardashian-worthy centre part, Kelly's style is both sophisticated and minimalist. She often frames her already symmetrical face with the off-duty model staple - gold hoops. Expect monochrome and leather worn flawlessly with a Gucci or LV bag tucked under her arm. This is a woman with incredible accessories.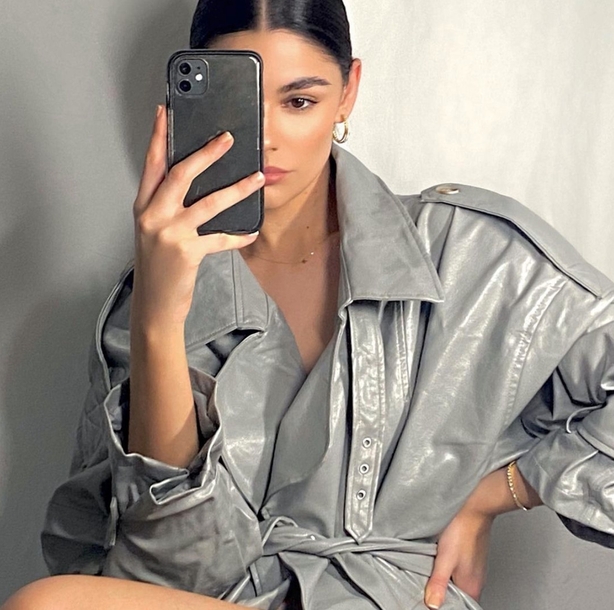 Lauren Arthurs
The Cork native is a master of clean lines, cinched waists and comfy cool vibes and high octane glam looks. She truly does it all. Favouring a mix of neutral and jewel tones for winter, Lauren switches things up depending on the season, wearing citrus and pastels in warmer months. Her brave blunt bob brings us yet an extra dose of class.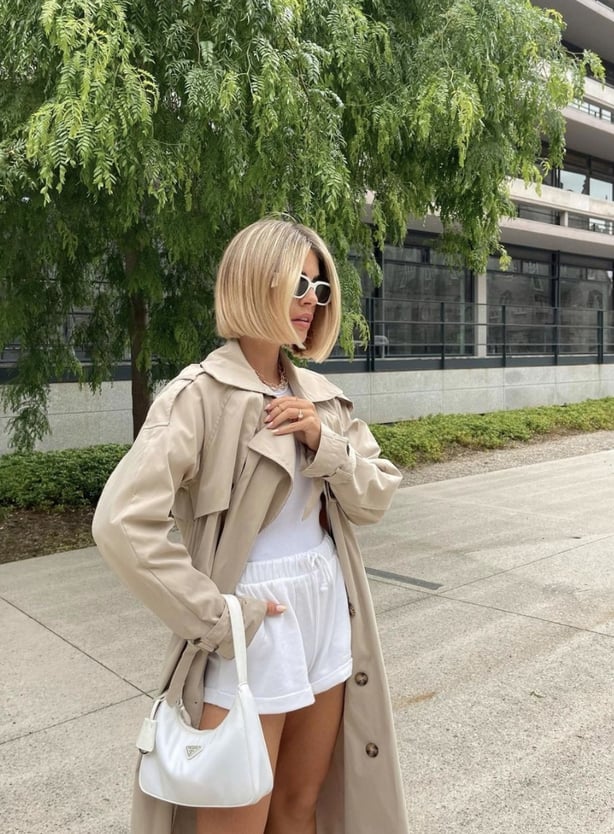 Louise Cooney
Louise has been at the top of her fashion influencing game for quite some time now and she never disappoints. Working with brands all over the world from Armani in Venice to Moët & Chandon in France, she continues to lead the fashion pack. Her expertly put together looks range from stunning jumpsuits and sexy mini dresses all the way to sweeping trenches and cosy oversized knits.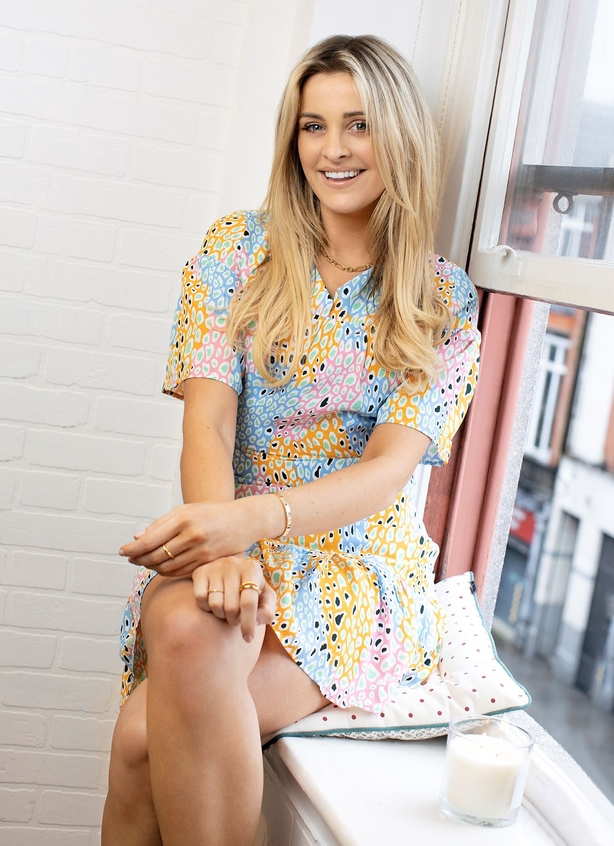 Lynn Kelly
Former Miss Universe Ireland Lynn has continued to raise the bar in her fashion game with structured, layered ensembles. From monochrome ensembles to her more recent head turning neon and dazzling summer prints, she's firmly secured her place in the Irish fashion world.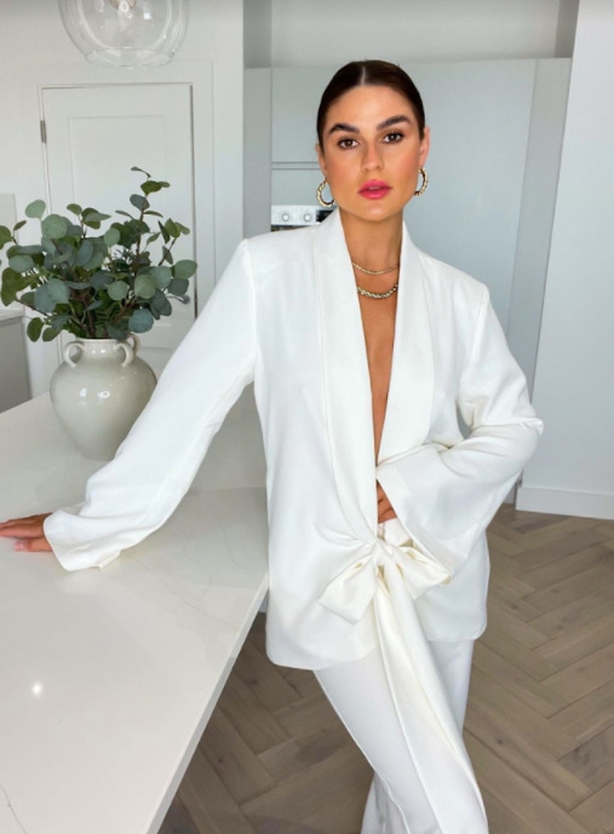 Marianne Smyth
IMAGE fashion columnist Marianne, who boasts 314k IG followers, is a chic minimalist's dream with a certain je ne sais quoi of French elegance. Wearing three or four key pieces, all impeccably drawn together, she will inspire your ultimate capsule wardrobe. She regularly tags high street brands but makes them look impossibly high end.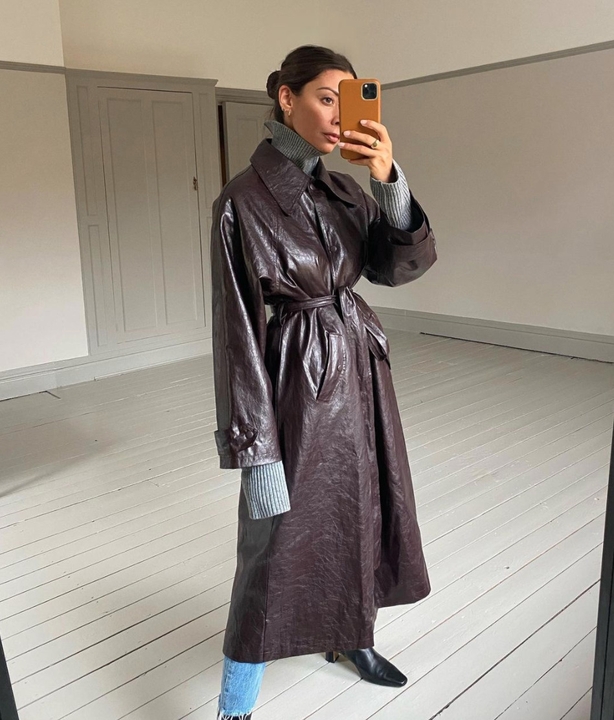 Melissa Mills Bari
As a mum and businesswoman on the go, Melissa does stylish yet practical daywear like a pro, often in bright white Veja runners and cute dresses. However, her night time looks and boot collection are just as covetable. Expect to see a range of robes from her own MMB collection that are both stand out and budget friendly.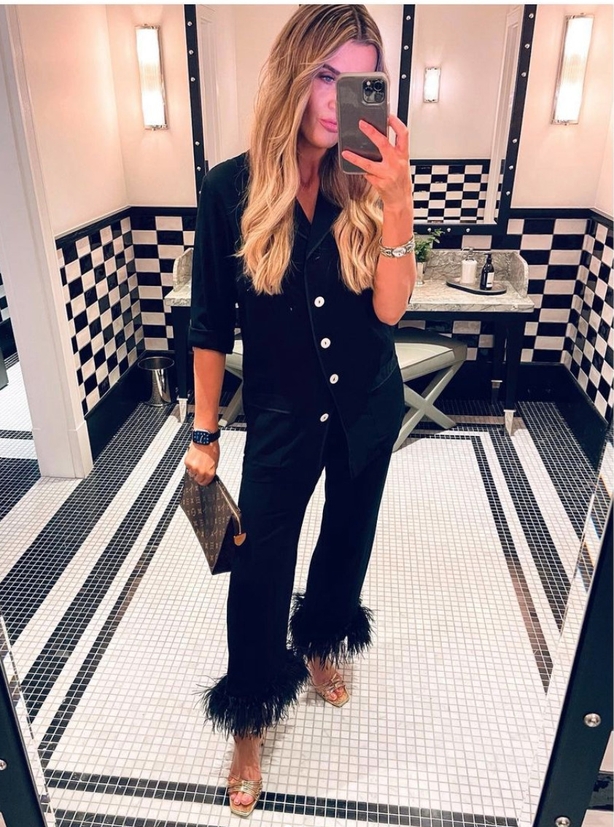 Michelle Sadlier
Head of Marketing and Content at Zegna Michelle serves high fashion from the get go with all black and white imagery on her IG. Her recent wedding dress, which gives us Audrey Hepburn vibes, is a must see (congrats Michelle!). She also wears polka dots and stripes like a 1960s dream.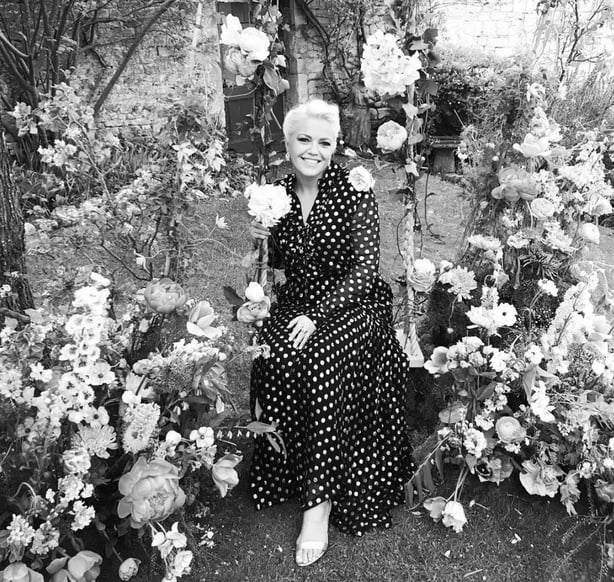 Neil Patrick Collins
Collins is a designer who boasts roles such as in-house designer at Commes des Garçons, a renowned Japanese fashion brand that showcases its designs at Paris Fashion Week every year. Impressive move from a former Roscommon GAA player. He wears a scarf better than Lenny Kravitz, which is saying something, and generally does layering extremely well.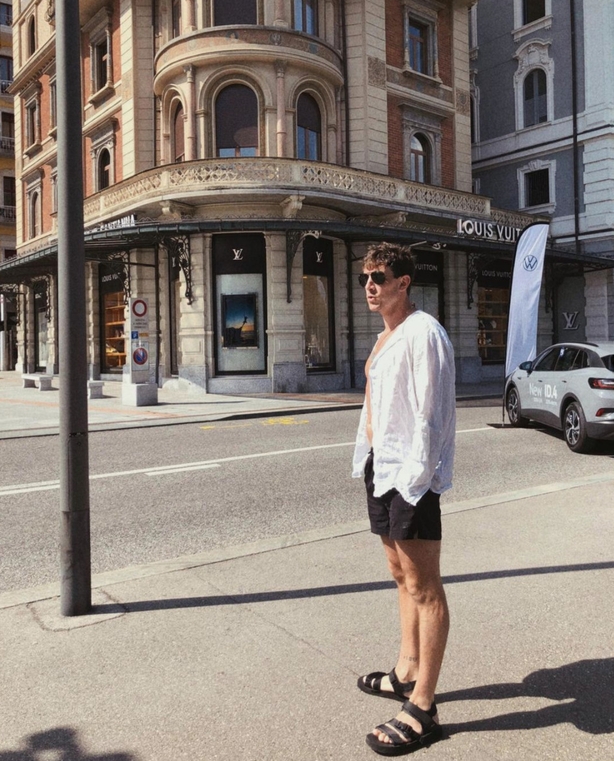 Niamh Cullen
Fitness and fashion influencer Niamh's style is always playful and she takes risks using various patterns, lengths, shapes and textures, which perfectly complement her outgoing personality. As a fitness coach, she's also a go-to for how to look cool in the gym.
Niamh O'Sullivan
Not only a sustainably-minded fashionista but a foodie, as seen in the superbly lit and composed photos on her IG, Niamh's style is clean, neutral, minimalist and elegant. She wears bright whites flawlessly - particularly in the form of trenches and coats - and is always brandishing a stunning designer bag.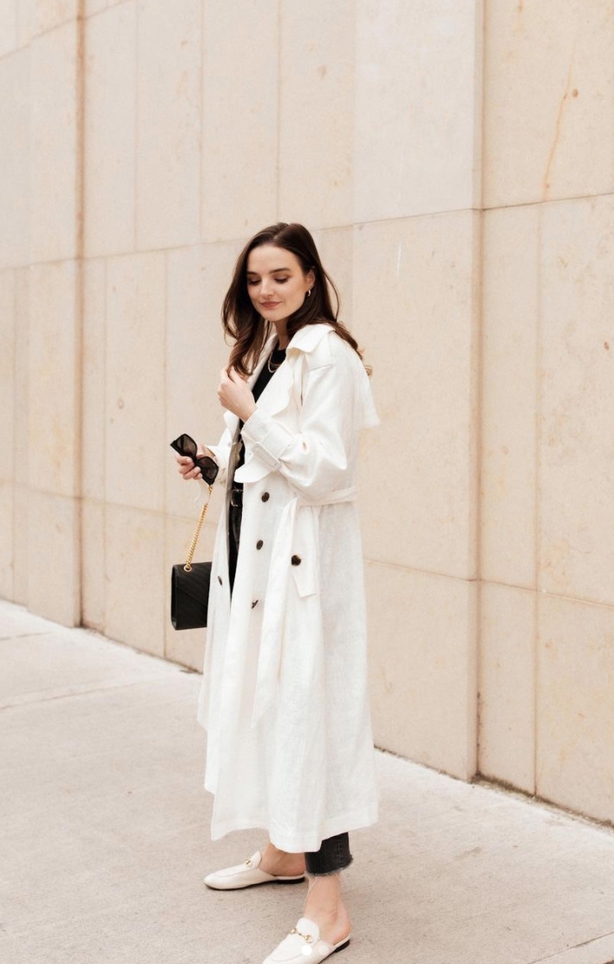 Emma Noodle
Emma Noodle's Instagram has boomed over the past two years, not surprising as she is always exceptionally glam and undeniably cool. Not always a symbiotic mix, but the baby faced Influencer has an eye for nabbing the high street's best finds and making them work in unusual ways.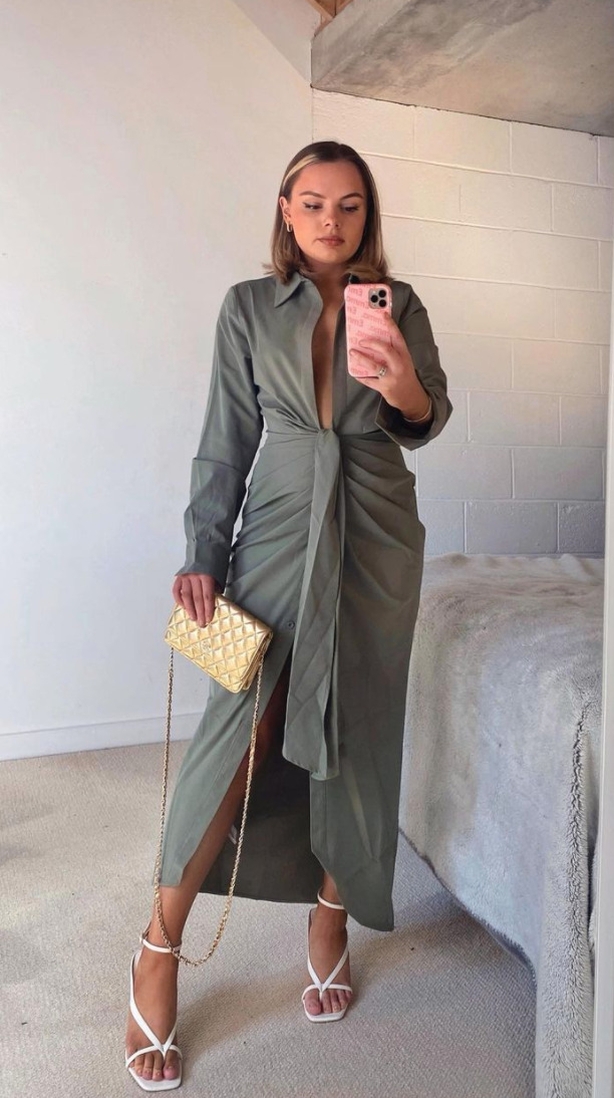 Nicola Hughes
Former Made in Chelsea star (and the first and only Irish cast member), Nicola is a risk taker who confidently explores new trends, ranging from outfits to hair colours! Be prepared to find tie-dye designs as well an eye-catching mix of colourful prints, lengths and silhouettes. Her recent bridal look in particular plays with cut, length and silhouette beautifully. Her account is a visual feast for the eyes.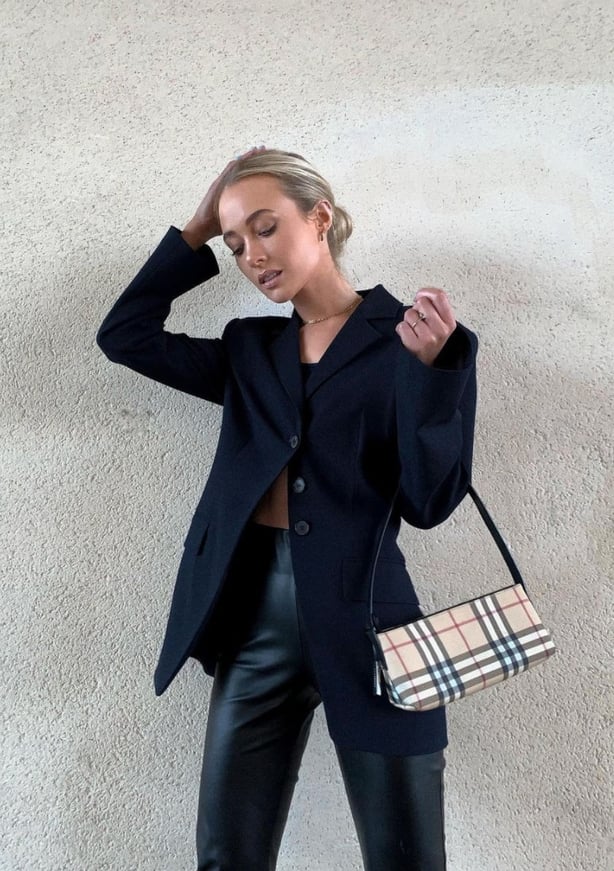 PJ Kirby
Host of the inimitable 'I'm grand Mam,' podcast, PJ Kirby is just as fun with his fashion. His creativity is apparent throughout his IG feed, with careful curated shots and poses. His looks are diverse and playful, gay men will definitely find inspiration here for a fun club night.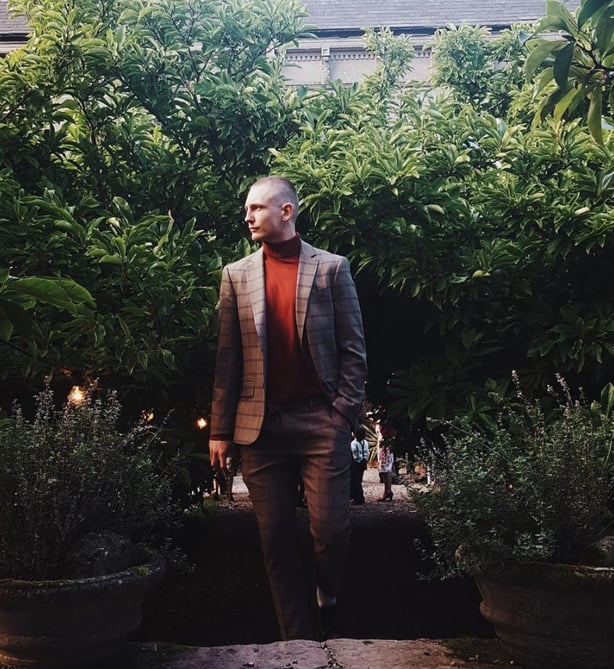 Ronan Murphy
Signed with a number of global modeling agencies, it's no surprise that Ronan Murphy's style will make you want to look twice. His style is provocative and daring. Spot his fondness for a Connell-eque chain which he wears with equal appeal.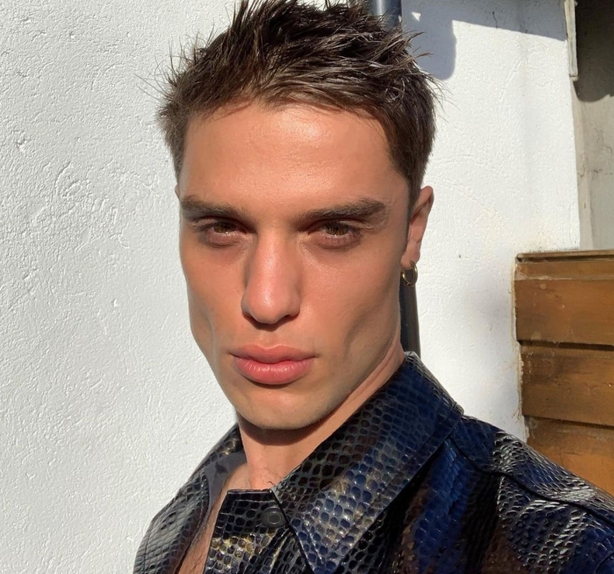 Roz Purcell
At the top of her game across food, fitness, wellness and travel, Roz is also stealing scenes in her day to day looks alongside her night time glam ensembles. She rocks athletic daytime in bright colours and hike-ready beanies. By night, she picks high octane jumpsuits or sweeping floor length dresses - often re-vamped or updated in sustainable ways.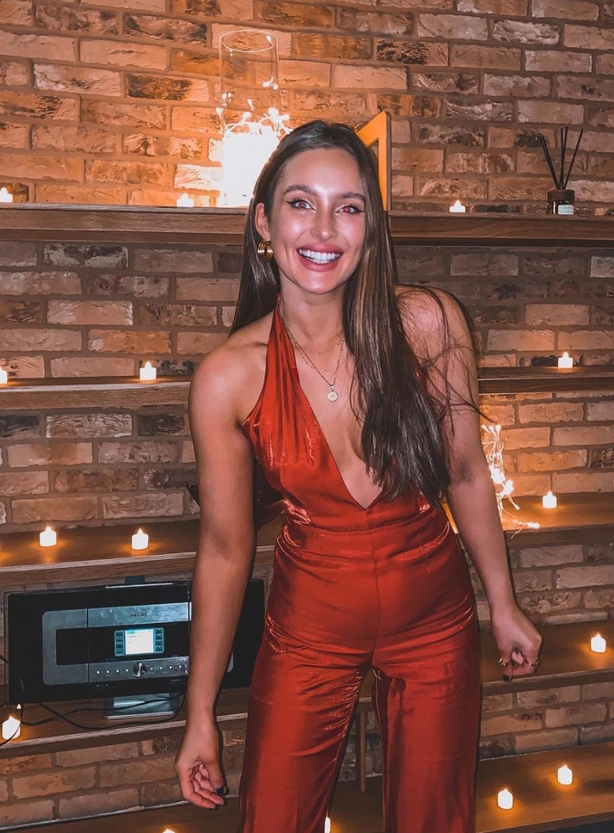 Samantha Barry
As the Editor-in-Chief of Glamour Magazine and a two time NYC Met Gala guest, Samantha Barry is a must follow in the fashion world. Surrounded by some incredibly fashionable friends (Anna Wintour once called her 'fearless'), the Cork native has a great eye for unique pieces, often in the form of immaculate tailoring or an awe-inspiring gown. You'll catch her in the frow of nearly every fashion week. The Irish fashion flag could not be flying any higher.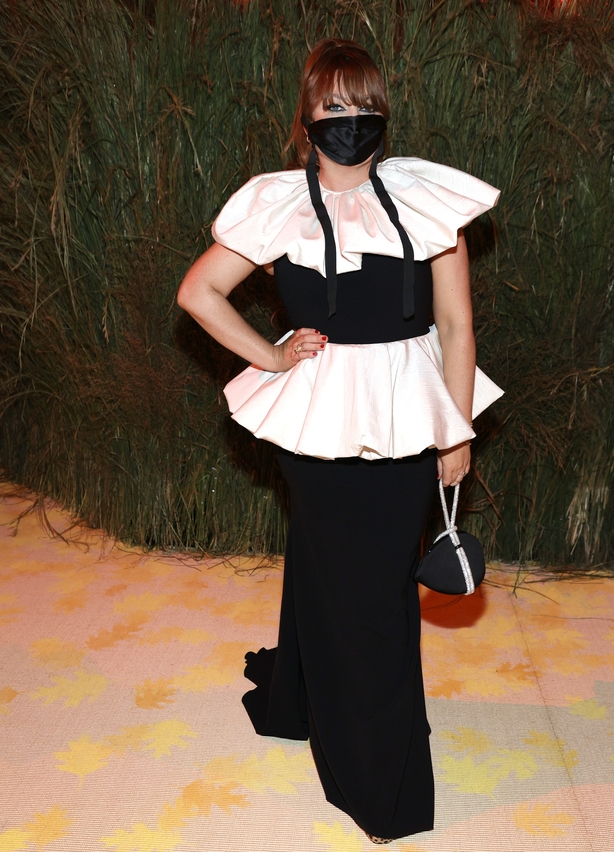 Sinead Burke
As a woman who wears many hats (she's an author, academic, activist, editor, writer and CEO), Sinead Burke brings an exciting sense of innovation to her high-end style. Working with brands such as Gucci and Victoria Beckham to highlight the need for inclusivity and diversity in fashion, Sinead favours incredible glam dresses as well as wearing perfectly tailored and structured pieces. Listed as one of fifteen 'Forces for Change' in British Vogue's 2019 September issue, guest edited by Meghan Markle, Sinead is incredibly inspiring, far beyond just her fashion choices.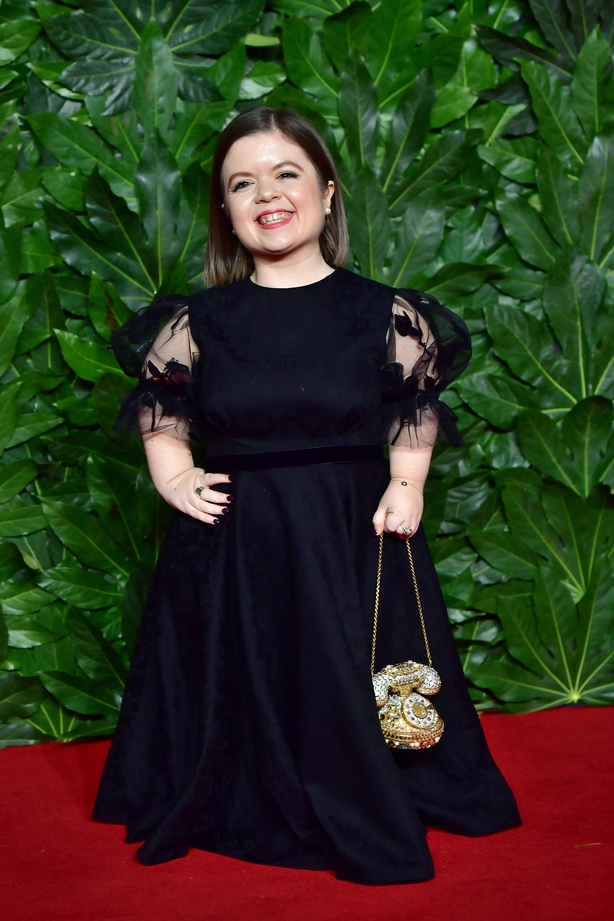 Sonya Lennon and Brendan Courtney
The list wouldn't be complete without two of Ireland's leading fashion innovators, presenters, creatives, and designers. Their self-titled brand, Lennon Courtney, celebrates the female figure and showcases this duo's unique eye for aesthetics. Sonya's retro inspired style with a high-fashion edge perfectly contrasts with Brendan's modern/cool minimalism. Prepare for IG styling tips punctuated with razor sharp wit. Their website is an equally fantastic hub for all their latest ventures.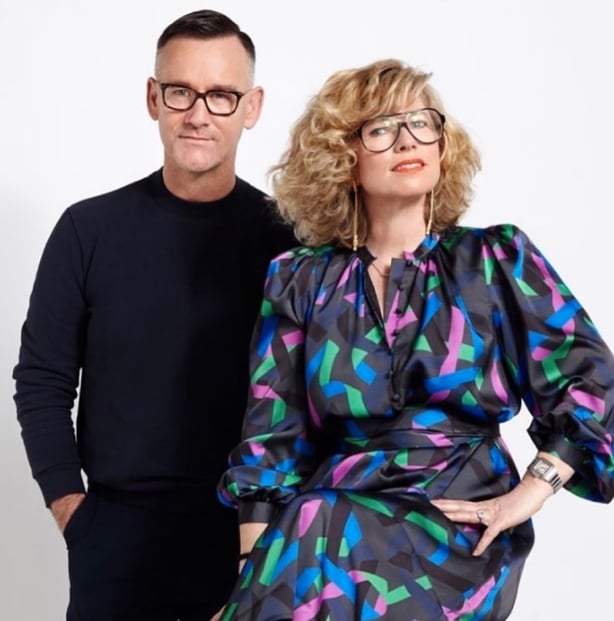 Sophie Shannon
Sophie Shannon is giving Emily in Paris a run for her money as her counterpart in the fashion industry. Travelling the world and picking up inspiration in each location, Sophie's style goes from eclectic festival glam (easily seen at Burning Man) and paired back, sophisticated, Parisian monochrome elegance.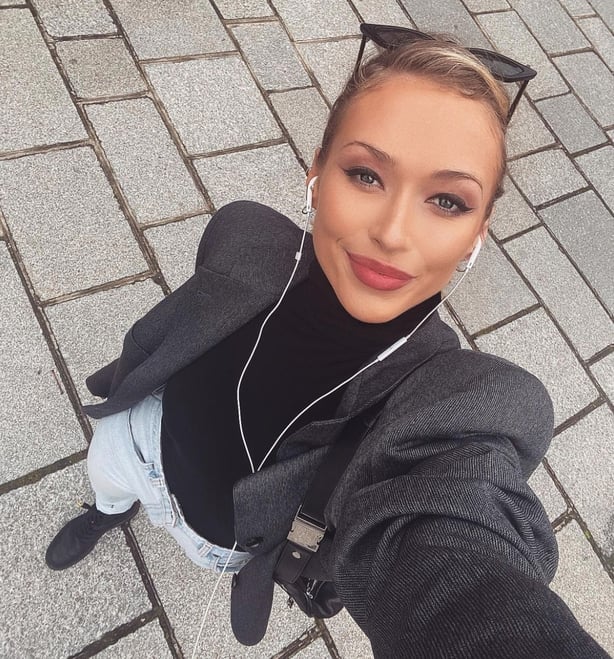 Stephen Byrne
RTÉ 2FM presenter Stephen Byrne is equally comfortable in a dapper-with-a-twist red carpet moment as he is in a devastatingly cool day time look. His ability to experiment with different hair styles (he's currently rocking David Beckam's 90s curtains) is extremely enviable. No matter what style Stephen tries, he makes it work.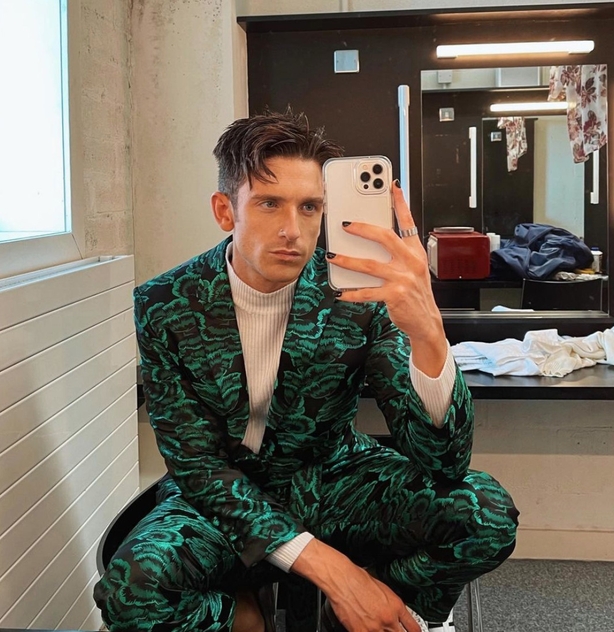 Suzie McAdams
Interior Designer Suzie brings her eye for structure, composition and design to her fashion as well as her interiors. Her style is feminine with an edge, often in the form of a geometric block heel. Her peaked and wide brimmed hat collection effortlessly elevates her day to day looks. Her IG generally is stunningly laid out, with her highlights are labelled using gorgeous watercolour pastel thumbnails.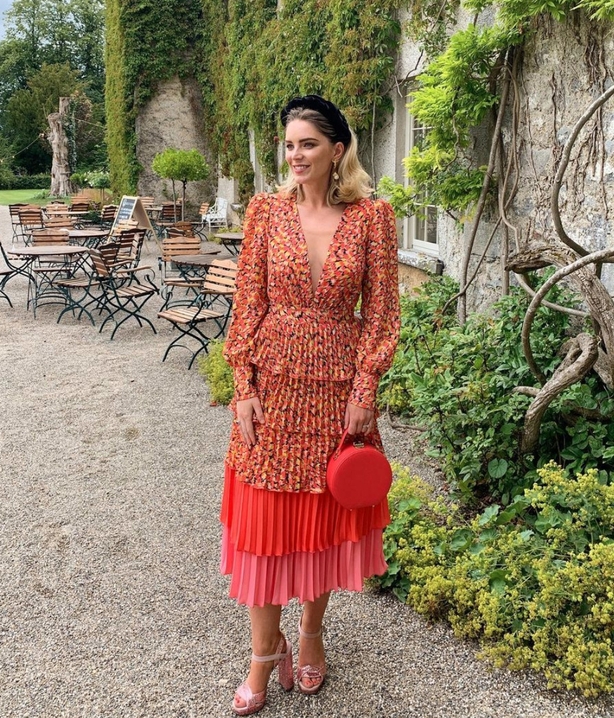 Tara O'Connor
PR Queen Tara O'Connor is a maximalist through and through. She enjoys a statement piece and we love to see it. Her style plays with shapes and colour, delivering Alexander McQueen vibes along with an impressive collection of hats and hair accessories that would rival Philip Treacy. Tara is always first to be spotted wearing the world's coolest new designers.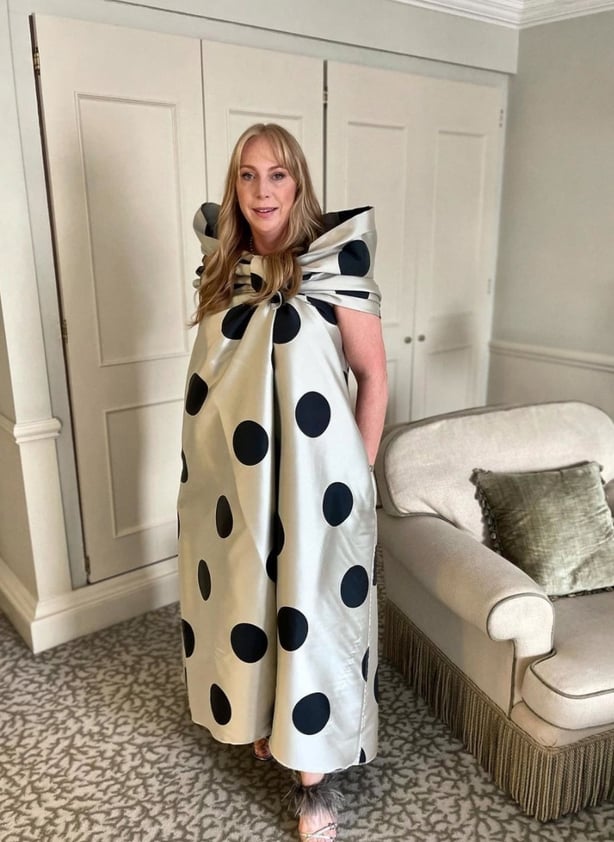 Tara Kumar
Aussie-born DJ and RTÉ 2FM presenter Tara Kumar is a sustainable fashion advocate and avid Depop user. Her RTÉ podcast Dirty Laundry breaks down our attachment to clothing and the shocking negative effects of fast fashion. From a style POV, she mixes charity shop finds with ultra-cool sportswear seamlessly and is fabulously fun and fearless with everything she wears.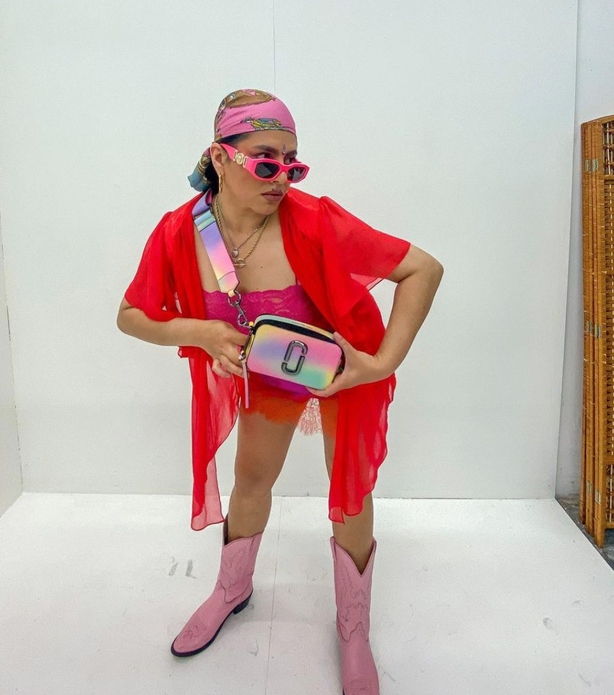 Aideen Feely
Celebrity Stylist Aideen Feely has a very impressive portfolio for someone still in their twenties. Her gorgeous Instagram feed is full of outfit inspo for those who love that "décontracté" look, as the Parisians say. It's something along the lines of looking casually chic and effortlessly stylish all at once.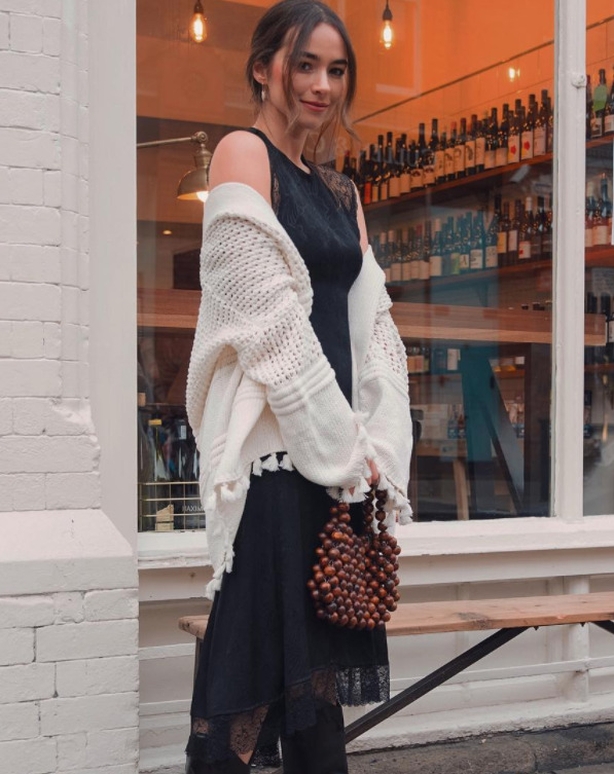 Thalia Heffernan
Thalia's innate sense of style combined with her stellar modelling credentials is a force to be reckoned with in the fashion stakes. She's effortlessly cool with hints of punk and grunge by day. By day, she can be usually found hanging out with her dogs while sporting a pair of vans, cut offs and a branded tee. After dark, however, she embodies quintessential 90s supermodel glam in a range of stunning ensembles, be it for an event or a shoot.

Tim Chadwick
Singer-songwriter Tim Chadwick's music is 'influenced by his love of storytelling and golden oldies' which is also reflected in his style. He embodies polished cool alongside effortlessly floppy hair and a Freddie Mercury worthy moustache that only boosts his appeal.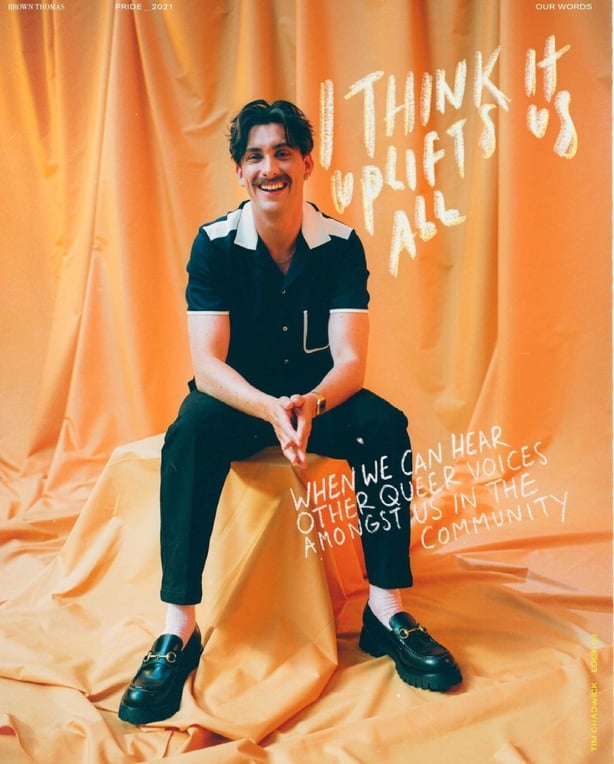 Darren Kennedy
Broadcaster, columnist and entrepreneur Darren has gone so far as to help us emulate his look with his men's skincare range and 'get ready with me' videos. Style-wise, Darren has a enviable jeans and shirt collection - featuring a mix of prints, cuts and textures - as well as some fantastic suits. No matter the outfit, his look will be accented by his always perfect hair.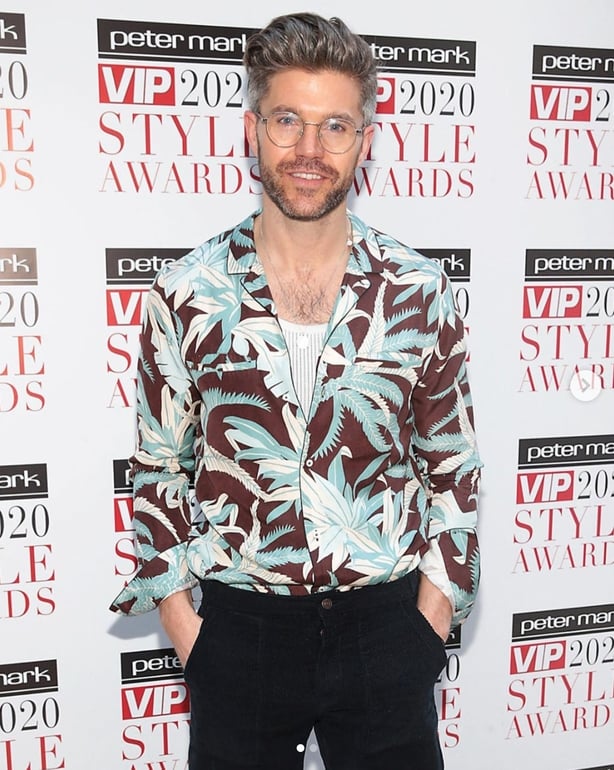 Brian Conway
Irish stylist in London, Brian Conway, is regularly a notable name on some of the city's biggest fashion shoots. His big book of past work often includes clients such as Vogue and Dazed & Confused. It's incredible to watch how much this Kilkenny native has done by the young age of 30.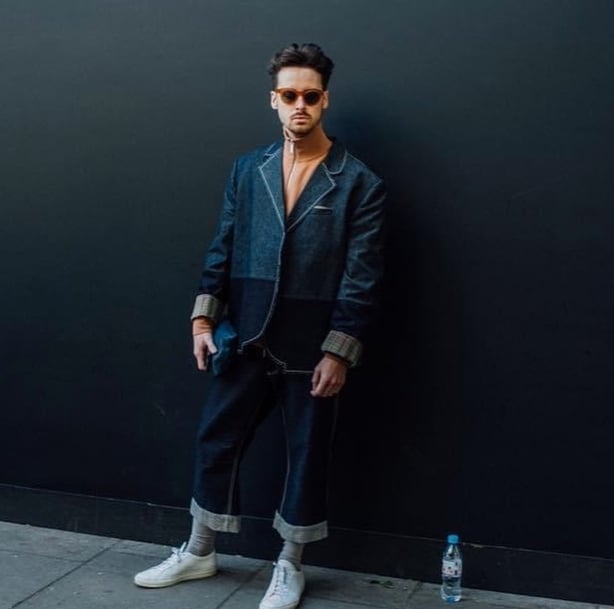 For more information on Rob Kenny, follow his Instagram here.